Lighter Blueberry Cheesecake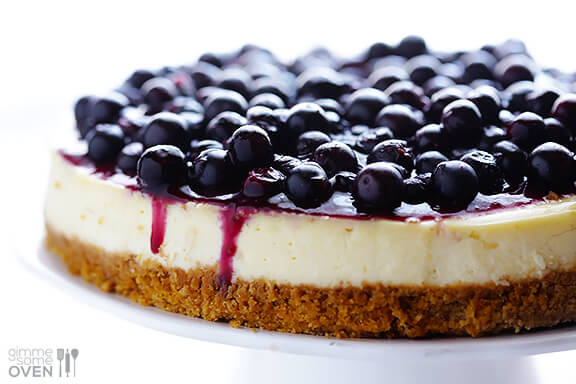 Ok, I may be a professional food blogger.  But lest I forget, this does not mean that I am a professional chef.
I was reminded of the fact this week on my first attempt at this blueberry cheesecake recipe.  I had been planning for weeks to try this fancy tall graham cracker crust, topped with a thick layer of blueberry filling.  It seemed like a spectacular plan in my mind.  So I gathered the ingredients, made a super tall crust, par-baked it, and then poured some glorious cream cheesy filling into the center.  Let me tell you — it looked great!
So I left it alone as it baked, and returned an hour later to behold my masterpiece.  But when I glanced in the oven, all I could see were graham cracker crumbs.  Lots, and lots, and lots of graham cracker crumbs — in all the wrong places.
Not quite the look I was going for.
It turns out that apparently graham cracker crusts and warm baked cheesecakes don't mix well.  Or maybe the problem is that they mix too well.  When the cheesecake poofed up during baking, it basically took the crust back with it on its way down.  I also decided to pass on actually immersing the pan in a water bath, and had opted to just set the pan of water below, which also led to some extra poofing.
This once again proves my theory that you learn an important lesson each time you bake a cheesecake.  I at least do!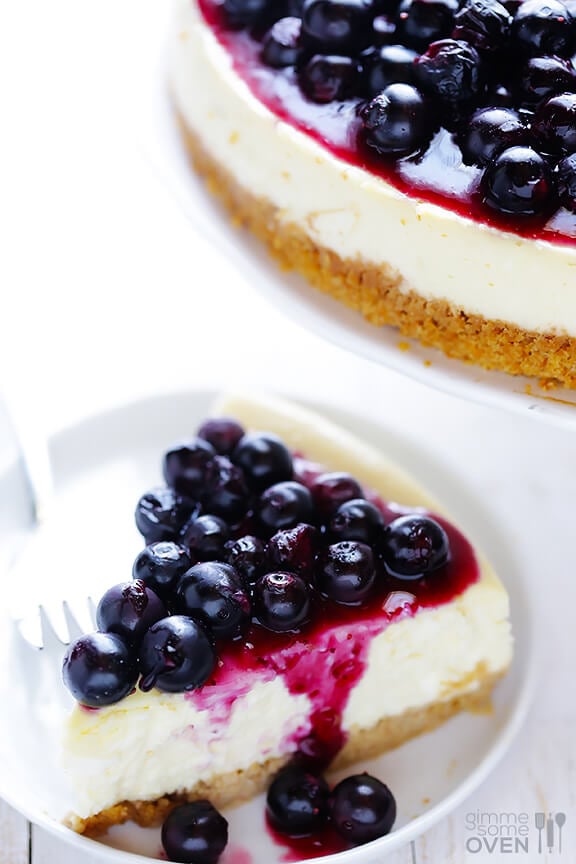 So for blueberry cheesecake recipe #2 of the day (yes, this little fighter was determined to conquer the recipe within 24 hours), I made a few changes.  This time I:
chickened out and went with a flat graham cracker crust, and par-baked it for a solid 10 minutes (although I'm sure a normal crust would have worked too)
immersed the crust in a water bath, wrapped in heavy-duty aluminum foil
baked it on a shelf on the bottom 1/3 of my oven (forgot how much this helps)
went with fresh instead of frozen blueberries
And for an extra experiment, I decided to go with some low-fat (Neufchatel) PHILADELPHIA cream cheese and Greek yogurt to make this a lighter cheesecake recipe.
It turned out that the second time was a charm!!!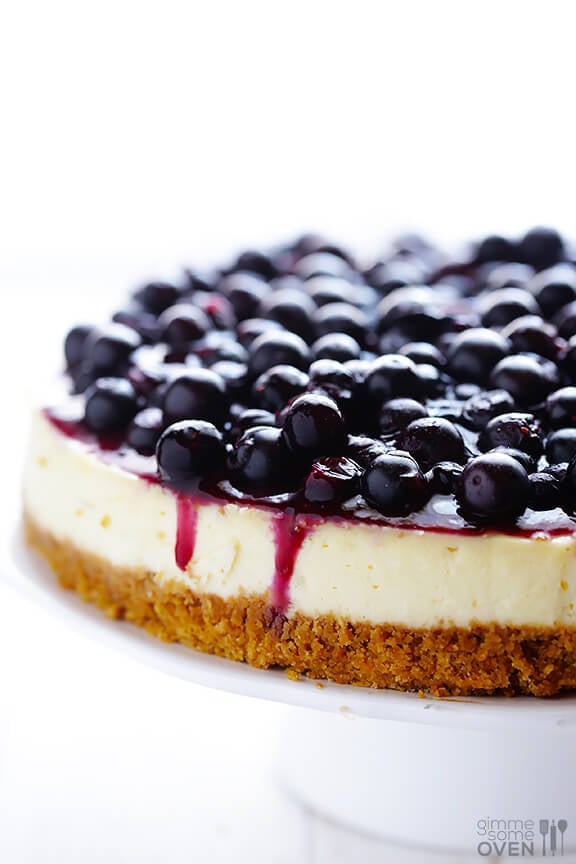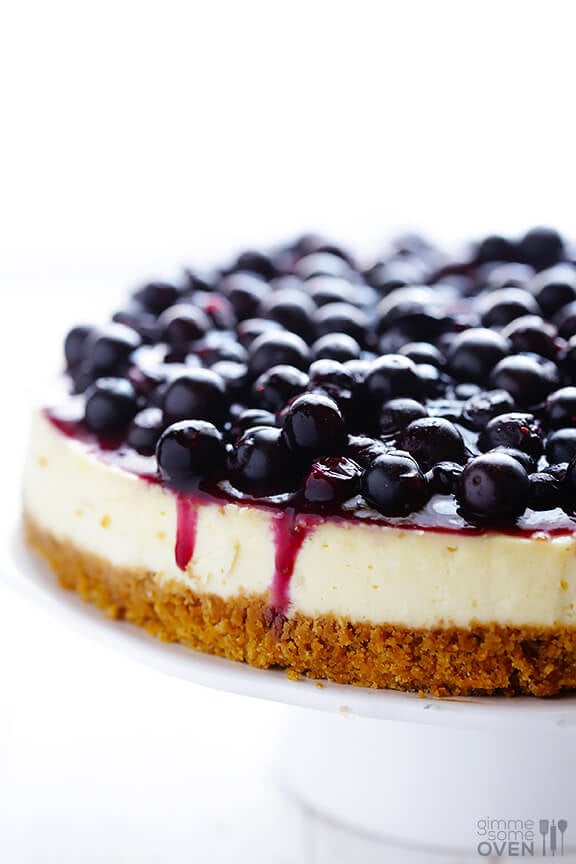 What can I say?
The cake was beautiful.  The crust was neatly on the bottom of the cheesecake, instead of crumbled on top.  And it tasted unbelievable!!!
Basically, I learned my lesson that cheesecakes and shortcuts don't mix.  And I also learned that the lighter ingredient combination was a total winner!  I loved the combination of the Greek yogurt and cream cheese.  And while the fresh blueberries probably tasted the same as the frozen, they stayed much plumper and made for a prettier presentation on top.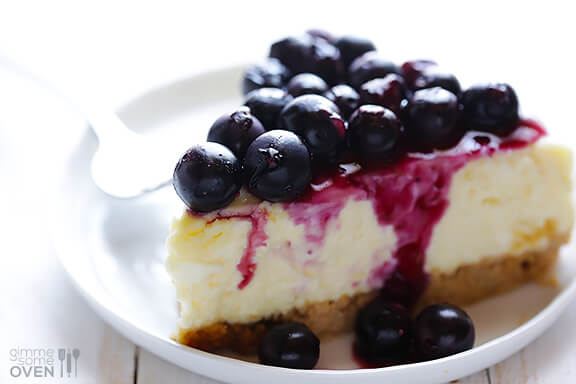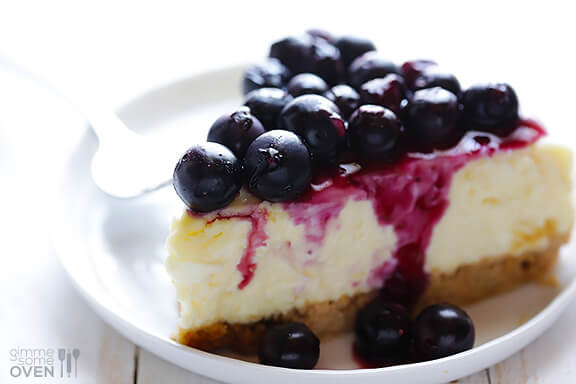 I also have to give some big props to the one and only cream cheese I use with cheesecakes — PHILADELPHIA!  I always appreciate knowing that PHILADELPHIA cream cheese is made with real and fresh ingredients.  Their milk and cream come from local farms near their creameries, and they are committed to using real ingredients  like fresh pecans and jalapenos in their new Honey Nut and Spicy Jalapeno (my fav!) varieties.  There's a reason why they've been named America's favorite cream cheese since 1872!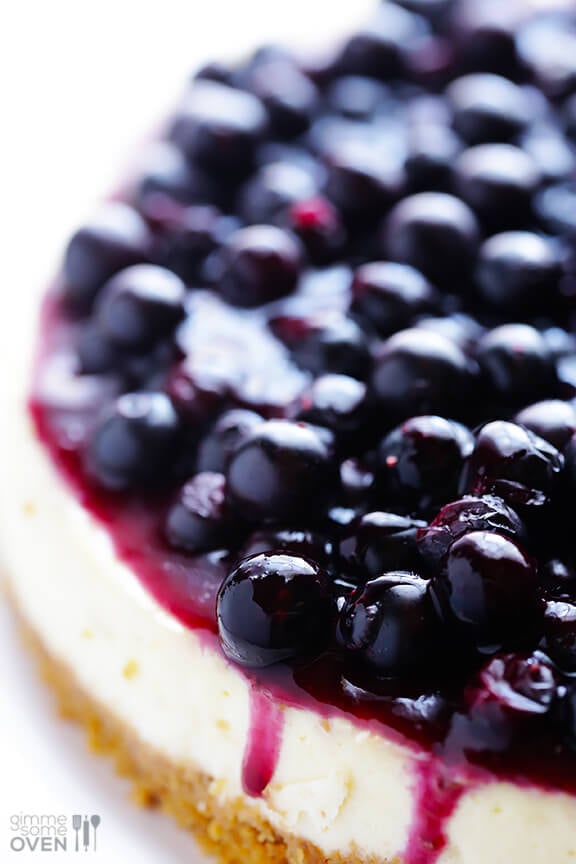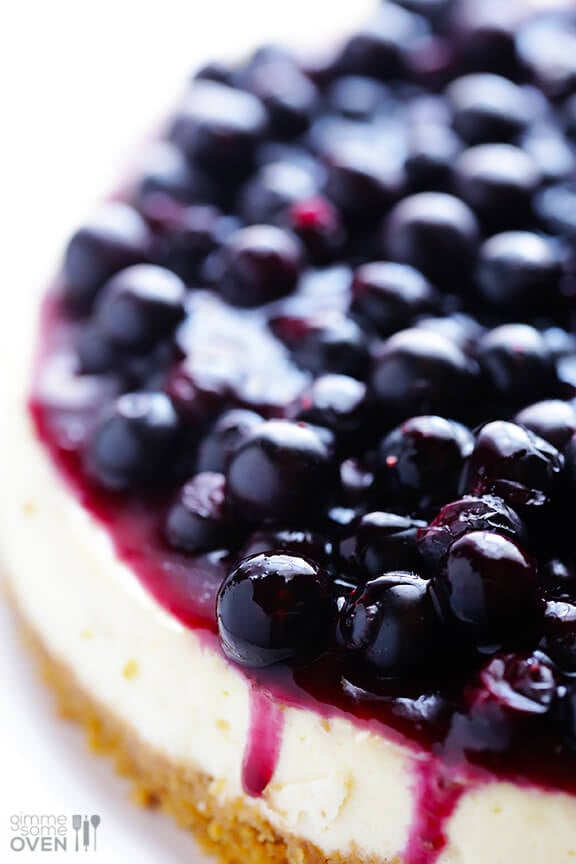 Cooking techniques aside, I think the real question of the day was probably what on earth to do with two blueberry cheesecakes???
I posed the question to my friends, and they seemed more than happy to help.
The first cheesecake, although not the prettiest, turned out to be 100% edible.  So I took it over to my friend Sarah's house for our traveling Thursday happy hour.  We were celebrating the installation of her sweet new projector and screen, hereby deeming her house our crowd's new favorite movie theater.  A summer thunderstorm happened to roll in after we all arrived, automatically "lowering the lights" and providing some nice background rumbling for the inaugural showing of Bringing Up Baby.  So we all ate blueberry cheesecake and nooch popcorn and drank summer beers, and called it a good Thursday night.
The second cheesecake was saved for the next day, another "neighbor night" gathered around our loft's grill.  Apparently our #neighbornights are becoming the talk of the neighborhood, because we had a huge crowd!!!  We grilled galore, basked in the setting sun, let the dogs run free, and ate every last bite of the "pretty" blueberry cheesecake.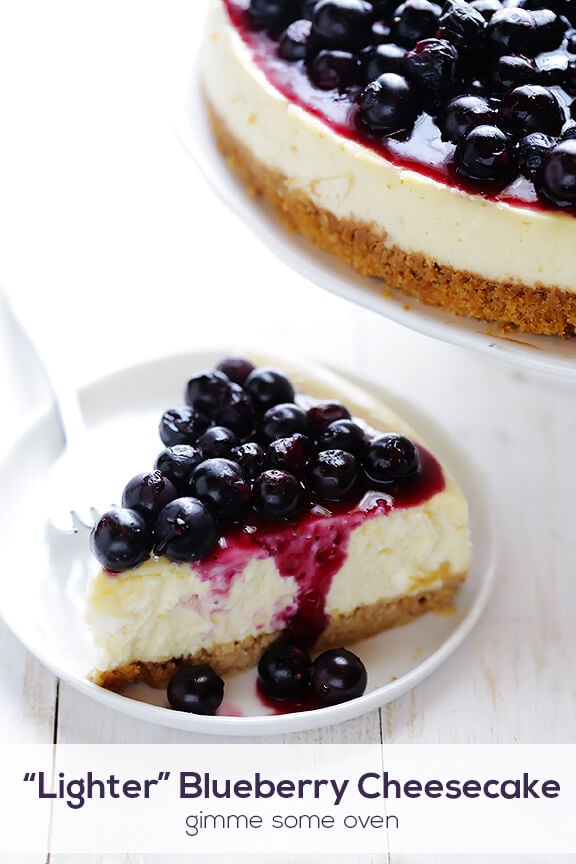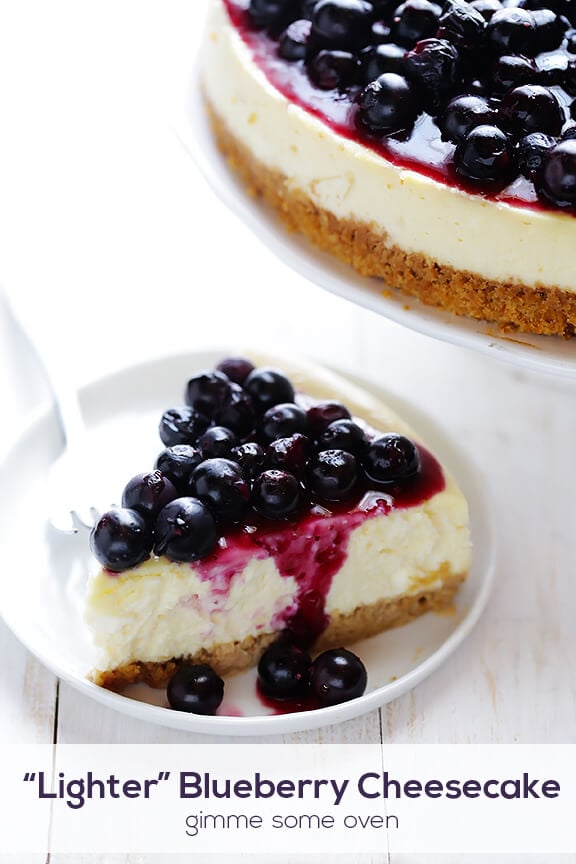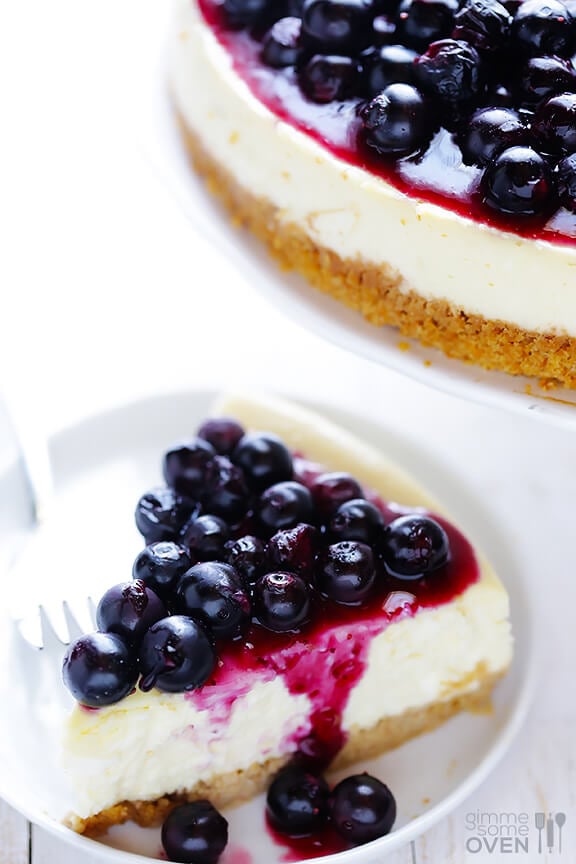 Lighter Blueberry Cheesecake
This delicious blueberry cheesecake is made lighter with Neufchatel cream cheese and Greek yogurt, and topped with fresh blueberry topping.
Ingredients:
Cheesecake Ingredients:
1 3/4 cups graham cracker crumbs
1/3 cup unsalted butter, melted
pinch of salt
1 1/4 cups sugar, divided
3 (8-ounce) bricks PHILADELPHIA Neufchatel (Low-Fat) cream cheese, softened
1 cup Greek yogurt
2 tsp. vanilla extract
3 eggs
Blueberry Topping Ingredients:
3 cups fresh (or frozen) blueberries
1/4 cup + 1 Tbsp. water
1 Tbsp. cornstarch
Directions:
Preheat oven to 350°F, and grease a 9-inch springform pan. Whisk graham cracker crumbs, butter, salt and 1/4 cup of the sugar together in a medium bowl until combined. Press firmly onto bottom of the pan (or up the sides, if desired). Bake for 10 minutes, then remove and let cool. Reduce oven heat to 325 degrees F.

Once the pan reaches room temperature, carefully wrap the outside of the pan in 2 layers of heavy-duty aluminum foil, being sure that there are NO gaps where water could seep through. Place the pan in a large roasting dish (or any pan larger than the springform), and bring a tea kettle or pot of water to boil in preparation for the water bath. Set aside.

Using an electric mixer, beat cream cheese on medium speed for 3 minutes until smooth. Add the remaining 1 cup sugar and beat for an additional minute until well blended. Add Greek yogurt and vanilla, and beat for an additional minute, stopping partway to scrape the bottom of the bowl with a spatula. Add eggs, one at a time, beating on low speed after each addition just until blended. Do not overbeat! Pour into crust.

Place the double pans in the oven on a shelf on the bottom third of the oven. Very carefully use a tea kettle (or large measuring cup) to pour the boiling water in the larger pan to form a water bath around the springform, so that it comes up about 1-inch around the springform.

Close the oven door, and bake about 1 hour 30 min, or until center is almost set. (The cake should still jiggle ever so slightly.) Turn oven off, and open oven door slightly. Let cheesecake set in oven 1 hour. Then remove cheesecake from oven, carefully run a knife around the edges of the cake, and then let cool to room temperature. Refrigerate at least 4 hours or overnight. Remove springform rim, and top cheesecake with blueberry filling just before serving. Store leftover cheesecake in refrigerator in a covered container.
To Make The Blueberry Topping:
Bring blueberries and 1/4 cup water to a boil in a medium saucepan, stirring occasionally. In a separate bowl, whisk together 1 Tbsp. water and cornstarch until combined. Stir mixture into the blueberries, and boil for an additional minute until thickened.
Remove from heat and spoon over cheesecake just before serving.

If you make this recipe, be sure to snap a photo and hashtag it #gimmesomeoven. I'd love to see what you cook!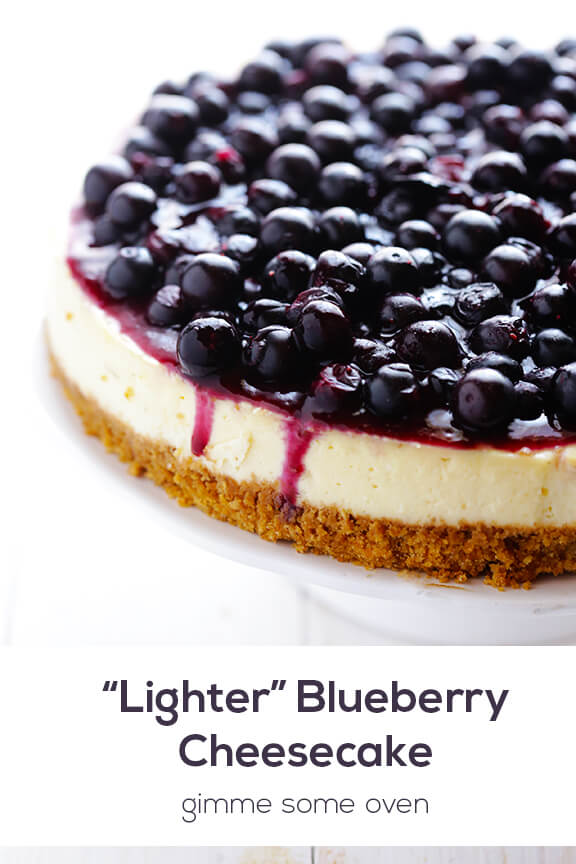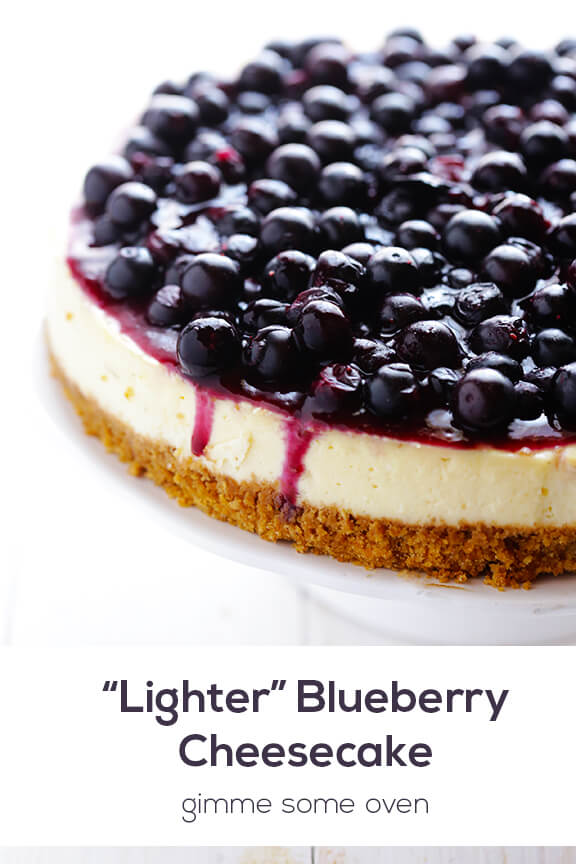 Disclaimer: This is a compensated post from Philadelphia.  All opinions are 100% my own, as always.  Thanks for supporting the brands that help me bring this blog to you week after week.  I appreciate it!