Loaded Smashed Red Potatoes
This loaded smashed red potatoes recipe is perfect as an appetizer, side dish, or game day treat.  Feel free to top these loaded potato skins with whatever sounds good to you!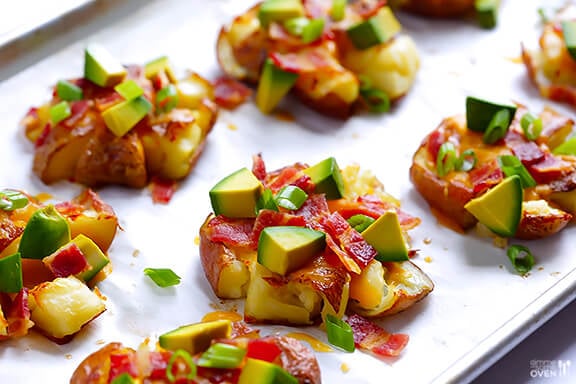 You know how some recipes are all the tastier because of the story behind them?
Well, this loaded smashed red potatoes recipe is extra-special for me because I literally got to follow these potatoes from farm to table.  And then, you'd better believe I enjoyed every last bite at said table.  :)
But first, back to this farm…
It all began when I won the chance to join a group of food bloggers this summer for a tour of Black Gold Farms.  I had heard about this epic farm before that grows and ships over half a billion pounds of potatoes each year, and operates farms in 11 states that produce everything from chipping potatoes (they are the largest supplier for Frito Lay!), table-stock potatoes (red, white and yellow potatoes), and all sorts of other things from wheat, to soybeans, to corn, and more.
Clearly, Black Gold Farms has made a pretty incredible mark on the farming industry in the past few generations, so I was excited to visit and learn the story behind the farm.
But most importantly, I was stoked to see where my spuds come from!  :)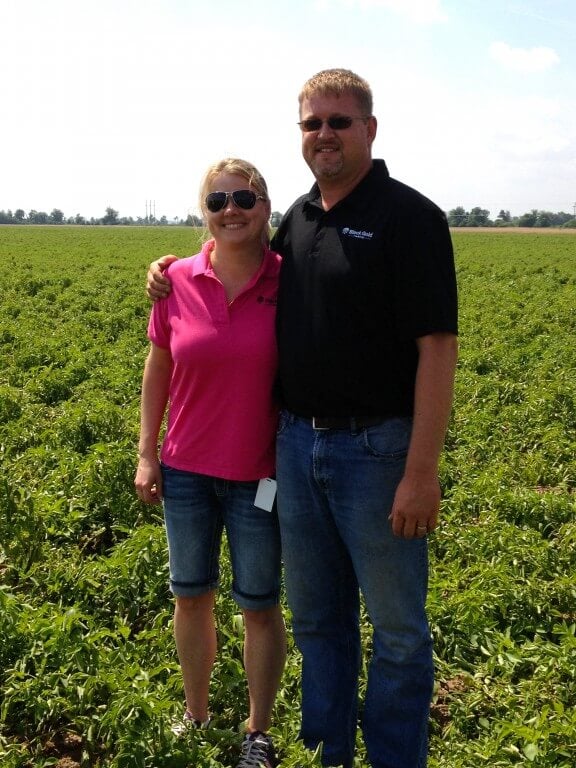 So mid-summer, a group of bloggers and I flew into Memphis, TN.  And then over the course of 24 hours, we hopped through 3 different states to land back in my home state (go MO!) at the Black Gold Farm in Arbyrd, Missouri.  There we were introduced to John and Leah Halverson — brother and sister and great-grandchildren of Hali Halverson, who founded Black Gold Farms about 85 years ago.
Since then, the farm has clearly grown from its humble beginnings.  But it was clear from the moment we were given a warm welcome by John and Leah and the team that the farm is still very much family owned and operated.  These two were both born and raised on the farm, and now are proudly continuing the family tradition of working to be sure that the farm is as great as it can possibly be.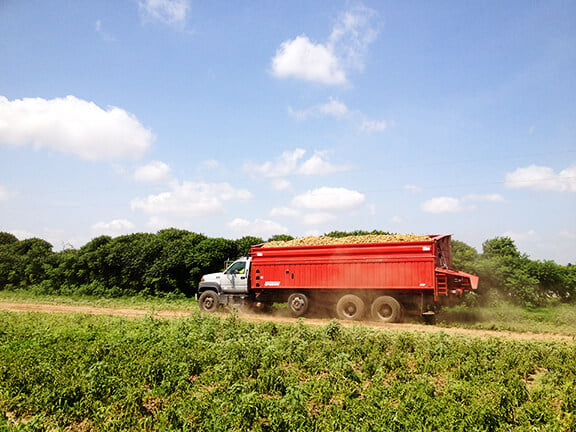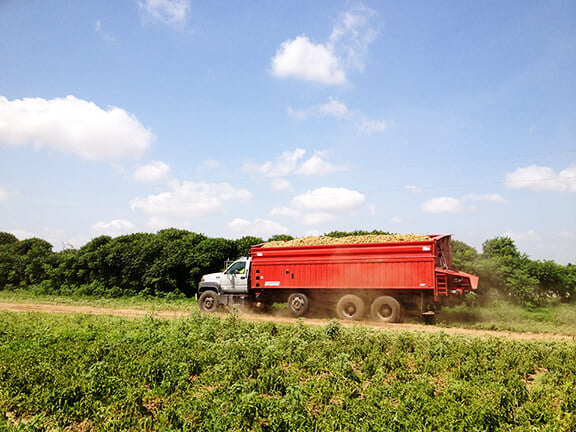 The statistics about the amount of potatoes they produce in a year were mind-blowing.  I mean, half a billion pounds?  That makes for a lot of those irresistible potato chips!
But while I admired the hard work their family and employees have put in over the decades to grow the business, I was perhaps most excited to hear about the investments they are making in their farm and land for the future.  Before it was the hip word, it's clear that the Halversons and Black Gold Farms are all about sustainability.
In all sorts of environmental, social and economic ways, this is a huge priority for their company.  (Especially when you remember that they would probably love to pass the farm down to their kids someday!)  For example, the reason they have now grown to operate farms in 11 states is so that they can actually be close to the markets they supply and cut down on transportation costs/pollution.  They are also very committed to taking care of the land, and working to use the latest technology and research to be sure that they steward the land sustainably.  But more than anything, I just loved how the farms gave back to the communities where they are located.  From serving on local boards, to supporting the arts, and to just generally caring well for their employees, there were countless stories of the ways that they are investing in their people.  It was inspiring to hear.
Ok, so just how do these famous potatoes grow?
Well, apparently in order to earn some "farm cred", John insisted that we go out to the dusty potato fields to find out for ourselves!
First, we trekked out to a farm where white potatoes — more commonly known as chipping potatoes — were getting ready to be harvested.  Here are Heidi and Sandi harvesting a few for show and tell!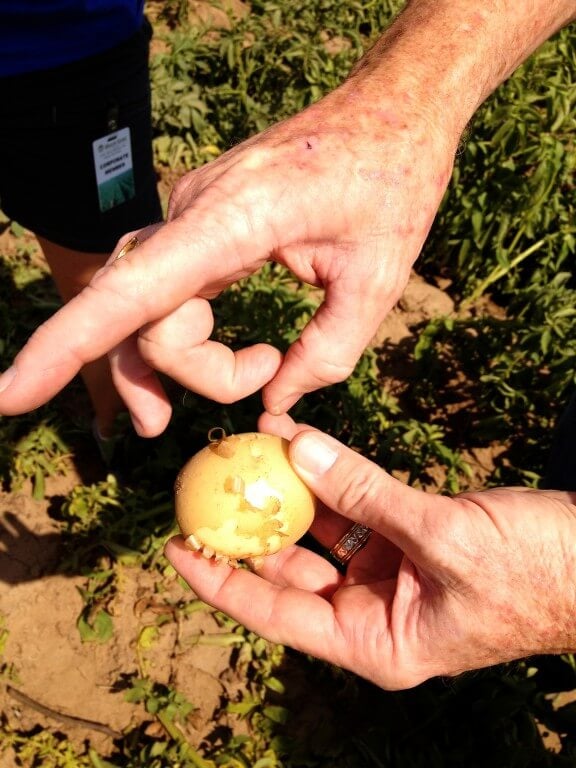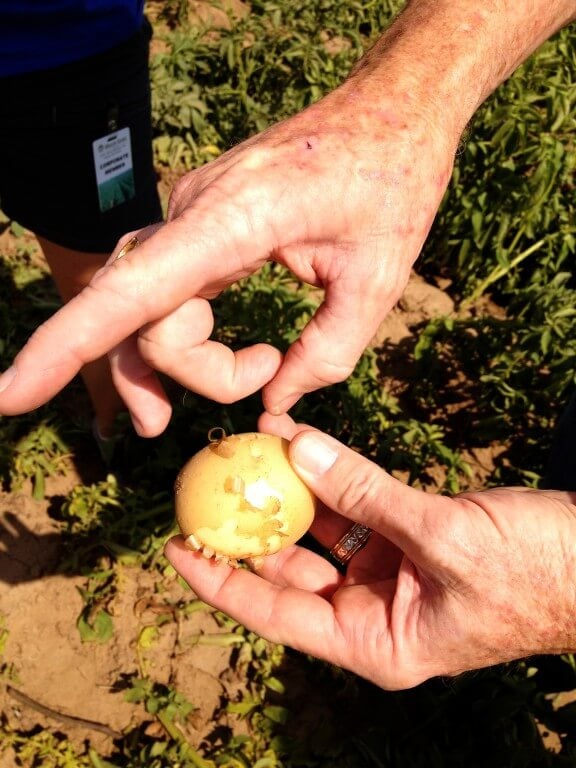 It turns out that these "chippers" were given the name because their thin skin flicks off easily so that they can be peeled to make potato chips.  The farmers literally determine when they are ready by giving them the "flick test", which we all of course wanted to try.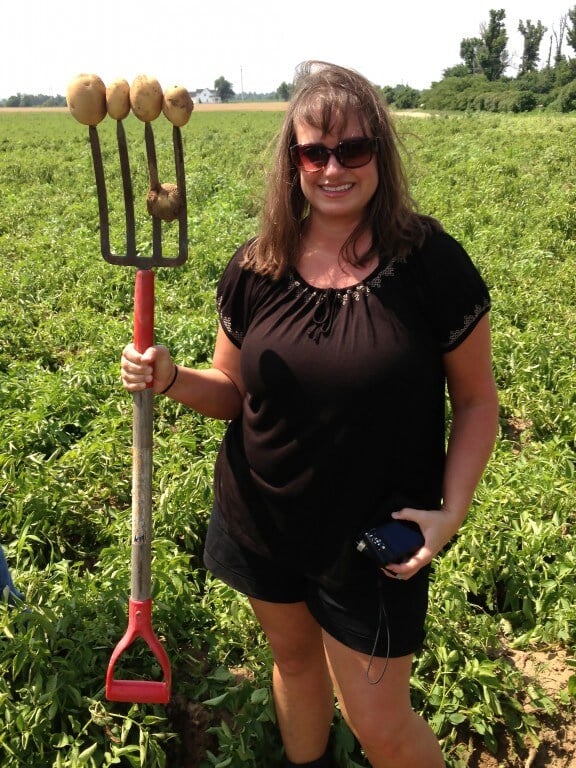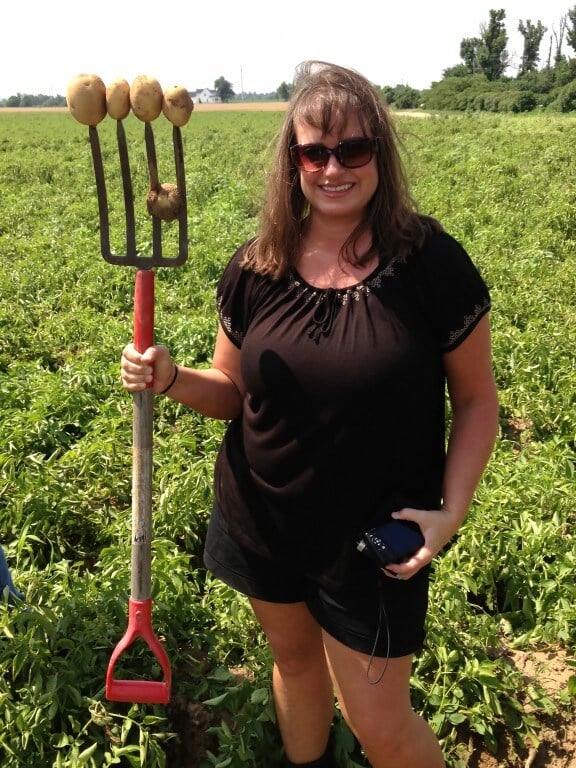 And then we got a little distracted and speared a few potatoes…
…and then took pictures of our shoes…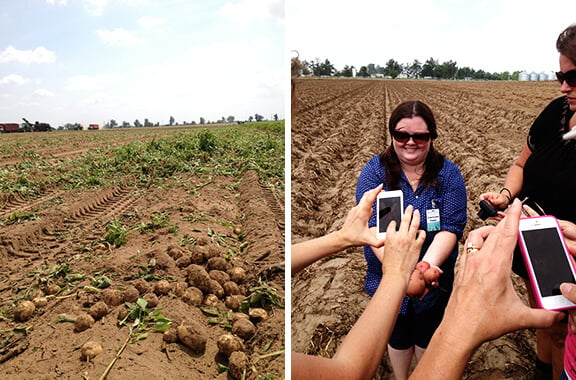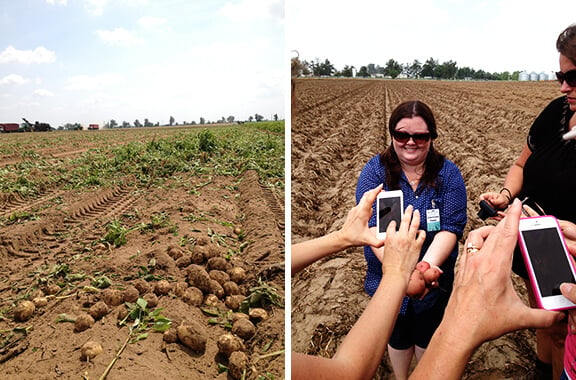 …and of course, took photos of everything!  ;)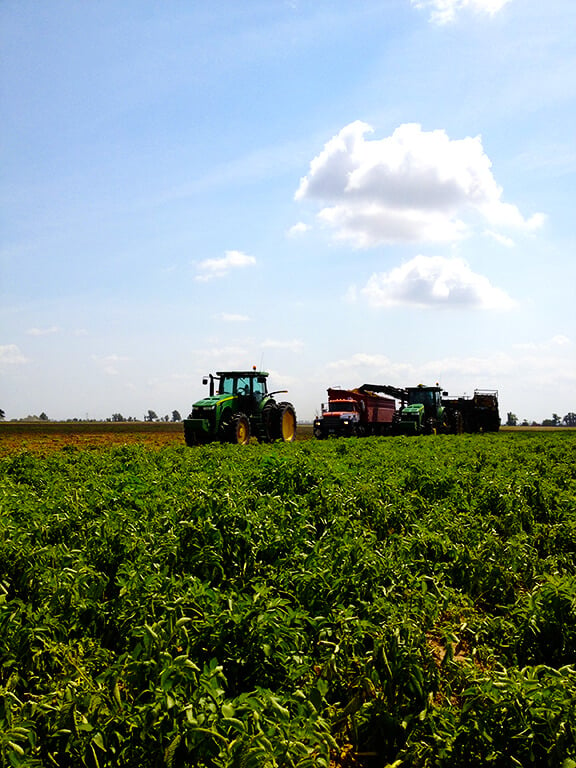 But back to the farm!
In addition to growing the "chippers", Black Gold Farms also grows table-stock potatoes, which are the ones that are sold at the grocery store for us to eat at the…yes…table.
These potatoes take a little big longer to harvest.  After growing in the field for about 100 days, the green plans above ground are then "killed off", and the potatoes below ground are left to mature for an extra 14-20 days until their soft skins have grown stronger for harvesting.  Then they are ready to go!
Back in the day, potatoes were picked by hand.  But of course nowadays, there are some super fancy harvesters which do the work for you.  Well, almost.  Those harvesters require some very talented drivers…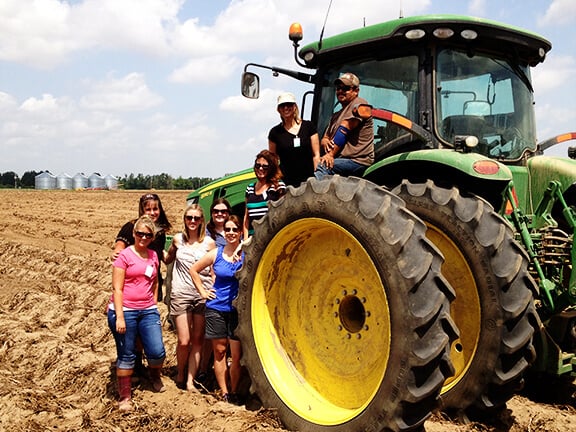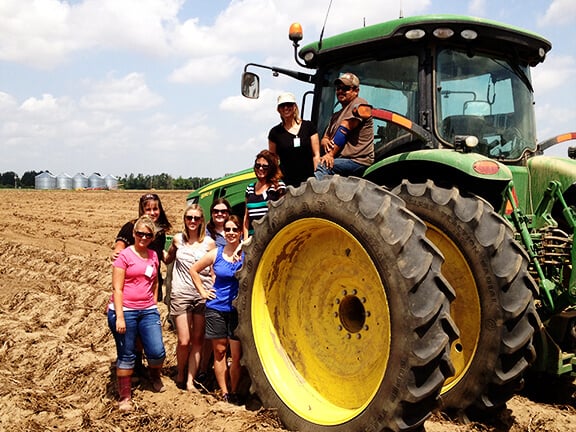 …who graciously took us all for a ride!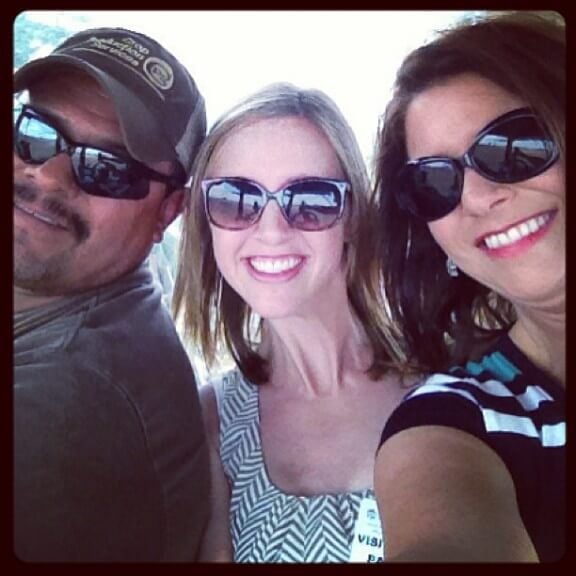 Sandi and I had a little too much fun riding shotgun with Jesus.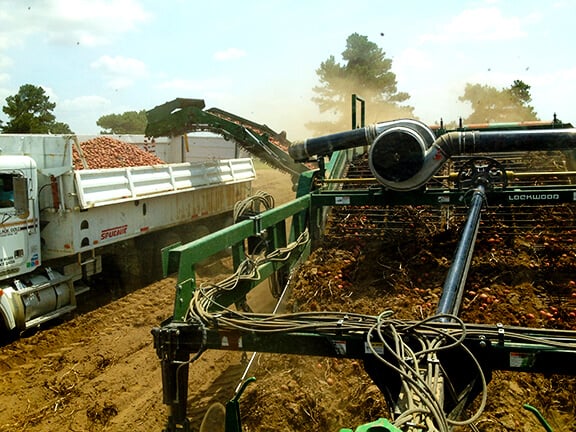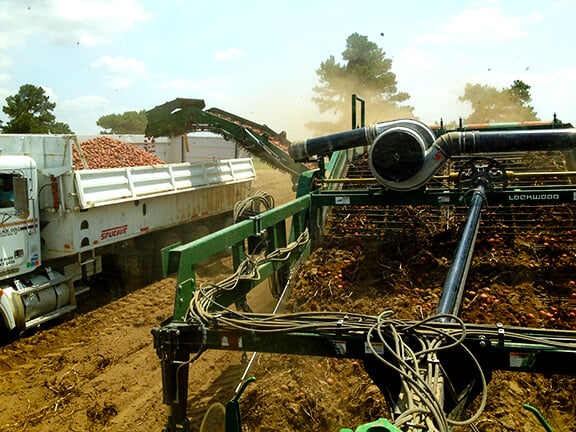 These machines are in-credible.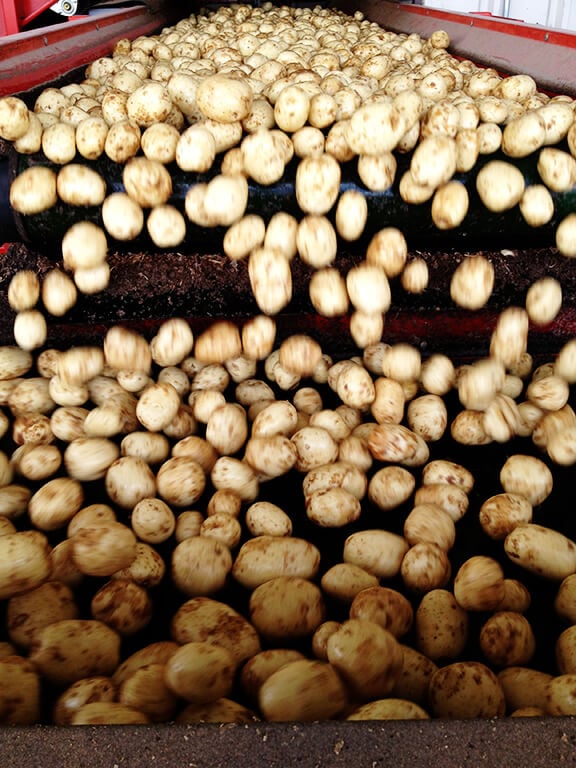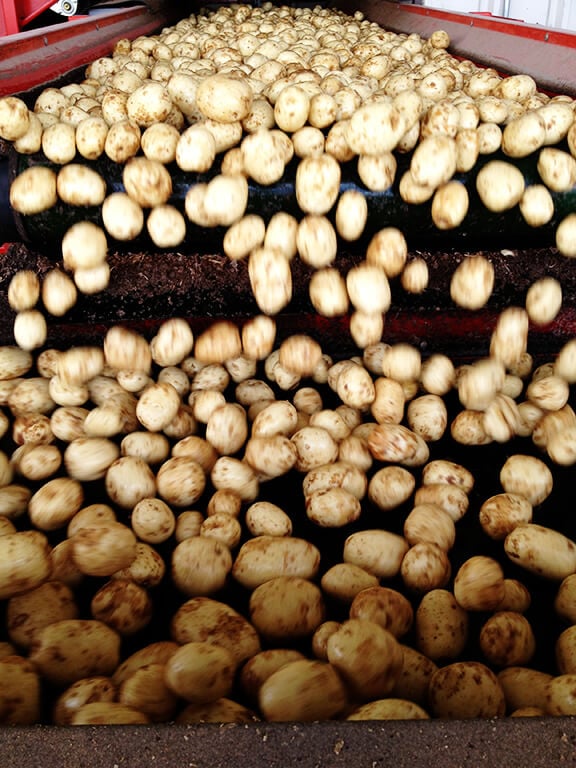 After a tasty lunch at a local diner that included my favorite fried treat from college — corn fritters!!! — we headed over to the processing facility where all of the potatoes arrive from the field.  There, they are weighed, cleaned, tested, and sorted to either go onto a potato chip plant or right to your the shelves of your local grocery store.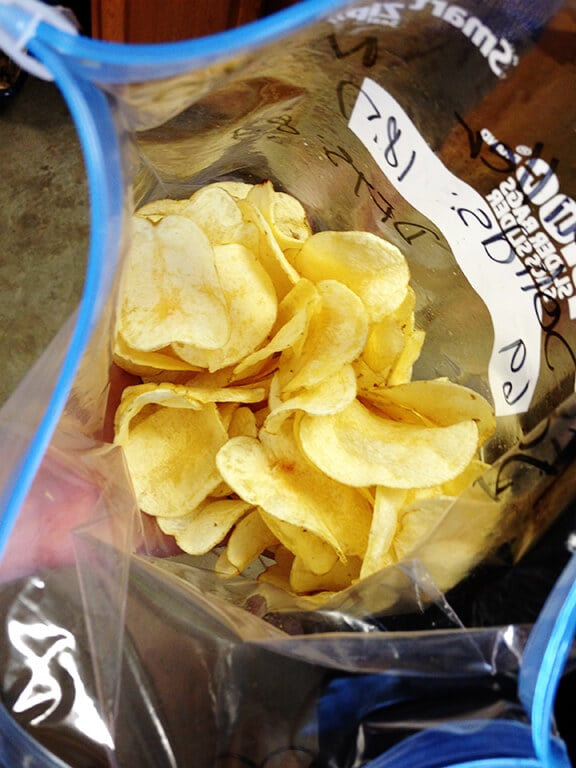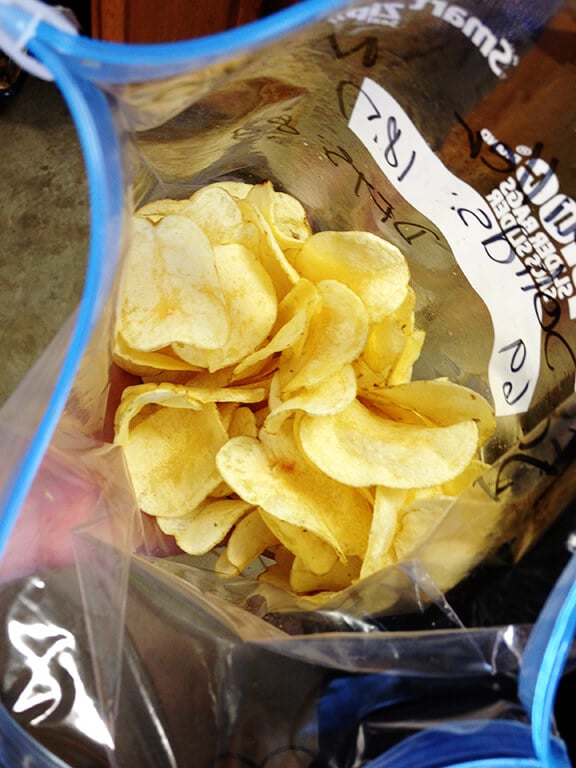 Batches of the "chippers" are tested daily in their kitchen to be sure that they are just right for making those famous Lay's potato chips.  (Trust me, I sampled and they passed my inspection.)  ;)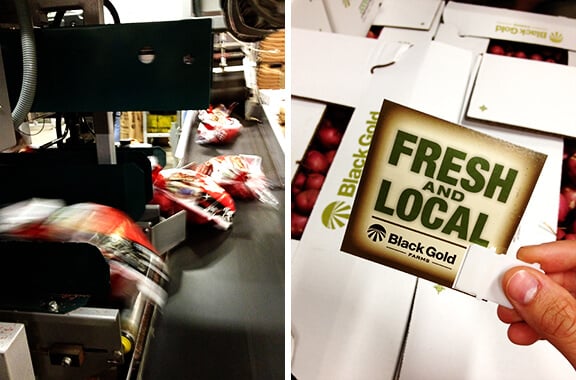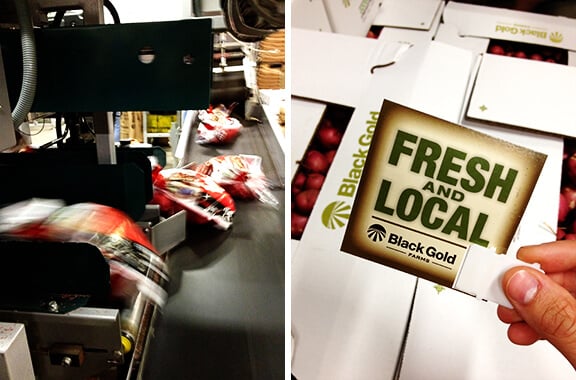 Then all kinds of other potatoes are bagged and packaged to go to the store.  We saw everything from small bags…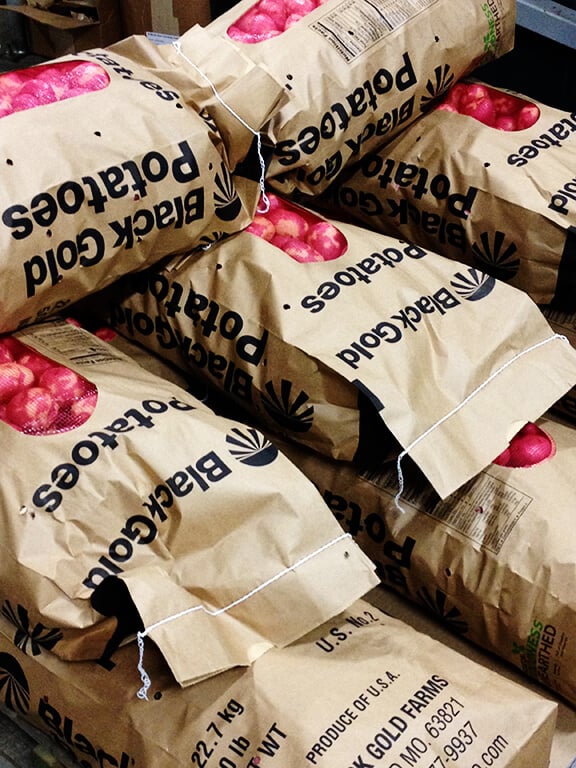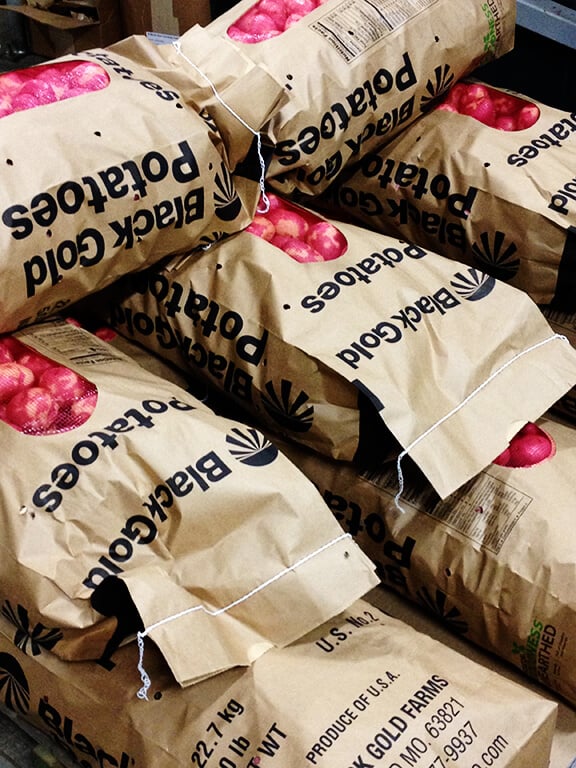 …to enormous bags…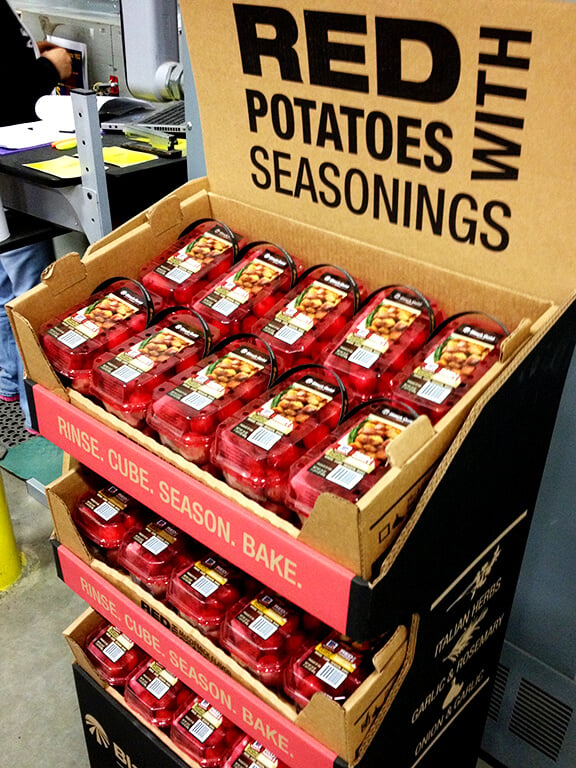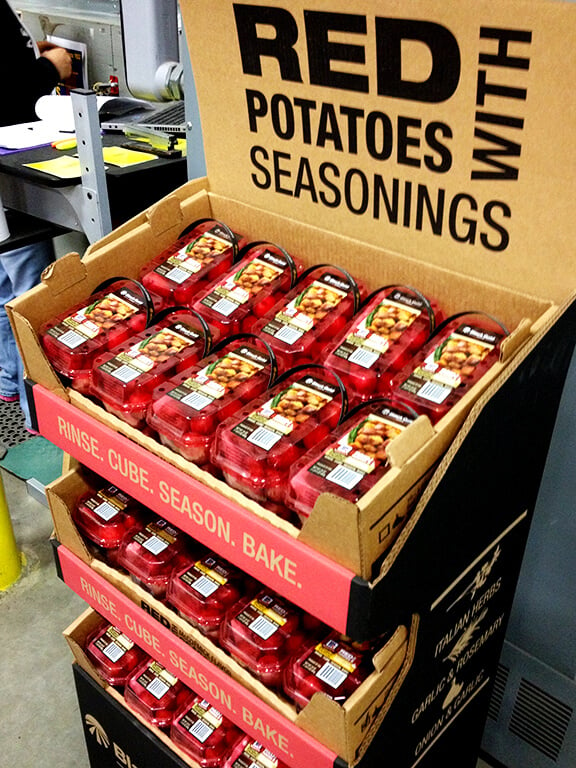 …to these cute new roasted red potato packs that come with a McCormick seasoning packet.  As it says, everything is ready to go and all you have to do is rinse, cube, season and bake.  And some tasty roasted red potatoes will be ready to enjoy in no time!
So many thanks to the Halversons and to Black Gold Farms for inviting me on this trip!  It was so much fun to get to tour the farm and learn more about where our potatoes come from.  But more than anything, I just love that whenever I now bite into a Lay's potato chip or roast up a red potato, some great memories of some great people will come to mind.  The Halversons and their amazing team of farmers could not have been more welcoming and transparent and passionate about farming.  So thanks for a great trip…
…and thanks for giving the chance for us city girls to officially earn our "farm cred".  ;)
Be sure to read more of my fellow bloggers' posts on the trip here:
Also, to learn more about Black Gold Farms, visit them on Facebook at Better With Reds or follow @BetterWithReds on Twitter.
Alright, so back to the "table" where my red potatoes turned into these Loaded Smashed Red Potatoes.
Some days just call for loaded potatoes, right?  Well, for a little twist on a classic, I decided to make these with some delicious red potatoes.  But instead of your typical baked or mashed potatoes, I decided to go for the in between — smashed!  And instead of smashing them together in one big pot, I decided to keep them as little individual servings for something different.  And they turned out so great!!!
I "loaded" mine up with all of my favorite toppings — cheese, bacon, green onions, a little butter, and a little seasoned salt.  But then for something different, I decided to throw some avocado on top, which made them extra avocadolicious.  Feel free to take or leave any of these toppings, or add in some others.
But bottom line, these smashed potatoes ended up being a smashing success at dinner.  I served them as a simple side dish, or these would also be a great appetizer or a fun food for game day.
So get to smashing!  :)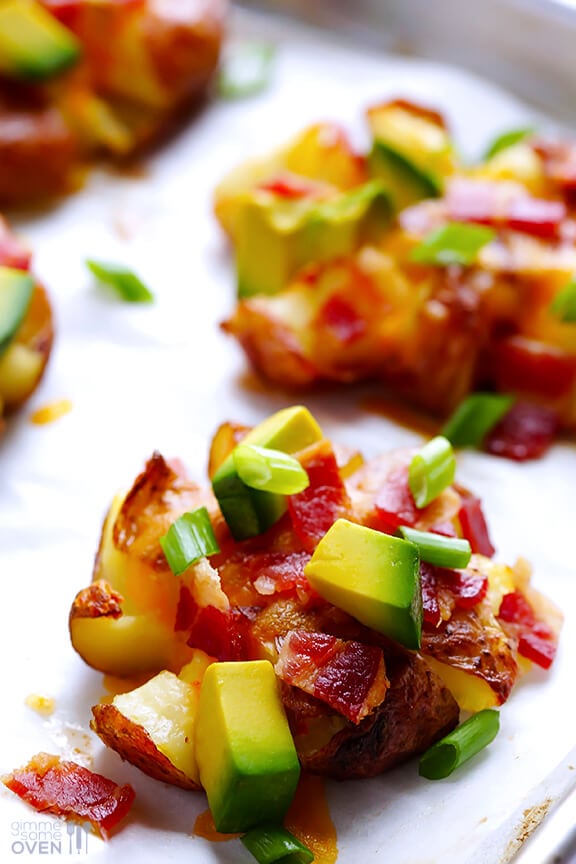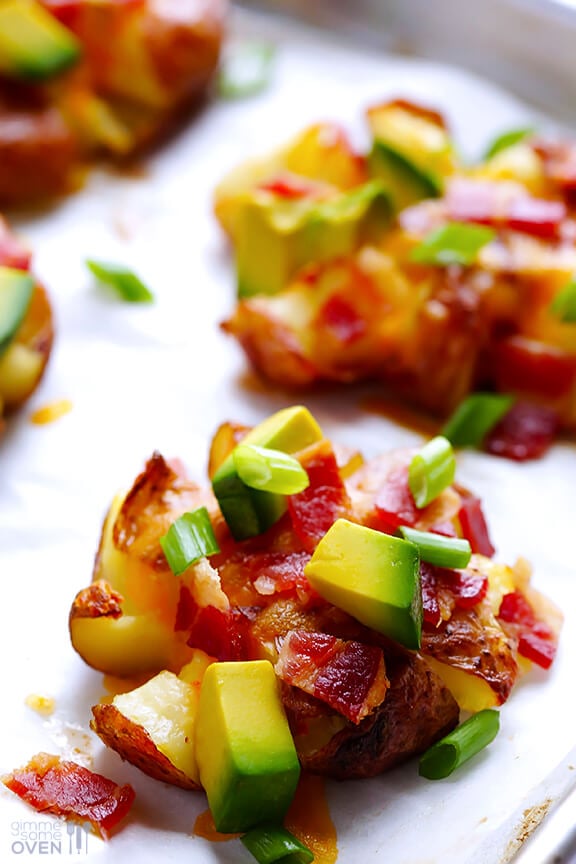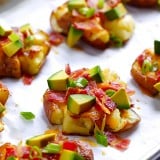 Loaded Smashed Red Potatoes
These loaded smashed red potatoes are perfect for game day, a side dish, or even a fun appetizer!
Ingredients:
2 lbs. red potatoes
2-3 Tbsp. melted butter or olive oil
seasoned salt, to taste
freshly-ground black pepper, to taste
toppings: shredded cheese (I used sharp cheddar), crumbled cooked bacon, thinly-sliced green onions, diced avocado, sour cream, extra butter, etc.
Directions:
Preheat oven to 450 degrees.
Fill a large stockpot 1/2-2/3 full of water (leaving room for the potatoes), and bring to a boil over high heat. Add in potatoes, cover, and reduce heat to medium. Cook until the potatoes are fork-tender, about 20 minutes.
Cover a baking sheet with aluminum foil, then spray with cooking spray. Place the cooked potatoes about 2-3 inches apart on the baking sheet. Then use a potato masher or a meat mallet to gently press the potato down until it is about 1-inch thick. Brush the tops of each crushed potato generously with butter or olive oil. Then sprinkle generously with seasoned salt and black pepper to taste.
Bake for 20-25 minutes, or until the edges of the potatoes begin are slightly golden brown. Remove and immediately sprinkle with desired toppings. Serve warm.
If you make this recipe, be sure to snap a photo and hashtag it #gimmesomeoven. I'd love to see what you cook!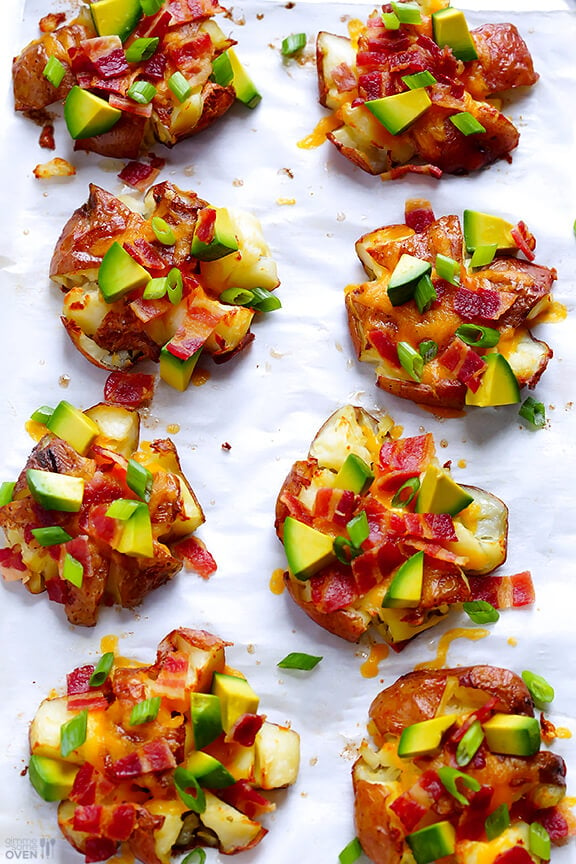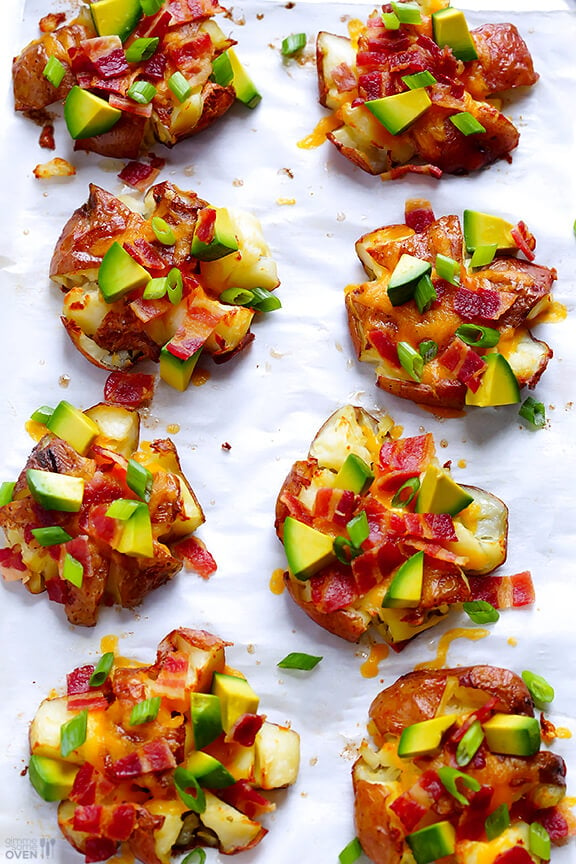 Disclaimer: I won my trip to visit Black Gold Farms and all of my travel expenses were covered.  This is not a sponsored post, but I wanted to share with you all about my trip.  All opinions are 100% my own, as always.