Maoz Vegetarian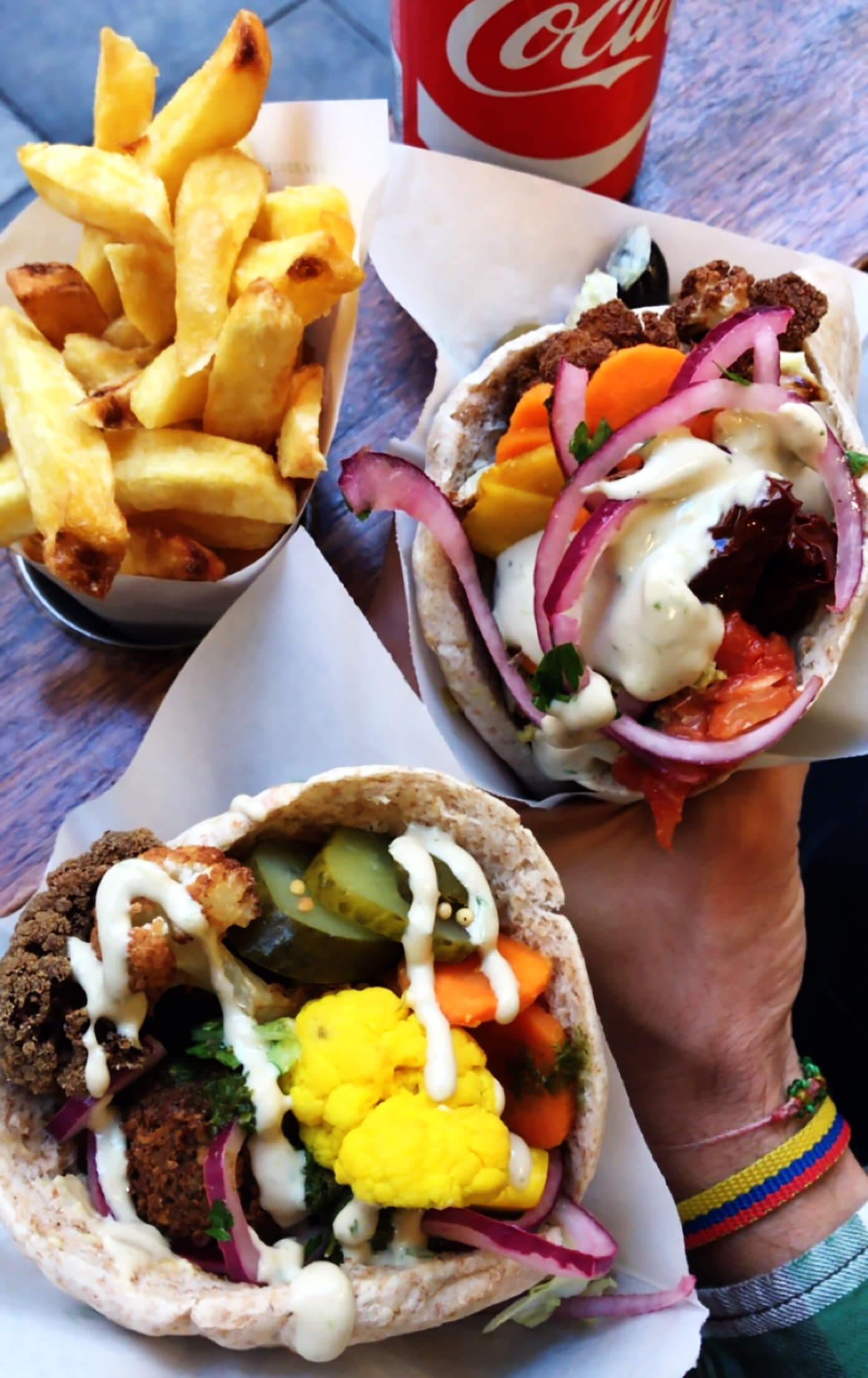 Maoz Vegetarian
What It Is: 
A famous little falafel shop with two things on the menu: falafel and fries.
Where It's Located:
Ciutat Vella – between El Born and El Raval (Locations in Europe and the States too) | Google Map
Why We Love It: 
If you've pushed your Spanish ham consumption to its limits, this is a delicious way to let your system recover with a solid vegetarian meal. The falafel is the best we've had in Barcelona, and it's served with pita (or salad greens) and your choice of hummus or baba ganoush. Then there's a self-serve salad bar offering a rainbow of toppings to customize your sandwich to taste.
It's located on a super-touristy block near La Rambla. But it's fun to get a sandwich or falafel salad with fries, and watch the river of people flow by.
Our Recommendations:
When there are two of us, we usually order one pita (or salad) by itself. Then couple that with a "combo meal" order, which also includes a drink (water, soft drink or beer) and some of their straight-from-the-heat fries to share. (The fries are huge, so you can totally share them.)
Check out our downloadable travel guide map for other recommendations nearby!
Website | Facebook | TripAdvisor | Yelp | t:+34 653 847 653
For More Barcelona Travel Recommendations…
Check out our Gimme Some Barcelona Travel Guide, which includes a constantly-updated list of our best recommendations on where to stay, what to do, and where to eat in Barcelona. Plus, we've also shared a bunch of our best Barcelona-specific travel tips, so that you can navigate the city like a local.
Also, feel free to download our Gimme Some Barcelona Google Map, which includes all of the recommendations listed in our travel guide.