Margarita Chicken Fajitas + Calphalon Giveaway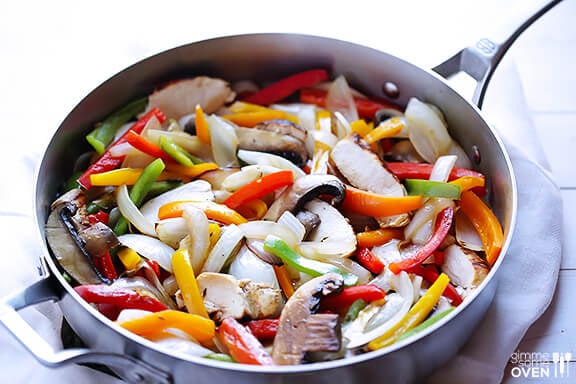 For the beginning years professional life, I worked in a church, which automatically meant that I worked weekends.  Seven years of weekends.
Don't get me wrong, I loved my job there.  But having every Saturday and Sunday automatically booked was tough, especially when the rest of the world and especially my friends were buzzing with energy of free time.  Each weekend, I would try to squeeze in as much time with friends as I could before and after work.  But more often than not, I found myself feeling distracted and rushed.  And spontaneity was pretty much out of the question.
But now, I have my weekends back!  And a year after having resigned from that job, I still feel like a kid on Christmas when I wake up on a Saturday or Sunday and remember that I don't have to go into work.
Weekends off are amazing!!!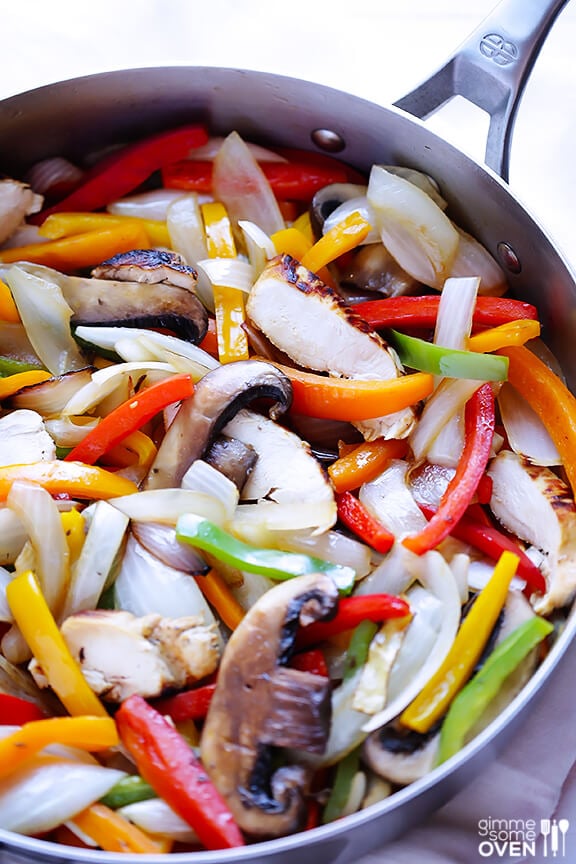 I feel like I'm often making up for lost time trying to squeeze in as much time with friends as possible.  But my favorite thing is always to have nothing planned, and just see where the wind blows.  This past weekend, I did just that.  From Saturday morning brunch with a friend at my favorite restaurant next door, a leisurely afternoon parked with a book and iced tea at my favorite coffee shop, long walks with the pup to soak up the sunshine, cooking dinner with friends at home with the windows hopen, a meaningful morning at church, outdoor symphony night at Union Station, and the one thing we actually had planned — an Arrested Development marathon.
It was my version of a perfect weekend and more.
Of course, living next door to our city's largest farmers market, a Saturday is not complete without a trip over to do some grocery shopping and farmer visiting.  (And of course, people watching!!!)  I came home with a bag full of colorful local produce, but then also couldn't resist the 7 for $1 bag of fresh limes at the Asian market.  So I came home and made one of my new favorites again — Margarita Chicken Fajitas.
If you like margaritas and you like fajitas, these are for you.  The chicken is marinated in tequila and lime and orange juice, and then sauteed up with lots of fresh veggies and served with guac and cheese.  Fajitas are endlessly flexible, so you can easily substitute whatever veggies sound great to you.  But then I highly recommend serving these with some margaritas too.  You know, just because.  :)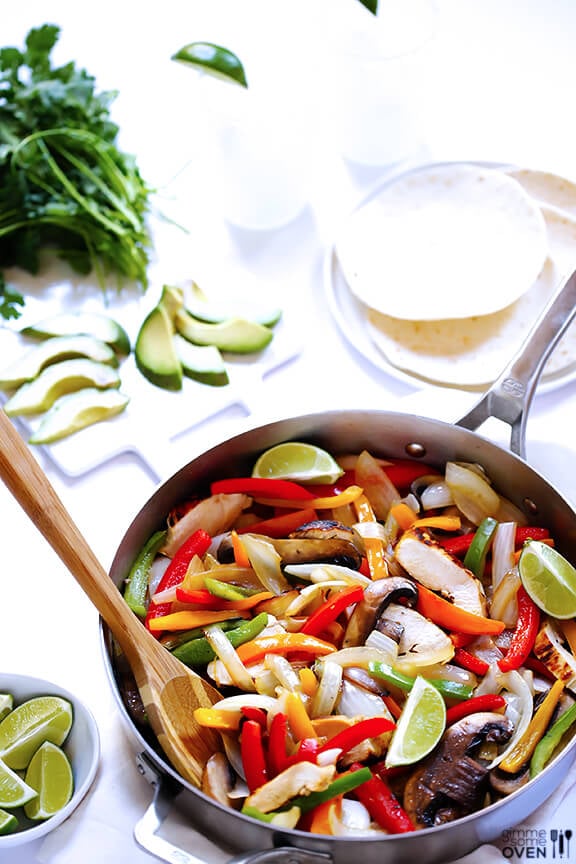 Finally, as a little surprise to kick off a summer of sauteeing, I am thrilled to be giving away this beautiful stainless steel Calphalon saute pan that I used with this recipe.  To be specific, it is a Calphalon 5-Quart Saute Pan with Cover, and it is the new rockstar of my kitchen.  I've included more details below, but trust me when I say that you want to enter this giveaway.  I never knew I could love a pan this much!
So be sure to check out the giveaway, and also grab a margarita and try these fajitas.  Perfect for celebrating the weekends!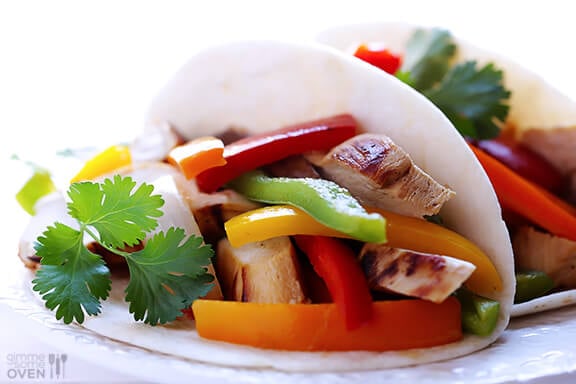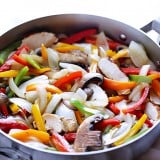 Margarita Chicken Fajitas
Delicious chicken fajitas are seasoned with the flavors of a classic lime margarita!
Ingredients:
Fajita Ingredients:
4 boneless, skinless chicken breasts, pounded to even thickness (about 1/2-inch)
marinade (recipe below)
salt and pepper
1/4 cup olive oil, divided
3 bell peppers (I used a red, orange, and yellow pepper), cored and thinly sliced
2 portabello mushroom caps, thinly sliced
1 white onion, thinly sliced
flour tortillas
Toppings: shredded Mexican cheese, avocado slices or guacamole, sour cream, lime wedges, chopped fresh cilantro
Marinade Ingredients:
1/2 cup tequila
1/2 cup freshly-squeezed lime juice
1/4 cup freshly-squeezed orange juice
1 tsp. cumin
1/4 tsp. cayenne
Directions:
Whisk together marinade ingredients in a small bowl. Remove 3 Tbsp. of the marinade for later use, and add the remaining marinade to a large ziplock bag. Add the chicken, and toss to coat.
Then refrigerate the mixture for at least 1 hour (up to 8 hours). When ready to cook, remove the chicken from the marinade, and season generously on both sides with salt and pepper.
Heat 2 tablespoons of oil in a large sauce pan over medium-high heat. Add the (drained and seasoned) chicken breasts and let cook without touching for 5 minutes. Flip the chicken breasts over, and cook for an additional 3-5 minutes until no longer pink inside and juices run clear. Remove chicken and set aside on a plate to cool.
Add the remaining 2 tablespoons. oil to the pan and heat over medium-high heat. Add peppers, mushrooms and onions, and cook for about 7-10 minutes until crisp-tender, stirring frequently.
During the last few minutes that the vegetables are cooking, cut the chicken breasts into thin strips against the grain. When the vegetables are ready, add the chicken strips to the vegetable mixture. Reduce heat to medium-low, and drizzle with the reserved marinade and stir to coat. (Watch closely so that the tequila in the marinade does not flame up.) Cook for 2 minutes, then season with additional salt and pepper if needed.
Serve warm in flour tortillas with toppings.
All images and text ©
If you make this recipe, be sure to snap a photo and hashtag it #gimmesomeoven. I'd love to see what you cook!

Calphalon Giveaway
Prize Details: 
We are giving away (1) Calphalon AccuCore5-Quart Saute Pan with Cover.  The AccuCore pans are made from 5 individual metal layers with a responsive copper core that heats – and cools – evenly to help maintain a more consistent temperature across the entire pan. Two inner layers of aluminum also efficiently conduct heat, while stainless steel outer layers create a beautiful, durable surface that is dishwasher safe.  Basically, this pan is made with the best quality standards, and cooks like a PRO.  I especially love its ability to create the perfect sear on meats and veggies, and how evenly it truly cooks everything.  Not to mention — this pan is gorgeous!!
How To Enter:
Follow the instructions on the Rafflecopter widget below.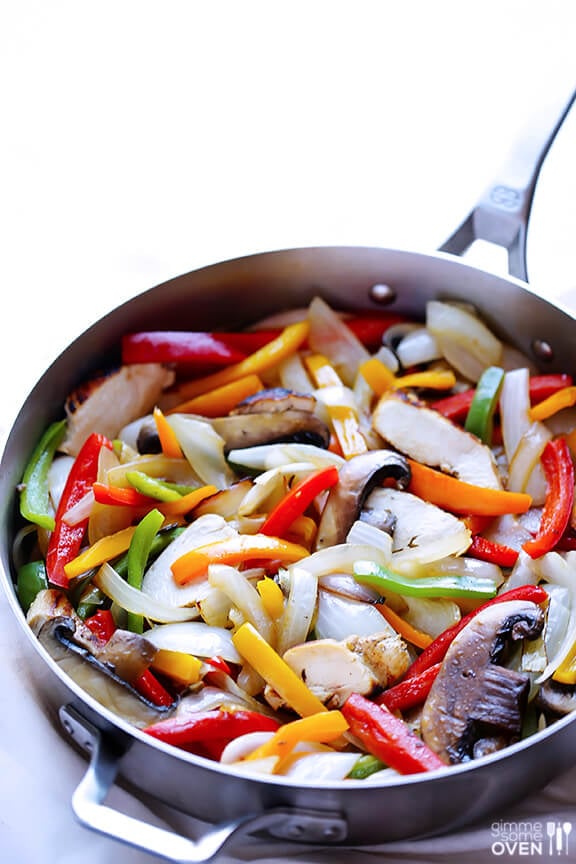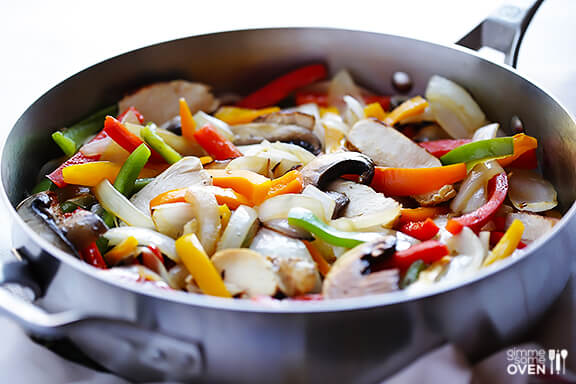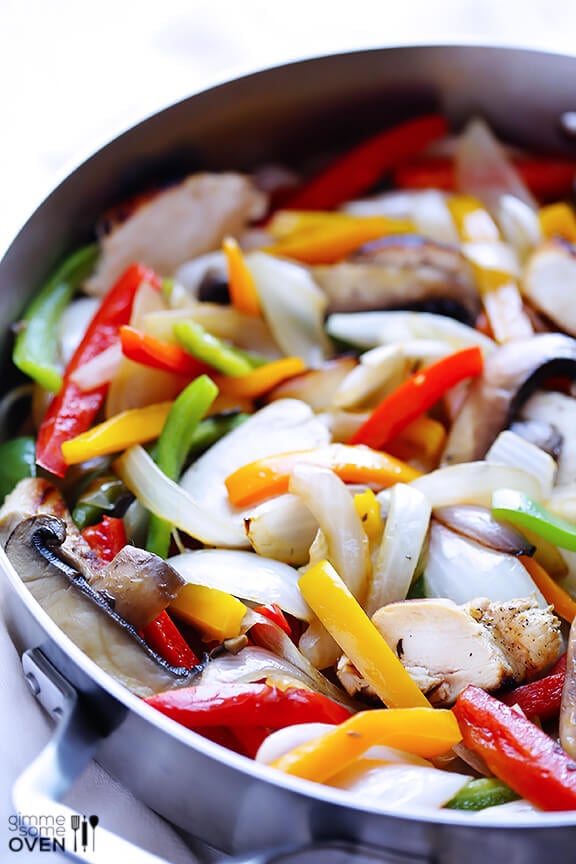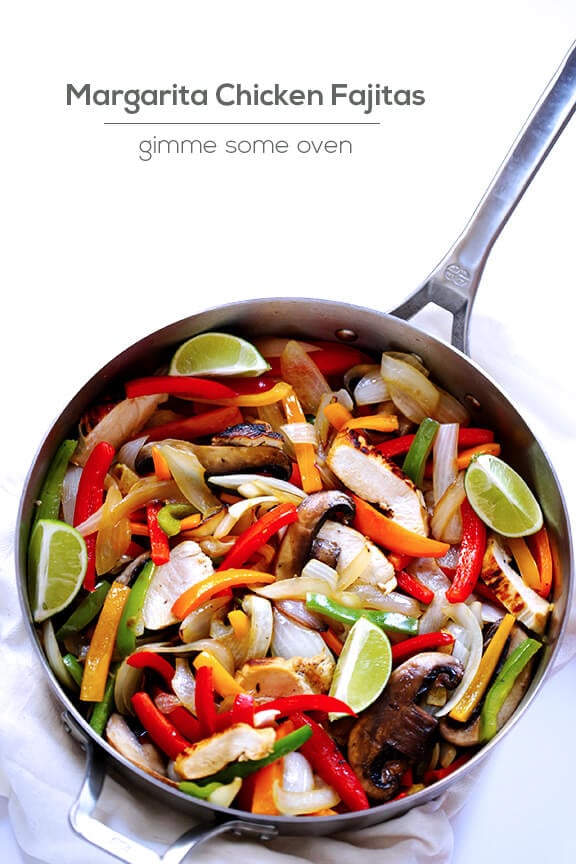 Disclaimer: This review is sponsored by Calphalon.  I was given an AccuCore pan to review, but was not compensated and all opinions are 100% my own as always.