Margarita Cupcakes
I love cupcakes.  And I love margaritas.  As logic would suggest, therefore I love margarita cupcakes.
Logic would be correct.  :)
One of the best things about having a birthday during the first week of May ("Dos de Mayo") is that Cinco de Mayo is always right around the corner.  So for one of my bday celebrations this year, I decided to make some of these cute margarita cupcakes to celebrate!  The recipe sounded great — lots of lime juice/zest, a splash of tequila, and a fancy swiss meringue buttercream frosting.
While the final result ended up being muy delicioso, I have to admit that these little guys were quite a bit more work than I anticipated.  Zesting and juicing all of the limes always takes extra time, but is well worth it.  But somehow I ran into problems with the swiss meringue buttercream.  I'm still not entirely sure where I went wrong, but after adding in the butter, my frosting never quite set up perfectly again.  I may have overmixed, or the temperature may not have been right, or who knows.  But when the frosting still refused to set up, I popped it in the fridge for 20 minutes, and then it finally thickened up once I began beating it again afterwards.  But even though it wasn't a perfectly smooth swiss meringue buttercream, it still piped out nicely and tasted divine.
That said, if you're looking for a fun dessert, these little guys really are worth the effort.  The lime mixed into the sweet cupcakes comes through perfectly, and when paired with the sweet frosting (with a kick!), these are a total hit.  Definitely a favorite of my friends, and of course, the birthday girl.  :)
Feliz Cinco de Mayo!!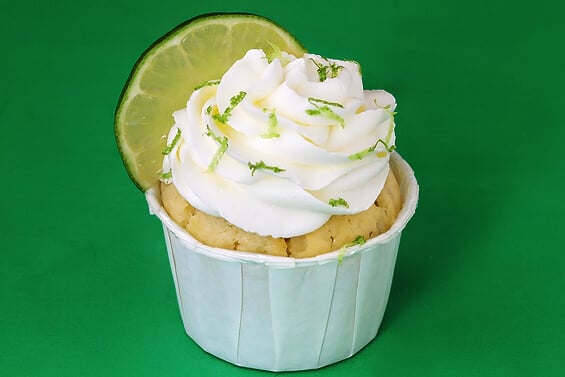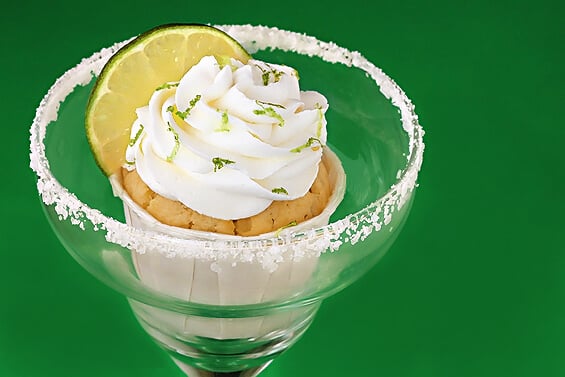 Margarita Cupcakes
A delicious recipe you can't resist – made with or without tequila! You will love this Margarita Cupcakes recipe!
Ingredients:
!Cupcake Ingredients:
3 cups all-purpose flour
1 Tbsp. baking powder
½ tsp. salt
1 cup (2 sticks) unsalted butter, room temperature
2 cups sugar
4 large eggs, room temperature
3 limes, zested and juiced
½ tsp. vanilla extract
1 cup buttermilk
!
!Margarita Swiss Meringue Buttercream Ingredients:
2 cups sugar
8 egg whites
1 1/2 cups (3 sticks) butter, room temperature
2 1/2 Tbsp. lime juice
1-2 Tbsp. tequila
Directions:
To Make Cupcakes:
Preheat the oven to 325? F. Line two cupcake pans with paper liners. In a medium bowl, combine the flour, baking powder and salt; stir with a fork to blend. In the bowl of a stand mixer fitted with the paddle attachment, cream together the butter and sugar on medium-high speed until light and fluffy, 3-5 minutes. Blend in the eggs one at a time, mixing well after each addition and scraping down the sides of the bowl as needed. Beat in the lime zest, lime juice and vanilla. With the mixer on low speed, mix in the dry ingredients in three additions alternating with the buttermilk, beginning and ending with the dry ingredients. Beat each addition just until incorporated.
Divide the batter between the prepared cupcake liners, filling each about ¾ full. Bake 20-24 minutes, or until a toothpick inserted in the center comes out clean. Let cool in the pan 5-10 minutes, then transfer to a wire rack to cool completely. If desired, brush the cooled cakes with tequila to emphasize the true margarita flavor.
To Make Frosting:
Combine the sugar, egg whites, and salt in a heatproof bowl set over a pot of simmering water. Heat, whisking frequently, until the mixture reaches 160° F and the sugar has dissolved.
Transfer the mixture to the bowl of a stand mixer fitted with the whisk attachment. Beat on medium-high speed until stiff peaks form and the mixture has cooled to room temperature, about 8 minutes.
Reduce the speed to medium and add the butter, 1 tablespoon at a time, adding more once each addition has been incorporated. If the frosting looks soupy or curdled, continue to beat on medium-high speed until thick and smooth again, about 3-5 minutes more (don't worry, it will come together, though it may take a long time!) Stir in the lime juice and tequila and mix until fully incorporated and smooth.
Keep buttercream at room temperature if using the same day, or transfer to an airtight container and refrigerate up to 3 days or freeze up to 1 month. Before using, bring to room temperature and beat with paddle attachment on low speed until smooth again, about 5 minutes.
Frost the cooled cupcakes with the buttercream. Garnish with lime zest and lime slices as desired.
Adapted from Annie's Eats, originally from Martha Stewart
All images and text ©
If you make this recipe, be sure to snap a photo and hashtag it #gimmesomeoven. I'd love to see what you cook!
Ali's Tip:
These would also be yummy with some coconut mixed in!  Feel free to add a few tablespoons of toasted coconut into the cupcakes, or use it to garnish the frosting.