Mexican Macaroni and Cheese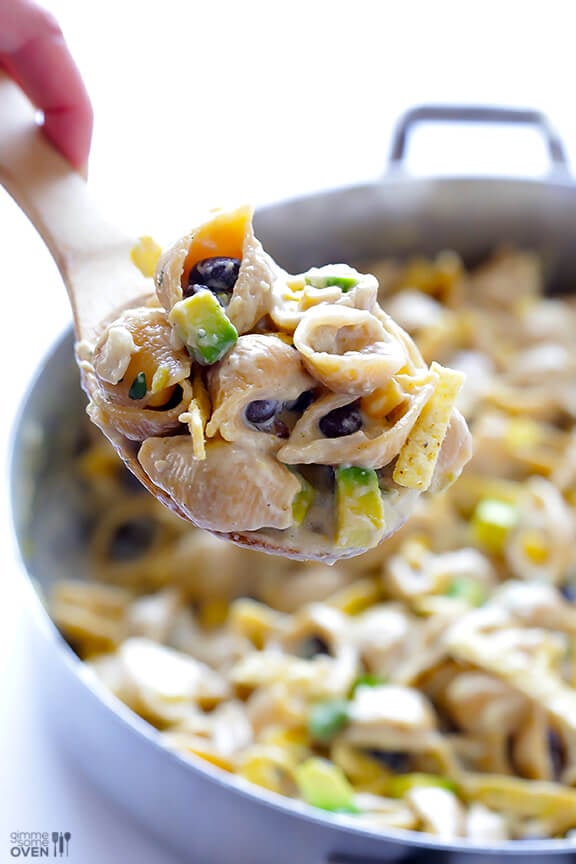 ¡Amigos!
I'm finally doing it.  I'm cracking open the dictionaries and the textbooks and the verb charts and starting to work on mi español again.
It's been — ohh — about a decade.
(Yeesh.)
But tickets for a June trip to El Salvador are being booked, I'm feeling the language bug after starting to do more ESL tutoring again, and to be honest — I just love speaking Spanish.  I love the rhythm and cadence of it, I love rolling those rrrrr's, I love conjugating verbs (ok, actually that part isn't as fun).  And more than anything, I love all of the associations and crazy memories that spring to mind of the cool places and people who were a part of teaching me those words way back in the day.
But ay ay ay. I have forgotten so much over the years.  Like, a ridiculous amount.  So it's taking a swallow of the ol' pride and some mega stamina to try and get my brain back in gear.  And, you know, maybe some extra Mexican food and margaritas for inspiration.  Especially this fusion of Mexi flavors with traditional American comfort food!
In English, I named it Mexican Macaroni and Cheese.  But in Spanish, I like to call it perfecto.  ;)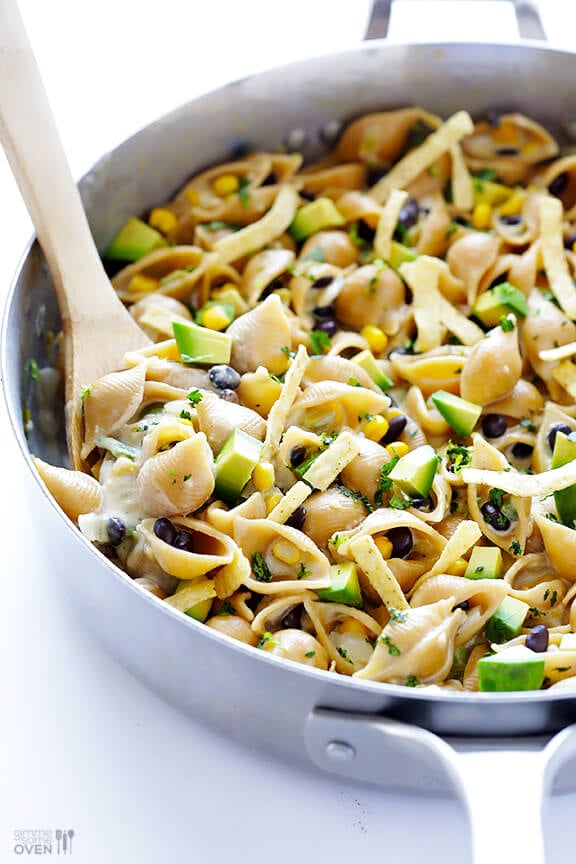 I had been wanting to try a Mexi take on my favorite base mac and cheese recipe for awhile.  (That — bonus! — is also considerably lighter than most mac and cheese recipes.)  So when we had an unexpectedly cloudy and rainy spring day this week, I grabbed an avocado and some Jack cheese and decided to make it happen.
Long story short, I'm pretty positive you should too.
Here's how to make it!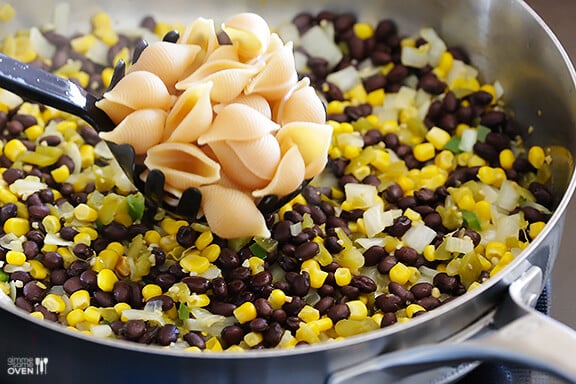 We begin with pasta.  You can use actual macaroni for this recipe, but I totally recommend trying shells or ziti or something that can help hold all of those tiny pieces of corn.  I used my favorite whole wheat pasta from DeLallo, which I whole-wheat-heartedly recommend.  Cook it al dente according to package instructions.
While the pasta is cooking, saute up an onion and jalepeno until cooked.  Then add in some garlic, green chiles corn and black beans.  And once the pasta is cooked, drain and add it to the saute pan.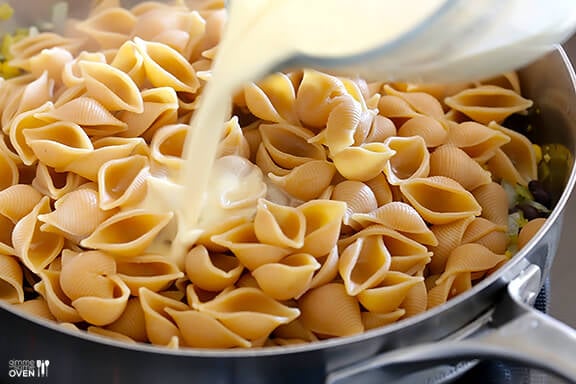 Pour in a mixture of evaporated milk, egg, and some seasonings, and stir to combined.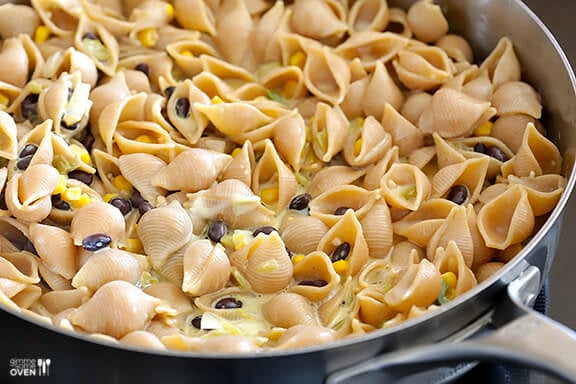 See?  It's already looking creamy!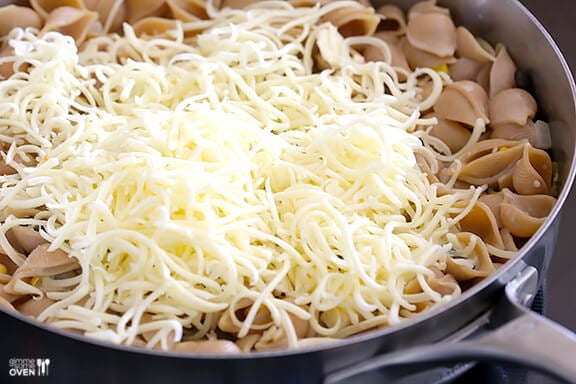 And then say cheeeeese!
I used Monterrey Jack for this recipe, but Colby Jack, Pepper Jack or Mexi cheeses would work well for this recipe.  (*Sidenote, though, I do not recommend buying pre-shredded cheese.  Often those cheeses have an additive that keeps them from sticking together, which also prevents them from melting smoothly.  So by a block and either shred it by hand or by using a shredding attachment on a food processor.)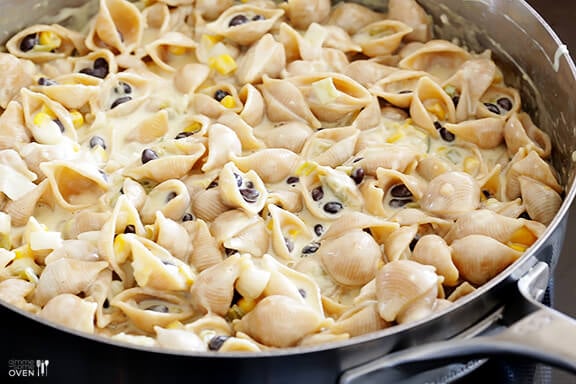 Then once that cheese is added, remove the pan from the heat and give it a good stir until it is melted and ooey gooey delicious.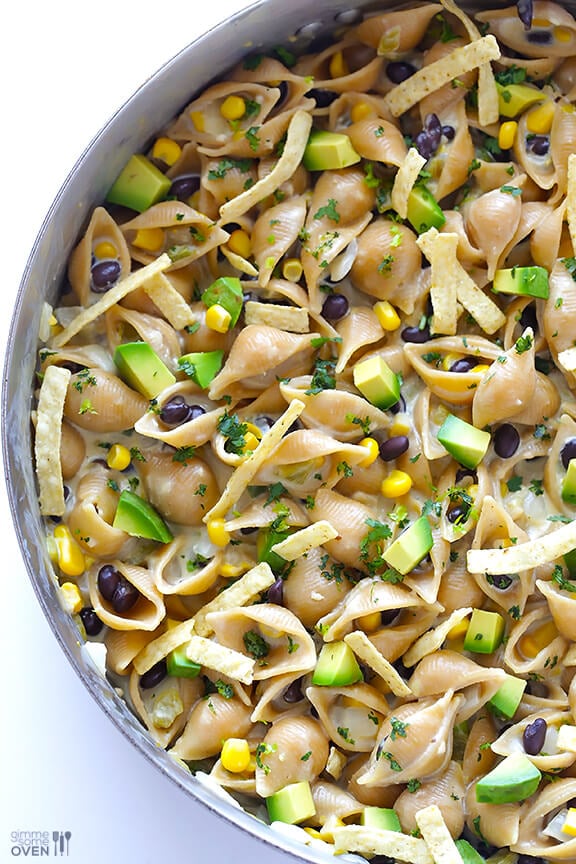 Top the mixture with some fresh avocado, cilantro and tortilla strips.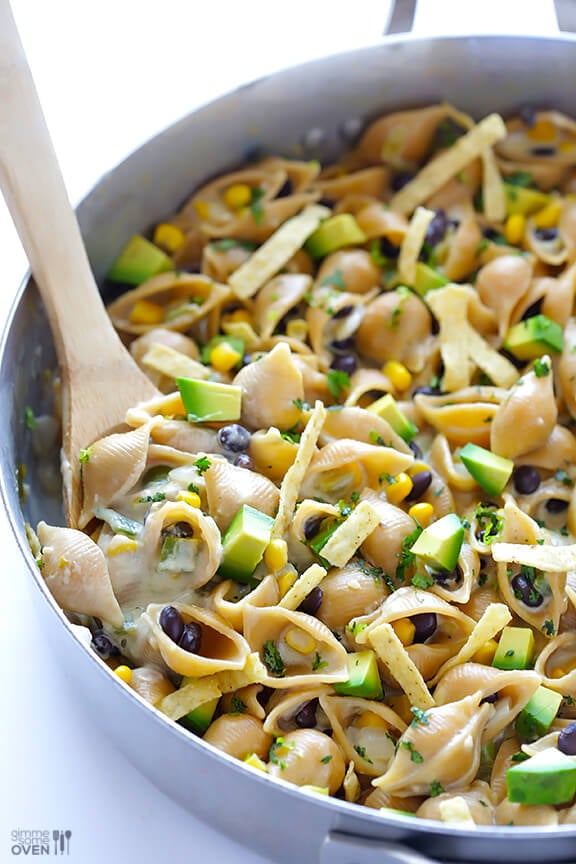 And serve it right up!!!
Ok, tiny food blogging pet peeve with photographing mac and cheese.  If you don't snap your camera within 2 minutes of stirring the stuff, somehow the cheese disappears from the photo.  I promise it's there!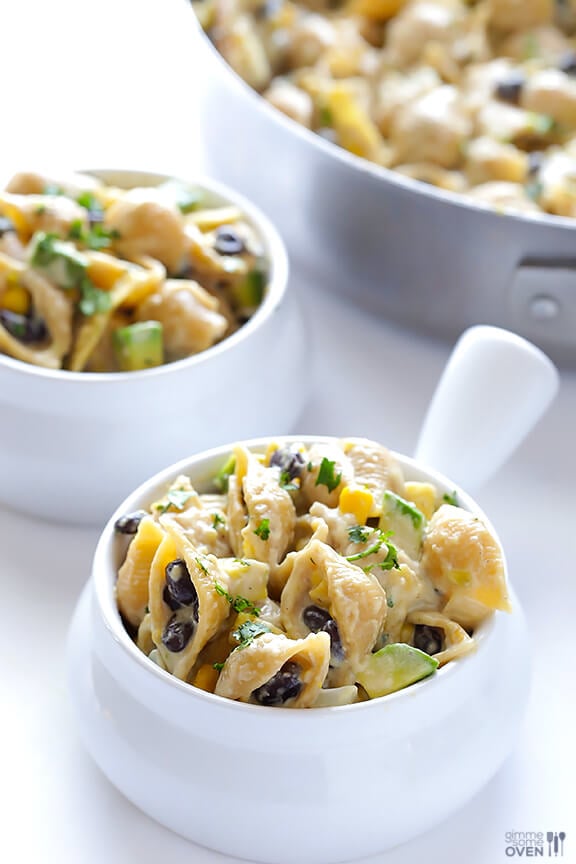 AH.  There I caught it.
Seriously, this recipe is the best of the Mexi and mac+cheese worlds combined.  You're gonna love it.
¡Pruébalo!  Try it!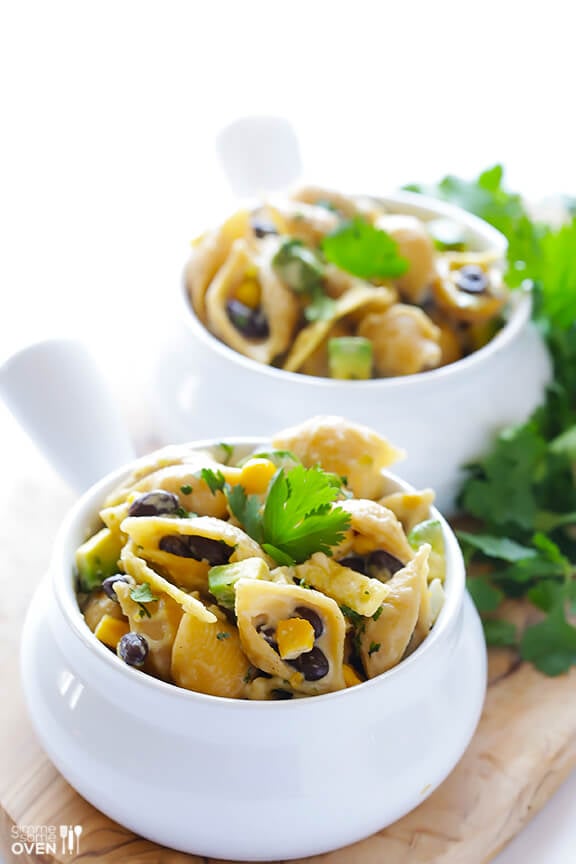 Mexican Macaroni and Cheese
The best flavors of Mexican food meets macaroni and cheese in this savory and irresistible dish.
Ingredients:
12 oz. uncooked macaroni or other pasta
2 Tbsp. olive oil
1 small white onion, chopped
1 jalapeno, finely diced (optional)
3 cloves garlic, minced
1 (4 oz) can chopped green chiles
1 (14 oz) can black beans, rinsed and drained
1 (14 oz) can whole kernel corn, rinsed and drained
1 (12-ounce) can 2% evaporated milk
1 large egg
1 tsp. salt
1/2 tsp. cumin
1/2 tsp. ground black pepper
8 oz. (about 2 cups) shredded Monterrey Jack or Colby Jack cheese
1 avocado, peeled pitted and diced
fresh cilantro, finely chopped
tortilla chip strips (or crushed tortillas)
Directions:
Heat a large stockpot full of generously-salted water until it comes to a boil. Add the pasta and cook according to package instructions until al dente.
At about the time that you actually add the pasta to the boiling water, heat oil in a (separate) large saute pan over medium-high heat. Add onion and jalapeno (if using) and saute for about 5 minutes, until the onion is tender and translucent.
While the onion is cooking, add the evaporated milk, egg, cumin, salt and pepper together in a small bowl or measuring cup, and whisk until combined. Set aside.
Back to the saute pan. Once the onion is cooked, stir in the garlic and chopped green chiles and saute for an additional minute until the garlic is fragrant. Then stir in the black beans and corn, and saute for an additional minute.
Once the pasta is al dente, drain the pasta and add it to the veggie mixture in the saute pan. (Or you can do the reverse and add the veggies and pasta back to the stockpot and complete the recipe there.) Immediately stir in the evaporated milk mixture, and stir until the mixture is combined. Cook for 1 more minute until the milk mixture is heated through. Then add the shredded cheese and stir to combine.
Serve immediately topped with diced avocado and chopped cilantro and tortilla chips.
All images and text ©
If you make this recipe, be sure to snap a photo and hashtag it #gimmesomeoven. I'd love to see what you cook!