Miso Roasted Brussels Sprouts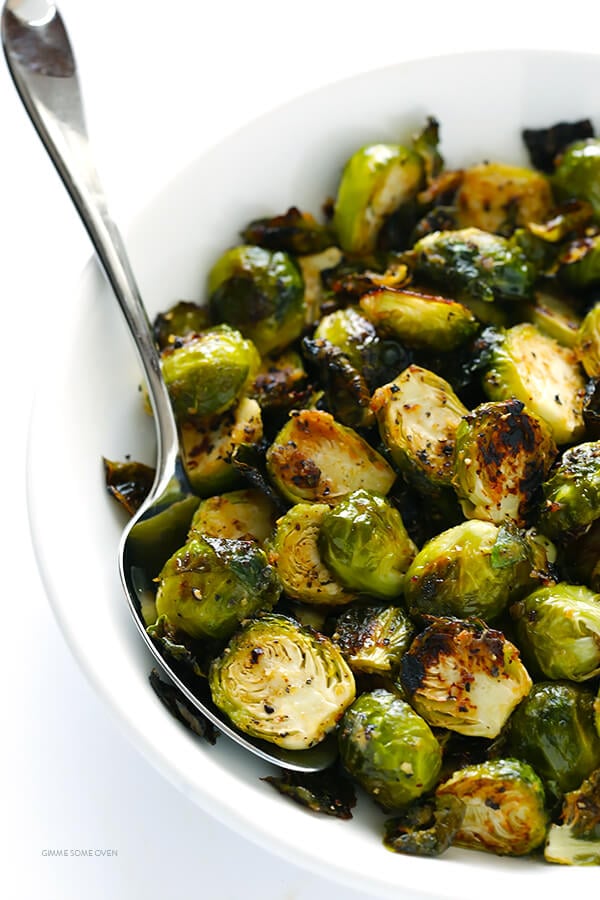 I am on a mission to clean out the fridge this week.
Because after hosting a handful of happy hours this month, and testing a few dozen recipes for the blog in between, my fridge is literally overflowing right now with ingredients and leftovers galore.  I'd say that this is probably par for the course for any food blogger.  But even my friends — who by now are used to coming over and taking it upon themselves to shift stuff around for a minute to find a little spot for their bottle of white wine to chill — remarked at a happy hour this week that it was a freaking miracle that the fridge doors were even able to close.  Ha, oops.
Time to essentialize that fridge!!
My first priority, of course, is always using up that time-sensitive produce.  So yesterday, I made a smoothie with random leftover fruit, a big green salad with smoked salmon, and my third batch (in one week!) of these miso-roasted Brussels sprouts that I can't seem to stop making.  They're so easy that I hadn't even thought of posting them on the blog.  But after eating the leftovers all week for literally breakfast, lunch, and dinner, it occurred to me that some of you might need these in your life too.
And the best part?  All you need are 5 easy ingredients to make them!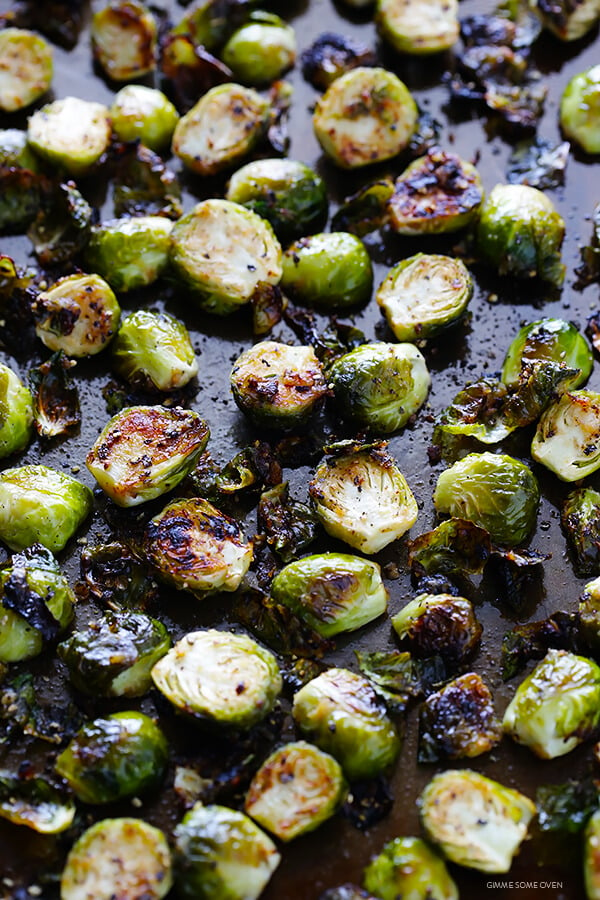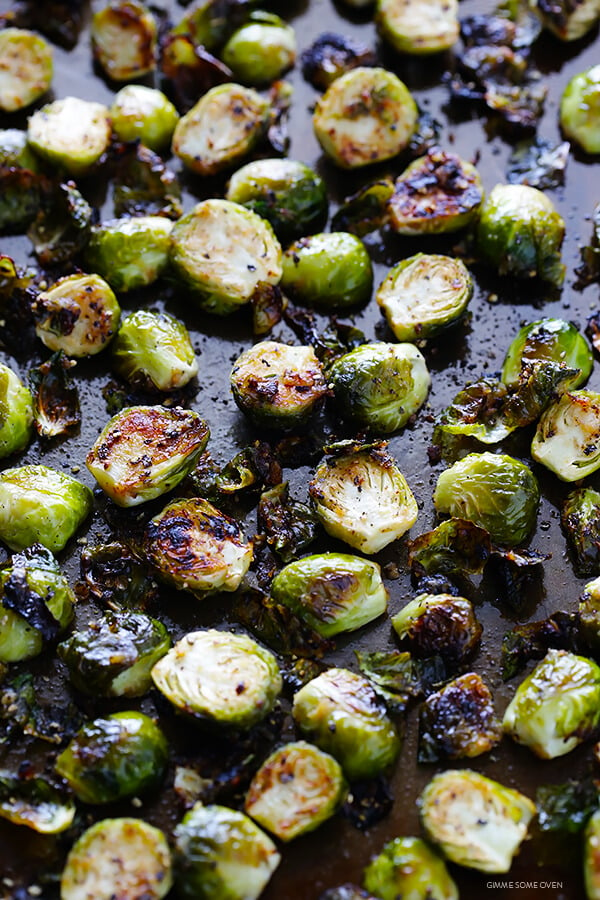 I should probably mention that the reason these roasted Brussels sprouts were part of my clean-out-the-fridge-a-thon was because I seem to have turned into a compulsive Brussels-buyer whenever I see a good batch at the grocery store.  They're kind of like ripe avocados — whenever I see some good ones, I absolutely have to buy them.
So it's pretty much a given that a bag or two of Brussels is always stocked in my little crisper drawer, and roasted or shredded up to serve with lunch or dinner (or let's be real — also breakfast and snack-time) multiple times a week.  Never get tired of them!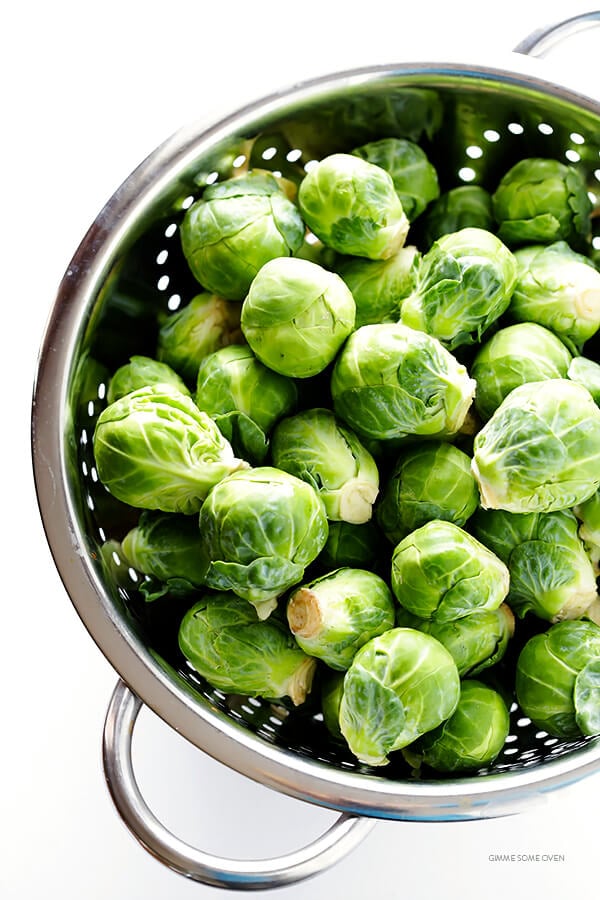 Most of the time, I still love just roasting them "plain", with simple olive oil, salt and pepper.  But I also love experimenting with seasonings to go with whatever else might be served at that meal.  And after getting obsessed with miso-glazed fish the past year, it was only a matter of time before I became obsessed with miso-roasted Brussels.
Miso just seems to be that magical ingredient that makes everything tastier!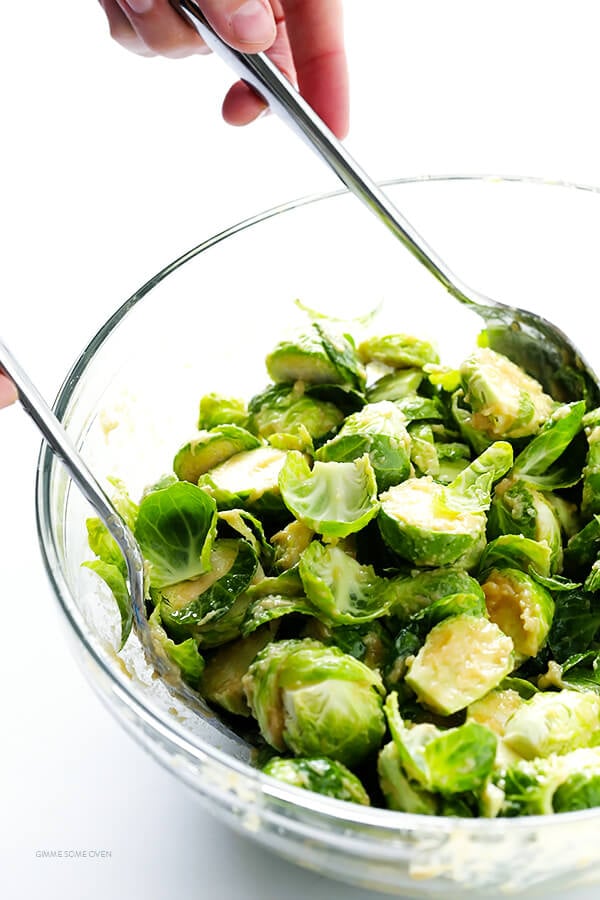 And I can definitely attest that it makes Brussels sprouts all the more magical.  ;)
So to make these, just whip up a simple mixture of white miso, olive oil, and rice wine vinegar.  (It will be pretty thick, not like a traditional vinaigrette.)  Then toss it with some halved Brussels…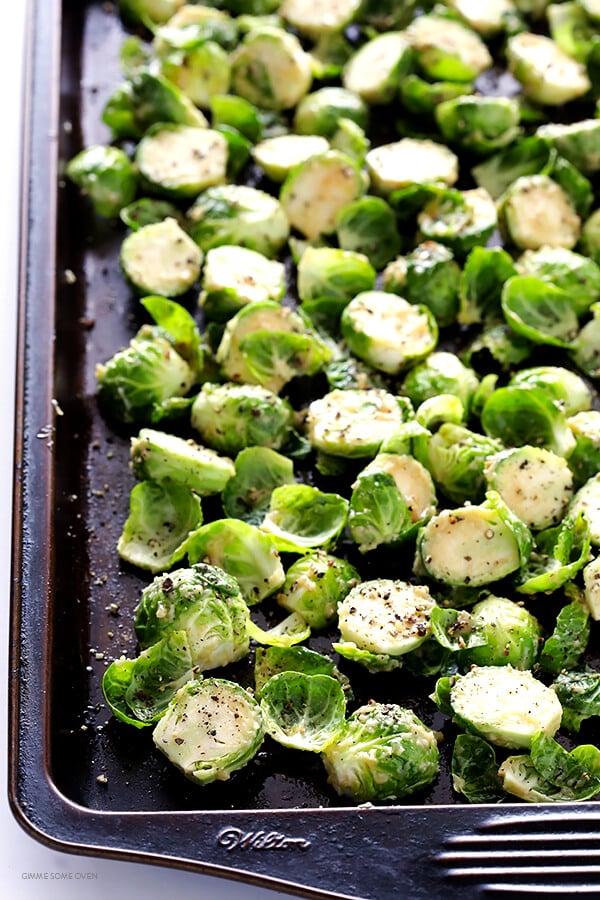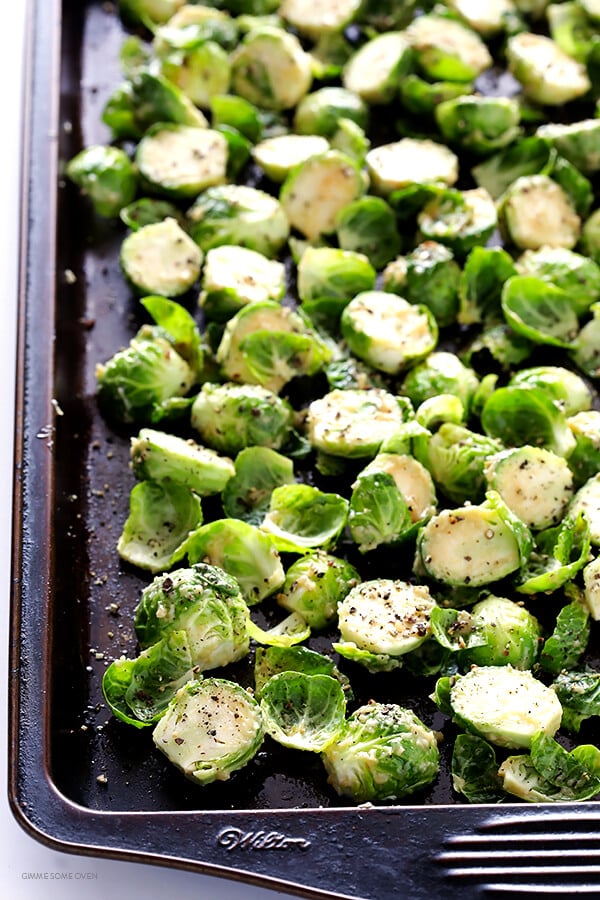 …spread them out evenly on a baking sheet, and sprinkle with lots of freshly-cracked black pepper…
…and within about 15 minutes, these cute little baby cabbages will be roasted to delicious perfection.  (I especially love all of those extra little leaves that get extra charred and crispy — don't leave them out!)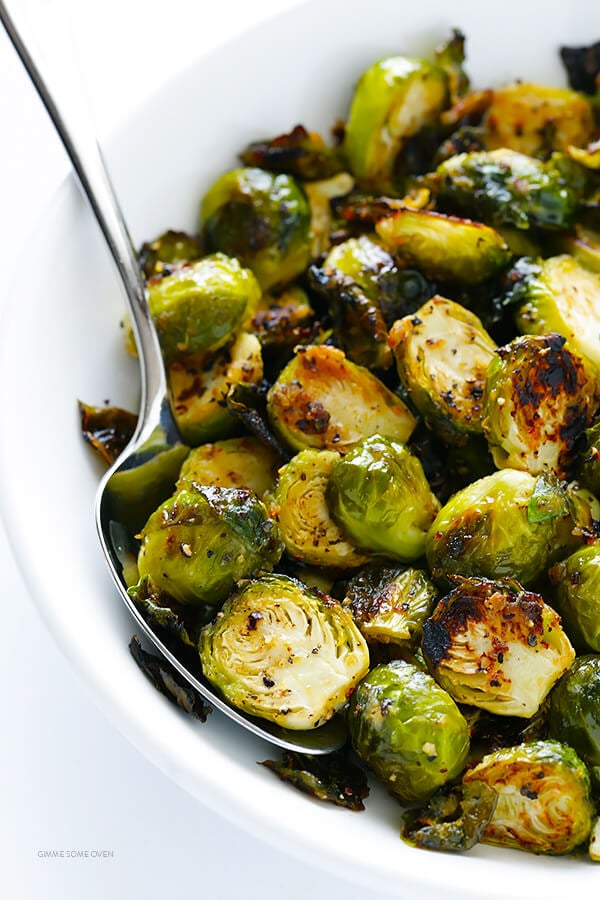 The result is an absolutely irresistible batch of savory, charred, and peppery Brussels that I think you're going to love.  If you want to make them sweeter, feel free to add a tablespoon of maple syrup or honey to the miso mixture.  And if you happen to be a fan of sesame, I also sometimes love tossing these with a little bit of sesame oil after they come out of the oven.  But most of the time, I love just sticking with this simple 5-ingredient recipe.
Hope you enjoy it as much as I do!
How To Cut Brussels Sprouts | 1-Minute Video
Miso Roasted Brussels Sprouts
This Miso Roasted Brussels Sprouts recipe is quick and easy to make, and tossed with an absolutely delicious savory miso vinaigrette.
Ingredients:
2 tablespoons olive oil
2 tablespoons white miso
1 tablespoon rice wine vinegar
1 pound Brussels sprouts, ends trimmed and halved (keep any of the little leaves that fall off!)
freshly-cracked black pepper
Directions:
Heat oven to 400°F.  Prepare a large baking sheet with cooking spray; set aside.
In a small bowl, whisk together olive oil, miso and vinegar until smooth.
In a larger bowl, add the Brussels sprouts, along with the miso mixture.  Toss until the Brussels are evenly coated.
Spread the Brussels sprouts out in an even layer on the prepared baking sheet, then sprinkle them generously with freshly-cracked black pepper.
Cook for 15-20 minutes, removing the pan to toss the Brussels sprouts halfway through, until the Brussels are cooked and charred slightly around the edges.  (The loose leaves will be extra crispy — my favorite!)
Remove from the oven and serve immediately.  Season with extra salt* and black pepper if needed.
*I find that the miso adds enough salt to these, but feel free to add more if you'd like!
**I also sometimes love tossing these with 1/2 teaspoon of sesame oil after they come out of the oven.  You might give that a try if you love sesame!
All images and text ©
If you make this recipe, be sure to snap a photo and hashtag it #gimmesomeoven. I'd love to see what you cook!