Moroccan-Style Chicken Pie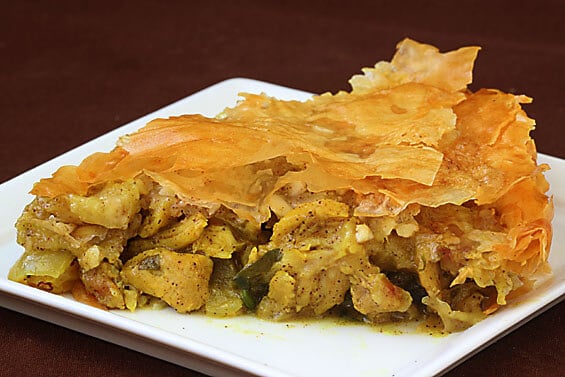 ***Click here to enter this week's cookbook giveaway!  Ends July 11 @ 11:59pm.***
A few months ago, my sister and brother-in-law told me that they had stumbled upon a "stunning" recipe — this "Moroccan-Style Chicken Pie" from Bon Appetit.  Being that they're both stellar cooks, and are always trying creative recipes, this was a pretty strong recommendation.  The only caveat was that it was far from a "30-minute meal"…  :-)
So I had them over last week, and we decided to just make an afternoon out of it!  With three of us, it ended up probably only taking a little under 2 hours, with much of that being cooking time.   Jeff was the pro with the phyllo, carefully laying out all of the layers of the crust.  Sarah made the yummy filling (that made the house smell amazing!!!).  And I was, of course, the designated photographer and cook.
I admit…I can be pretty skeptical of meals that require extra time and ingredients to make, usually quick to question whether it was "worth it".  But with this one….I can 100% say that they were right.  :-)  This pie was a complete delight!!!
From the flaky almond-cinnamon phyllo crust, to the perfectly-seasoned filling, with its sweet and savory highlights…this was the sort of meal where you savor every. little. bite.  An absolute treat.
So put this at the top of your list to try some afternoon or evening when you have a little time to spare.  I completely recommend it – well worth the effort.  Thanks to Sarah and Jeff (and Bon Appetit) for the recommendation!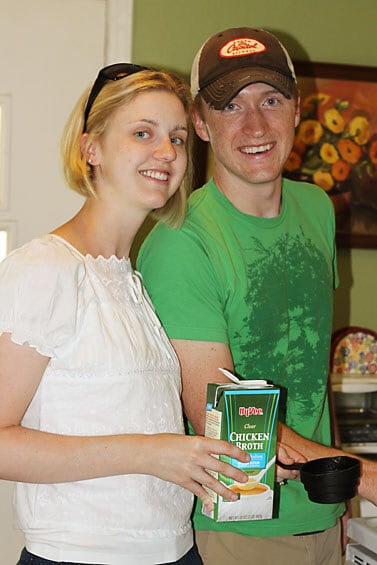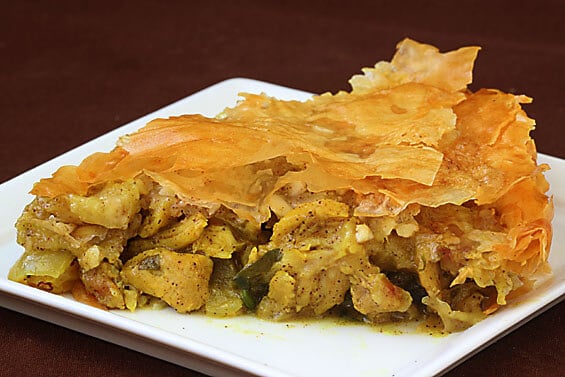 Moroccan-Style Chicken Pie
Ingredients:
Filling Ingredients:
2 tablespoons olive oil
1 large onion, chopped
1 tsp. ground cinnamon
1 tsp. ground ginger
1/2 tsp. turmeric
1/8 tsp. crumbled saffron threads
1 Tbsp. all purpose flour
2 cups low-salt chicken broth
1 1/2 pounds skinless boneless chicken thighs
1/4 cup chopped golden raisins
2 Tbsp. chopped fresh cilantro
2 Tbsp. chopped fresh Italian parsley
Phyllo Ingredients:
1/2 cup slivered almonds
3 Tbsp. powdered sugar
1/2 tsp. coarse kosher salt
1/4 tsp. ground cinnamon
10 sheets (about 17×12 inches) fresh phyllo pastry or frozen, thawed
1/2 cup (about) unsalted butter, melted (for brushing)
Directions:
For filling:
Heat oil in heavy large skillet over medium heat. Add onion and sauté until tender, about 10 minutes. Mix in cinnamon, ginger, turmeric, and saffron; stir 1 minute. Sprinkle flour over; stir 1 minute. Add broth; bring to simmer. Sprinkle chicken with salt; add to broth mixture. Gently simmer chicken uncovered until cooked through, reducing heat if necessary to prevent boiling, about 20 minutes. Stir in raisins. Set skillet aside until chicken is cool enough to handle.

Transfer chicken to plate. Shred chicken coarsely and return to skillet. If sauce is thin, simmer over medium heat until sauce coats chicken thickly. Stir in cilantro and parsley. Season filling with salt and pepper. Cool filling completely. DO AHEAD: Can be made 2 days ahead. Cover; chill.
For phyllo:
Finely grind almonds, powdered sugar, 1/2 teaspoon coarse salt, and cinnamon in mini processor.

Stack 10 phyllo sheets on work surface. Invert 9-inch glass pie dish onto stack. Cut around dish through phyllo, making ten 10-inch rounds. Remove dish. Cover rounds with plastic wrap and damp kitchen towel. ***We did this differently – see note below.***

Brush same pie dish with melted butter. Place 1 phyllo round on work surface; brush with butter and sprinkle with scant 1 tablespoon almonds. Top with another phyllo round, brush with butter and sprinkle with scant 1 tablespoon almonds. Repeat stacking with 3 more phyllo rounds, butter, and almonds. Fit phyllo stack into prepared pie dish. Brush with butter. Spoon filling evenly over. Place 1 phyllo round on work surface. Brush with butter and sprinkle with scant 1 tablespoon almonds. Top with another phyllo round, brush with butter and sprinkle with scant 1 tablespoon almonds. Repeat with 2 phyllo rounds, butter, and almonds. Place stack atop filling; top with remaining phyllo round. Tuck in edges. Drizzle more butter over top. Cut 4 slits through top phyllo stack to allow steam to escape. DO AHEAD: Can be made 6 hours ahead. Cover and chill.

Preheat oven to 375°F. Place pie on rimmed baking sheet. Bake uncovered until phyllo is golden and filling is heated through, about 40 minutes. Cool 15 minutes. Cut into wedges.

If you make this recipe, be sure to snap a photo and hashtag it #gimmesomeoven. I'd love to see what you cook!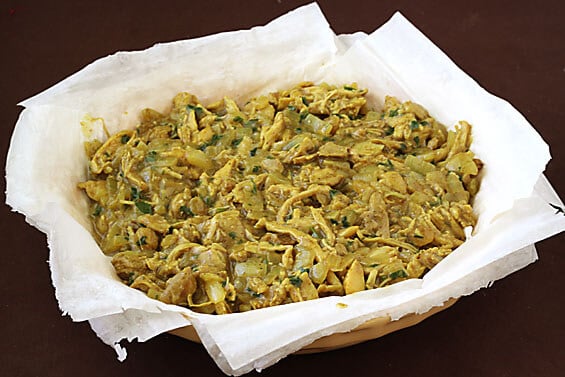 Ali's Tip: As you can see in the photo above, we opted not to cut out the circles of phyllo before layering it in the pan.  We just layed in the rectangles, and once the filling was in, used a knife (or kitchen shears) to carefully cut around the edge.  This was the sides were also completely enclosed in phyllo.