Mulled Wine
This traditional homemade mulled wine recipe is incredibly easy to make, and it's SO cozy and delicious.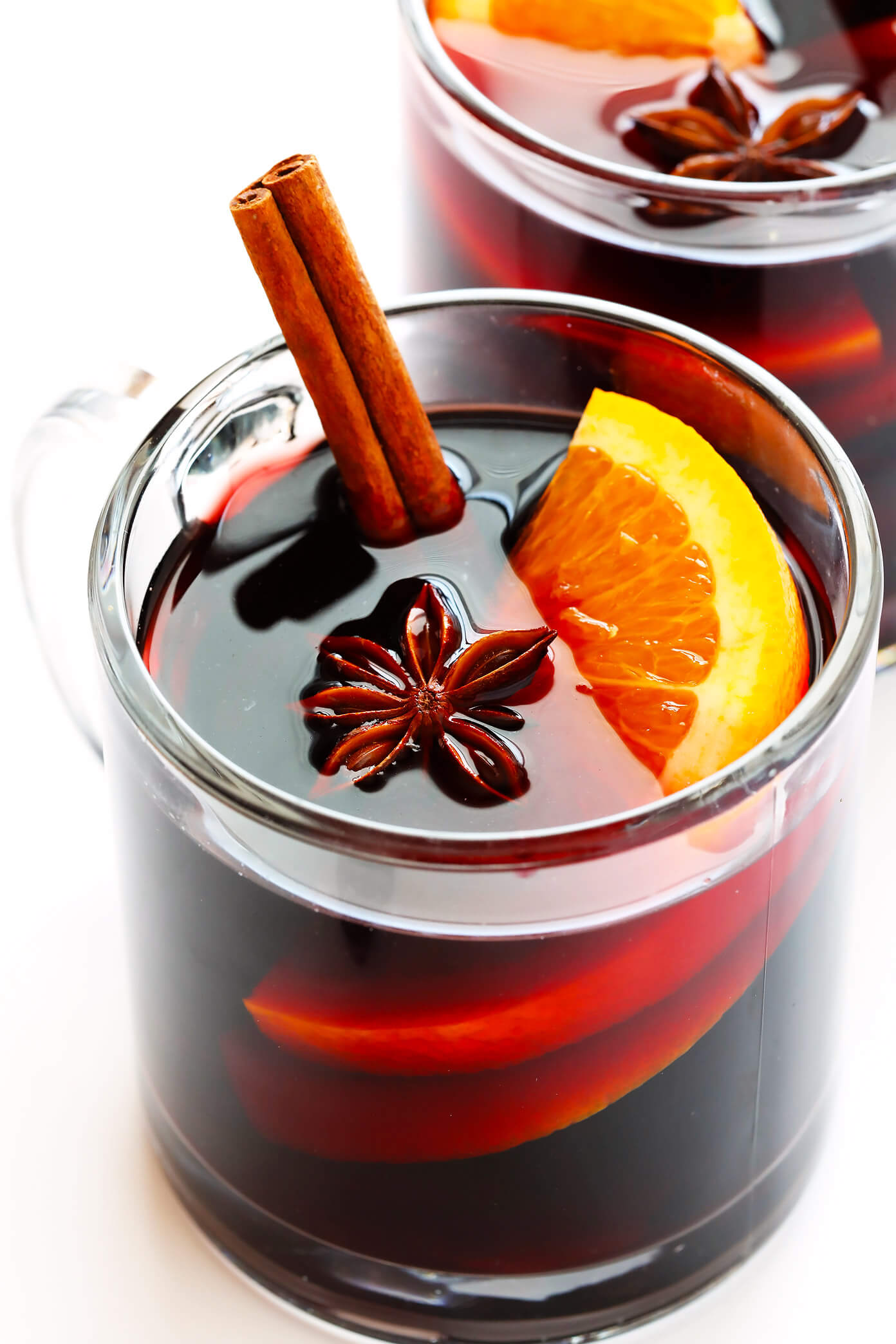 Mmmmm…mulled wine.  ♡
Also known as glühwein, vino caliente, glögg, vin brulé, bisschopswijn, vin chaud, candola, vinho quente…or literally a hundred other names, depending on where in the world life may find you.  Needless to say, it seems like just about everyone in the world loves some hot wine.  And clearly, I can vouch that you all do too.
I actually first shared this recipe five years ago this month, after returning home from a chilly trip to Spain and England in 2012, where my friends I fell in love with warm mugs of hot wine each evening in the pubs.  Since then, literally hundreds of thousands of you have pulled up this recipe to simmer warm batches for yourself.  (Amazing.)  And I ironically now find myself living back in the continent where I first fell in love with the drink, where we have been served warm mugs of it at nearly every holiday gathering and Christmas market and food festival we attend.  And in season of such newness and transition, it has felt more comforting and nostalgic and delicious as ever.
So today, in honor of my mulled wine recipe's 5 year-iversary on the blog, I thought I would bump it back up to the top (along with a new step-by-step video and fresh photos) for all of you looking to simmer a cozy batch for yourself this winter.
Because after having made this recipe dozens and dozens of times myself over the years, I am absolutely convinced that homemade mulled wine just about the easiest recipe ever for winter and holiday entertaining.  Truly.  It literally just takes about 5 minutes to prep.  It's easy to scale anywhere from a "date night" to two…up to big holiday parties with dozens.  It's easy to customize with your favorite spices, and spike with your favorite liqueurs.  It's easy to make on the stovetop or slow cooker.  It's hands-down better than any holiday candle for making your home smell amazing.  And it's guaranteed to warm everyone up on a chilly winter night.
So grab a bottle of inexpensive wine (no need to spring for anything fancy) and let's get to mulling!

Mulled Wine Recipe | 1-Minute Video
Mulled Wine Ingredients:
To begin, gather your ingredients.  For this mulled wine recipe, you will need:
Wine: Red or white, you pick.  And definitely nothing expensive, since the mulling spices and citrus will be the dominant flavors here.
Citrus: Oranges (or clementines) are classic here, but feel free to add lemons or limes for color.
Cinnamon: I love the look of sticks, but you could whisk in some ground cinnamon if that's what you have on hand.
Other spices: These vary from country to country, but I cloves and star anise are my favorites, plus occasionally a few pods of cardamom.
Sweetener: Feel free to add your favorite sweetener to taste.  Sugar is classic, but I prefer a few tablespoons of maple syrup or honey.
Extra liqueur: Similar to sangria, it's also traditional to spike your mulled wine with an extra bit of liqueur, if you'd like.  I like a bit of brandy, but any favorite liqueur will do here.  (Or again, you can nix this step too.)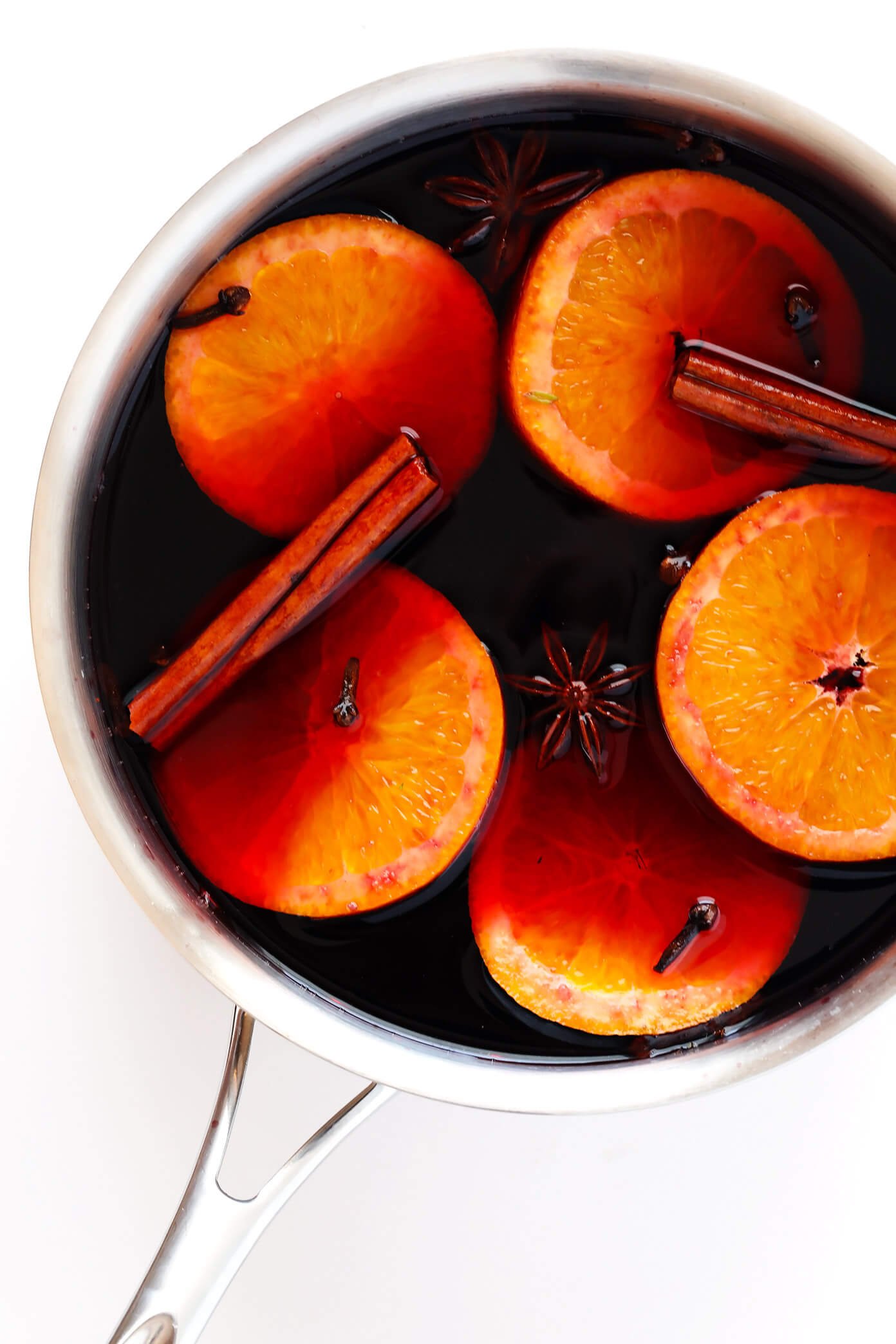 How To Make Mulled Wine:
Also, I tend to traditional just simmer my mulled wine on the stove.  But it's also easy to make in the slow cooker or even Instant Pot, if you prefer.  The rule of mulled wine is just to be sure that it does not boil, so that you don't accidentally boil off the alcohol.  ;)
Just simmer for at least 15 minutes, or up to 3 or 4 hours, so that all of those delicious flavors can come together.  Then strain out the spices, and serve warm…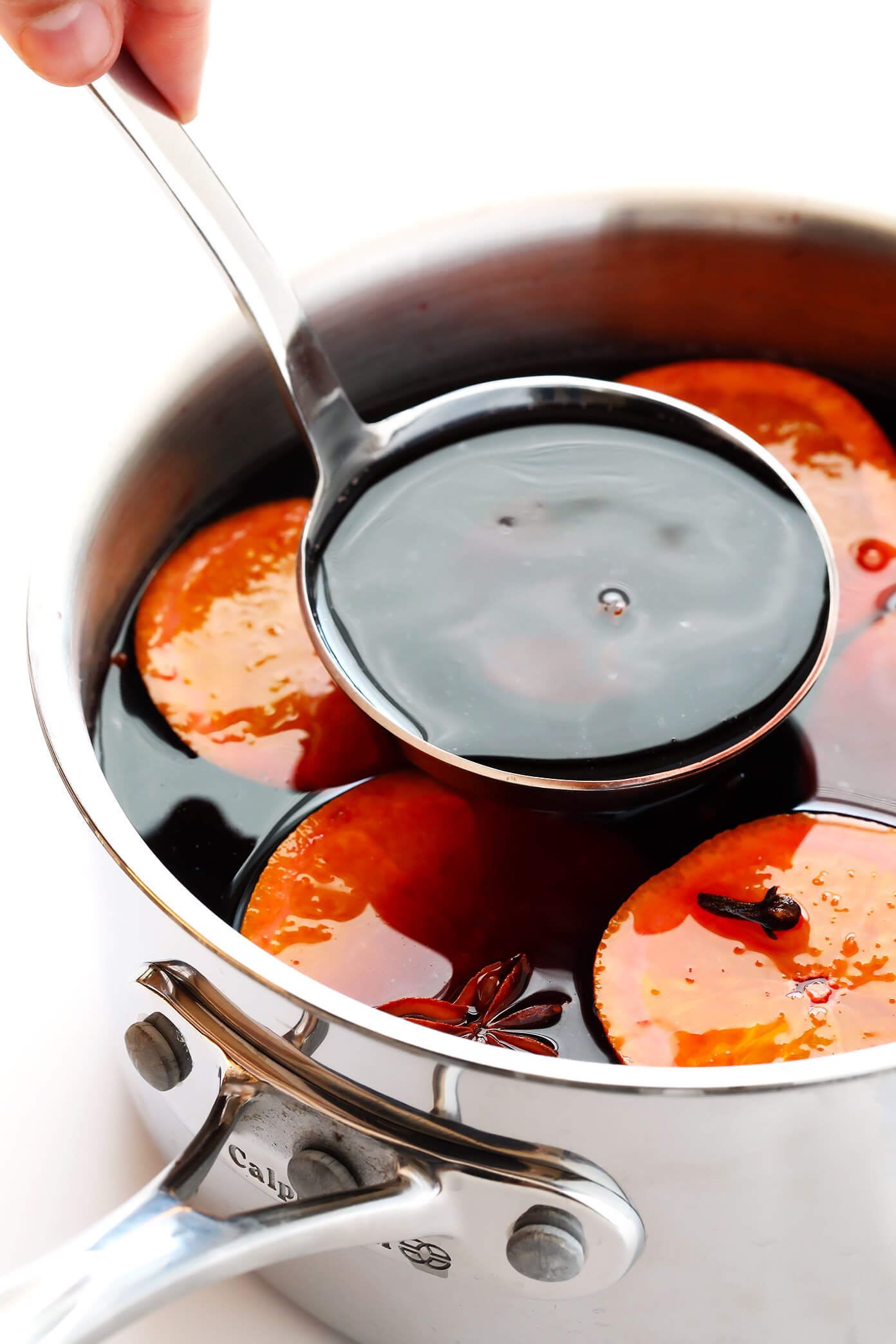 …topped with any of your favorite garnishes, if desired.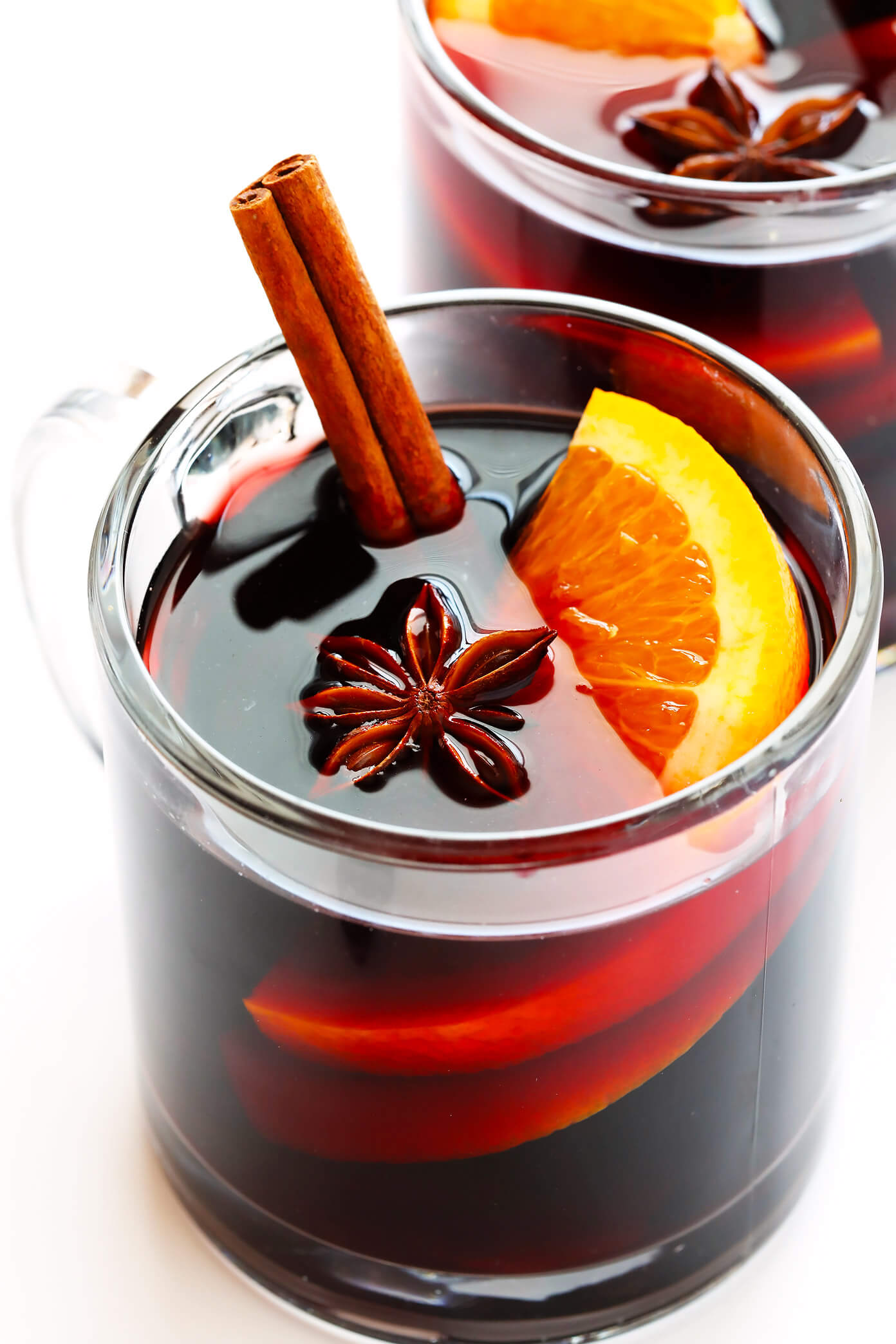 So simple, and so delicious.  Enjoy, everyone!
Mulled Wine
Homemade mulled wine is incredibly easy to make on the stovetop (or simmer in the slow cooker), it's easy to customize with your favorite spices and add-ins, and it is SO cozy and delicious.  Perfect for winter and holiday entertaining!
Ingredients:
1 (750 ml) bottle of dry red wine
1 orange, sliced into rounds
8 whole cloves
2 cinnamon sticks
2 star anise
2-4 tablespoons sugar, honey, or maple syrup to taste (or your desired sweetener)
optional add-in: 1/4 cup brandy (or your favorite liqueur)
optional garnishes: citrus slices (orange, lemon and/or lime), extra cinnamon sticks, extra star anise
Directions:
Combine all ingredients in a saucepan, and heat just barely to a simmer over medium-high heat.  (Be careful not to boil the mulled wine — you don't want to boil off the alcohol.)  Reduce heat to medium-low, cover, and let the wine simmer for at least 15 minutes or up to 3 hours.
Strain, and serve warm with your desired garnishes.
*Feel free to use your choice of sweetener here, or leave the mulled wine un-sweetened.
**You can also place the oranges, cloves, cinnamon, and star anise in a cheesecloth. Then simply strain and pull out the bundle when ready to serve.
***I doubled the recipe for the photographs shown above.
All images and text ©
If you make this recipe, be sure to snap a photo and hashtag it #gimmesomeoven. I'd love to see what you cook!