My Favorite Recipes of 2020
This post may contain affiliate links. Please read my disclosure policy.
A delicious collection of my favorite (new!) recipes here on Gimme Some Oven in 2020.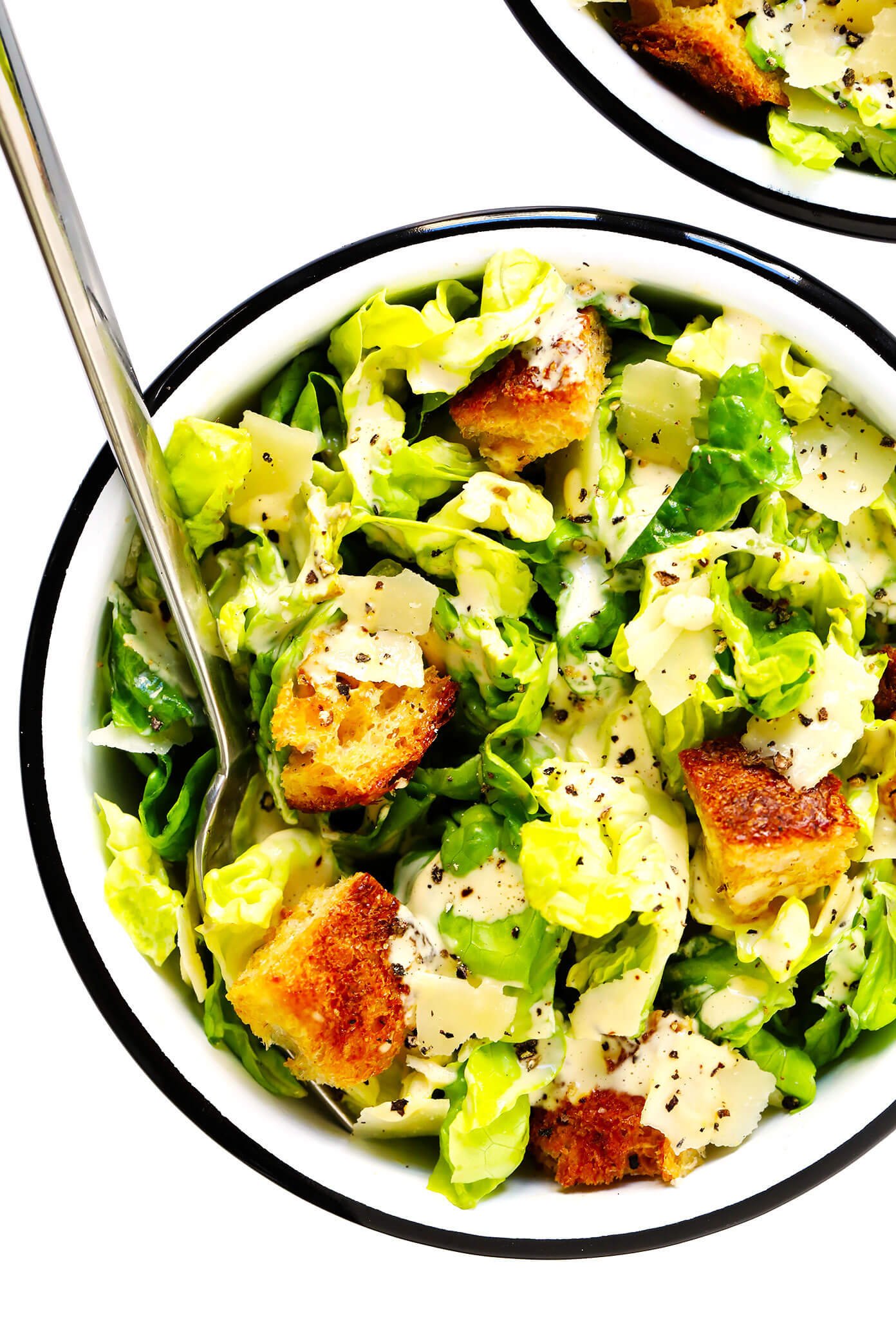 And to follow up our post yesterday sharing your 20 favorite new Gimme Some Oven recipes from 2020, today I'm sharing my personal faves. ♡
As always, there was a bit of overlap this year between these two posts. (Especially when it comes to homemade tortillas, we made about a million of them here in our casita this year!)  But in looking over today's list, I realize that these recipes more than anything represent a whole lotta wanderlust.
To be certain, I've felt immensely grateful each day during the pandemic for the incredible privilege my husband and I have had in being able to safely work from home this year. But at the same time, like so many of you, I've also deeply missed traveling and all of the fun adventures that we had lined up for 2020. (Especially my springtime birthday trip to Morocco, a long visit back to Kansas City for the holidays, and a babymoon somewhere…anywhere!)  And of course, as someone who basically plans my travel itineraries completely around food, it's also been a bummer to miss out on visiting fun restaurants and tasting new flavors on the trips that we had planned.
But of course, we've been staying safely at home here in Barcelona for most of this year, as we probably will be for a big chunk of 2021 as well. So in lieu of being able to hop on planes and actually go places, we've instead been cooking our way around the world during mealtimes. And while it wasn't the year of travel eating that we had planned, it did end up being a very delicious one. From reliving our adventures in Istanbul with lots of menemen and lentil soup, to expanding my Mexican salsa repertoire with some mega-delicious raw tomatillo, peanut chipotle and shortcut-mole sauces, to a slight obsession this year with curries of all kinds, to finally conquering my dream Caesar salad recipe, to a marathon this fall of nostalgic American baked goods, to so many other behind-the-scenes new recipes and experiments that have yet to make it to the blog — cooking with ingredients and recipes inspired by some of our favorite places around the world ended up being its own fun adventure and a bright spot for us amidst a pretty hard year. And for that, I'm grateful.
So without further ado, here are the 20 recipes that were my personal new faves on Gimme Some Oven here in 2020. I'm excited to kick off 2021 next week with a lineup or fresh and healthy recipes that I think you're going to love, so stay tuned for more to come!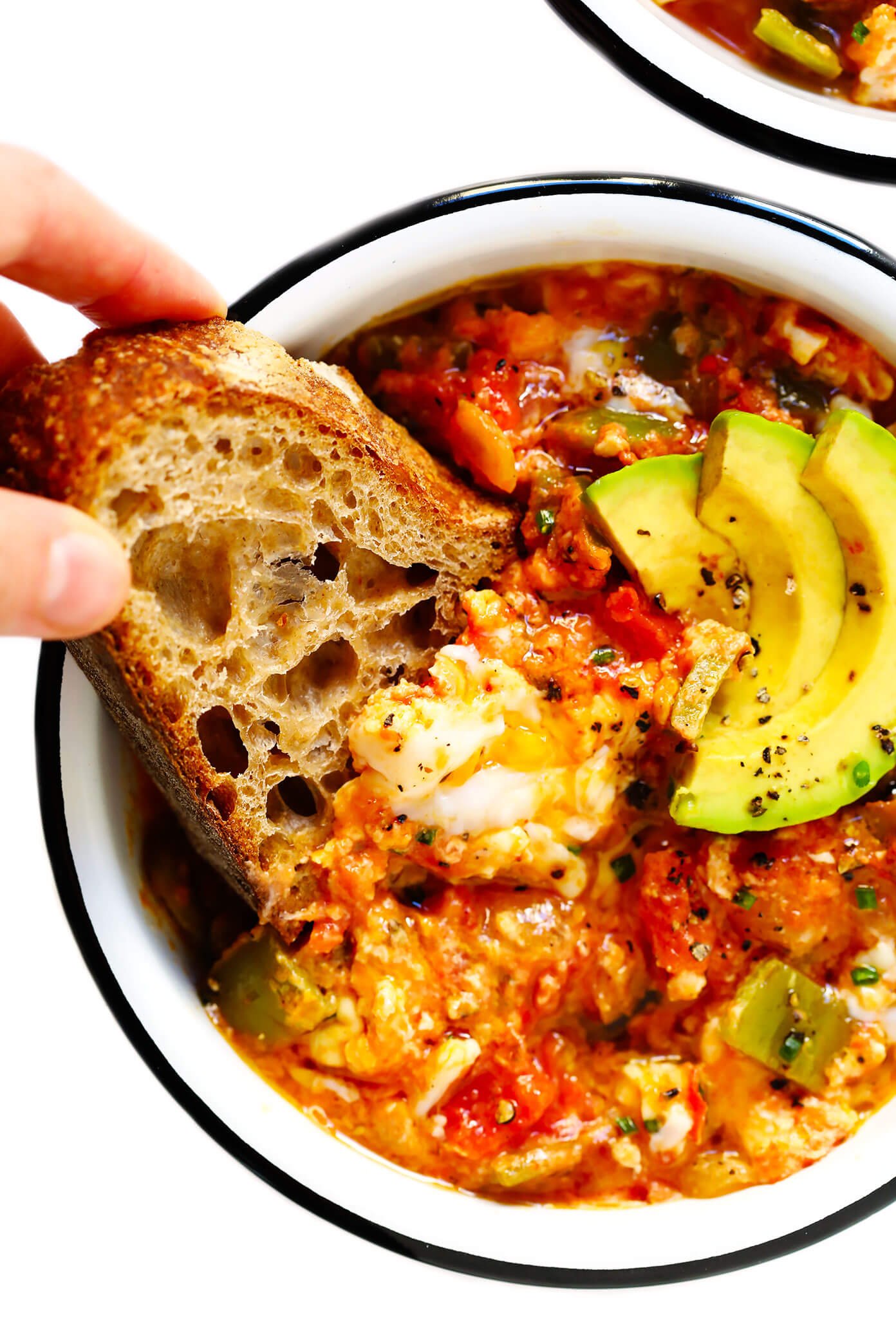 Barclay and I fell in love with this cozy, healthy, flavorful breakfast scramble during our trip to Istanbul. And we were happy to discover that it is also incredibly easy to make with just a few simple ingredients! I highly recommend serving it with some crusty bread too — delicious.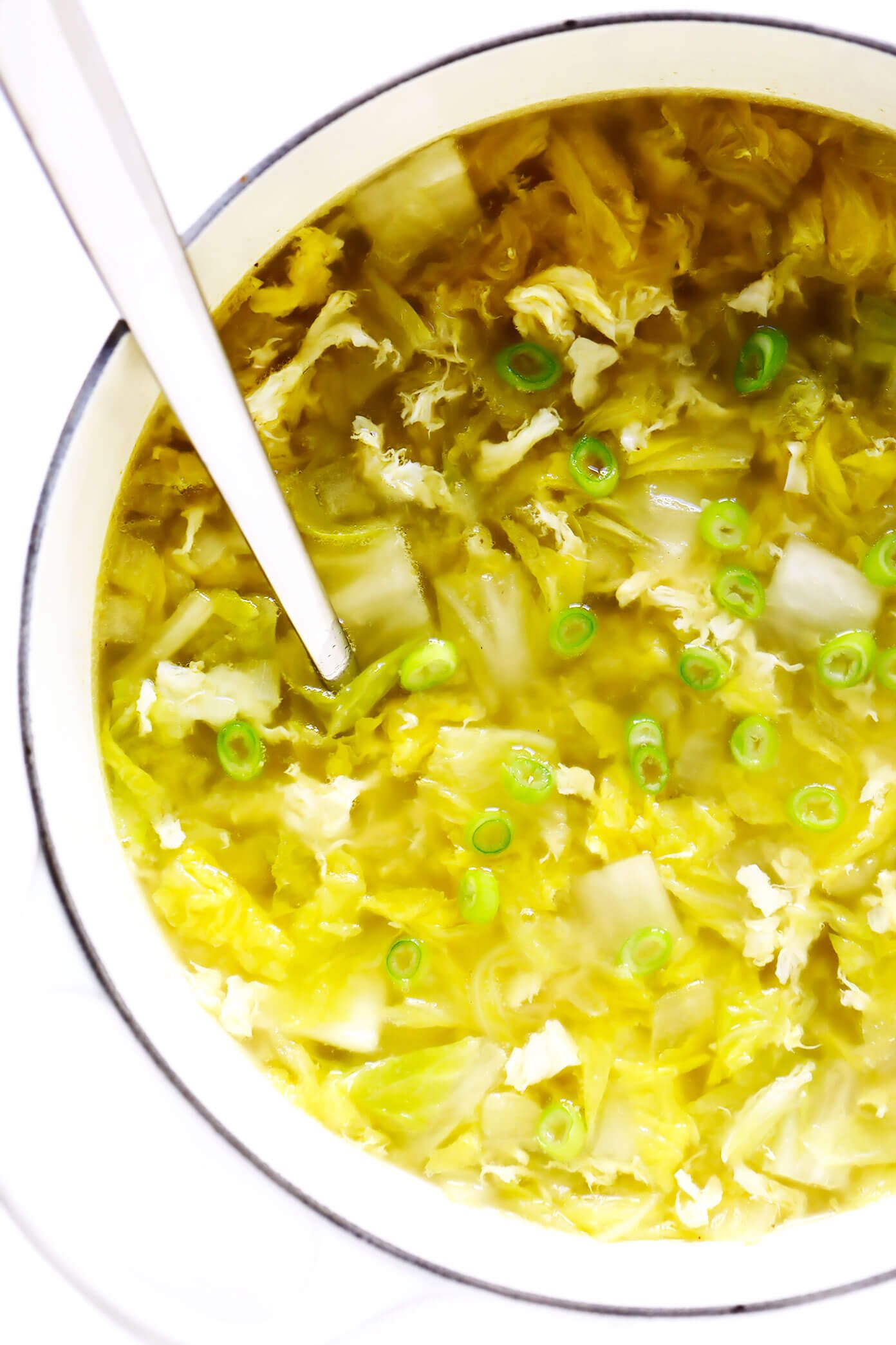 If you've followed this blog for any amount of time, you will know that my love for good egg drop soup runs deep.  And this year, I recreated a favorite version for the blog made with cabbage that I make for us at least once or twice a month. If you happen to have some baby bok choy around, I highly recommend adding some of that in there too!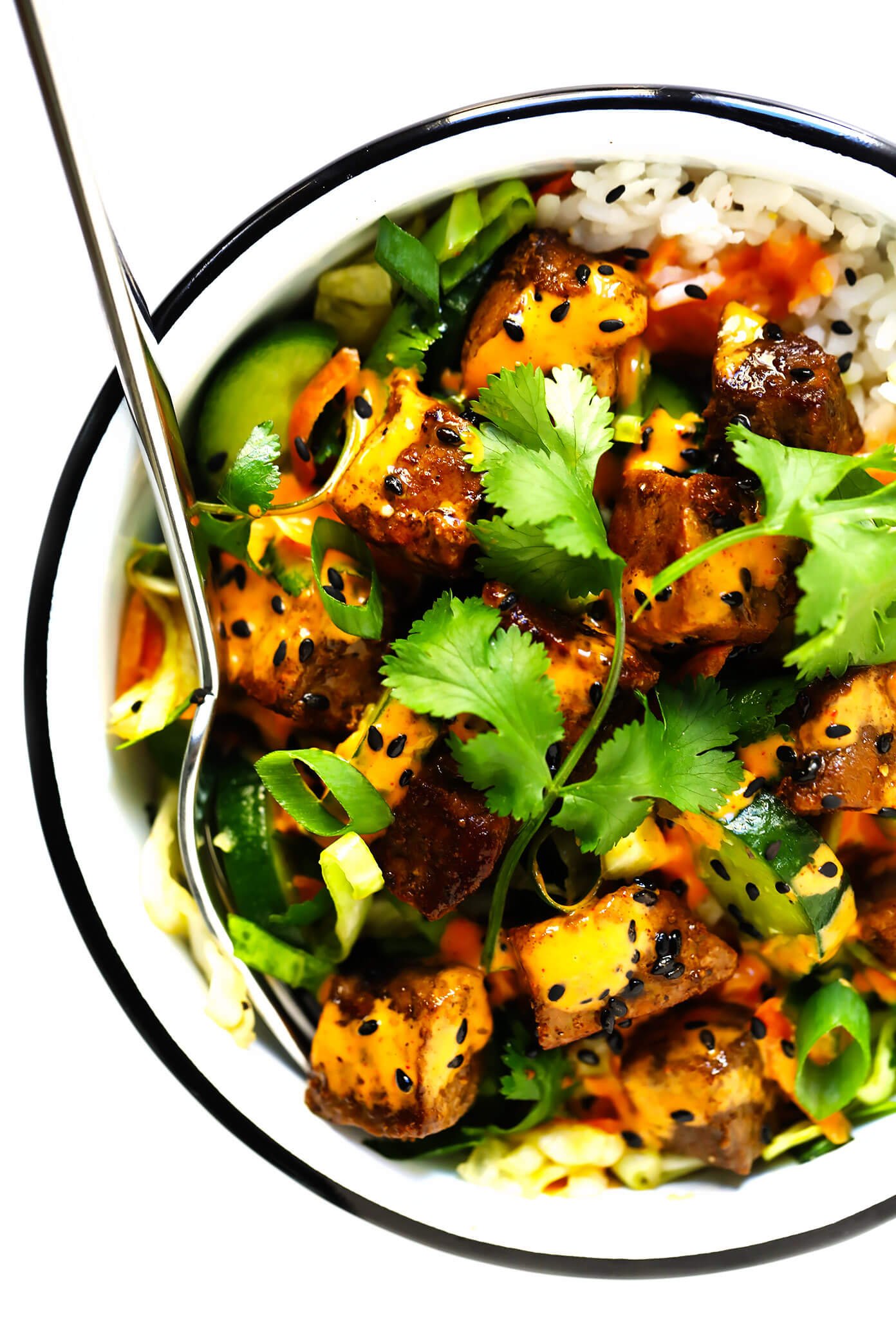 I can't get enough of the flavor combo in this recipe — the soy-marinated steak, sesame cucumber slaw, and 2-ingredient gochujang sauce (<– that you must try, if you haven't already). We often adapt this recipe to make it either with crispy tofu, or serve it with Beyond Burgers in our house, so that my vegetarian husband can enjoy it too. And it's always such a winner!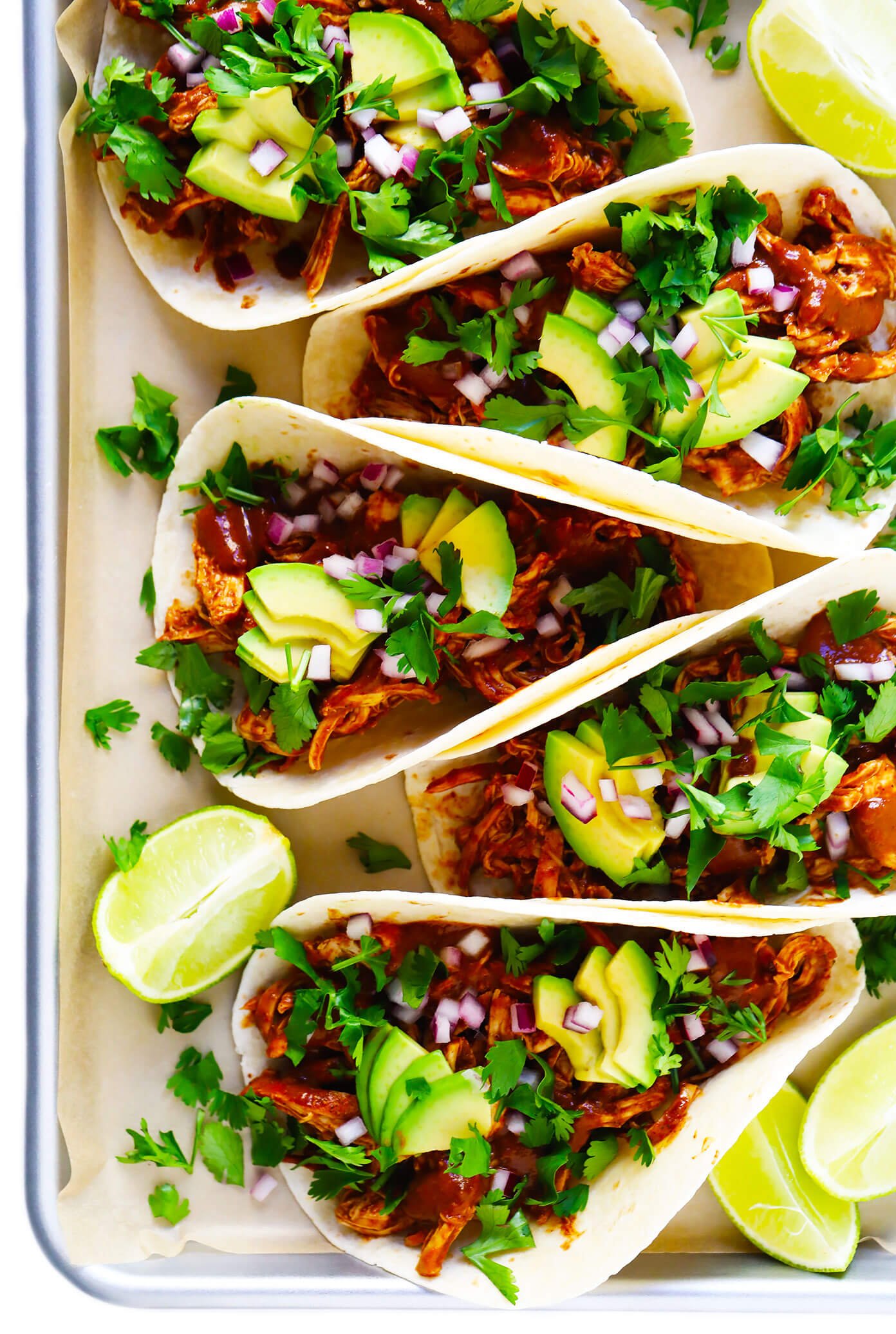 If you're looking for some full-flavored chicken tacos, I highly recommend making up a batch of my shortcut mole sauce to toss with some shredded or diced chicken! These tacos are buenísimos, especially served with some creamy avocado and a generous squeeze of lime.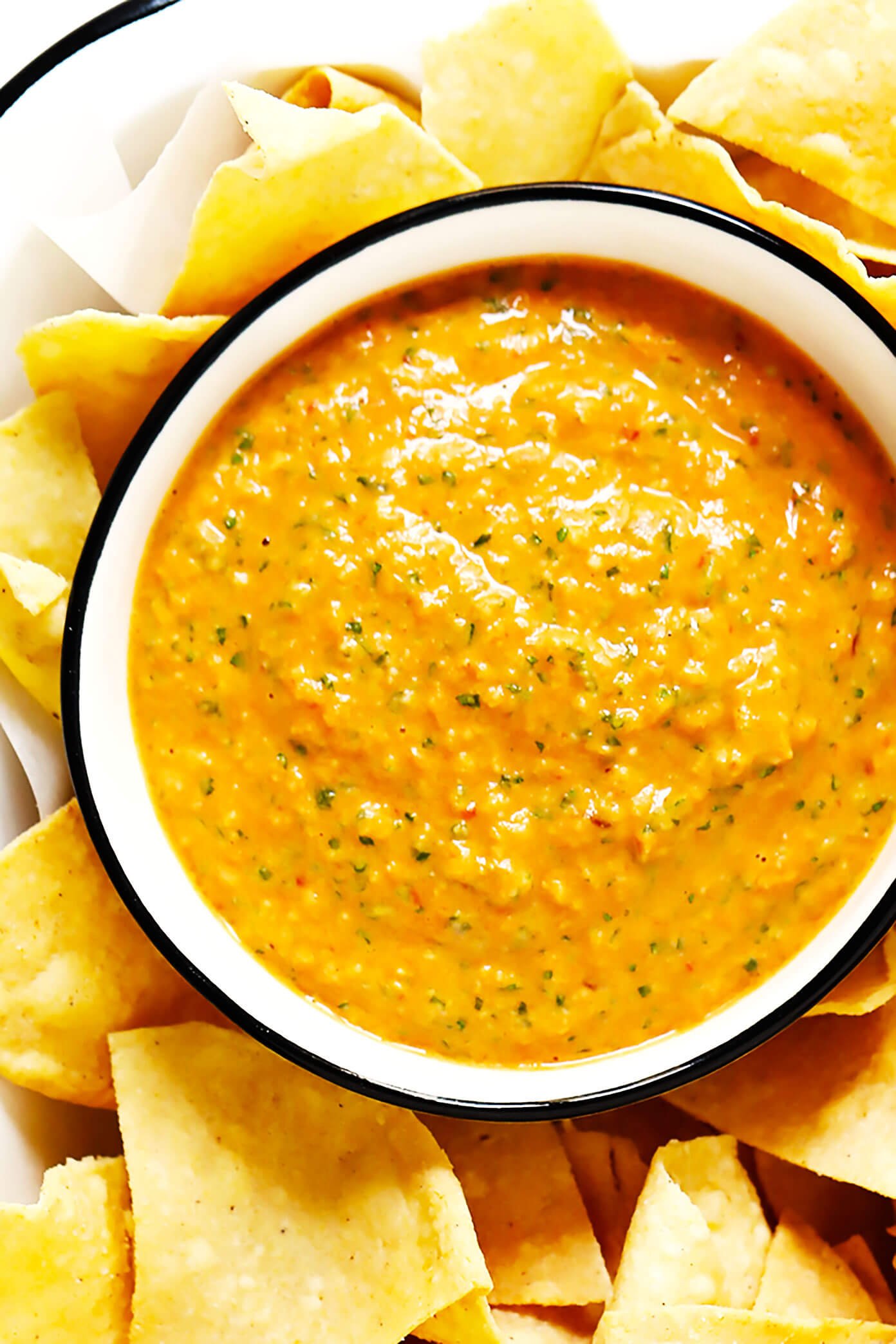 Speaking of full-flavored, this creamy, savory, smoky and slightly-sweet salsa was another new favorite in our house this year. It includes peanut butter as the surprise ingredient (which, trust me, works!) and can be served as a dip, sauce, spread or whatever sounds good.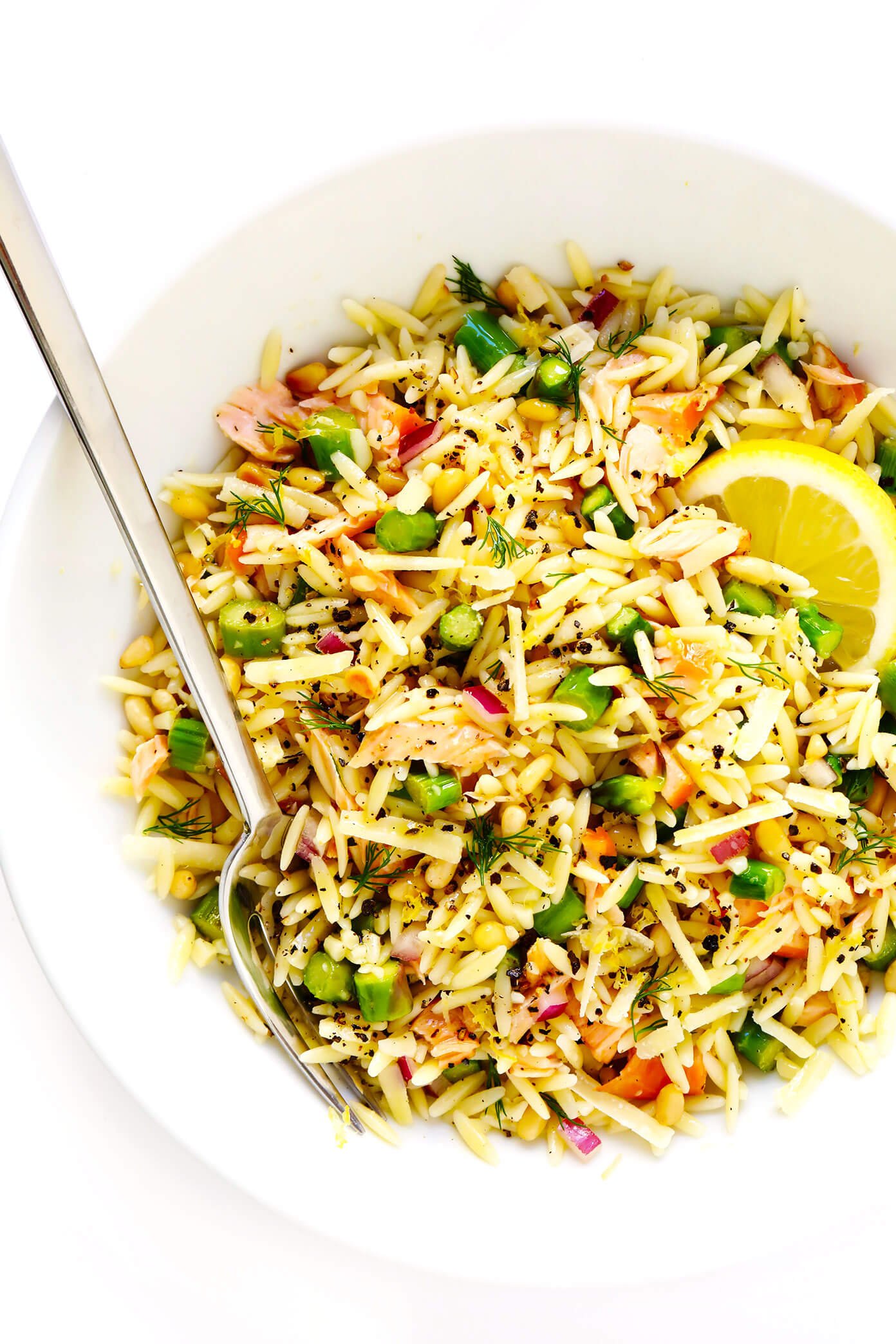 I completely loved this spring-y pasta salad made with orzo (or your choice of pasta), smoked salmon, asparagus, fresh herbs, Parmesan, and a quick lemony dressing. Tastes great served both hot or cold, and leftovers are even better the next day!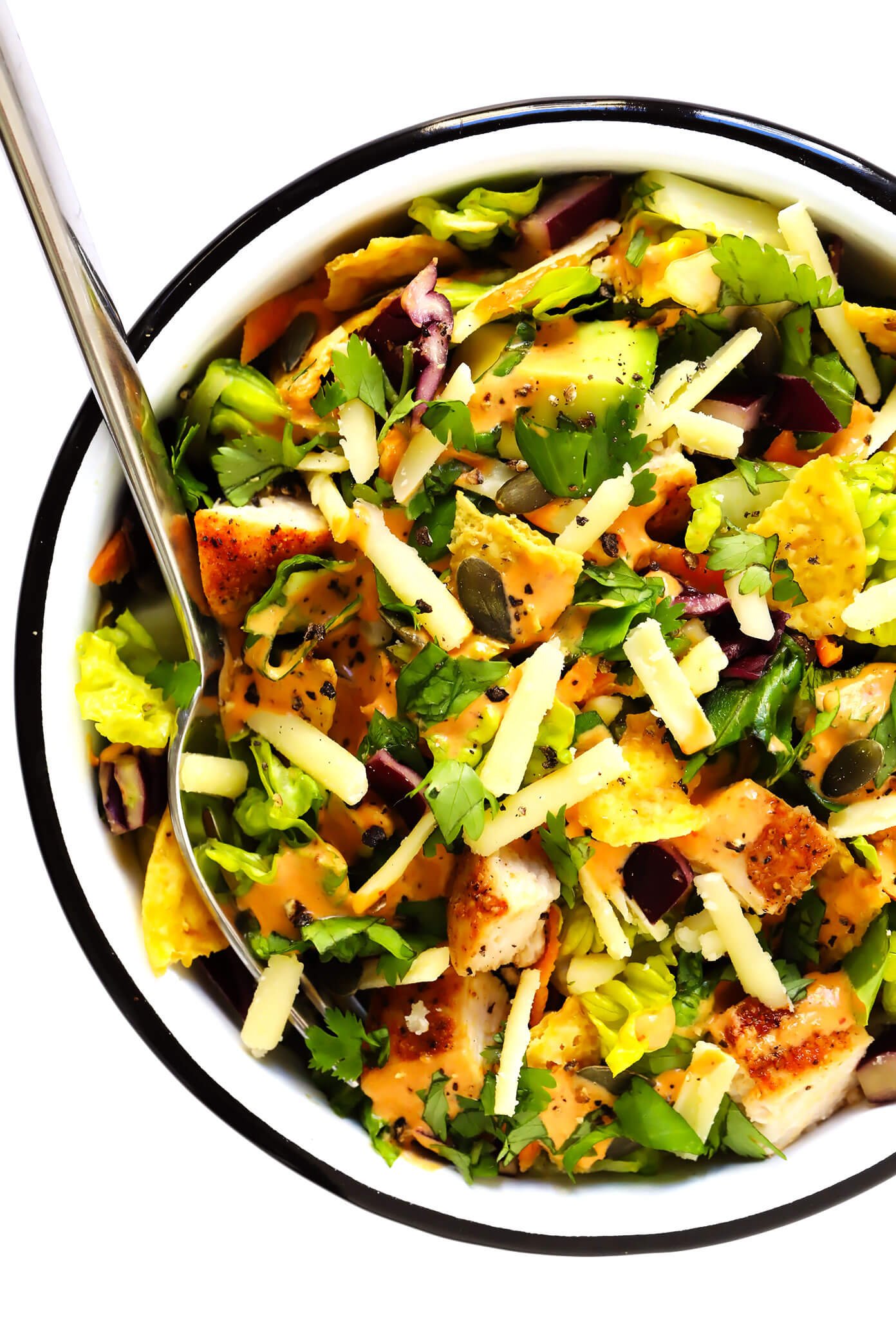 One of the random foods I've missed most living away from the States these past few years are all of those awesome bagged chopped salads, especially the chipotle cheddar varieties. So I decided to make my own from scratch, including some added chopped chicken and avocado. And while nothing will beat the convenience of the store-bought version, I have to say that this homemade recipe is even tastier!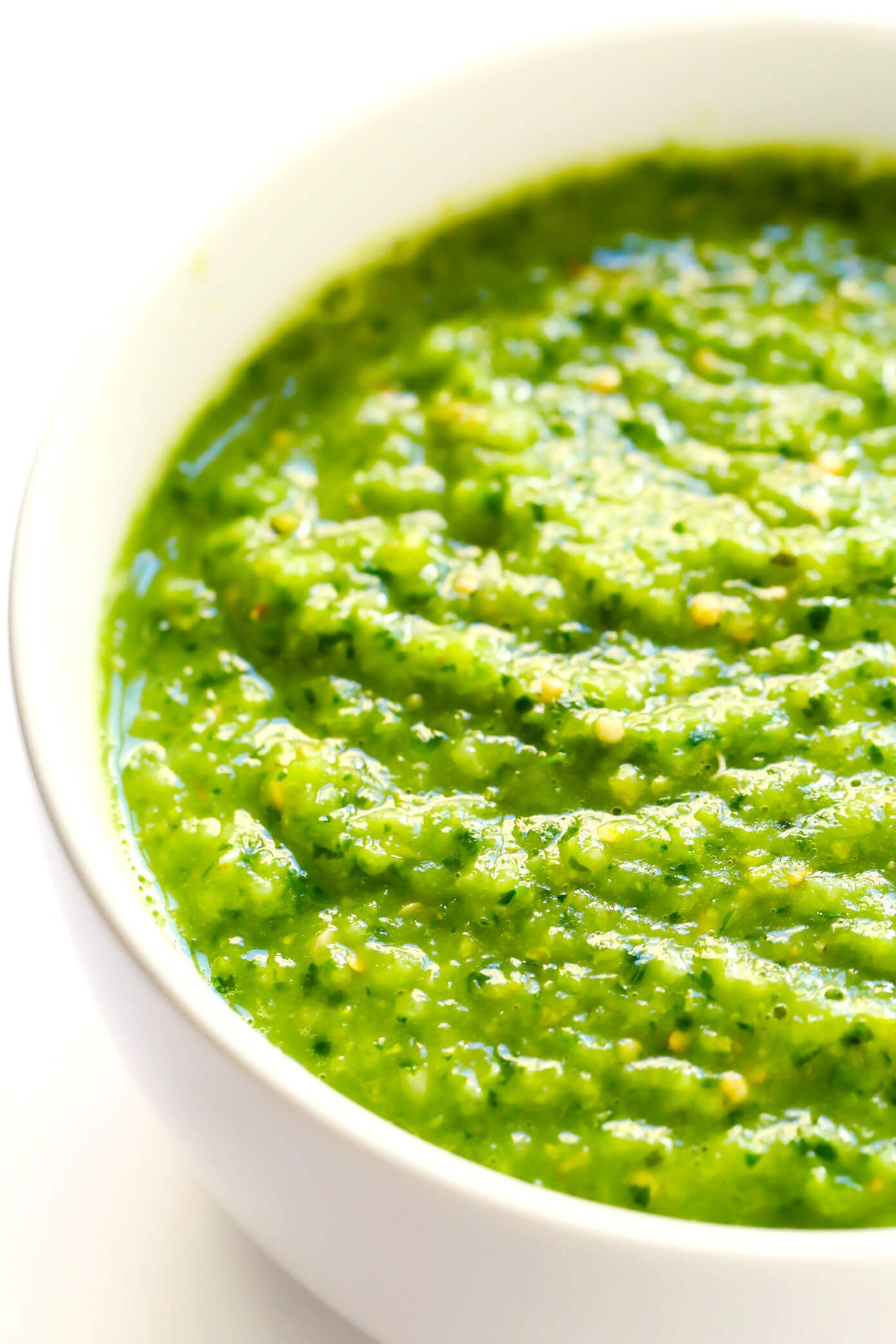 Barclay and I fell hard for salsa verde cruda (raw green salsa) during our last few trips to Mexico City. So for anyone else who has never been introduced to the brilliance of this raw salsa, which is quite different from the salsas verdes usually found in grocery stores and restaurants (which typically include roasted tomatillos), I shared my favorite recipe for it earlier this year. It's quick and easy to make in just 5 minutes, features raw tomatillos, and tastes refreshingly light, sweet and delicious.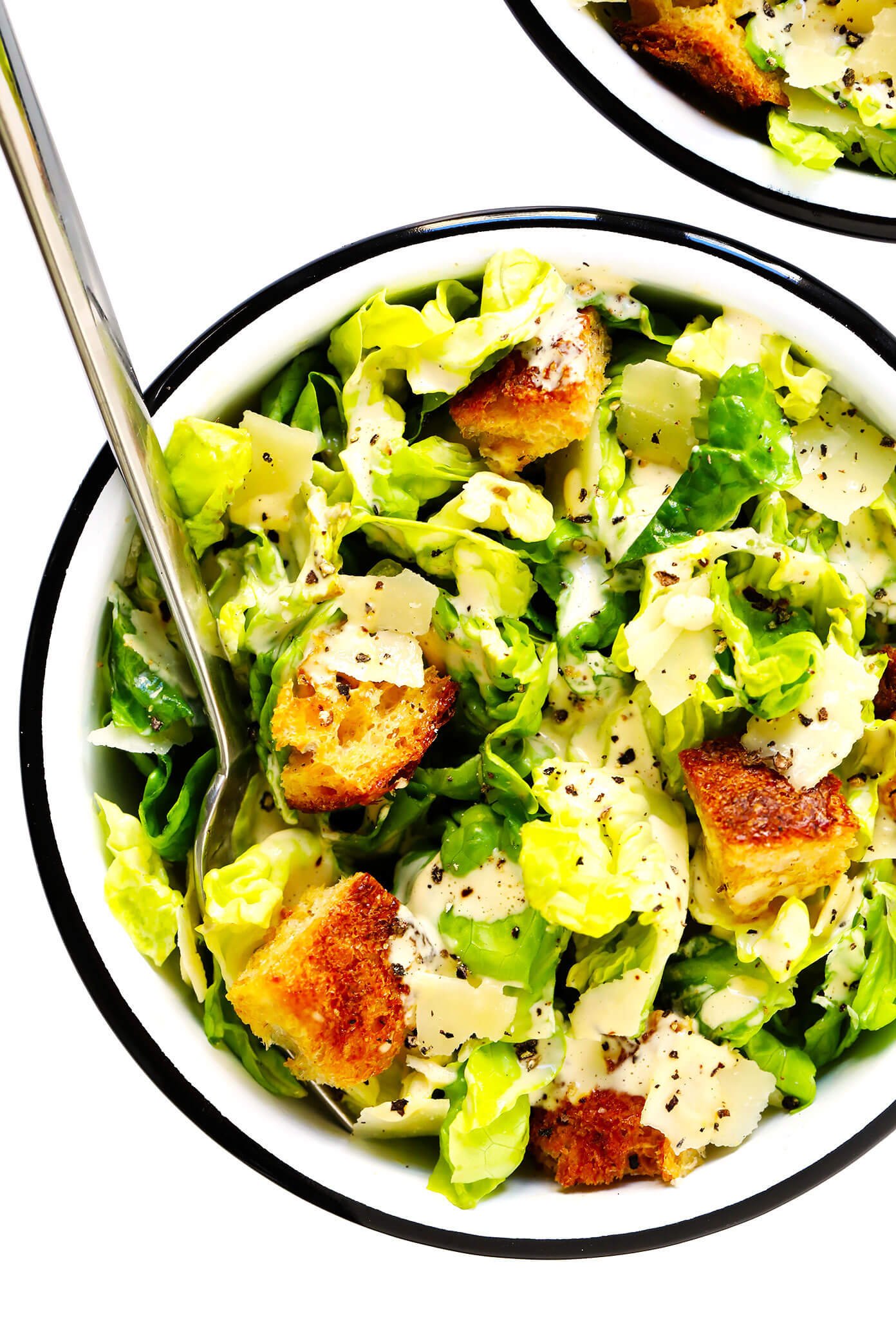 As I wrote in this post…this is quite simply the Caesar salad of my dreams. ♡ It's made with crisp Romaine, sourdough croutons, shaved Parmesan, and my absolute favorite bold Caesar dressing. Yes, anchovies here are non-negotiable. No, you don't have to use raw eggs in the dressing if you would rather not. Yes, in my opinion, this recipe truly is the best.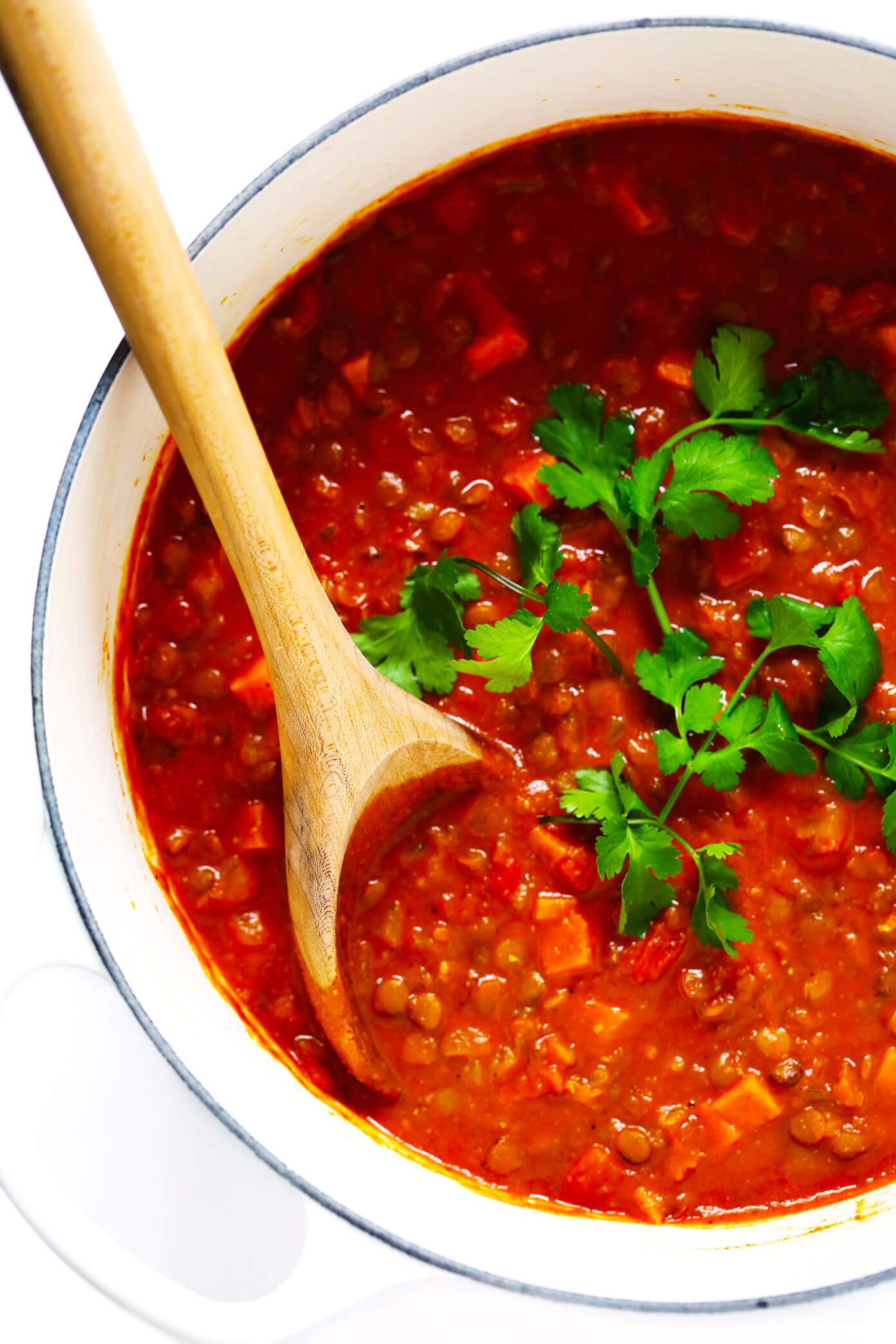 For those days when you're craving some cozy, healthy, vegetarian comfort food, this lentil curry is here for you. We really enjoy it served with rice or naan, and it's an absolute breeze to make. (It's also naturally vegan + gluten-free too!)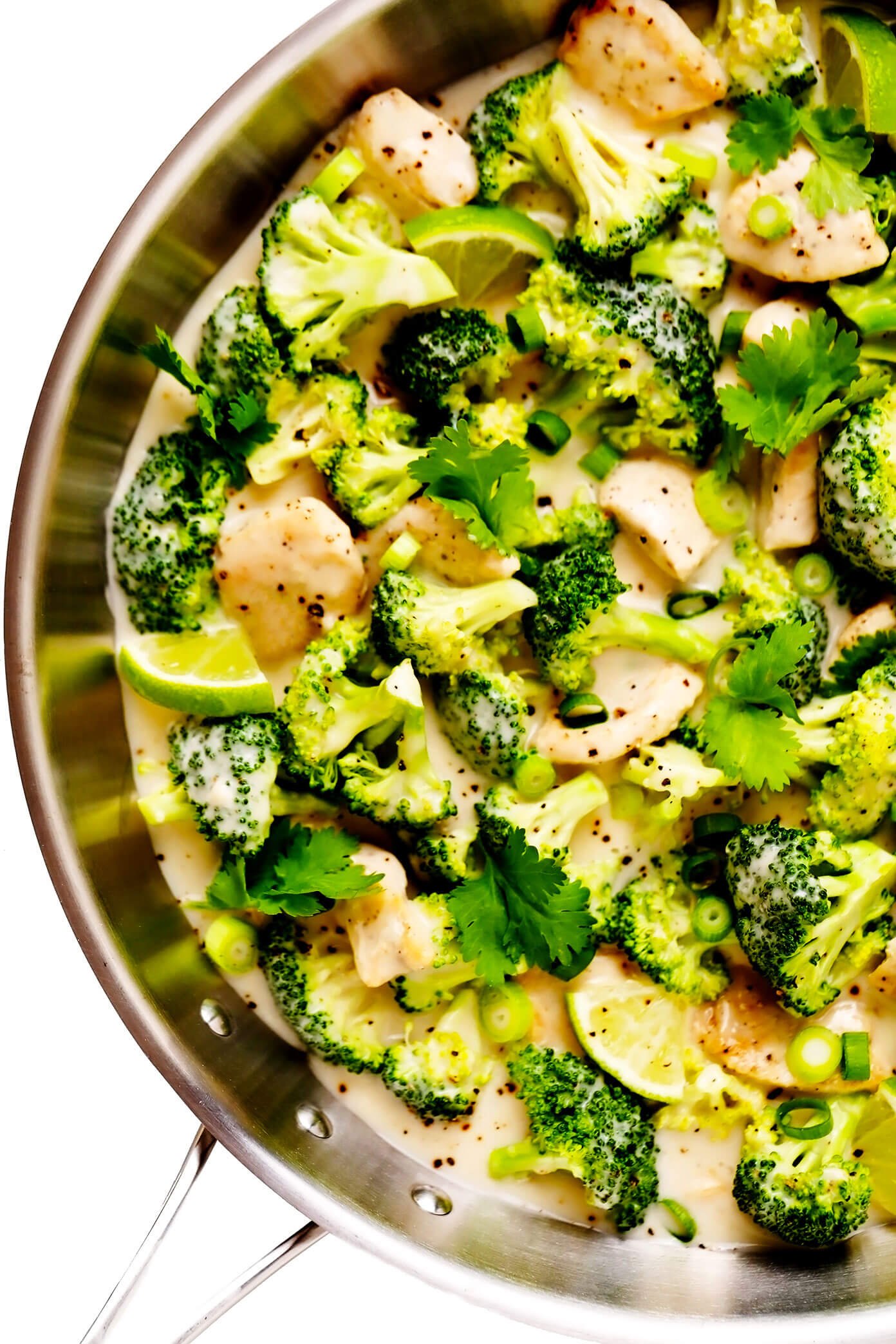 Pretty sure I will forever love all things chicken and broccoli, but this simple stir-fry simmered in a tangy, creamy, coconut lime sauce was an extra-special favorite this year. We've also made it in our house with shrimp and broccoli, which was delicious too!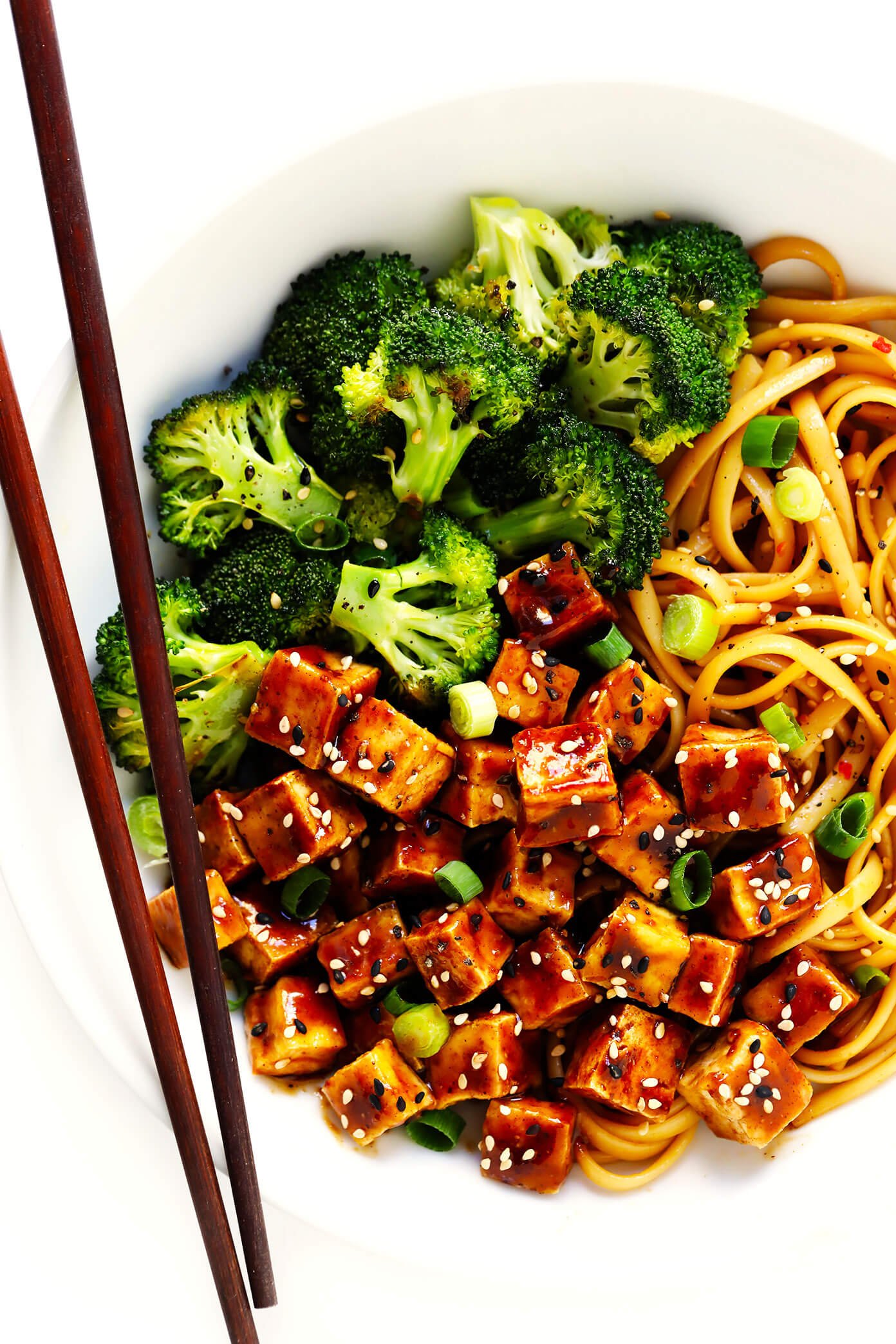 I went through more five spice powder in 2020 than ever before (whyyy haven't I been cooking with this spice more over the years?!), and the 3-ingredient sauce in this recipe ended up being my favorite way to use it. I tossed some crispy tofu (or you could use chicken, pork, shrimp, etc) with the sauce and served it over my favorite sesame noodles in this recipe. But honestly, there are about a million ways you could use this sauce. Highly recommend giving it a try for something different!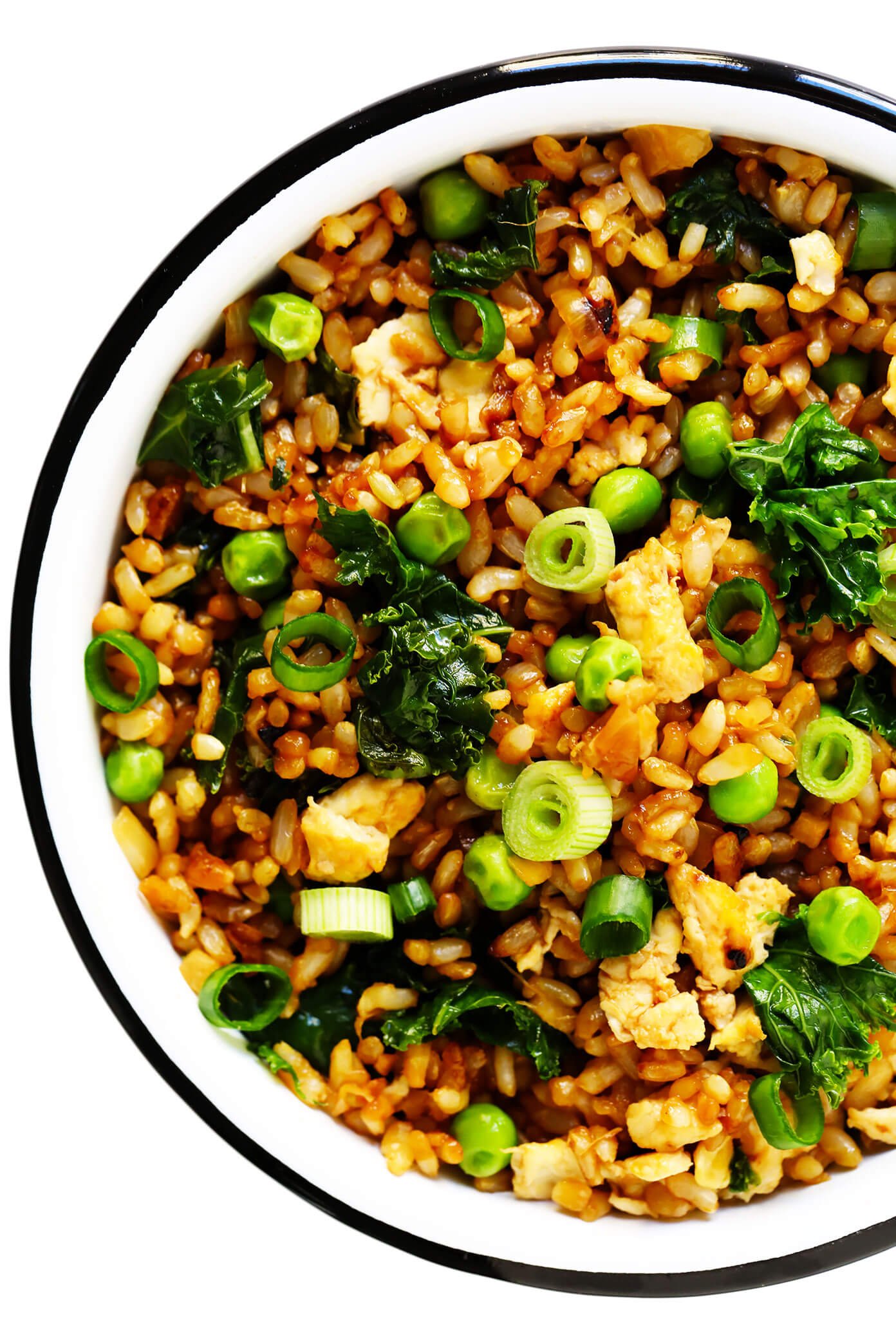 Fried rice is one of our go-to dinner rotation meals in our house, and we're always playing around with my original fried rice recipe and adding in different proteins, veggies and seasonings. And in 2020, this ginger kale fried rice variation ended up being a total fave. It's made with brown rice that's fried until it's extra crispy, an entire bunch of fresh kale, and lots and lots of ginger. So good.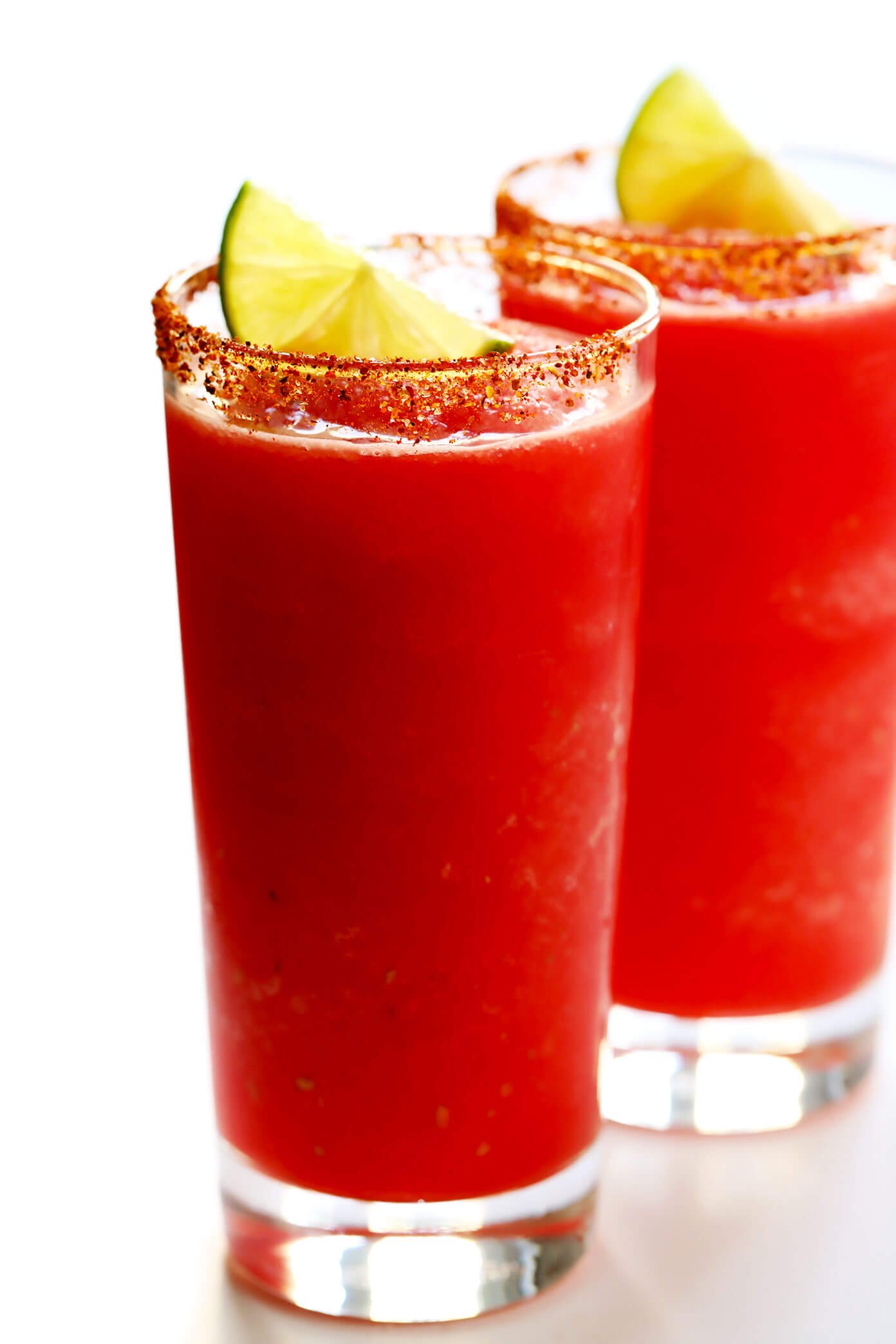 While being on various fertility diets, going through IVF and eventually becoming pregnant (yay!) this summer, 2020 ended up being a very dry year in our casa. Which meant…more mocktails! This summer, these watermelon lime mocktails ended up being a favorite of ours and all of our friends. (That Tajín rim is a must.)  Also, stay tuned for another fun mocktail recipe coming your way this week for New Year's Eve!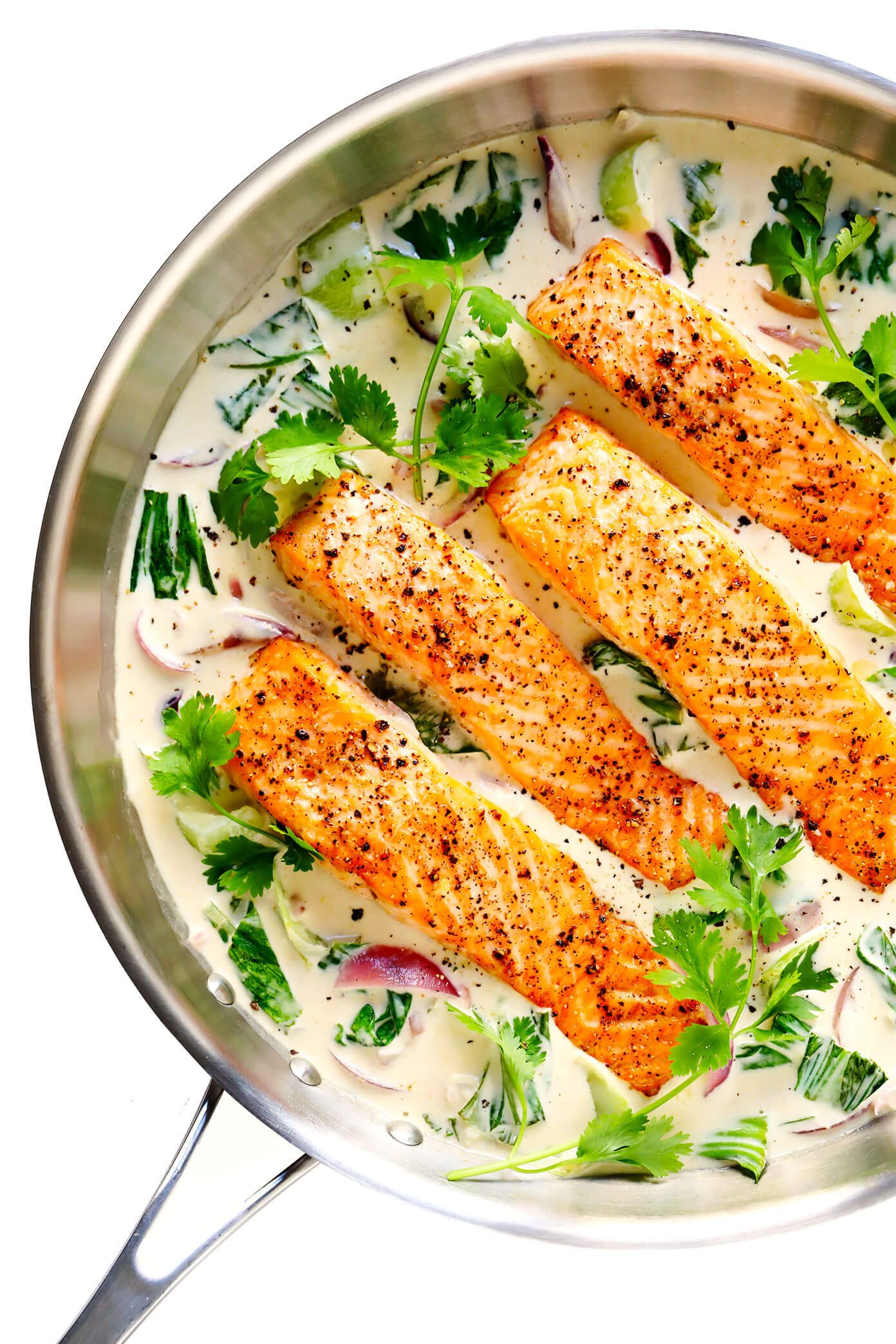 This super-simple coconut curry salmon was another fave of ours, especially because it's so quick and easy to make in just 30 minutes. You can totally play around with whatever kinds of veggies you would like to sauté in there, and it tastes great served over rice, noodles, or whatever sounds good!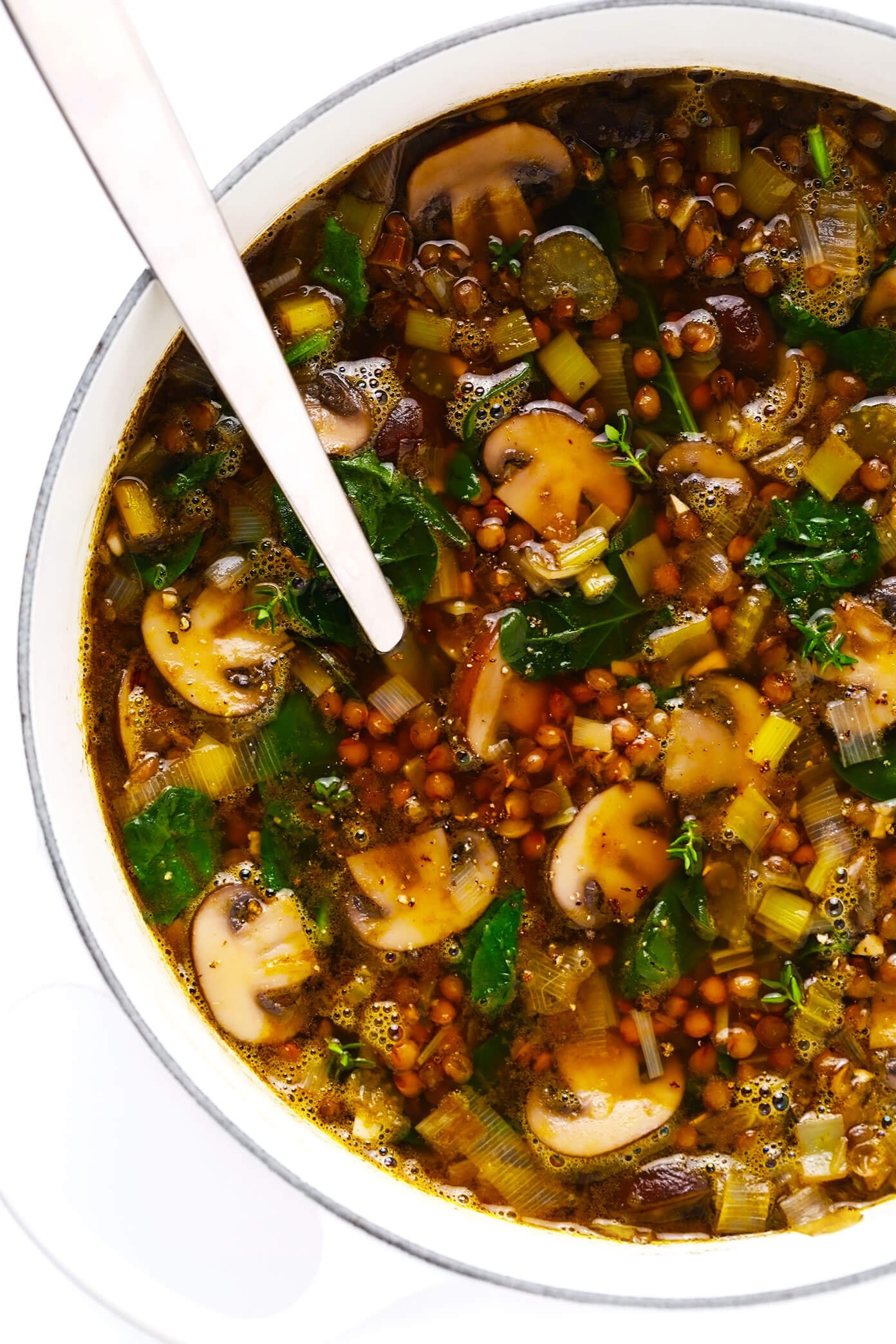 Turns out I did a little more lentil-hoarding than I realized during quarantine, lol, so we ate lots of lentil soups in 2020. This French-inspired lentil mushroom soup ended up being one of our new favorites. It's made with simple, healthy, fresh ingredients and tastes so incredibly cozy this time of year.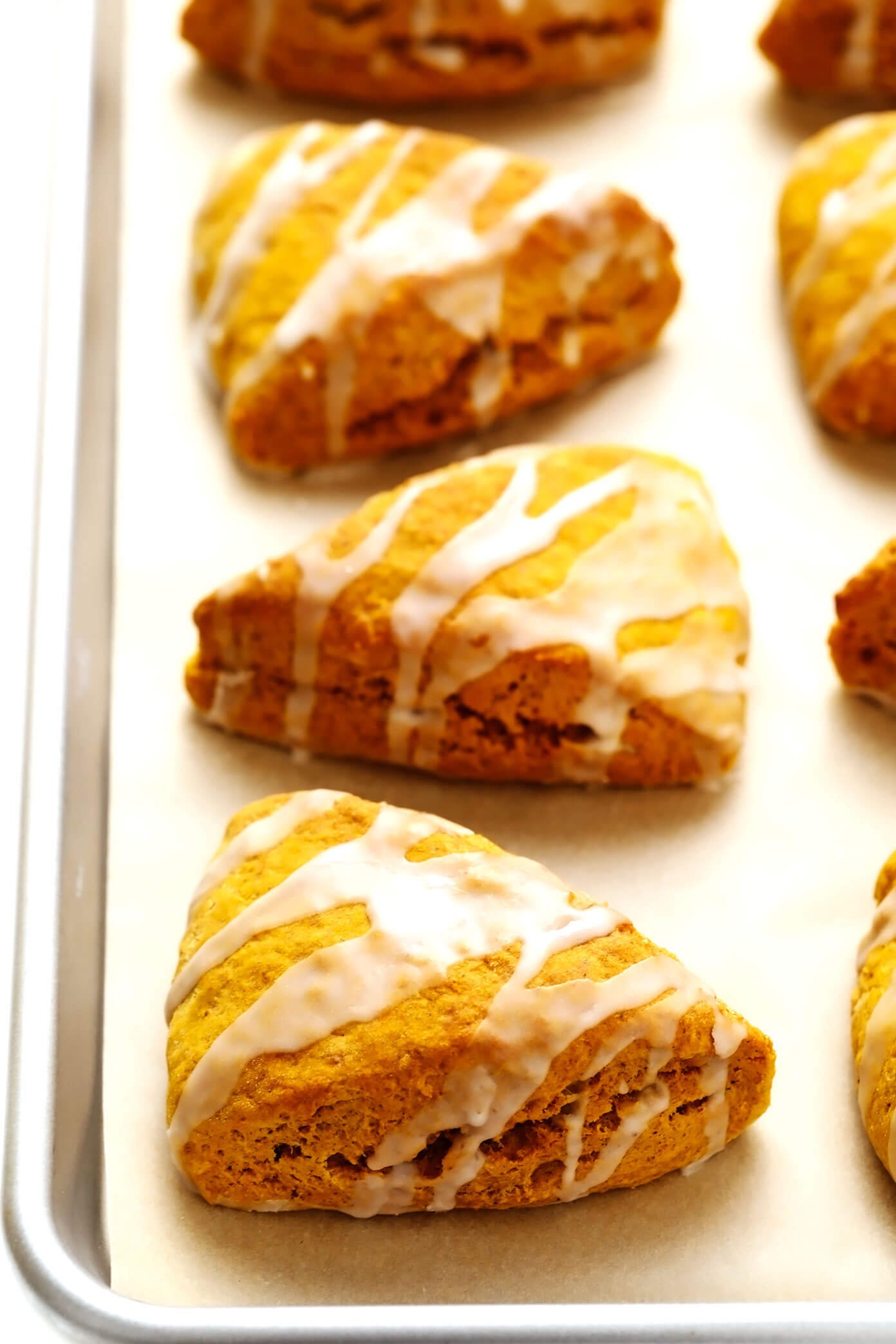 My nostalgia for American fall and holiday desserts hit hard this year, especially with not being able to go home for the holidays. (There mayyy have been some pregnancy cravings mixed in there too.)  ;)  So as you might have noticed, the last few months of the year ended up being a bit of a bake-a-thon here on the blog with all of my favorite treats. And these pumpkin scones were some of my absolute faves. They're quick and easy to make, drizzled with a light vanilla glaze, and perfectly pumpkin-y and comforting.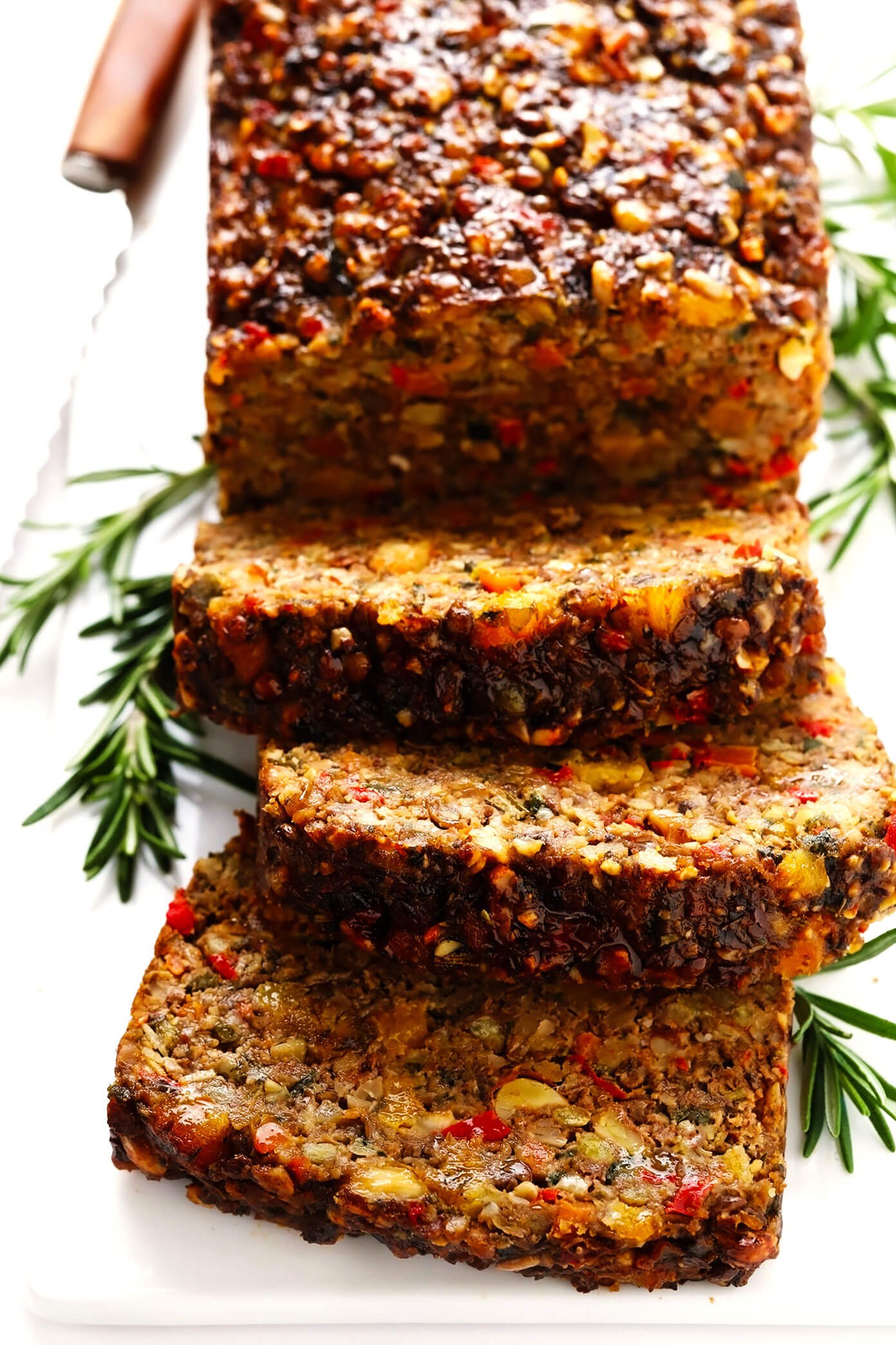 2020 also ended up being the year that Barclay and I fell in love with the brilliance that is British-style nut roasts. Our friends from the UK and South Africa introduced us to this vegetarian classic, which can be made about a million different ways, and this recipe (above) was the one that we ended up making and serving for Christmas dinner here in our home. If you're new to nut roasts too, put this recipe on your list for the holidays next year…I think you will love it!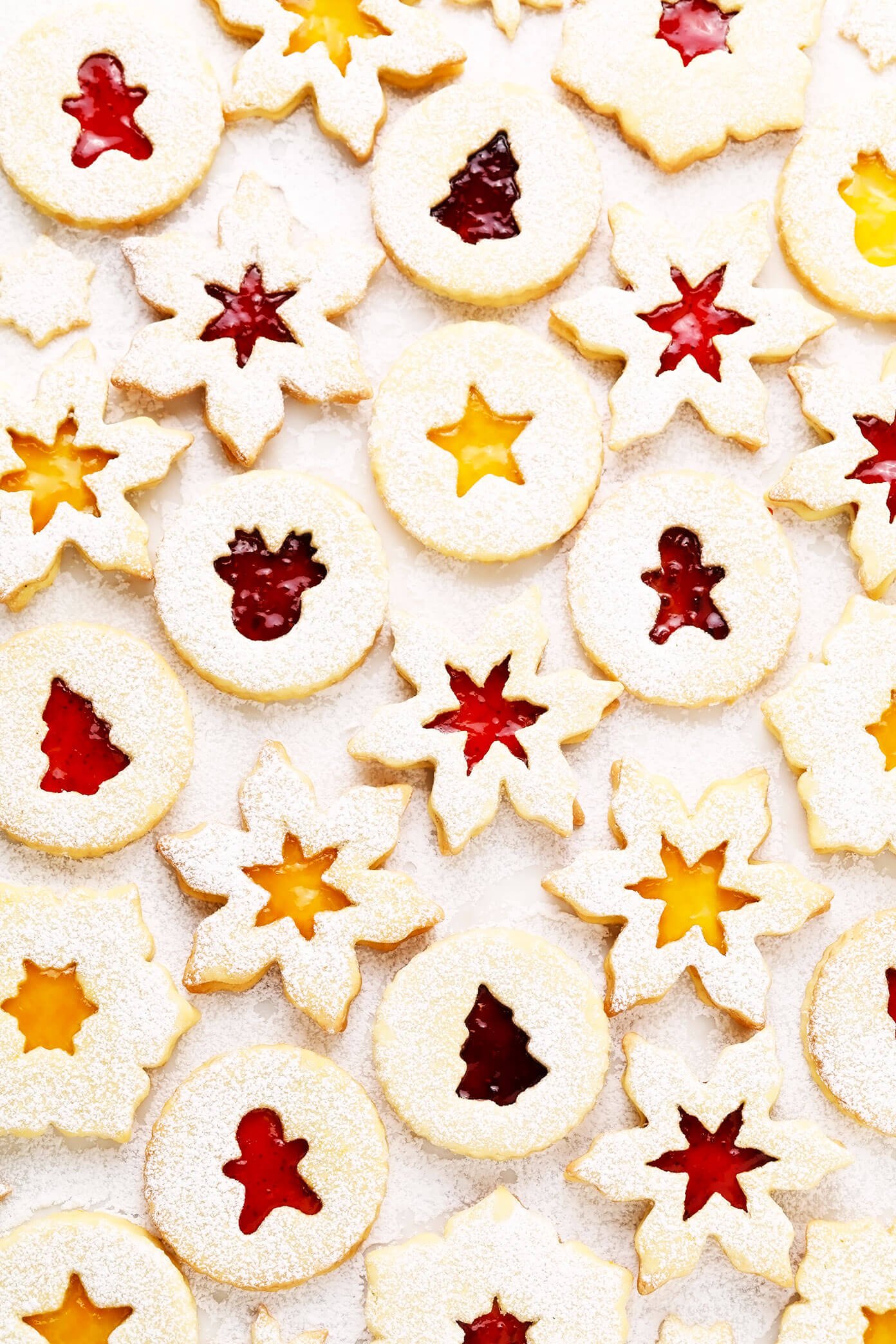 I also made a ridiculous amount of Linzer cookies this year to pass out to friends and neighbors. (Also discovered that they pair perfectly with my morning coffee.) ;)  And they were just such a delight. So simple and delicious and not overly-sweet, but mostly so festive and pretty. They definitely served as my baking therapy this month and I'm so happy that all of our loved ones here enjoyed them too.