Oreo Truffles (Snowballs)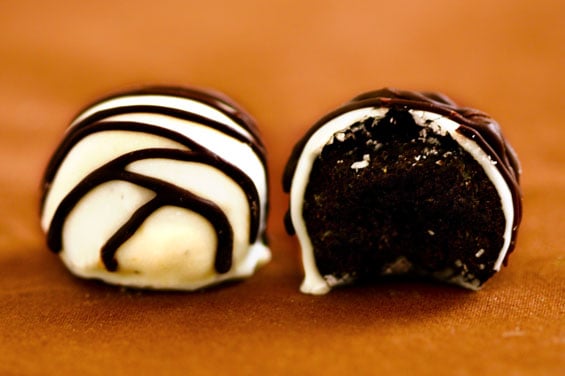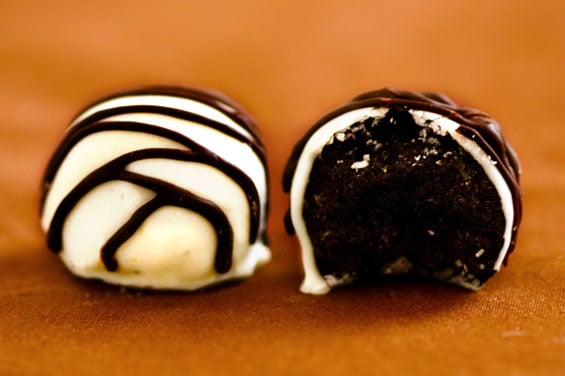 So…pretty sure I've been baking up a storm this week.  From cookies, to candies, to cakes, to cupcakes (which actually failed miserably in the "looks" department, so were turned into a trifle!) — you name it.  Most was in preparation for my annual Christmas party last night (30+ people crammed into my tiny bungalow), and the rest for Christmas gifts galore.  I love this season!!
Anyway, of all the little bite-sized desserts I've made over the years, these classic little oreo truffles (a.k.a. "snowballs" or "dirty snowballs") still always prove to be a crowd favorite.  And one of my favorites as well.  :)  What's not to love about Oreos, cream cheese, and chocolate??
So if you've always enjoyed these at parties and have yet to try making them, you must give it a try!  This would also be a great recipe to get your kids involved in the kitchen, rolling and helping dip these little guys.  I've also included some fun variations below if you're up for a twist on a classic.  Enjoy!!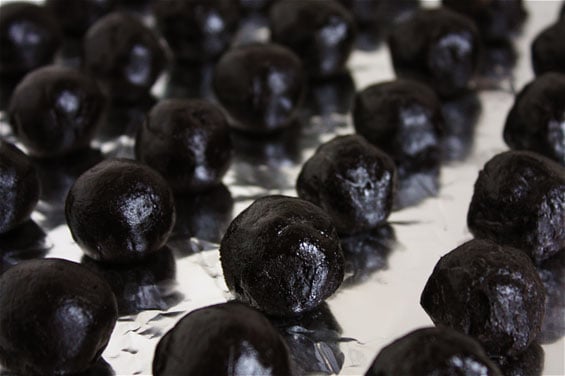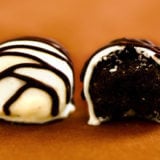 Oreo Truffles (Snowballs)
Everyone will love this Oreo Truffles (Snowballs) recipe! A fun and easy to make and visually appealing chocolate-y treat!
Ingredients:
1 (16 oz.) package Oreo cookies
1 (8 oz.) package cream cheese
1 (24 oz.) package white almond bark, or good-quality white chocolate chips
Optional: shortening (to thin out the chocolate)
Optional: 1 cup semi-sweet chocolate chips for drizzling
Directions:
In a food processor, mix together the Oreos and cream cheese until they are well-blended. (If you don't have a food processor, you can crush the Oreos in a large ziplock bag, and then stir/mix in the cream cheese by hand.) Remove, and then shape the dough into little balls about 1″ in diameter. Chill the balls in the refrigerator for at least 1 hour. (Or pop them in the freezer for 15 minutes.)
Meanwhile, melt the almond bark (or white chocolate chips) in a double boiler or carefully in the microwave. If it is too thick, feel free to stir/melt in a tablespoon or two of shortening to thin it out. Then begin dipping each of the balls by dropping them one-at-a-time into the chocolate, and then carefully removing them with a fork (let the excess chocolate drip through the prongs), and then set them to dry on wax paper or aluminum foil.
Optional chocolate drizzle: Melt 1 cup of semi-sweet chocolate chips in the microwave or double-boiler. Then spoon mixture into a pastry bag with a small tip, and use it to pipe your favorite lines or pattern on the truffles. OR, spoon the mixture into a small Ziplock bag, seal it, and then cut a tiny hole in one of the bottom corners and use it to pipe your design. OR, simply dip a fork in the chocolate mixture, and swish it back and forth over the truffles for a fine drizzle.
Ali's Tip:
Other variations on this recipe might include:
Ingredients:
Switch the chocolates, so that you dip the truffles in dark/milk/semi-sweet chocolate, and then drizzle with white chocolate
Use mint Oreos for "mint truffles"
Add in 1/2 tsp. of your favorite extract to the Oreo mixture (almond, hazelnut, etc.)
Add in 1 tsp. ground instant coffee for "mocha truffles"
Toppings:
Finely crushed oreos
Finely crushed peppermints (for "mint truffles")
a coffee bean (for "mocha truffles")
Original description of a classic recipe.
All images and text ©
If you make this recipe, be sure to snap a photo and hashtag it #gimmesomeoven. I'd love to see what you cook!