Oven-Fried Spanish Croquettes
These Oven-Fried Spanish Croquettes are breaded with crispy Panko and filled with melted cheese and chorizo.  This post is also sponsored by Skinny Cow.
A few weeks ago, I mentioned that I am partnering with Skinny Cow on a fun project this summer where they are celebrating women and their WoCaves.  What is a WoCave? Basically, it is the girls' version of a "man cave", where you can kick back and be yourself and enjoy some of your favorite things in life.
For me, that time is often spent in the kitchen — and all the better with friends.
So I was stoked when my first "mission" arrived for the summer, including a gift box of some amazing entertaining goodies and a save-the-date for an in-home, hands-on Spanish tapas cooking class with a professional chef!!!  To be honest, I was a little nervous about the idea of a professional chef being in my kitchen.  For one, I love to cook but have not been formally trained in a culinary school, so I was a little nervous about him watching my knife skills and such.  And second, my kitchen is teeny tiny!
But the idea still sounded really fun, so I invited a few girlfriends over who I knew loved to cook.  And we ended up having an amazing evening together with Chef Jim!  We made seven (yes seven!) delicious tapas courses, and had a fabulous time along the way.  So I thought I would share some photos, along with my favorite recipe of the night — Oven-Fried Spanish Croquettes.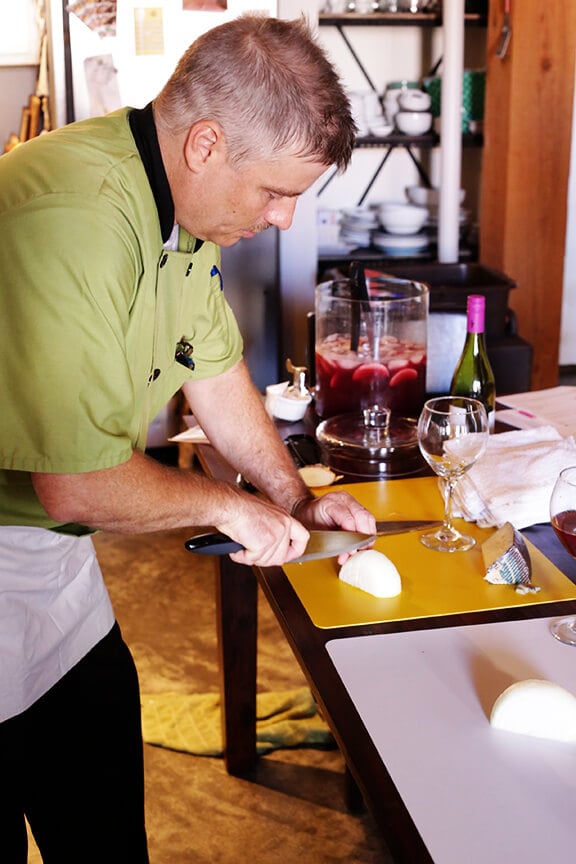 The evening began with the arrival of Chef Jim Sturm from KC Chef.
We all instantly fell in love with him.  In addition to being an awesome cook and instructor, he was totally fun and easy-going, and it's clear that he loves what he's doing!  He actually made the brave move a decade or so ago to leave his job in the corporate world and attend culinary school at Le Cordon Bleu.  And ever since, he has been following his passion to create good food and help others learn how to do the same.  Such an inspiring story!
Before the day of the class, he emailed and assured me that he would bring along everything he needed.  And let me tell you — he wasn't kidding!!!  He literally brought along every possible thing needed to teach a cooking class and cook eight delicious courses.  From the knives to the mega cooler for the ingredients to the pots and pans and even to a beautiful molcajete (that I got to keep!), I was so impressed with how organized and prepared our evening was right from the start!
You'd better believe that this sangria lover was excited to learn that our first course of the evening would be a delicious fruity sangria.  We supplied the two buck chuck, and Chef Jim helped us transform it with all sorts of delicious layers of fruit and apricot nectar into a heavenly drink that got the evening off to a perfectly Spanish start.  :)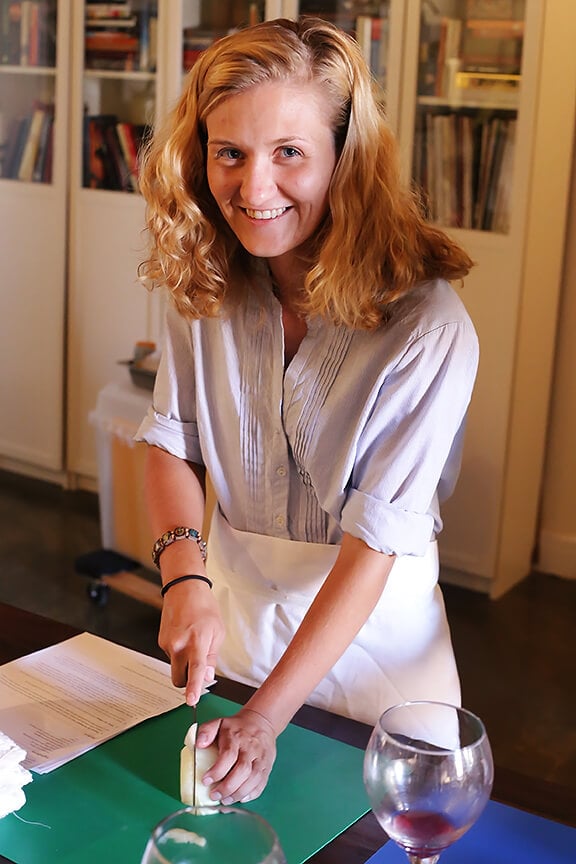 We then got down to business with the "class" part of the evening — Knife Skills 101!
Chef Jim had brought cutting boards and knives for each of us, along with a big bag of onions.  So we all set to work learning how to hold a knife, peel and cut onions with proper technique.  And (a little lesson!) we learned that the sharper the knife, the less you tend to cry with cutting onions, since duller knives don't make as thin and clean a cut.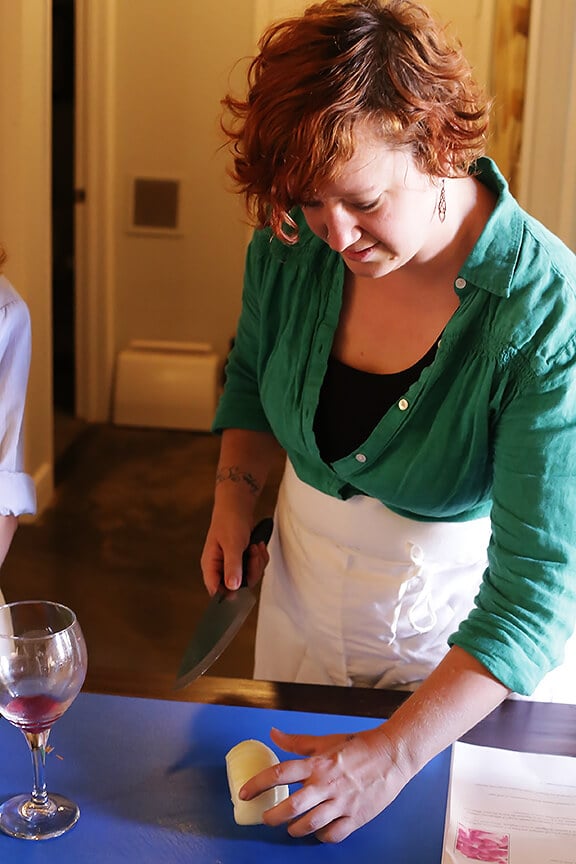 Ok, we still may have shed a few oniony tears.  But we didn't slice any fingers off, so that was a victory!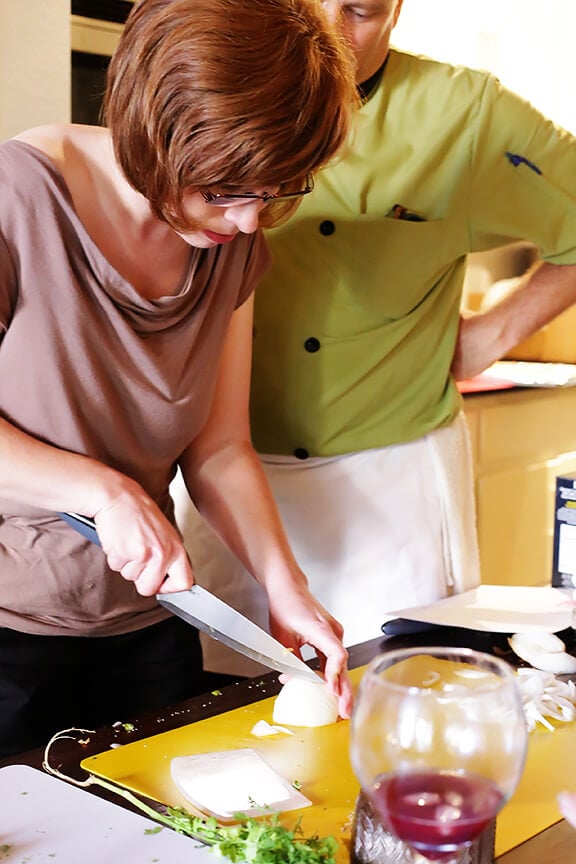 So Chef Jim then set us to work chopping, dicing, julienne-ing, and cutting up all sorts of produce and herbs for our meal.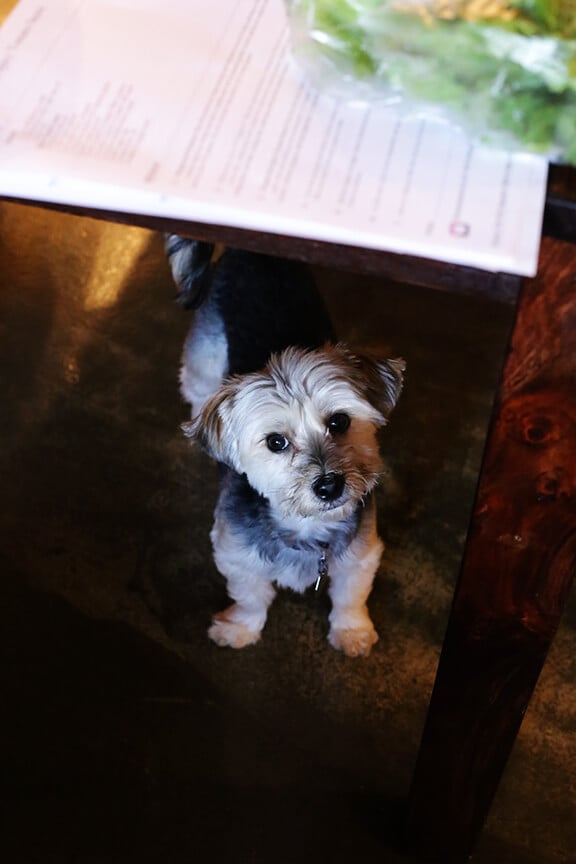 Our little "vacuum cleaner" stayed right in the middle of the action to help with any stray crumbs.  :)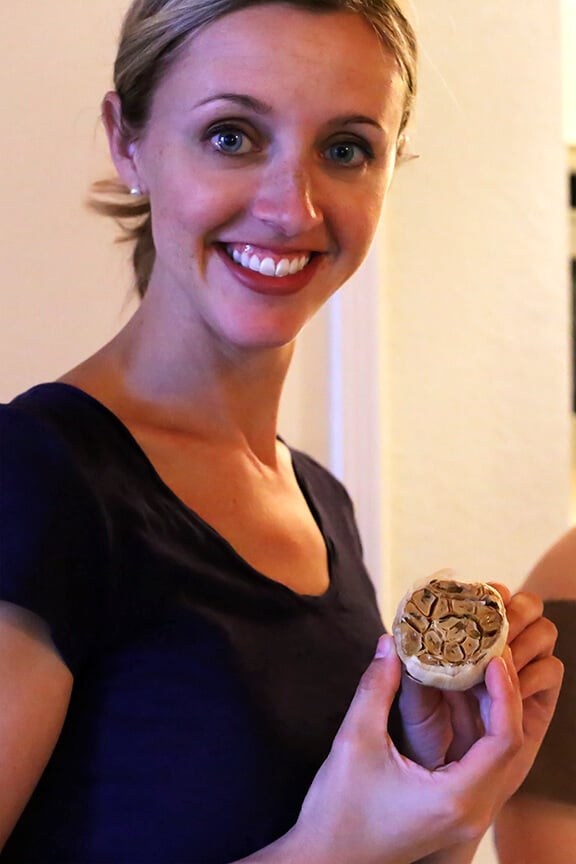 We introduced a few of the girls to the joys of how to roast garlic.
Oh man.  I can eat that stuff like candy.
I also even learned a few techniques, such as grating tomatoes.  I was a little skeptical, but it made for a really wonderful sauce!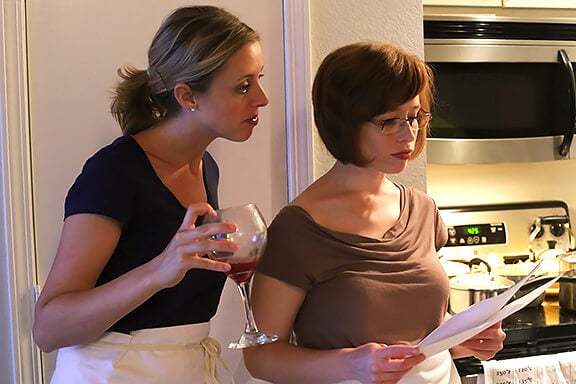 Seven recipes was a big endeavor for one evening.  But we were serious students and followed those recipes closely!  Annnnd had lots of fun hanging out and drinking sangria and munching on a block of Manchego cheese along the way.  :)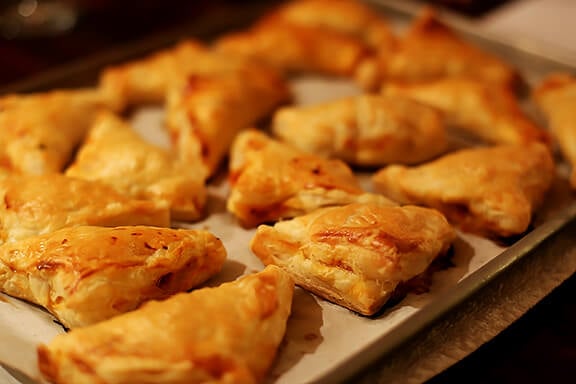 I loved that dinner was served "Spanish-style" — course by course, as they were ready.  And boy, when dishes started coming out of the oven, we were ready to dive in.  Everything was amazing!
Our menu included a Moorish Carrot Salad (julienned with our new knife skills!), Patatas Bravas with a Spicy Tomato Sauce (could not stop eating these roasted potatoes), Galacian Chicken Empanadas (pictured above – three cheers for puff pastry!), a Roasted Garlic Aioli, and the winner of the night in my book — Oven-Fried Spanish Croquettes with Chorizo.
Oh my goodness.  I could write an essay on just about every course.  But I absolutely had to share these croquettes with you.
They were the last thing on our menu.  And trust me when I say that we were all fuller than full by the time they came out of the oven!
But after rolling them into balls, breading them with Panko, and frying them up, we each couldn't resist taking a "little" taste.  And then another.  And then — shoot – just keep passing the plate around.
This spanish croquettes recipe was SO GOOD!  The Panko crisped up on the outside perfectly.  But when you bit into them, the Manchego-Bernaisse sauce just melted into your mouth.  And that chorizo — oh that chorizo — kept us all going back for more.  Such an amazing flavor combination!
So, being the food blogger I am, I decided to remake them this past week.  Although since I'm not a fryer (even though Chef Jim taught me well), I decided to try an oven-fried version with Panko.  My intern, Rachel, and I whipped up a batch to try.  Although we quickly realized that we made the mistake of using Mexican chorizo instead of Spanish chorizo.  Not quite the same, but still just as tasty.  We made them just as Chef Jim had instructed.  But instead of frying them in a skillet for the final step, we cranked the oven up to 450 and popped them in to bake.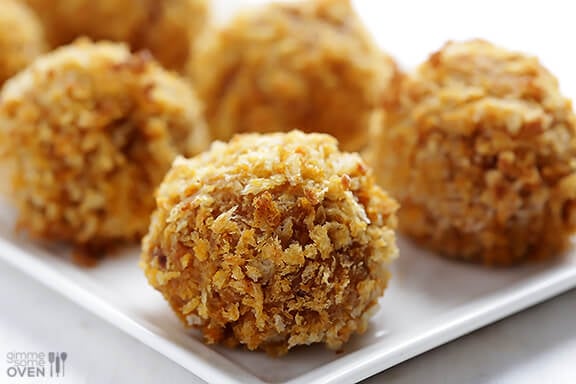 Thankfully…it worked!
I was so excited!  I had my doubts if these would be as good as the original, but the oven-fried version was perfectly crispy on the outside and melty in the middle.  So we called it a success!  The awesome thing is that you can also prep them up to a day before and keep them in the fridge, then just pop them out for a party.  I'm pretty sure these will definitely be happening here again soon.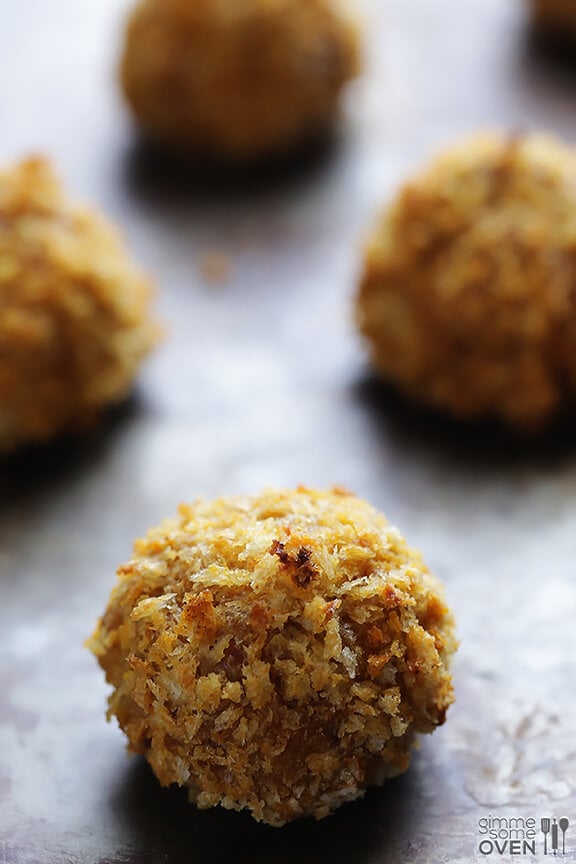 So huge thanks to Skinny Cow for sponsoring such an amazing, memorable night with Chef Jim.  I came away inspired and downright happy, and loved the memories with my friends that were created that night.
For all of you locals in Kansas City, be sure to check out Chef Jim's website and Facebook page.  He also teaches local cooking classes in my neighborhood at the City Market, which I can't wait to check out.
To read more stories about women creating and enjoying their own #WoCaves, be sure to follow the hashtag on Twitter and Instagram, and then add your own!!  So many fun stories and photos to share!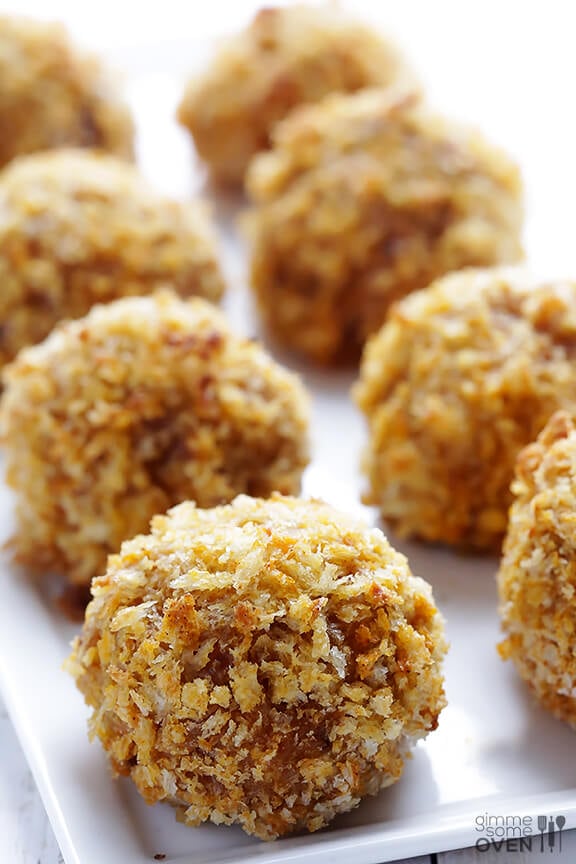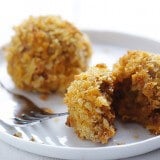 Oven-Fried Spanish Croquettes
These Oven-Fried Spanish Croquettes are crispy on the outside, melty in the inside, and overflowing with flavor!
Ingredients:
1/4 cup (half stick) butter
2 Tbsp. olive oil
1/2 cup flour, plus more for breading
1 1/2 cups milk
1/2 tsp. smoked Spanish paprika
1/2 cup Manchego or Gouda cheese, grated
1/2 cup Spanish-style chorizo, finely chopped
1 cup panko breadcrumbs
2 eggs
salt
Directions:
First, prepare the bechamel. Melt butter and olive oil together in a large skillet over medium-low heat. Add the flour and cook for 1 minute, whisking constantly, until a smooth paste forms. Continue to cook until the flour loses its starchy aroma. Increase the heat to medium-high, and gradually add in the milk, whisking constantly for about 1 minute, until the mixture is completely smooth. Stir in the grated cheese, chorizo, and paprika, and stir to combine. Season with salt and pepper if needed.
Transfer the mixture to a baking dish or bowl that has been greased with cooking spray or oil. Place a layer of plastic wrap directly on the filling mixture, and cover completely, sealing in the edges. Refrigerate until cool and firm, about 1-2 hours.
When ready to cook the croquettes, heat oven to 450 degrees F. Remove the filling mixture from the refrigerator. Using your hands or a cookie scoop, form the filling into small balls. Mine were about 1.5-inches in diameter, but you could also make them smaller (about 1-inch diameter).
Next, prepare your dipping assembly line. Fill one small bowl with flour. Fill a second with 2 eggs, whisked. And fill a final bowl with panko. Take one filling ball and dip it in the flour until completely coated, then the egg mixture, and finally the panko mixture until it is completely coated. Place ball on a parchment-covered baking sheet. Repeat with remaining filling balls. Then briefly mist the balls with cooking spray or misted olive oil.
Transfer sheet to the refrigerator for a final 10 minutes to cool before baking. You want the cheese to be nice and firm so that it doesn't melt too quickly in the oven.
When ready, place the baking sheet in the oven and bake for 12-16 minutes, or until the breading is golden and the filling is melted and bubbly. Remove and serve immediately.
All images and text ©
If you make this recipe, be sure to snap a photo and hashtag it #gimmesomeoven. I'd love to see what you cook!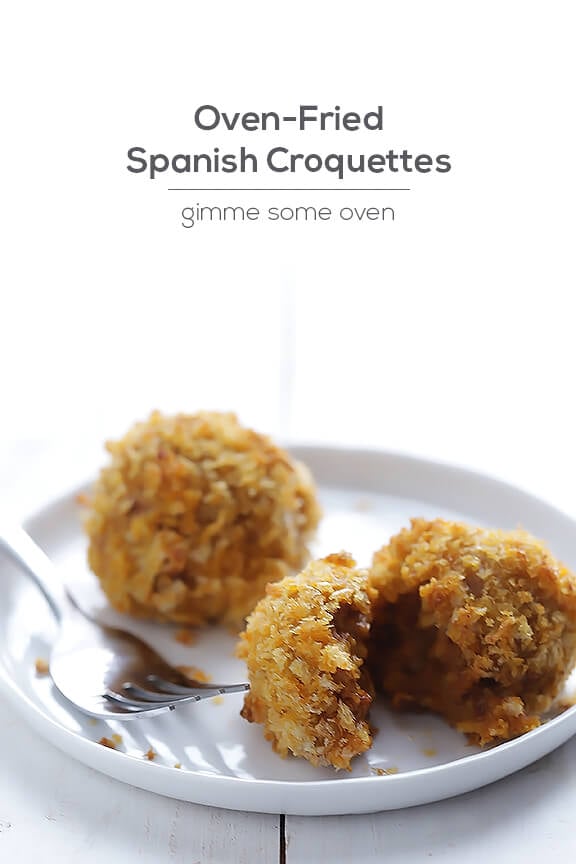 Disclaimer: This was a compensated post sponsored by Skinny Cow.  I am partnering with them for the WoCave campaign this summer, but all opinions are 100% my own as always.  Thanks for supporting the brands that help support this site!