Parmesan Baked Chicken Nuggets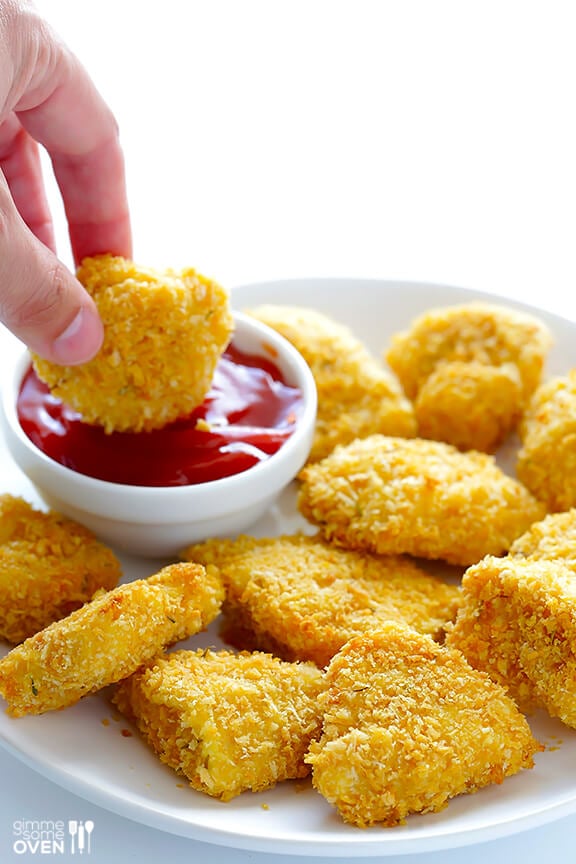 Last weekend, I caved and ordered fast food chicken nuggets.
Yes, the fried, questionably-shaped, had-probably-been-sitting-out-for-hours, Lord-knows-what's-in-them kind of nuggets.  Judge away.
But I have to admit, I was seriously craving some comfort food.  It was day two in the NICU back home in Wichita where our family had gathered to meet our very sweet, but very very sick, little newborn cousin and be with his parents.  So heartbreaking.  And especially considering that most of them had not slept in at least two or three days, so exhausting.  So that said, when my cousin decided she was ready take a brief break and walk to get some lunch, I was very happy to accompany her.
Once we stepped out of the hospital and into the warm sunshine, the only restaurant we saw within walking distance was basically the epitome of fast food.  But it sounded predictable and strangely comforting, and she said it sounded good, so we headed right in.  I normally would have ordered a salad or a healthy sandwich.  But for whatever reason, childhood nostalgia kicked in and all I wanted were chicken nuggets and fries with extra ketchup.
I'm not gonna lie.  They actually weren't half bad.  And they definitely satisfied the craving in a moment when all I wanted was some comfort food.  But they did inspire me to make a legit batch of chicken nuggets when I returned home.
And let it be said — homemade is always a better idea.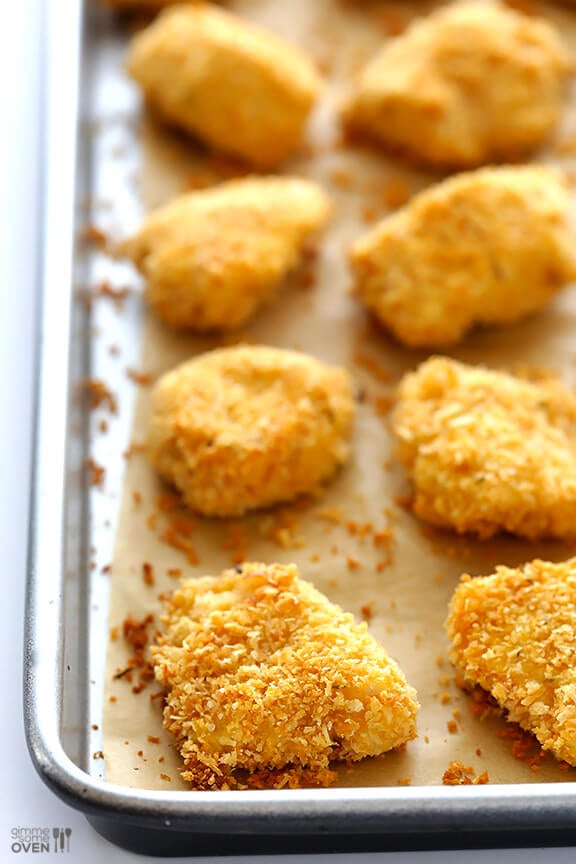 Actually, I've always thought it a little sad that chicken nuggets in general have gotten such a bad rap over the last decade.  I mean, restaurants need to behave themselves and be smart with how they make them.  But in general, chicken nuggets are a delightful way to enjoy chicken!  They're bite-sized and perfect for popping.  You get a much better breading to chicken ratio, verses chicken strips.  And as we all know, kids are basically biologically drawn to want them now.
So for all of you parents who have been requesting easy dinner recipes this month — and to all of you without kids, like me, who may just really love chicken nuggets — this recipe's for you.
And as you can tell from the title, these aren't just any chicken nuggets.  They super crispy on the outside, tender on the inside, and coated with a super-tasty Parmesan-Panko breading.  (Oh, and I'm not kidding on the "tasty" part — these were so good that I even loved just eating them plain!)  Plus, they're easy to make and ready on the table in less than 30 minutes.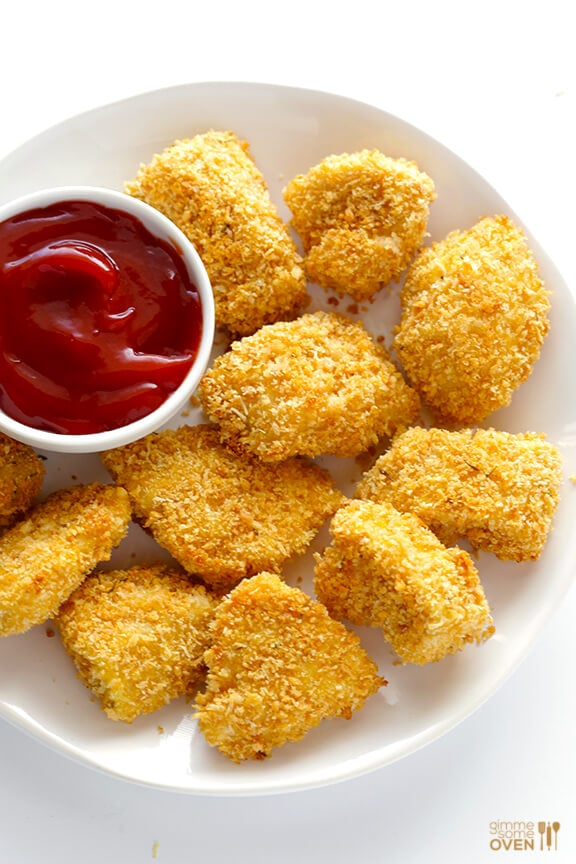 So yeah, no judging here for anyone who has ever caved to a craving and ordered fast food nuggets.  But the next time the craving hits, I'm going for these guys.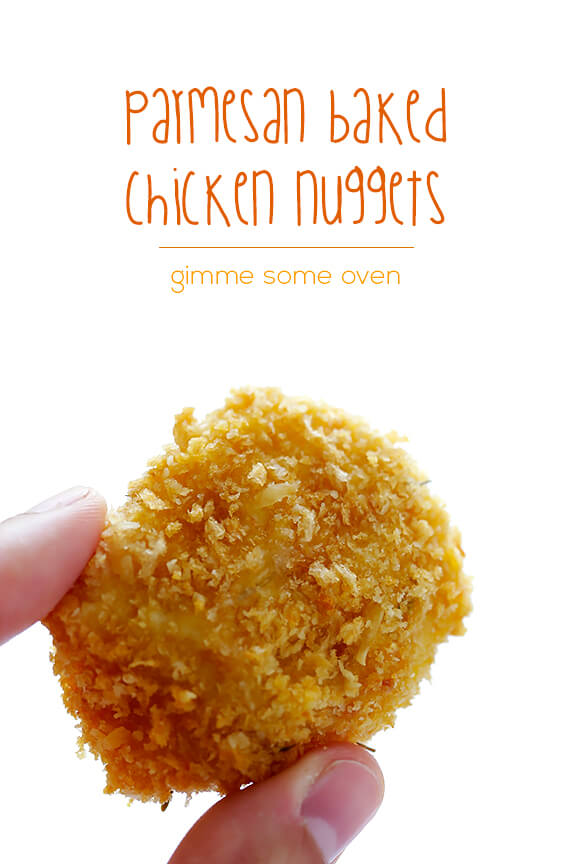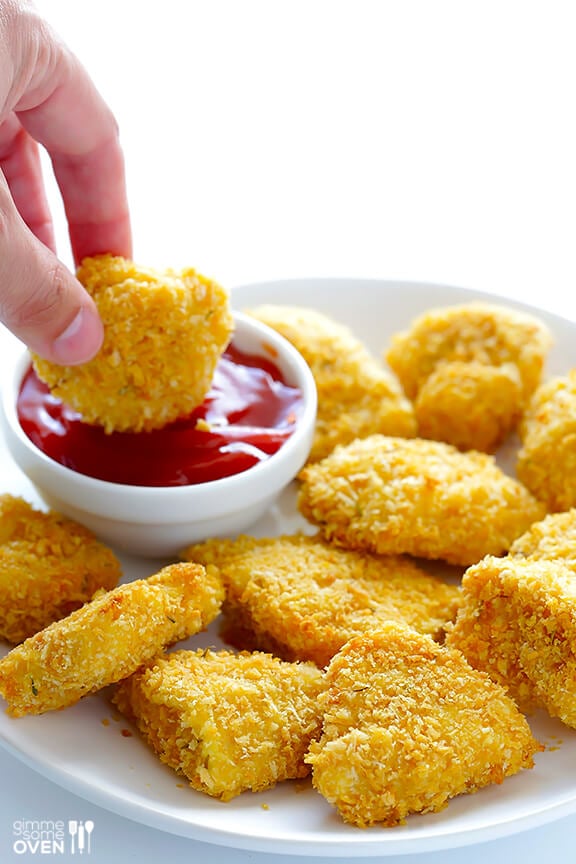 Parmesan Baked Chicken Nuggets
These homemade crispy chicken nuggets are baked instead of fried and full of delicious Parmesan flavor!
Ingredients:
2 boneless, skinless chicken breasts (about 1 pound total), cut into bite-sized pieces
1 cup panko breadcrumbs
1/2 cup *finely-grated or powdered Parmesan
1/2 teaspoon dried thyme
coarse sea salt and freshly-cracked black pepper
1/2 cup all-purpose flour
2 large eggs, lightly beaten
cooking spray
(optional) sauces for serving
Directions:
Preheat oven to 400 degrees. Spread panko out evenly on a rimmed baking sheet and bake until golden brown, about 3 to 5 minutes. Transfer to a small mixing bowl, then add Parmesan, and thyme. Toss until combined. Rinse off the baking sheet, then cover with parchment paper.
Place flour and eggs in separate shallow dishes. Increase temperature to 450 degrees.
Generously season the chicken with a few pinches of salt and pepper. One at a time, add a piece of chicken to the flour, and toss until coated, shaking off excess. Then dip it in egg until coated. Then transfer to the panko mixture, and toss until it is completely coated (pressing to adhere the Panko if needed). Transfer to the parchment-lined baking sheet. Repeat with remaining chicken.
Bake until chicken is cooked through, about 10-12 minutes, flipping halfway through. Serve chicken nuggets warm with dipping sauce(s), if desired.
*I do not recommend using the pre-grated Parmesan cheese you can buy in the refrigerated section at the store. Either buy a block and very finely grate it yourself, or use the powdered Parmesan you can buy in the shaker.
All images and text ©
If you make this recipe, be sure to snap a photo and hashtag it #gimmesomeoven. I'd love to see what you cook!