pasta fresca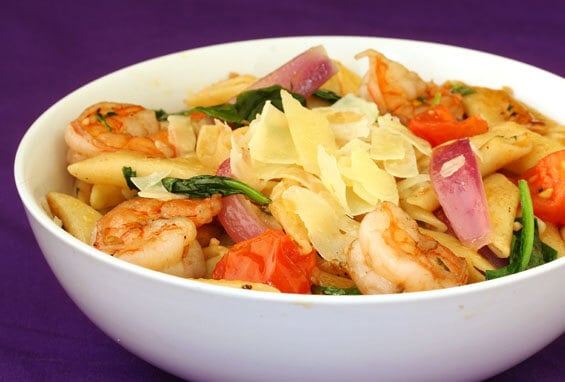 About the time I moved to Kansas City about five years ago, another new restaurant chain also happened to be moving in down the street – Noodles & Co!  I admit, I was initially a little skeptical of the idea of so many pasta dishes being stir-fried in a matter of minutes.  But when a "free noodles" coupon showed up in my mailbox during their opening week, I was all for giving it a try.
Five years ago, my first meal there was "pasta fresca".  And five years later, it's still my fav.  :)
It really is a breeze to make — just simple pasta, stir-fried with fresh spinach, red onions, garlic and tomatoes.  Then it's tossed with a light herb and balsamic vinaigrette, and (as they say) "sauteed to perfection".  That's right – sauteed.  Not the way I typically make pasta, but I actually love the extra flavor and texture the method lends to the dish.
So here's my take on this yummy "pasta fresca"!  I think it's nearly identical to the original, but see what you think.  ;)  Also, feel free to sub in whatever meats, seafood, or tofu you would like instead of shrimp.  Enjoy!!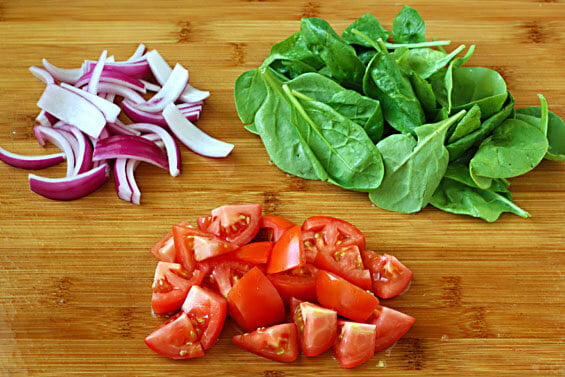 Pasta Fresca
Make this favorite "Noodles & Co" dish at home!! Easy recipe and photographs included
Ingredients:
Saute Ingredients:
12 oz. pasta (I'd recommend mostaccoli or farfalle)
2 tsp. extra virgin olive oil
4 cloves garlic (either fresh or roasted), minced
3-4 roma tomatoes, diced
half a red onion, diced (about 1 cup)
1 lb. cooked shrimp (or cooked chicken, beef, seafood, tofu, etc.) **See Note Below**
1 oz. baby fresh spinach
freshly grated parmesan
Herb & Balsamic Vinaigrette:

1/4 cup olive oil
2 Tbsp. balsamic vinegar
2 Tbsp. white wine
2 Tbsp. fresh parsley, finely chopped
1/2 tsp. salt
Directions:
In a small bowl, whisk together vinaigrette ingredients (olive oil, balsamic, white wine, parsley and salt) until well-blended.

Meanwhile, bring a large pot of generously-salted water to a boil, and cook pasta al dente (just slightly chewy) according to package instructions.  Drain.

In a large skillet, heat 2 tsp. olive oil over medium-high heat.  Add garlic, and saute for one minute.  Then add in the tomatoes, onion, cooked pasta and your protein (shrimp, meat, etc.) and continue sauteing for 5 minutes until the pasta just slightly begins to brown.

Then add in the spinach and vinaigrette, and continue stirring and sauteing for another 3-5 minutes, until the spinach begins to wilt.

Remove from heat and serve, garnished with Parmesan or feta cheese.

If you make this recipe, be sure to snap a photo and hashtag it #gimmesomeoven. I'd love to see what you cook!
Ali's Tip:
If you're beginning with raw shrimp (like I did), just cook them in the skillet first (with the garlic) before adding in the veggies and pasta.
Leave a Comment:
Comments
Trackbacks/Pingbacks
Pingback: 61 Most Wanted Copycat Recipes | Blended