Pasta With Greek Cinnamon-Tomato Sauce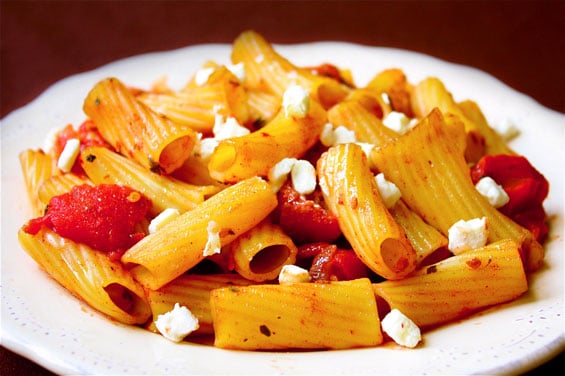 Mmmm…one of my favorite things about the holiday season is the celebration of cinnamon.  It's everywhere!  In candles, in cookies, in warm drinks, and now…in pasta!  :)
Last Christmas, Santa brought me The Splendid Table's "How To Eat Supper" cookbook, and I've totally enjoyed exploring its recipes over the past year.  But my favorite of them all — which interestingly was the first one I tried — is this pasta recipe with the cinnamon-tomato sauce.  I remember initially giving it a try because I already had all of the ingredients on hand.  But wow – definitely underestimated how much I would enjoy it!!
The sauce is, of course, the rockstar of the recipe.  It mainly calls for common tomato sauce ingredients, but the addition of the wine, hot pepper, and the subtle yet phenomenal taste of cinnamon (YUM!) give it an entirely new depth.  This is the vegetarian version, but feel free to add in some sliced chicken breasts or (in keeping with the "Greek" theme) lamb!
Definitely a simple, uniquely delicious recipe to keep on file.  Enjoy!!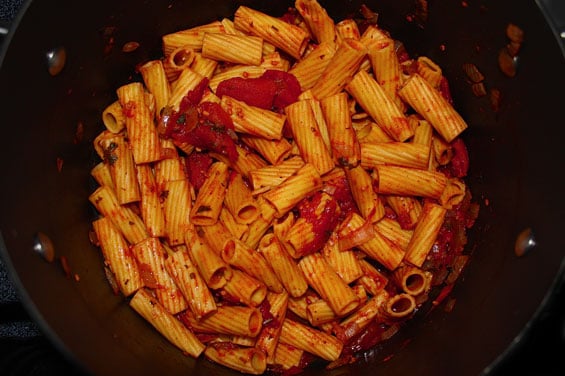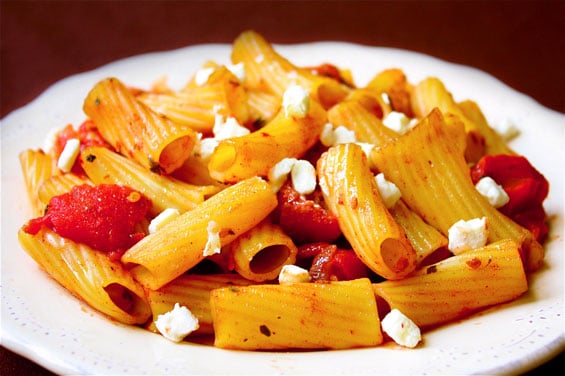 Pasta With Greek Cinnamon-Tomato Sauce
A slight seasonal twist to one of your traditional Italian favorites. You'll love this Pasta With Greek Cinnamon-Tomato Sauce recipe! Try it today!
Ingredients:
1 Tbsp. olive oil
1 medium onion, chopped
1/2 cup (tight-packed) fresh flat-leaf parsley leaves, coarsely chopped
1 heaping Tbsp. tomato paste
6 cloves garlic, minced
1 1/4 tsp. dried oregano
2 tsp. ground cinnamon
1 tsp. sugar
1 tsp. ground Aleppo pepper or other medium-hot chile; or 1/2 tsp. red pepper flakes
1/2 cup dry white or red wine
2 lbs. ripe summer tomatoes; or 1 can (28 oz.) whole tomatoes with their juice
1 lb. hollow dried pasta (rigatoni, penne, ziti, perciatelle, etc.)
1 1/2 cups fresh goat cheese, crumbled
salt 'n' pepper to taste
Directions:
Bring a large pot of generously-salted water to boil.
Heat olive oil in the bottom of a large saute pan (or skillet with tall edges) over medium-high heat. Stir in the onions, parsley, and generous sprinklings of salt and pepper. Saute the onions until translucent. Then stir in the tomato paste, garlic, oregano, cinnamon, sugar, and Aleppo pepper. Turn the heat down to medium and saute for 1 minute. Add the wine and cook for 1 minute.
If using fresh tomatoes, grate them on a grater over a bowl, and add the pulp with its juices to the pan. For canned tomatoes, crush them as they go into the pan. Raise the heat to medium high and cook the sauce for 8 minutes, or until thick. Taste for seasoning and remove the pan from the heat. Cover the pan.
Meanwhile, once the water in the cooking pot has reached a rolling boil, add the pasta. Cook according to package instructions, until it is tender but still has a little bite. Once the pasta is done, drain it in a colander and then add it to the sauce. Toss over the heat for a minute or more to help the sauce permeate the noodles. Serve sprinkled with goat cheese.
Ali's Tip:
If cooking this in the winter (when flavorful, fresh tomatoes aren't in season), definitely recommend always buying canned whole (instead of diced, petite diced, etc.) tomatoes.  For the same prices as the others, you end up getting the highest quality of tomatoes.  (The "lesser" quality ones end up being diced, pureed, etc.)  So even if it calls for an extra 2 minutes of chopping, know that you're getting the best of the best.  :)
If you make this recipe, be sure to snap a photo and hashtag it #gimmesomeoven. I'd love to see what you cook!