Pepperoni Pasta Bake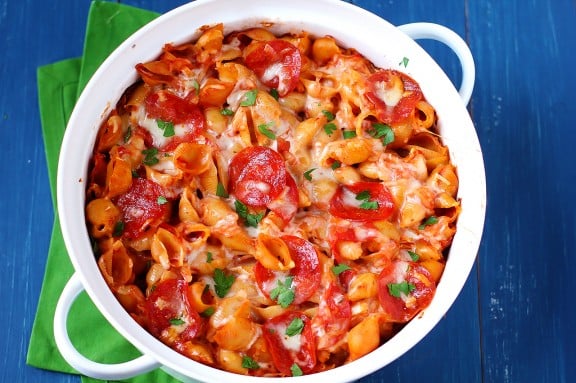 When I was in college, one of my roommates introduced me to the glory that is a "Pepperoni Pasta Bake".
We were always on a quest to figure out how to make meals that could feed 4 for less than $15.  And I have to say, we were pretty inventive!  But more often than not, our meals revolved around pasta, and this simple dish was our favorite.
It's all of the goodness of pepperoni "pizza" flavors, wrapped into a delicious and uber-simple pasta bake.  We would always just use pasta, pepperoni, Mozzarella cheese and marinara sauce, which was a fabulous start.  But there are endless variations.  For a "lighter" version, you could of course sub in some turkey pepperoni, whole wheat pasta and part-skim Mozzarella.  Or for a more well-balanced version, you could easily throw in lots of your favorite veggies (I like using mushrooms, green peppers, onions, and broccoli).  But when I am occasionally craving a more purist version of the college classic, I at minimum add in some sauteed garlic, onions and some extra seasonings to kick things up a tiny notch, but to still stay true to our memories.
However you make it, this classic can still be made for under $15, and I guarantee that it will be a crowd-pleaser.  :)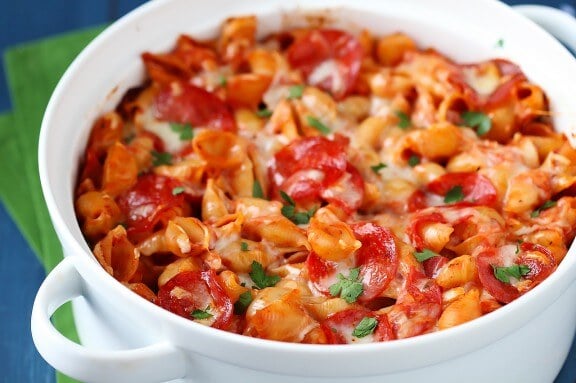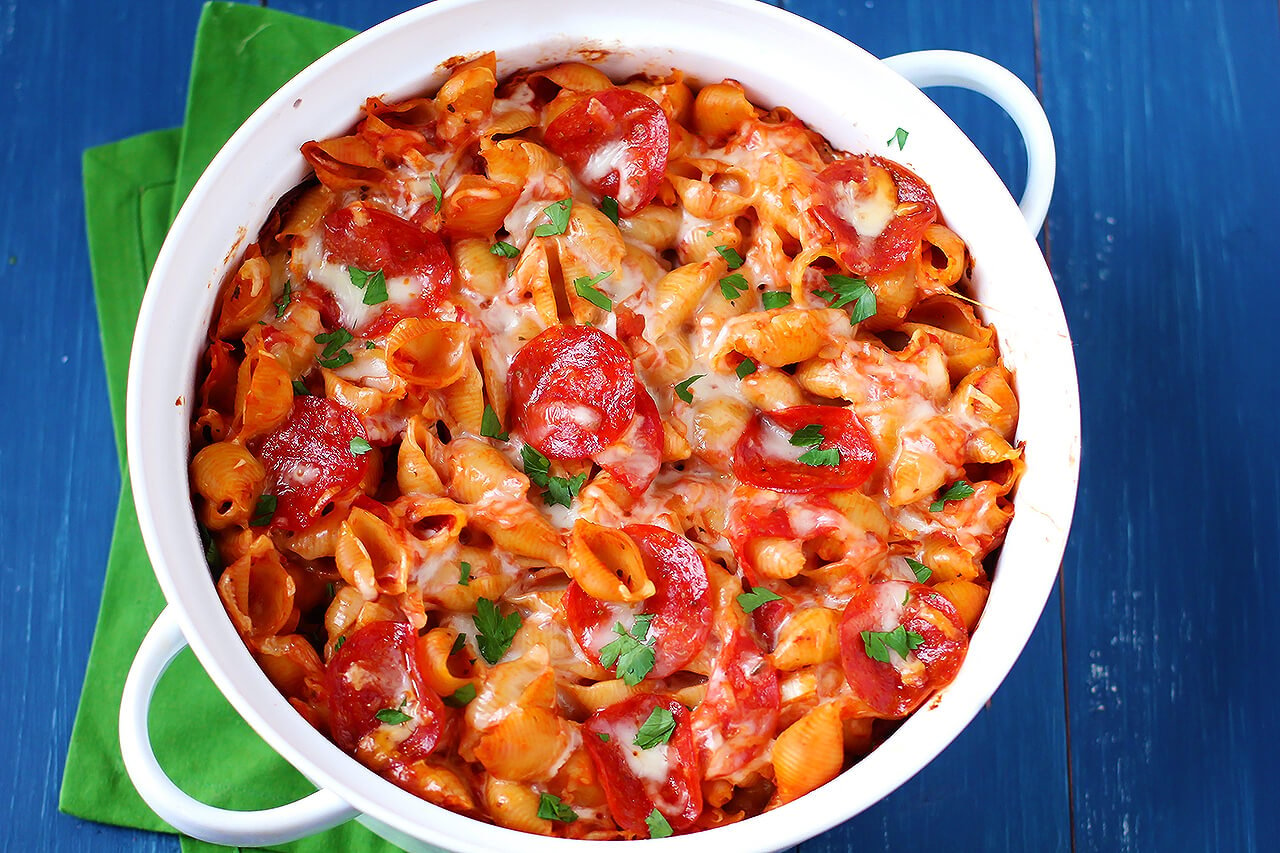 Pepperoni Pasta Bake
This "Pepperoni Pasta Bake" is simple, inexpensive, and always a crowd-pleaser!
Ingredients:
1 lb. dry pasta of your choice
1 Tbsp. olive oil
half a white onion, finely diced
1/2 tsp. dried oregano
4 cloves garlic, minced
2 cups marinara sauce
1 (15 oz.) can diced tomatoes, drained
2 cups shredded Mozzarella cheese, divided
1/2 cup Parmesan cheese
about 30 pepperonis, sliced into halves
optional toppings: chopped fresh basil or Italian parsley, shaved Parmesan cheese
Directions:
Preheat oven to 375 degrees.
Cook pasta in generously-salted water until al dente according to package instructions.
While pasta is cooking, heat olive oil in a skillet over medium-high heat. Add the onion and saute for 5 minutes, until it is cooked and translucent. Add the garlic and oregano and cook for 1 minute more, stirring occasionally, until the garlic is fragrant. Remove from heat.
Once the pasta is finished cooking, drain the water and return the pasta back to the pot. Stir in the garlic/onion mixture, the marinara sauce, diced tomatoes, Mozzarella (reserve a small handful of the cheese for the topping), Parmesan and pepperonis. Mix until well-blended.
Transfer the pasta to a greased baking dish, and then sprinkle the remaining Mozzarella cheese on top. Bake uncovered for about 20-25 minutes, or until the cheese is melted and starts to brown around the edges.
Serve immediately.
All images and text ©
If you make this recipe, be sure to snap a photo and hashtag it #gimmesomeoven. I'd love to see what you cook!