Philadelphia Sushi Stacks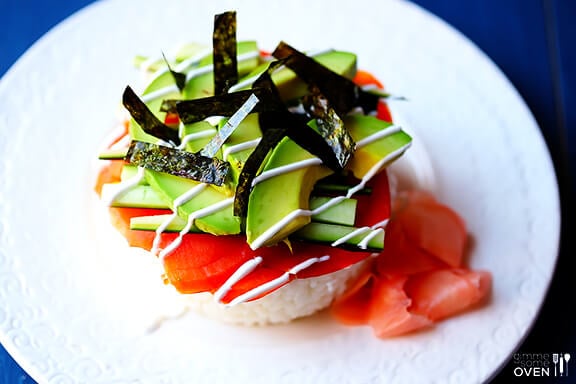 Today's post is devoted to all things Philadelphia.  Allow me to introduce to you my newest recipe experiment — Philadelphia Sushi Stacks, made with PHILADELPHIA Cream Cheese!
A few years ago, my friend Mollie took me to a restaurant that had just opened up near her called Yard House.  There was rock music pumped up inside, pizzas and tacos and steaks galore, but then as I was browsing the menu the words "California Roll" caught my eye.  Sushi sounded better than a steak, so I decided to take a chance and order it.  And lo and behold, I was served this huge stacked masterpiece!  No "rolls" in sight.  Instead, they just layered all of the ingredients into one huge mountain, which made my day.  I still think about that meal every time I eat California rolls!
So when I was approached by PHILADELPHIA about developing a new cream cheese recipe, I took the challenge a bit literally and made some Philadelphia Sushi Stacks!  I couldn't quite decide what to call them.  My awesome Facebook followers came up with a host of great names, from "sushi napoleons" to "sushi sliders" to "sushi towers" to "stack-shi" and countless others.  (And my Dad's contribution – "swushis"!)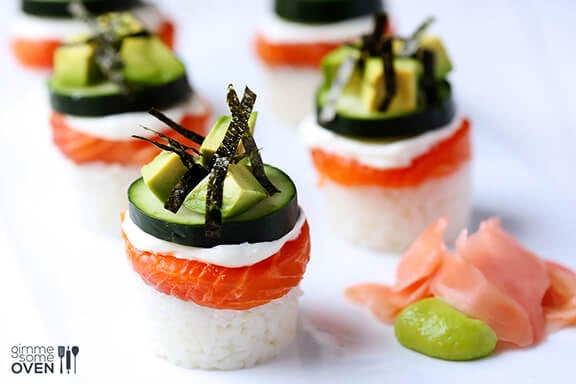 Whatever you want to call them, these are sushi made simple.  No rolling required.  Just stack everything into a pile or in a bowl, or if you want to get all perfectionistic like me, I made a large version in these mini springform pans, and some bite-sized versions in my favorite mini springform pan.
Just chop up the ingredients while the rice cooks, and then they literally take about 5 minutes total to assemble.  My kind of sushi!  I made these with the classic Philadelphia ingredients, including the namesake — some PHILADELPHIA Cream Cheese!
Did you know that PHILADELPHIA Cream Cheese has been making the country's most popular cream cheese since 1872?  That's over 140 years!  But their four fundamental standards to ensure that classic quality and taste remain the same:
Fresh Local Milk and Real Wholesome Cream: PHILADELPHIA uses milk sourced from dairy farmers local to where the cream cheese is made, and combines it with real, wholesome cream to create a deliciously fresh tasting cream cheese
From Farm to Our Fridge in Just Six Days: Fresh milk from nearby farms is made into cream cheese and refrigerated at PHILADELPHIA creameries in Beaver Dam, Wis. and Lowville, NY in just six days
Limited use of preservatives: No preservatives are found in the cream cheese brick varieties
Real Ingredients: From crisp jalapeños in its most recent variety, Spicy Jalapeño (just launched on March 4), to crunchy pecans in its Honey Nut variety, PHILADELPHIA Cream Cheese provides a delicious, fresh taste with each flavor
I love it!  But another reason I'm personally such a big fan of the brand is because they have partnered with so many cool causes over the years that I love.  This year I'm excited that PHILADELPHIA is partnering with Share Our Strength and their No Kid Hungry Campaign to help end child hunger in America through their "6 Days To Delicious" campaign.  The No Kid Hungry campaign connects kids in need with nutritious food and teaches their families how to cook healthy, affordable meals. The campaign also engages the public to make ending childhood hunger a national priority.  Really cool.
But the cool part is that with just a click, you can join in the effort!  For every share of this video (link above), PHILADELPHIA Cream Cheese will donate $1 to Share Our Strength's No Kid Hungry campaign, up to $50,000. $1 can help connect a child with up to 10 meals.
Gifts made to Share Our Strength and the No Kid Hungry® campaign represent a gift to Share Our Strength's organizational mission and will be used to reach the highest number of children facing hunger in America. Share Our Strength® does this by combining gifts to address child hunger community by community, state by state. With your help, PHILADELPHIA's donation today will leverage the time, expertise, and additional funds needed to end childhood hunger once and for all.
Childhood hunger here and around the globe has long been an issue close to my heart, so I really hope you will join in this effort and help spread the word about the video and the No Kid Hungry campaign.
And I really hope that you enjoy these sushi stacks!  I sure did!  :)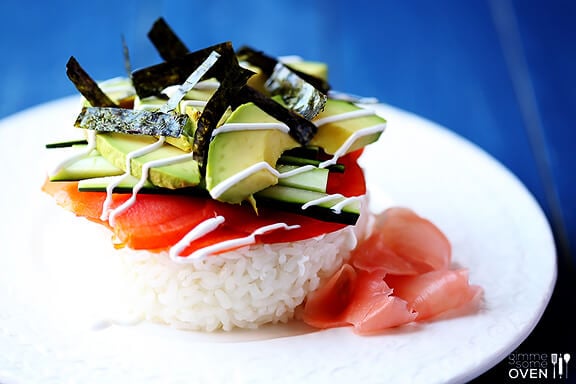 Philadelphia Sushi Stacks
Instead of rolling your Philadelphia sushi, try making these fun sushi stacks!
Ingredients:
4 cups cooked sushi rice
1 lb. smoked salmon, cut into small pieces
1 (8 oz.) brick PHILADELPHIA Cream Cheese, softened*
1 large English cucumber (or a regular cucumber), julienned or sliced into thin coins
1 large avocado, pitted and thinly sliced
1 nori sheet, cut into small confetti-like pieces
garnishes: pickled ginger, wasabi
Directions:
Layer the rice, salmon, cream cheese, cucumber, avocado and nori to form sushi stacks.
*You can either spread the cream cheese on with a knife. Or heat it in a small sauce pan over medium heat, stirring often, until it reaches the consistency of thick sour cream. Then drizzle it over the sushi stacks with a fork or use a piping bag. (Or you can also just transfer the heated cream cheese to a thick ziplock bag, and cut off a tiny corner to drizzle that way.)
**If using the (larger) mini springform pans, I used 1 cup cooked rice per stack and the julienned cucumbers. If using the (smaller) mini springform pans, I used 2 Tbsp. cooked rice per bite, and the cucumber coins.
All images and text ©
If you make this recipe, be sure to snap a photo and hashtag it #gimmesomeoven. I'd love to see what you cook!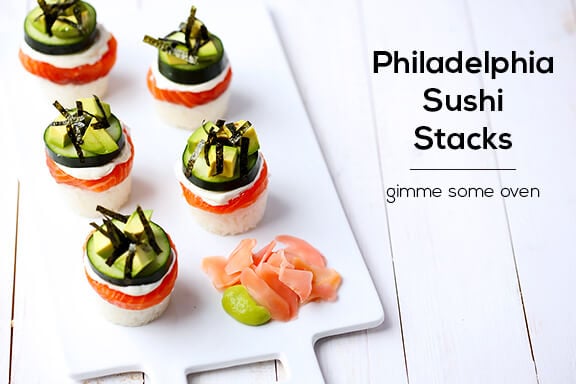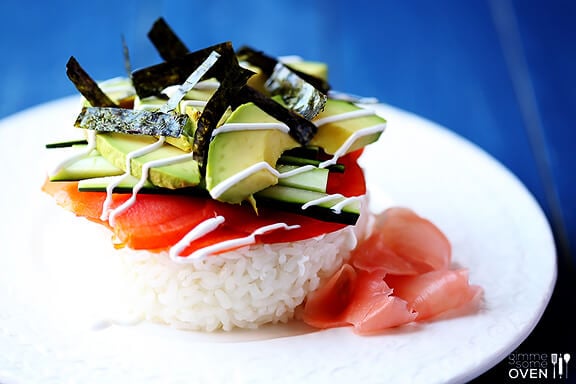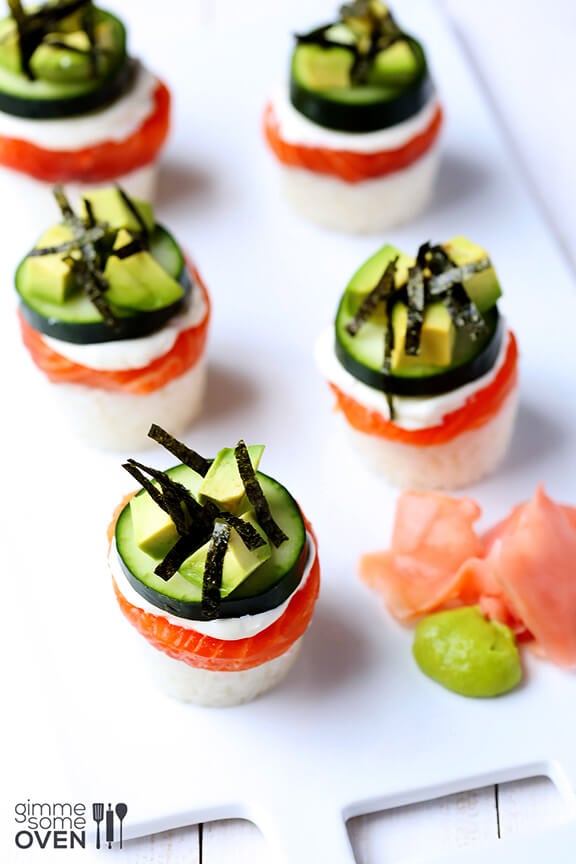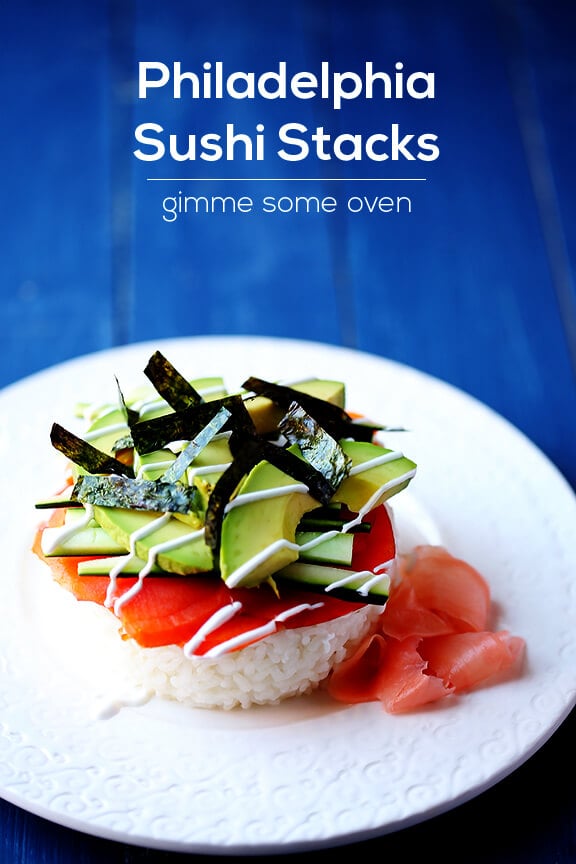 I have been selected by Kraft Foods to be an ambassador for PHILADELPHIA. While I have been compensated for my time, my opinions are my own, and I have not been paid to post positive comments.