Pizza Spaghetti Squash Boats
These Pizza Spaghetti Squash Boats are fun and easy to make, and easy to customize with your favorite pizza toppings!
Some of you know that this past year, I've been devoting most of my Fridays to volunteering with a refugee resettlement organization here in Kansas City.  For part of that work, I've had the chance to spend time interviewing dozens of amazing people who have made the brave journey away from their home countries (and everyone and everything that's familiar) to make a brand-new home for themselves here in KC.  And oh my goodness, getting to spend time with them has been so cool.  Because they are so cool, and I learn so much from their extraordinary stories, and their courage, and their gratitude, and their contagious smiles, and basically just their general awesomeness.
This past Friday, for example, I had the chance to hear the story of a young Burmese refugee who bravely fled his country by himself at age 15, hoping to find work so that he could support his mother and younger sibling.  He was one of the lucky ones who wasn't turned away when he finally reached Malaysia, where he stayed in a refugee camp and worked as a farmer for 7 years.  Then last year, he was thrilled to learn that he was finally approved to come to the United States.  He was placed in Kansas City, where he has been working as a groundskeeper at a nursing home, and adores chatting and practicing his English with all of his "old people" friends.  I have no doubt they adore this sweet young man just as much in return.  He has such a kind spirit.  :)
Anyway, we spoke for nearly an hour, with the help of an interpreter, and I was overwhelmed — as I often am — by how hard this guy has already worked in his young life to make it (literally) this far.  And how brave he is to be starting a new life, even when his misses his mother and family back home terribly (can you imagine?).  And amidst the weight of it all, how grateful and joyful he is to be here.  Seriously, this guy has a gentle smile that will light up a room.  And when I asked what he was loving about the United States culture so far — you know, tv, music, food, etc. — he said "everything, I love everything!"  I pressed him to get specific, and he thought about it for a second, and then broke out in a big grin.
"Pizza," he said.  "I really love pizza."
I think he'll fit right in here.  ;)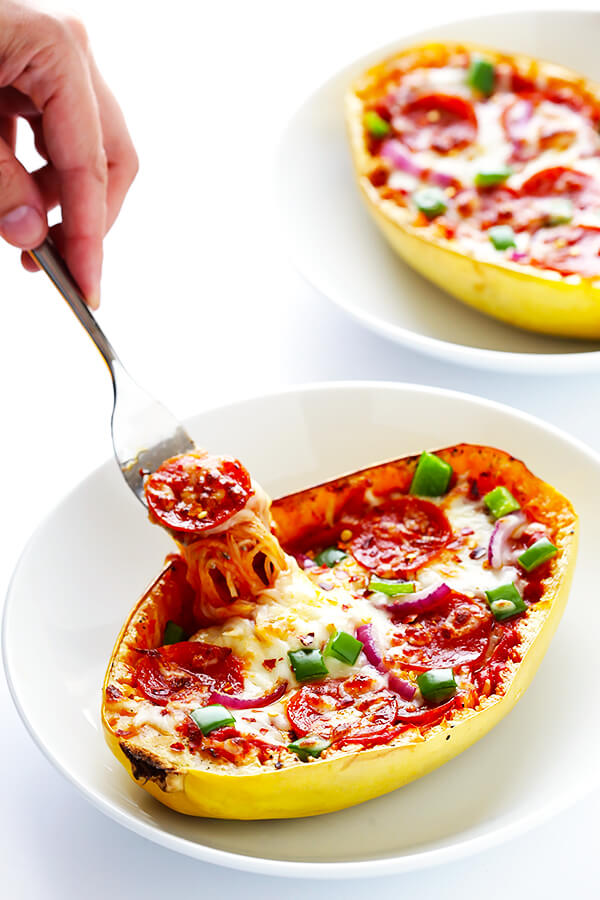 Ok, I couldn't help but share that little story when typing up this spaghetti squash pizza recipe today.  Because I'm pretty certain that everyone who tries pizza can't help but love it.  And if you happen to be looking for new ways to sneak veggies into your family's meal plan, I'm pretty sure that everyone who tries these spaghetti squash pizzas can't help but love them.  ;)
They taste like everything we love about pizza.  But instead of that extra bread and calories we usually use for the crust, I subbed in some roasted spaghetti squash boats instead.  They're super cute, super easy, and actually, super delish.
Simply roast up a few spaghetti squash halves.  (<– I found some small ones that worked perfectly for individual portions.)  Then once the flesh is cooked through, use a fork to shred it into "spaghetti".
Then add some pizza sauce and shredded mozz to each squash half, and give it a good stir so that the "spaghetti" is evenly-coated.
Then layer on your favorite pizza toppings, along with a little more cheese, and pop everything under the broiler until the cheese is nice and melted and golden and pizza-like.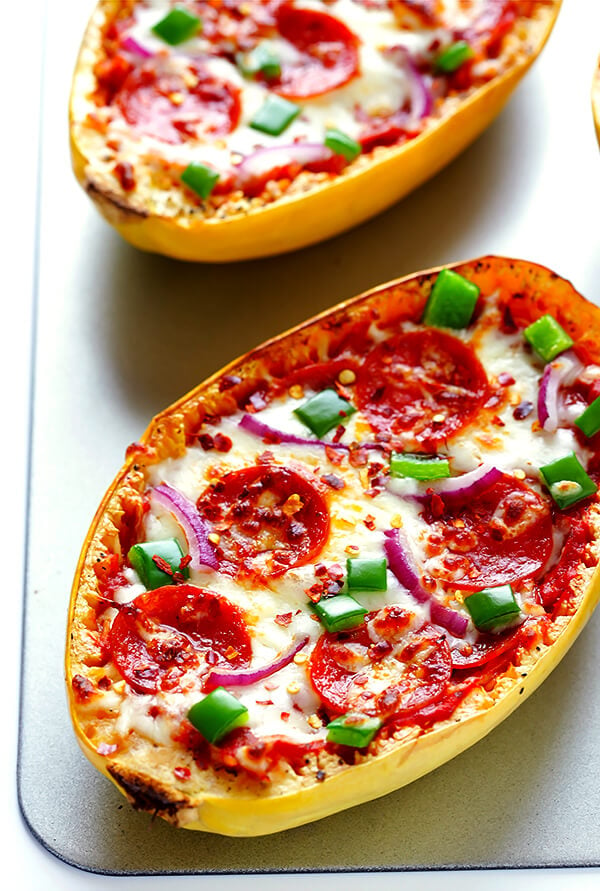 And then voila — these adorable personal pizza "boats" will be ready to enjoy!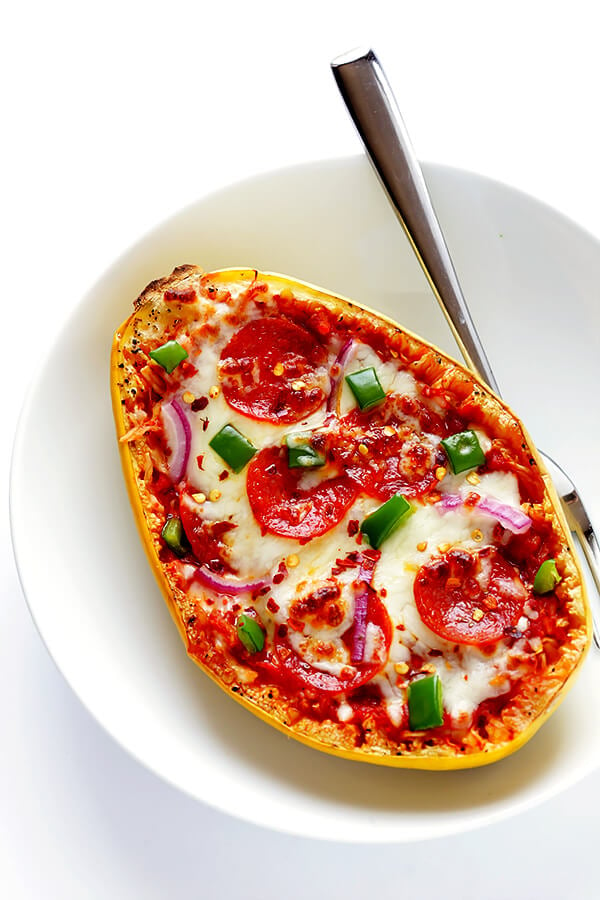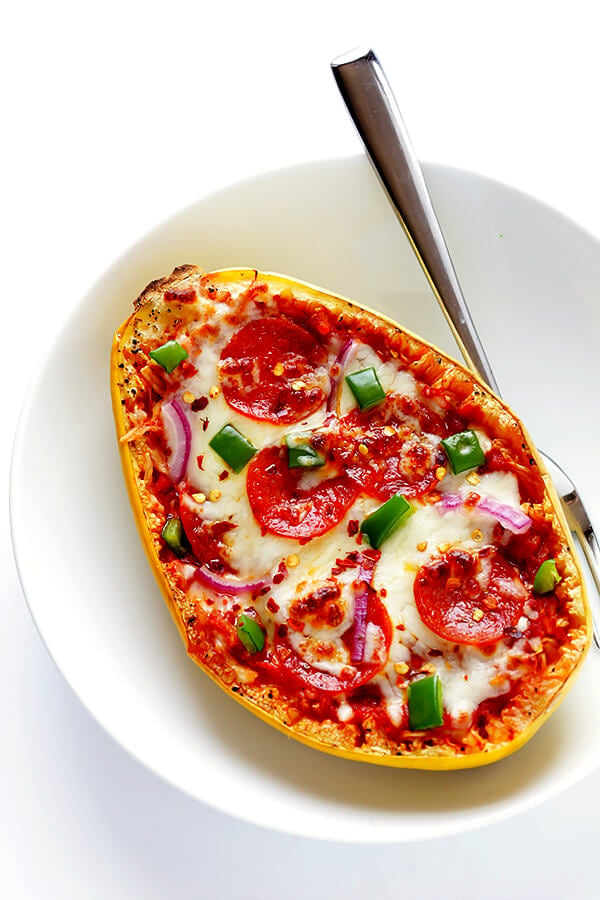 Truly, they are so simple.  And each person can choose their own favorite toppings for their personal "pan" pizza, you know, just like we did back in the Book-It days.  (<– Anyone??)  ;)
So cheers to yet another way to enjoy pizza!  And cheers to Americans — and our new American neighbors joining us from abroad — who love pizza just as much as we do.  ♥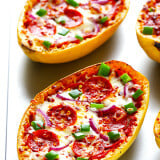 Spaghetti Squash Pizza Boats
These Pizza Spaghetti Squash Boats are easy to make, fun to customize with your favorite pizza toppings, and absolutely delicious! They are also naturally gluten-free (when made with GF pizza toppings).
Ingredients:
2 small spaghetti squash
olive oil
salt and pepper
2 cups pizza sauce
2 cups shredded mozzarella cheese
your favorite pizza toppings* (I used pepperoni, diced green peppers, thinly-sliced red onions, and crushed red pepper flakes)
Directions:
Preheat oven to 400°F.  Line a baking sheet with aluminum foil, then mist with cooking spray.  Set aside.
Using a sharp knife, very carefully cut the spaghetti squash in half lengthwise.  (I find it helps to microwave the squash for 2-3 minutes before cutting to soften it up.)  Use a spoon to scoop out and discard the seeds and stringy pulp in the center of the squash.  Then brush the flesh of the squash evenly with olive oil, sprinkle with salt and pepper, and place the squash halves cut-side-down on the prepared baking sheet.
Bake for 30-35 minutes, or until the inside of the squash is cooked through and shreds easily with a fork.  (Larger squash halves will take longer to bake.)  Remove from oven, and let the squash cool for a few minutes.
Using a fork, shred the inside of the squash until all of the flesh is spaghetti-like.  Then add 1/2 cup (more or less) pizza sauce and 1/4 cup shredded cheese to each squash half, and gently give it a toss until all of the spaghetti-ed squash is evenly coated with the sauce.
Sprinkle a few pizza evenly toppings on top of the sauce on each squash half, followed by about 1/4 cup mozzarella cheese, followed by a few more pizza toppings as desired.
Turn the oven to broil.  Place the baking sheet with the spaghetti squash pizzas in the oven (I placed mine on a rack 1/3 from the top of the oven) and broil for 4-6 minutes — keeping a close eye on the pizzas so that they do not burn — until the cheese is melted and starts to turn a little bit golden.
Remove from the oven, and serve immediately.
*These pizzas do not spend a long time in the oven.  So if you are using any toppings that have a longer cook time — such as sausage or bacon — I recommend pre-cooking them before adding those toppings to the pizzas.
All images and text ©
If you make this recipe, be sure to snap a photo and hashtag it #gimmesomeoven. I'd love to see what you cook!