Quick and Easy Stir-Fry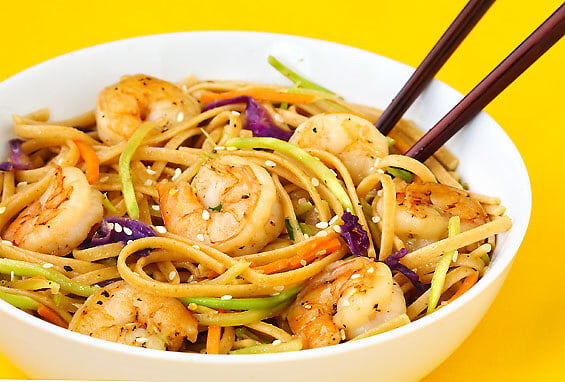 Over the years, I've had a number of friends approach me who are just getting into cooking, and are looking for a good recipe to begin with.  My recommendation to them (and anyone else looking for a quick meal) is always . . . stir-fry!!!
Without a doubt, stir-frys are one of my favorite go-to meals.  They're quick, fresh, well-balanced, healthy, affordable, easy, and (perhaps my favorite!) they are the perfect way to use up ingredient leftovers!!!  Just round up whatever veggies are in the house, and add in some protein or noodles if you'd like (or you can go vegetarian or carb-free!), and within minutes you can have a delicious, flavorful dinner ready to go.  It's really hard to go wrong.
I've included all sorts of ideas below for various veggies, proteins (meat/seafood/tofu/etc.), and carbs (pasta/rice/etc.) you can use.  And then also typed in a yummy Asian sauce recipe (although you can use just about whatever sauce/seasonings sound good).  In the dish pictured above, I used up some leftover broccoli slaw that I had on hand (a fantastic kitchen staple I'd recommend!), and then also threw in some sliced yellow onion and shrimp.  Super-quick and delish!!!
So grab your skillet and get to stir-frying!  You'll be glad you did!  :)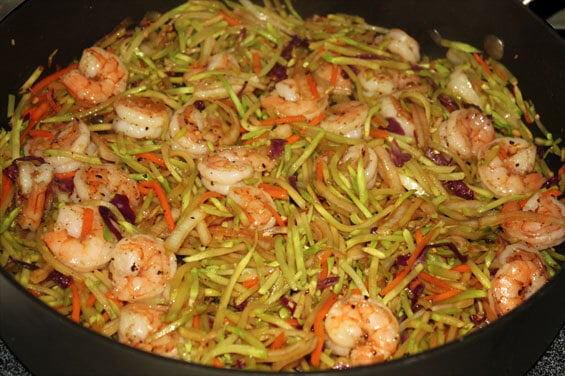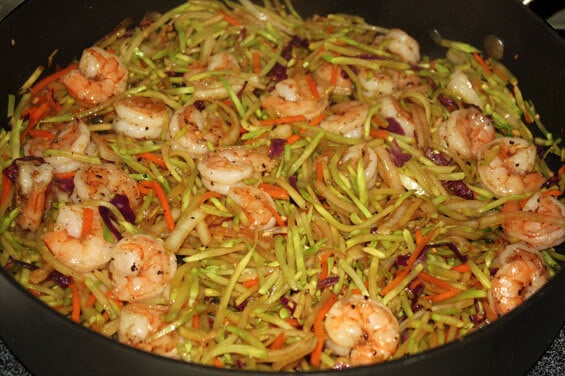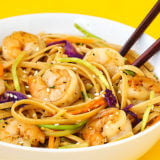 Quick and Easy Stir-Fry
You'll love this fresh and delicious, quick and easy stir-fry recipe that is ready to go in about 20 minutes!
Ingredients:
For Stir Fry:
2-3 cups veggies of your choice. (Pictured above is broccoli slaw and yellow onions. I often also use broccoli, scallions, carrots, onions, peppers, spinach, squash, tomatoes, zucchini and/or various other veggies. Just about anything works.)
1/2 lb. of pasta or 1 1/2 cups rice (whatever is enough to make 3-4 cups of finished pasta/rice)
1 1/2 cups protein (beef, chicken, pork, shrimp, seafood, tofu, etc.)
2 tbsp. olive oil
For Sauce:
2-3 Tbsp. soy sauce (to taste)
1 Tbsp. brown sugar (more if you want a sweeter stir fry)
1 Tbsp. rice vinegar
2 cloves garlic, minced
1/2 tsp. sesame oil
1 tsp. sriracha (optional – add more/less to taste)
freshly ground black pepper, toasted sesame seeds, and/or chili flakes (optional)
Directions:
Prepare noodles or rice according to directions.

In a small saucepan, add in each of the sauce ingredients and whisk together. Cook over medium heat, stirring occasionally, until the brown sugar is dissolved. Do not burn.

Meanwhile, stir-fry your protein (meat, tofu, etc.) in a large skillet or wok with olive oil over medium-high heat until cooked. Remove protein from skillet and set aside.

Add veggies to skillet, and stir to coat in the remaining oil. (Add 1/2 Tbsp. oil if need be.) Stir-fry the veggies in the skillet over medium-high heat for 3-4 minutes. Then add in the (drained) noodles or rice, along with the cooked protein. Pour sauce evenly over stir fry and stir to coat. Cook an additional 1-2 minutes. Add sesame oil and sriracha (optional). Then garnish with sesame seeds and freshly ground black pepper, and serve!

Recipe adapted from Kohler Unlimited.

All images and text ©

If you make this recipe, be sure to snap a photo and hashtag it #gimmesomeoven. I'd love to see what you cook!
Ali's Tip:
Feel free to also toss in a bag of frozen veggies to make your stir-fry!  Grocery stores now sell a zillion delicious varieties.  So just pop the frozen veggies in the microwave to thaw out a bit (or thaw them in the fridge), drain, and then add to the skillet.  Now that's quick and easy!  :)