Rainbow Veggie Flatbread Pizza
I'm not naturally a spontaneous person.
But I've come to realize over the past decade or so that spontaneity seems to be when some of the best memories in life are made.  Don't get me wrong — plans are all well and good.  But there's something about loosening the grip on your schedule and pausing and opening yourself up to whatever other opportunities may arise that seems to make for something extra special.  Especially when good friends are involved.  And especially when there's good food.
So while I may naturally be more of a planner, I've really learned to love and welcome (and even — gasp! — look for) those moments in life when I can call a friend for an impromptu coffee or grocery store run together.  Or enjoy a glass of wine after a long day.  Or have a bunch of neighbors over to hang out for the evening.
Lately, we've been having a bunch of impromptu "neighbor nights" over at my place, mostly because it's too cold to grill outside and I happen to have a big t.v. (thanks to a sweet deal on Craigslist) that's perfect for watching our Chiefs, or the Grammy's, or one of many various chick shows our building is hooked on.  But whenever people come over, I absolutely love getting the chance to feed them as well.  Often there's only time at the last minute for my specialty homemade popcorn and wine.  But another little 10 minute meal I love to make is homemade flatbread pizzas.
Especially this rainbow veggie flatbread pizza.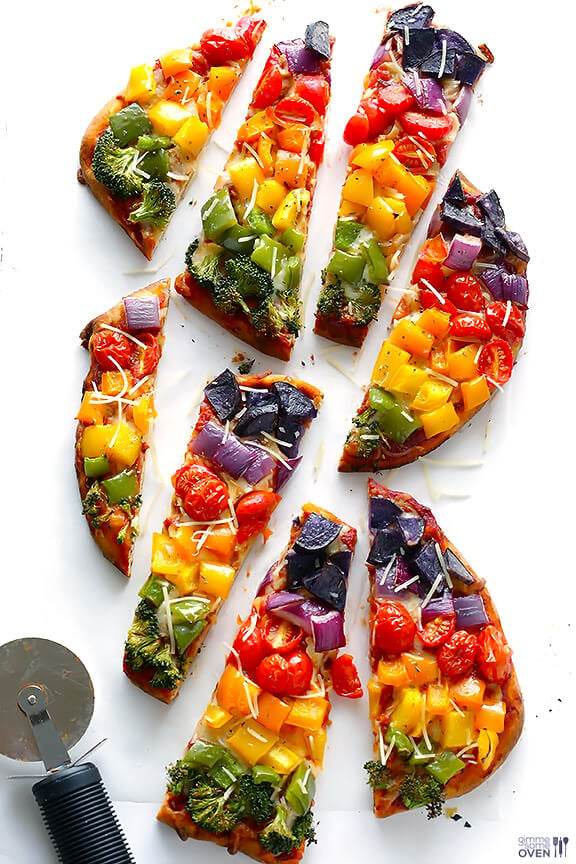 Now you all know how much I like color in my food.  So you can imagine my disappointment when I eat pizzas and find the most beautiful, colorful toppings all hidden underneath mounds of cheese.  I mean, come on!  Those colors are meant to shine!
So when I found myself with a fridge full of leftover veggies this week, a stash of amazing naan and flatbread and pita and pizza crusts from Stonefire, and a group of girls coming over to hang out, I knew there was only one solution — these Rainbow Veggie Flatbread Pizzas.
They are basically simple veggie pizzas made with flatbread — my favorite quick and easy pizza crust solution.  (I always keep some pita or naan in my freezer just for that purpose!)  You can make the pizzas with just about any colorful ingredients you have on hand, including pepperoni or sausage or chicken if you really want to add some meat.  And you can customize the crust with just a simple olive oil base, traditional pizza sauce (check out my easy homemade pizza sauce recipe), pesto, or whatever floats your boat.  The best news, though, is that these veggie flatbread pizzas take literally minutes to whip up.
Here's the how to: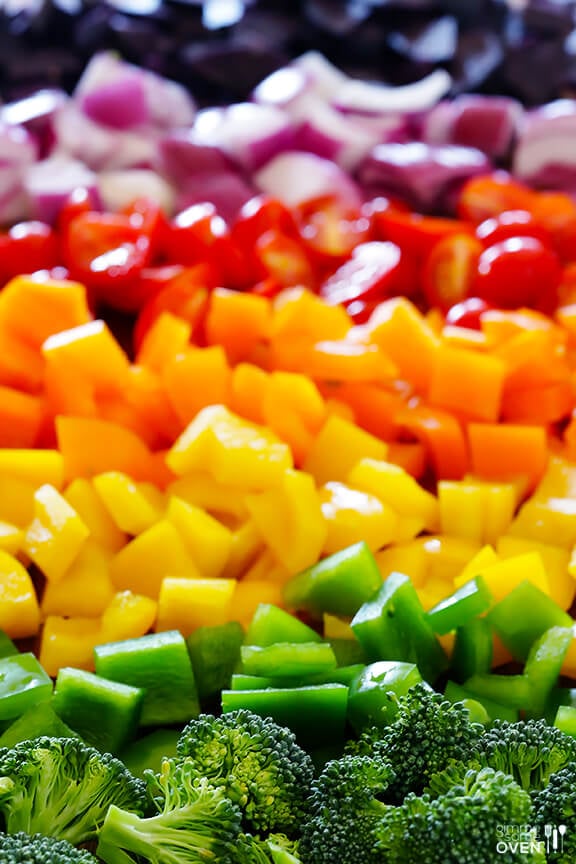 First, gather all of your colorful toppings and get to choppin'.  Since the cooking time for these flatbread pizzas is only about 20 minutes, you want to chop those veggies into pretty small uniformly-sized pieces.  And if you use potatoes or root veggies or anything else that takes awhile longer to cook, just chop it extra thin (as I did with my purple potatoes).
And then line them up in a rainbow, if you want.  Just to admire them.  :)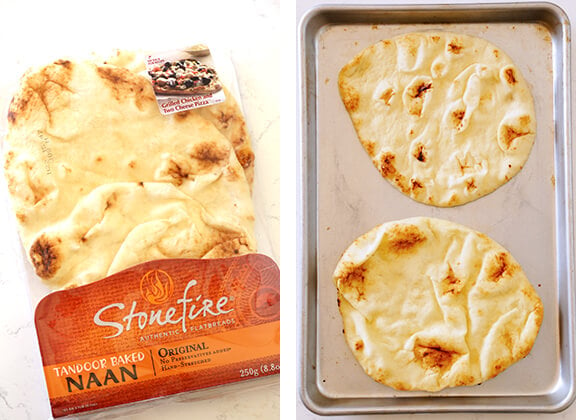 Then it's time to assemble the pizzas!  I made this batch with some original Stonefire naan flatbread.  (Although their garlic naan is my faaaav.  I highly recommend it for pretty much everything.)
Lay the naan out on a baking sheet.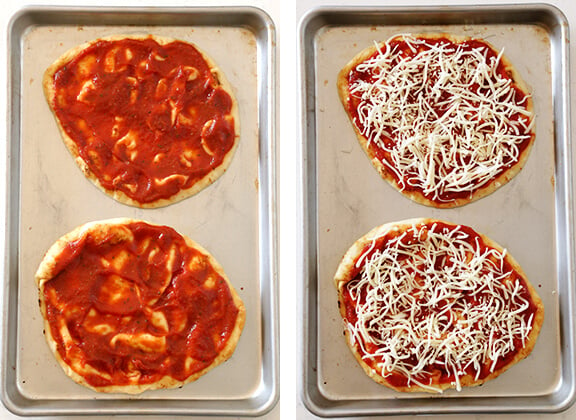 Then slather on your favorite pizza sauce, and sprinkle it with cheese.  (That's right — no cheese will be hiding this beautiful rainbow!)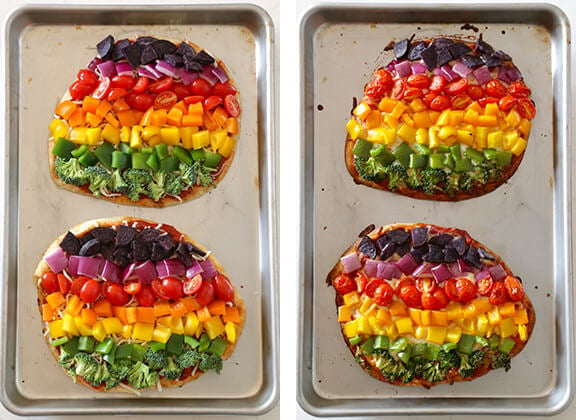 Next comes the fun part — arrange your veggies!!  If you want to "go rainbow", you can line them up in rows as I did.  Or you can just sprinkle them on all mixed together.  It all taste the same, of course, but I guarantee you'll get a few more "ooohs" and "ahhhs" if you tap into your inner Judy Garland.
Once your pizza is topped, drizzle or mist the top with some olive oil (I like to use a Misto).  Then pop it in the oven for about 20 minutes or until the veggies are cooked to taste and the flatbread is slightly golden.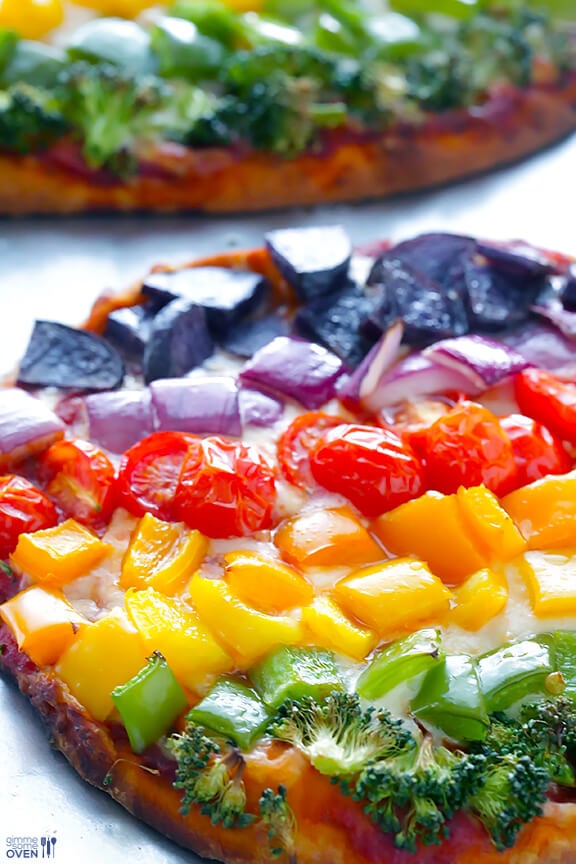 Then pull those babies out of the oven and admire your handiwork.  And then taste the rainbow.  :)
I guarantee it's just as tasty as it looks.  And everyone can enjoy it knowing that it's made healthier with less cheese and meat, and oodles of delicious veggies.  Everyone will love it!
So if you're looking for quick and easy recipe ideas for an appetizer, dip, or pizza this season, I highly recommend picking up a few packages of Stonefire's authentic flatbreads to keep on hand.  I have been buying them for years, and love how consistently fresh and soft and flavorful they are.  And I can attest from plenty of experience that they are a fabulous shortcut for making a delicious flatbread pizza in minutes.  Like this one.  Which you must try.
Enjoy!!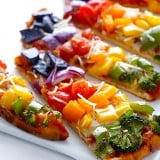 Rainbow Veggie Flatbread Pizza
Taste the rainbow with this delicious and healthier Rainbow Veggie Flatbread Pizza recipe.
Ingredients:
1 package (2-piece) Stonefire naan
1/2 cup pizza sauce, homemade http://www.gimmesomeoven.com/perfect-pizza-sauce/ or store-bought
1/2 cup shredded part-skim Mozzarella cheese
about 4 cups chopped colorful veggies (I used broccoli florets, green peppers, yellow peppers, orange peppers, grape tomatoes, red onions and thinly-sliced purple potatoes)
2 tsp. olive oil
1 tsp. Italian seasonings
(optional toppings: grated Parmesan cheese, red pepper flakes)
Directions:
Preheat oven to 425 degrees F.
Lay out both pieces of naan in a single layer on a large baking sheet. Divide pizza sauce between the two pieces of naan, and use a spoon to spread it over the top of the naan. Sprinkle the cheese on top of the pizza sauce. Then layer the veggies in a rainbow pattern on top of the cheese. Drizzle or mist each pizza with a bit of olive oil. (I like to use a Misto http://www.amazon.com/Misto-Brushed-Aluminum-Olive-Sprayer/dp/B00004SPZV.) Then sprinkle each pizza with the Italian seasonings.
Bake for about 20 minutes, or until the veggies are cooked and the crust is slightly golden. Remove pizzas from oven, and sprinkle with optional toppings if desired. Slice and serve warm.
All images and text ©
If you make this recipe, be sure to snap a photo and hashtag it #gimmesomeoven. I'd love to see what you cook!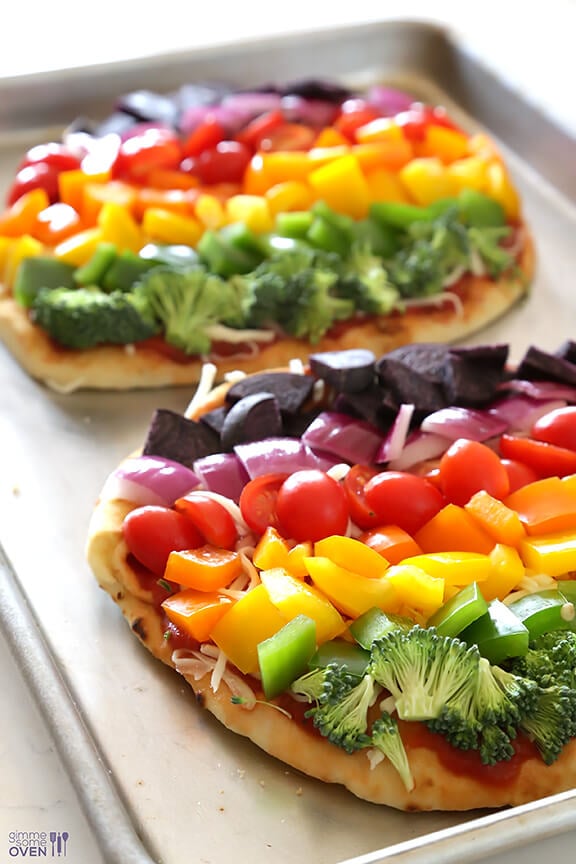 To find out more about Stonefire's delicious authentic flatbread selection, be sure to visit them on their website, Facebook, Twitter, Pinterest, and Instagram.
Disclaimer: This is a compensated sponsored post from Stonefire.  I have loved this brand for years, and all opinions are 100% my own as always.  Thank you for supporting the brands that help make it possible for me to bring you more content on this site.