Rainbow Thai Chicken Salad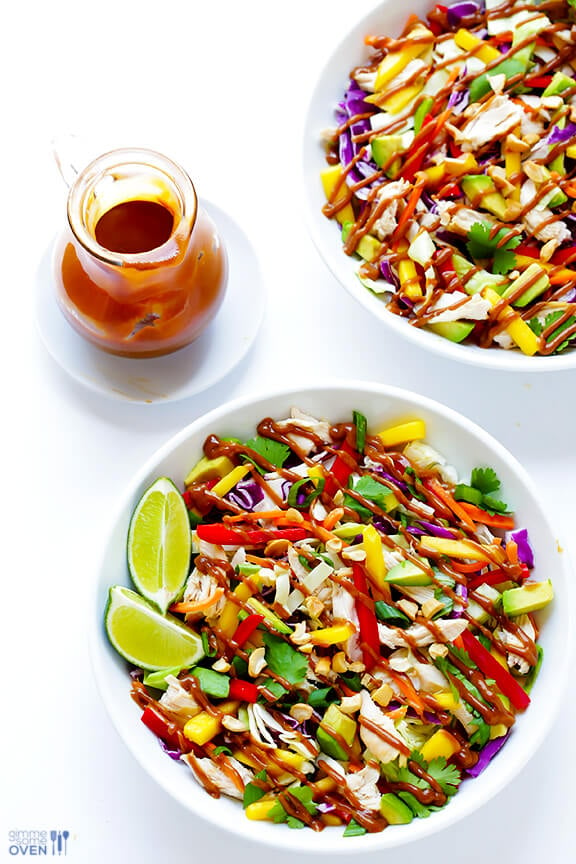 It's no secret that I adore color.
I love colorful food!  And colorful artwork.  And colorful sunsets.  And colorful scarves.  And colorful gardens.  And colorful farmers market.
The only place where I have decided that I do not like bright colors?  On my walls.
Oh man.  I bought my first house when I was 23, and quickly discovered in that first year how easy (and cheap!) it was to buy a can of paint and completely transform a room.  So I took a house whose interior was 100% gray and transformed it over the course of that first month into a veritable rainbow of colors.  The living room was butter yellow, the dining room was "asparagus" green, the kitchen periwinkle, my bedroom teal, my bathroom yellow, and on and on.  I thought it was the coolest thing.  I mean, all of my favorite colors?  In one house?  What could be better??
The only problem was that it was a small 1920's bungalow, and each of the rooms were connected and about thiiiis big.  So it basically felt like a kaleidoscope walking in.  Although instead of being pretty bright colors on tiny paint chips, the rooms began to feel like very bright colors the size of 1000 paint chips.  Yes, I learned that there was such a thing as too much color.
So I swallowed my pride and traipsed back to Home Depot and eventually began neutralizing the house with the very creams and grays and whites that I used to think were oh-so-cliche about decorating.  And then when I moved into my loft, I went for 100% light grey to go with my white kitchen and brick walls, and I could not be happier.  To each his and her own, for sure.  Some people rock out super-colorful houses.  But for me, I prefer to go neutral with the paint colors, and let vivid food provide the "pop" of color in my kitchen.
Like this rainbow Thai chicken salad, of course.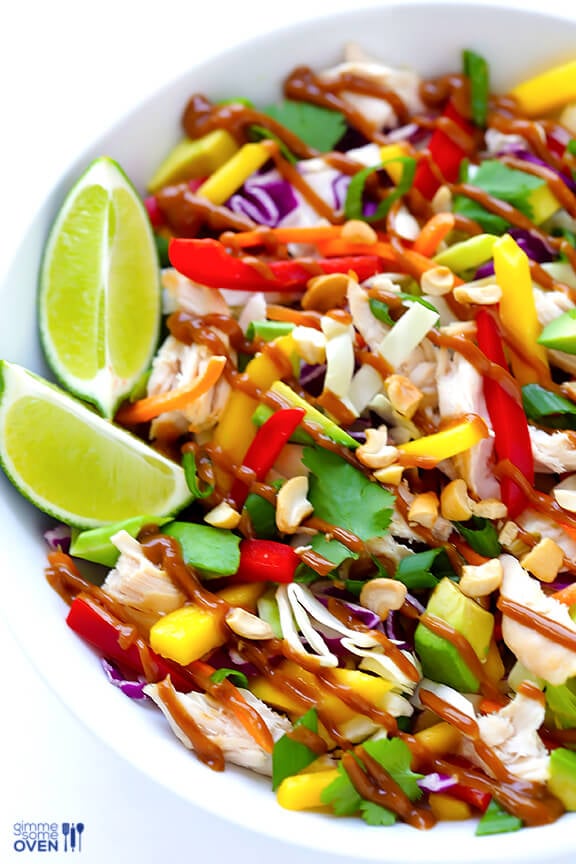 I have been a Thai chicken salad lover for years, with Panera's version actually being one of my favs.  But whenever I make it at home, I love seeing how many different colors — er, ingredients — I can cram into it to make it all the prettier and tastier.
This version?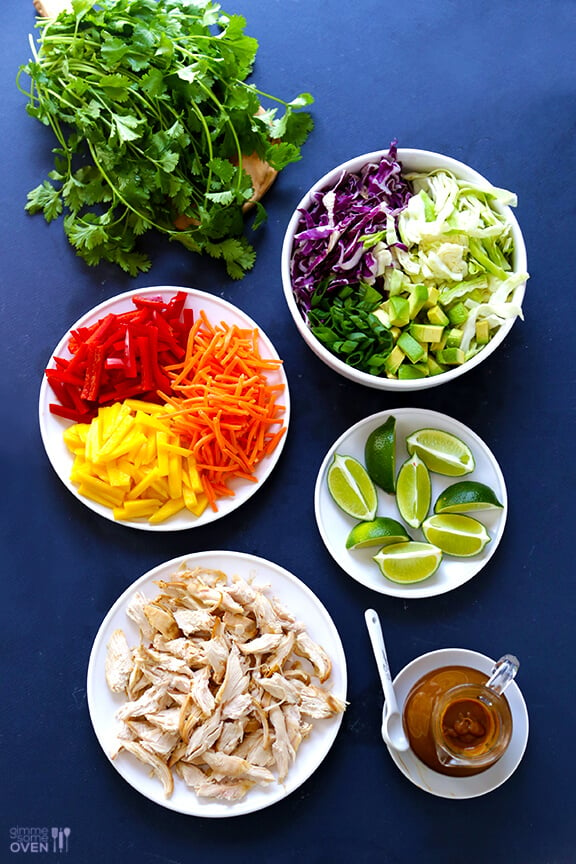 As you can see, we hit nearly every color of the rainbow.  We have:
Red: bell peppers
Orange: carrots (and you could also throw in orange bell peppers)
Yellow: fresh mango (don't use frozen)
Green: avocado, green onions, cabbage, fresh cilantro and fresh limes
Purple: cabbage
Plus chicken and thai peanut dressing and chopped cashews or peanuts.  I still have yet to find an awesome blue veggie for rainbow recipes.  Alas, maybe someday.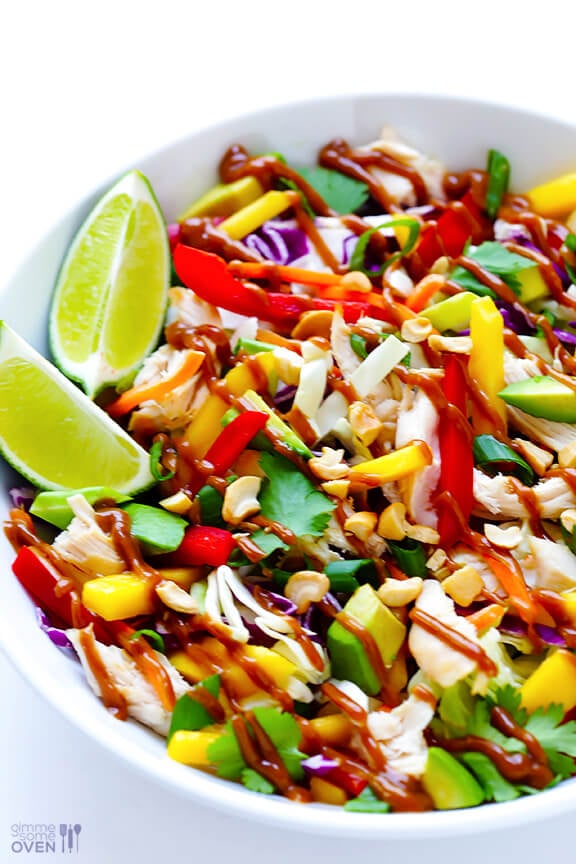 Anyway, this salad is super simple to make.  The hardest part is just chopping all of that fresh produce.  But if you pop on some tunes and have a little kitchen dance party while you chop, I guarantee the time will fly right by…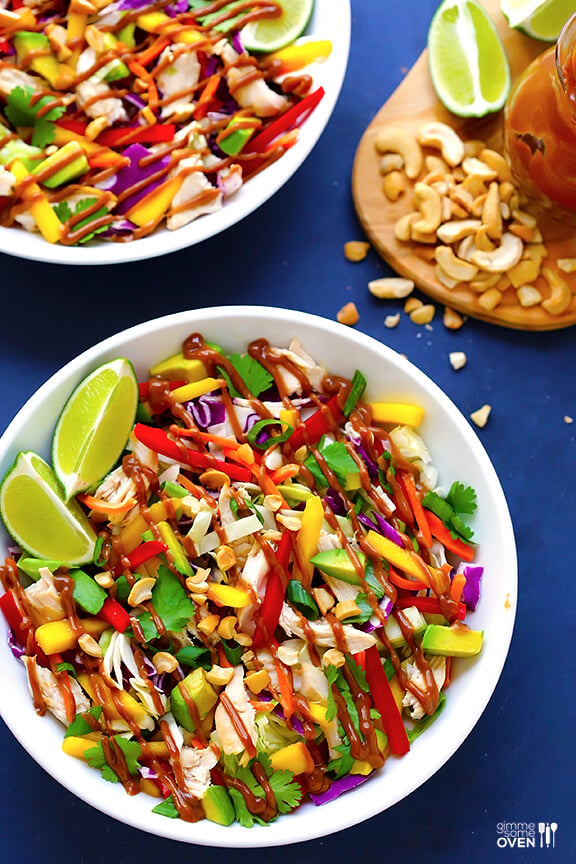 …and you'll have a delicious salad ready to go in no time!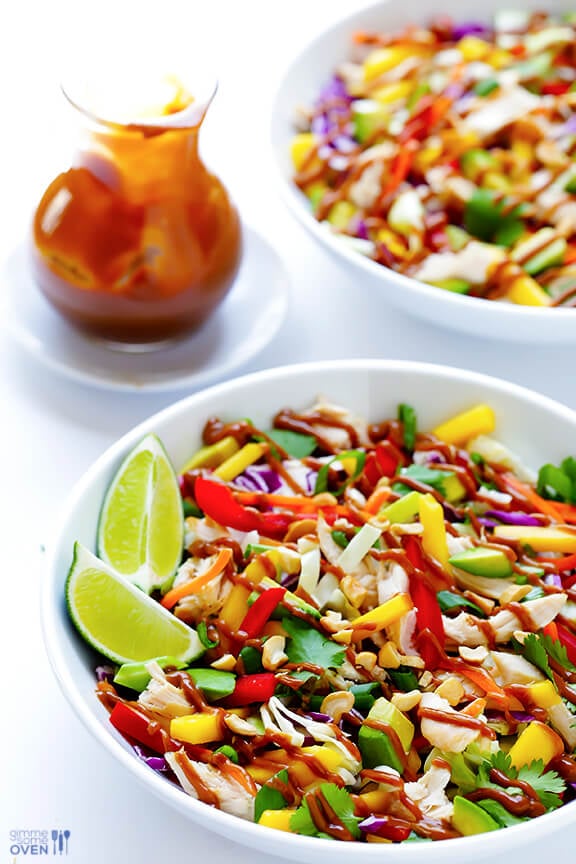 I also chose to just drizzle my salads with the peanut vinaigrette so that my friends could see and appreciate the rainbow-ness of the salad.  But you can also toss it all together if you'd rather.
Either way, it's a fabulous way to taste the rainbow.  And oh man, is it a tasty one too.  Enjoy!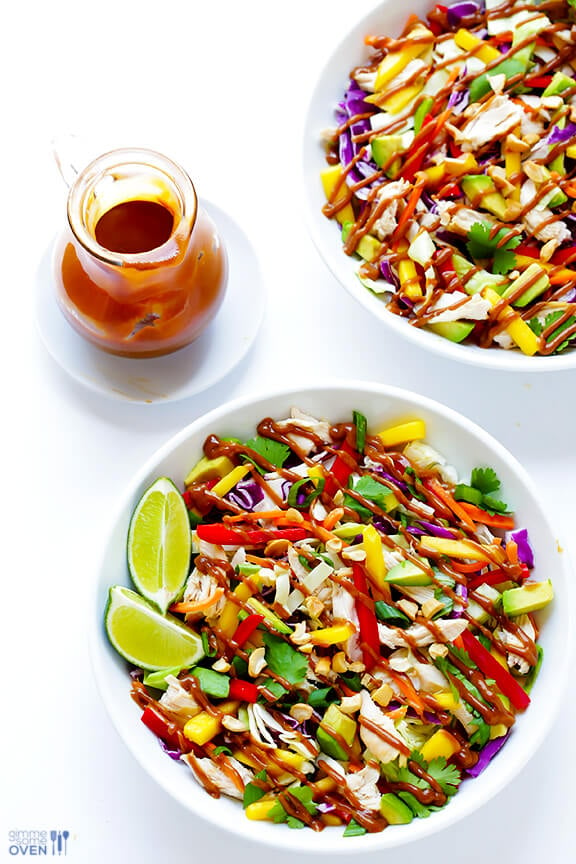 Rainbow Thai Chicken Salad
This rainbow thai chicken salad is full of amazing colors and fresh flavors that you will love!
Ingredients:
Thai Chicken Salad Ingredients:
3 cups shredded cooked chicken
2 cups shredded purple cabbage
1 cup shredded green cabbage
1 avocado, diced
1 mango, peeled, pitted and diced
1 (large) carrot, julienned or shredded
1 red pepper, cored and julienned (or diced)
1 cup roughly chopped fresh cilantro leaves
1/2 cup chopped green onions
1/4 cup chopped cashews or peanuts
Peanut Dressing Ingredients:
1/2 cup natural peanut butter
2-3 tablespoons hot water
2 tablespoons rice wine vinegar
2 tablespoons soy sauce (if you are gluten-free, use GF soy sauce or tamari)
2 tablespoons honey
1/4 teaspoon sesame oil
juice of 1 lime
pinch of red pepper flakes
Directions:
To Make The Salad:
Toss all salad ingredients together until combined. Drizzle with dressing or toss to combine, then serve immediately.
To Make The Dressing:
Whisk all ingredients together until combined. If the dressing is too thick, add hot water a teaspoon at a time until it reaches the consistency you desire.
All images and text ©
If you make this recipe, be sure to snap a photo and hashtag it #gimmesomeoven. I'd love to see what you cook!