Rainbow Veggie Skewers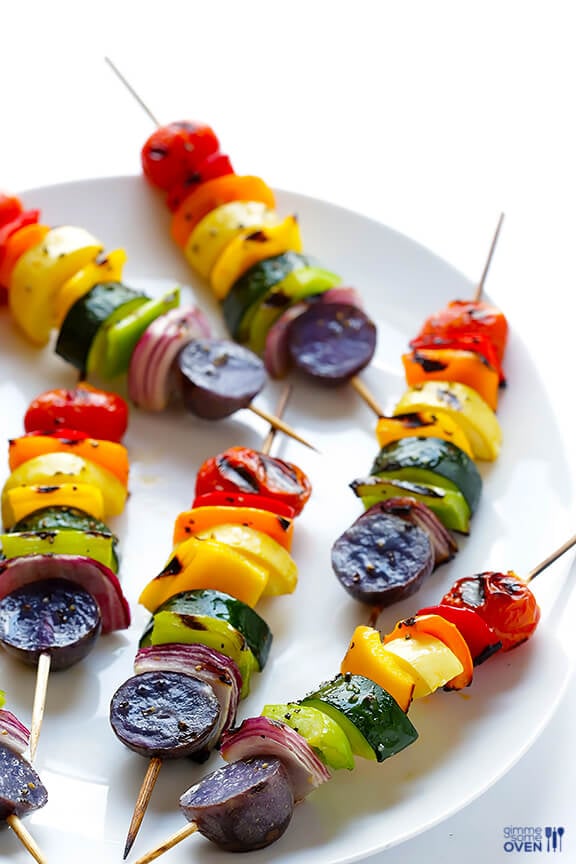 For a girl who grew up adamantly insisting that I was an "indoor person", I have to say that I have become quite fond of the Great Outdoors.
Well, I still squeal like a little girl when a bee buzzes my way.
But goodness, I feel like I can't spend enough time outside nowadays.  Especially now that the weather is warm.  All I want is to sit outside with my cup of coffee to begin the morning, go for long sunny strolls with my pup, spend leisurely happy hours on decks with friends, go for long bike rides with the wind flying in my face, even (gasp!) go camping and spend the night under a blanket of stars.  Well, hopefully minus any creepy crawly things coming near me.  I'm still working on making peace with the insect family.
But still.
Outdoors > Indoors, at least during these warm months.  Which means that my grill and I have been spending lots of time together lately.  Which means that my latest rainbow creation is one that you can sizzle up alongside your summer steaks or chicken or tofu or what have you.  Yes, feel free to roll your eyes, but I went colorful again and was very happy with the outcome — Rainbow Veggie Skewers!
As loyal blog readers know, I have a bit of a thing for color.  :)
As in, I'm obsessed with it in my food.
So basically anytime I find a recipe that uses a handful of different colors, I kind of feel an immediate obligation to complete the rainbow.  Which is what happened with this recipe.  I had picked up some colorful peppers and summer squash at the market, and was going to skewer them up at the last minute for a gathering with my neighbors.  But then I realized I already had my red, orange, yellow and green.  So come on, I absolutely must finish out the rainbow with some purple!
(I have a sneaking suspicion that I'm the only one who thinks this way…)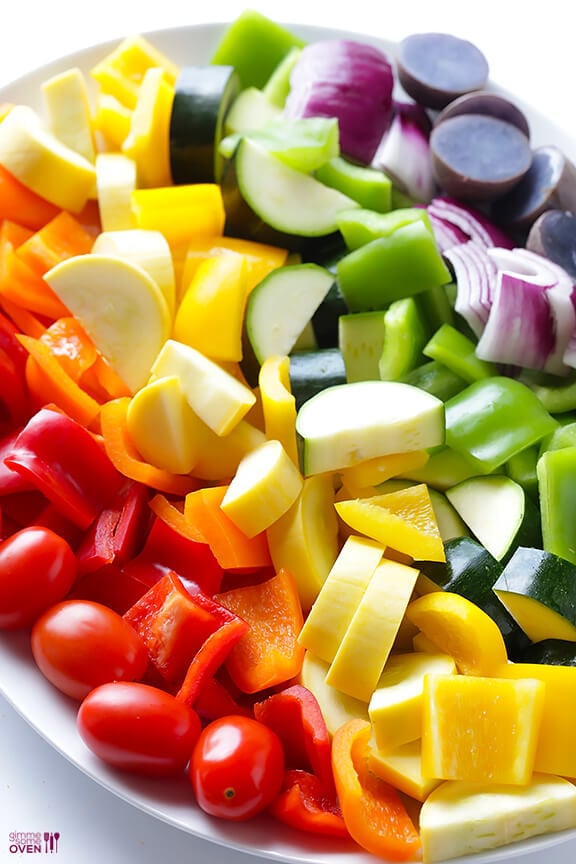 Of course, when I returned to the market, I couldn't stop there.  But had to throw in some tomatoes, and zucchini as well.  Along with my favorite purples — potatoes and  onions.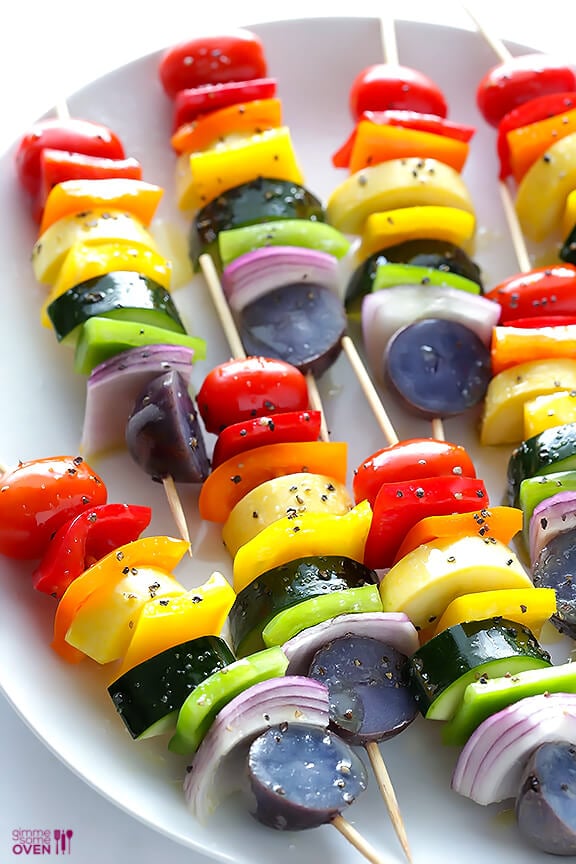 So I par-boiled the potatoes (which sadly makes them lose a bit of their vibrancy), and soaked everything in a quick vinaigrette, and then skewered them up.  And then might have danced around my kitchen, because they looked so flipping amazing!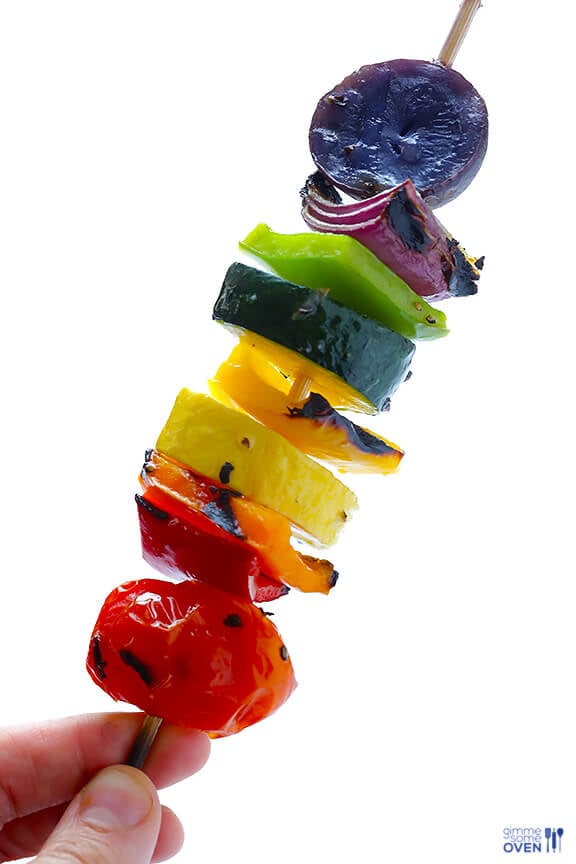 Then it was down to the grill, where I felt like such a pro griller letting these guys sizzle up while I soaked up the sun.
(Two keys that I have learned to look like a pro griller?  Good sunglasses and an ice cold bottle of beer (or ginger beer).  Even if you only have the slightest idea what you're doing, bring along those two and you're golden.)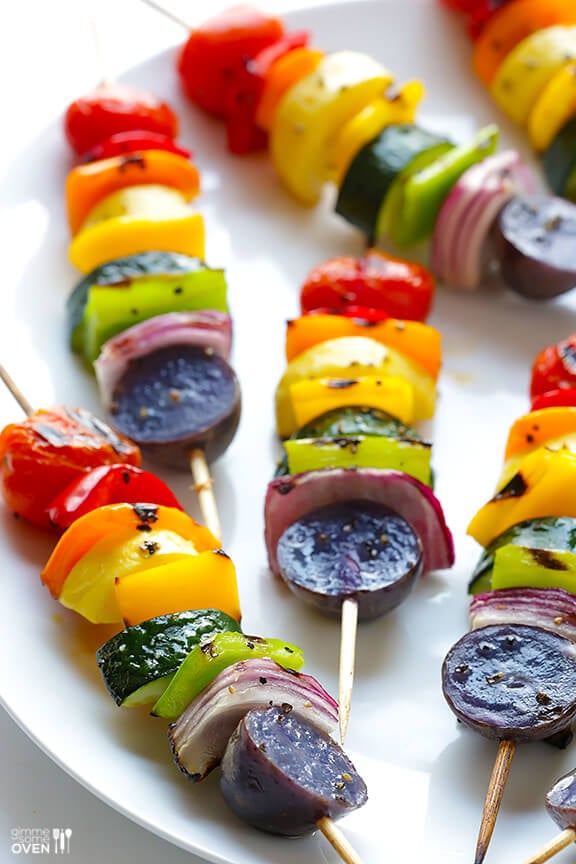 And, bada bing bada boom, these delicious and gorgeous rainbow veggies skewers are ready to go.
I mean, they look awesome.  Even more gorgeous in person than the photos.  But they taste even better, especially after being marinated in that vinaigrette.  Even if you're not a balsamic person, give it a try for these because I'm convinced that balsamic is the foolproof secret to yummy grilled veggies.  I like to use white balsamic vinegar because it doesn't turn things brown.  But even if you have traditional balsamic, it will work quite deliciously.
Also, feel free to substitute in whatever veggies are your favorite.  This is more of a method than a recipe, so go with what you love.  The one key is just to be certain that all of your veggies are about the same size.  This helps with even cooking, and also with even grill marks when you cook them on multiple sides on the grill.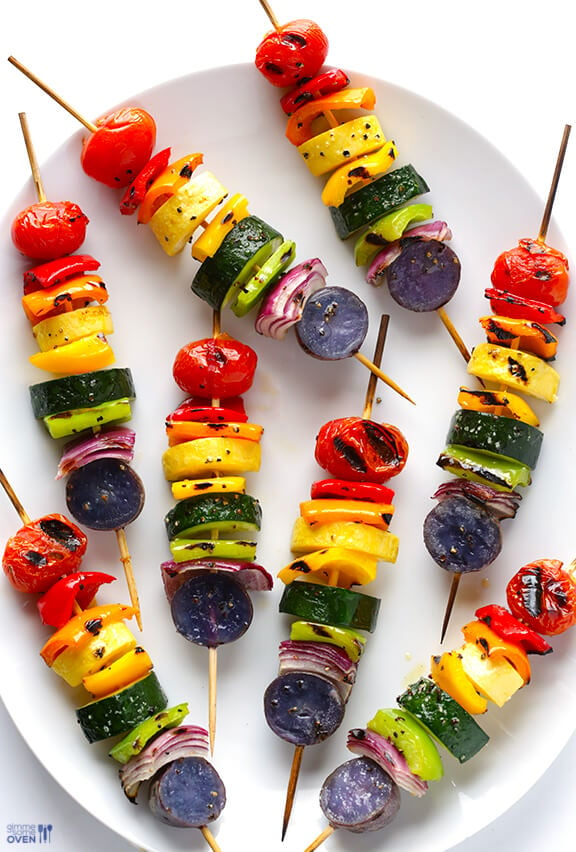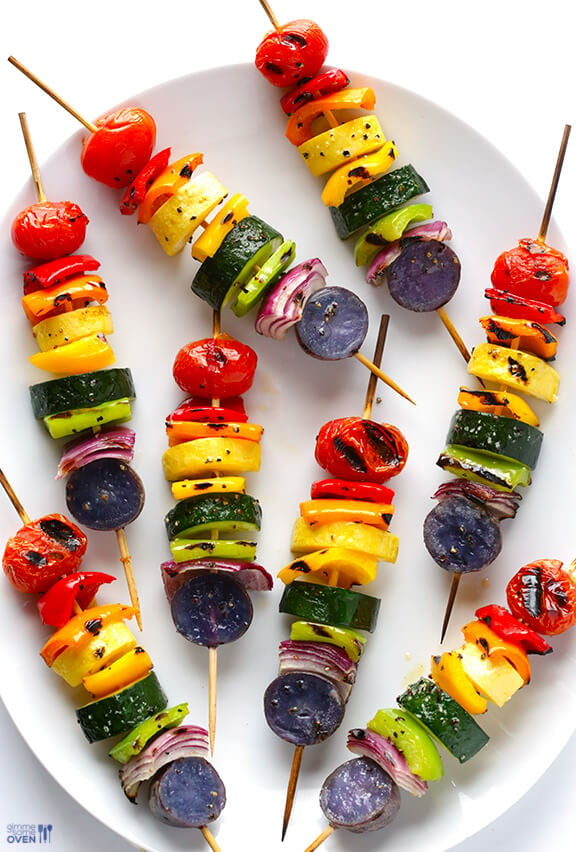 So set up a table outside, invite friends or family over, sizzle these babies up, and get ready for everyone to oooh and ahhh over these in the summer sun.  You'll be glad you did.  :)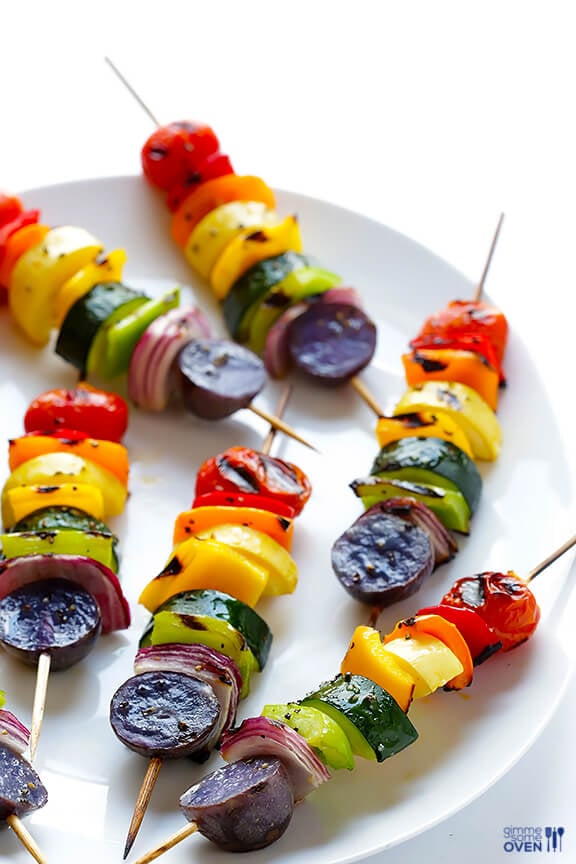 Rainbow Veggie Skewers
These rainbow veggie skewers are amazingly colorful, healthier and delicious!
Ingredients:
Vinaigrette Ingredients:
1/4 cup olive oil
2 tablespoons white balsamic vinegar (or white wine vinegar)
2 cloves garlic, minced
1/2 teaspoon salt
1/4 teaspoon freshly-ground black pepper
Vegetable Ingredients: (approximate; feel free to make substitutions as needed)
16 cherry or grape tomatoes
1 red bell pepper, cored and cut into 1-inch squares
1 orange bell pepper, cored and cut into 1-inch squares
1 yellow squash, halved and cut into 1/2-inch thick slices
1 yellow bell pepper, cored and cut into 1-inch squares
1 zucchini, halved and cut into 1/2-inch thick slices
1 green bell pepper, cored and cut into 1-inch squares
1 large red onion, peeled and quartered then cut into bite-sized pieces
8 purple potatoes, halved
Directions:
To Make The Vinaigrette:
Whisk all ingredients together until blended.
To Make The Vegetables:
Bring a large pot of water to a boil. Then add the halved purple potatoes and boil for 10 minutes or until fork tender, stirring occasionally. Drain.
Add the purple potatoes and remaining vegetables to a large bowl, and toss with the vinaigrette until combined. Cover and refrigerate for at least 10 minutes, or up to 8 hours. If you are using wooden skewers, be sure to also soak them in water before grilling.
When you are ready to cook the vegetables, heat your grill to medium heat. Thread the vegetables onto skewers, in rainbow order if desired. Sprinkle with additional salt and pepper if desired. Then place the skewers on an oiled grill and cook for 5-7 minutes per side, or until cooked through.
Remove and serve immediately.
All images and text ©
If you make this recipe, be sure to snap a photo and hashtag it #gimmesomeoven. I'd love to see what you cook!