A Literary Education Giveaway
This post may contain affiliate links. Please read my disclosure policy.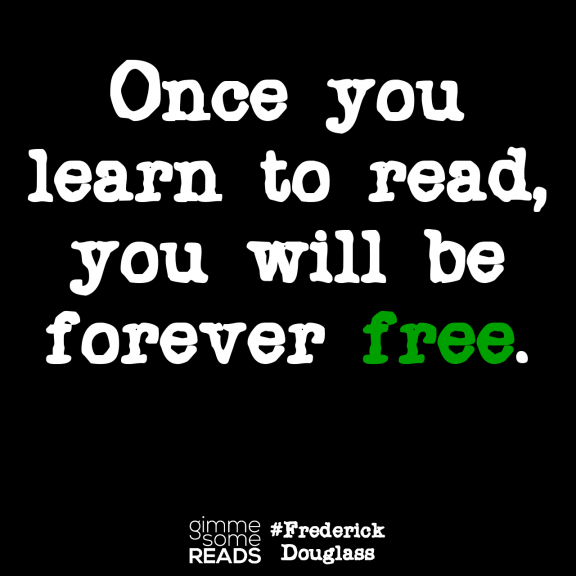 As Frederick Douglass so beautifully pointed out, reading broadens our horizons. And, as this marks the 100th Gimme Some Reads post, we're celebrating with an enlightening literary giveaway!
Thanks to ECHO-LIT and The Unemployed Philosophers Guild one of you can win an educational giveaway bundle that's enlightening, useful, and fun.
What is Included in the Giveaway:
One set of three American Literary Timeline posters (spanning 1750-1949) from ECHO-LIT
One First Lines mug from The Unemployed Philosophers Guild
One Banned Books mug from The Unemployed Philosophers Guild
One Sherlock Holmes notebook from The Unemployed Philosophers Guild
If you're an English teacher, a book nerd, or a homeschool parent — this giveaway bundle is made for you! And if you're none of the above, think of this as a great bundle of gifts to divide among your friends and relatives who are!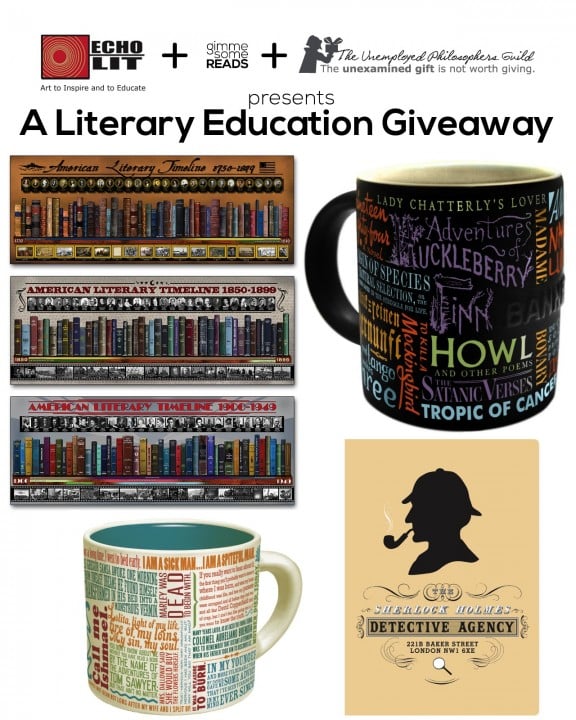 How to Enter "A Literary Education" Giveaway:
Note: The giveaway will be going on through October 14th.
The Posters

Context can be a fascinating thing. Have you ever reflected on the fact that Louisa May Alcott's Little Women was published just a few years after the Civil War (1868)? Did you know that Stephen Crane, Booker T. Washington, and Elizabeth Caddy Stanton all published books in 1895? Or, that Moby Dick, Uncle Tom's Cabin, and Leaves of Grass were published within five years of each other? What about the fact that Laura Ingalls Wilder, Zora Neale Hurston, and John Steinbeck were alive at the same time?
ECHO-LIT's American Literary Timeline posters visually provide a historic context for significant books published by American authors between 1750-1949. With three levels of information — authors, books, and historic events — the world of books can easily be connected to "the real world."
Details: three 18″ x 48″ posters (1750-1948 | 1850-1899 | 1900-1949)
Learn More About ECHO-LIT
Mixing their love of literature, history, design, and photography, Chris and Jeanne, a husband and wife team, founded ECHO-LIT in 2008 in order to create and share quality educational posters for classrooms. Believing that visual learning can support verbal learning, they enjoy brainstorming new ways of looking at literature.
These American Literary Timeline posters are designed to give you the feel of perusing a shelf full of fascinating books in your favourite bookstore. Chris and Jeanne actually photographed old books to accentuate the sense that you could reach out and pull one off the shelf.
Make a literary "game":
Sift through a pile of books, line them up according to their publication date, and compare them to the timelines. (For example, in the above image, Twelve Years a Slave would slide in right before Thoreau's Walden.)
What books aren't on the timelines that you think are significant for the time?
Discuss books that were published in the same year: Are there similarities among the books and/or authors? Are the books influenced by historic events; or, did the books influence historic events?
Whether you choose to up the artistic quotient in your classroom or raise the IQ of your home decorating, these posters will certainly light your way to a better literary education.
» ECHO-LIT website
» Connect with ECHO-LIT on Facebook
Note: ECHO-LIT is dedicated to supporting their local community, and manufacturing in an environmentally-friendly manner.
The Mugs
If you've been keeping up with my Discover: First Lines series, you won't be surprised at how delighted I was to come across UPG's First Lines mug. Featuring 24 opening lines of some of the greatest works of literature, from Dickens's, "It was the best of times, it was the worst of times" to Melville's, "Call me Ishmael," this is the perfect mug to grab when you're feeling reflective or are starting a new project and looking for a little inspiration.
Details: Holds 16 oz. Microwave safe. Dishwasher safe.
And for those days you need a little extra courage, drink your coffee from this Banned Books mug, featuring 24 titles — including Catch-22, Les Miserables, and To Kill a Mockingbird — of books that faced down obstacles and made their mark on the world.
Details: Holds 12 oz. Microwave safe. Dishwasher safe.
The Notebook
And because literature is not just about educating and inspiring, we're tossing in this fun Sherlock Holmes notebook from UPG, as well. Whether you use it for your to-do list, grocery list, or classroom observations, you can't help but see things from a fresh perspective when each page is organised according to Case, Date, Clues, Suspects, and Notes. And don't overlook the clever Rules of Deduction inscribed inside the back cover.
Details: pocket-sized; 64 lined pages
Learn More About UPG
The Unemployed Philosophers Guild was founded in New York by brothers David and Stephan Shaw. Their business that began as a "why not?" has turned into a "what next?" as they continually create clever new products that both enlighten and entertain.
You only need to spend about two minutes on the UPG site to be reminded that the world is a funny and wonderful place. They have everything from Alice's Enchantmints to Little Thinkers dolls (Jane Austen, Charles Dickens, and Kurt Vonnegut to name a few; you can even learn their design process here). And speaking of Zora Neale Hurston — you can get a magnetic finger puppet of her!
Basically, UPG makes a canvas of common things like mugs, stationary, and watches, and layers on literature and philosophy and politics with good humour and vibrant colour; oh, and then throws in silly things like finger puppets of famous authors. All in all, an excellent shop for cleverly-crafted bookish gifts.
» The Unemployed Philosophers Guild website
» Connect with UPG on social media: Facebook & Twitter
Disclaimer: This post contains affiliate links. This giveaway is sponsored by ECHO-LIT and The Unemployed Philosophers Guild. ECHO-LIT provided my with a complimentary set of posters, but neither company otherwise compensated me to host this giveaway. All opinions are 100% my own as always.