Literary Sights and Smells Giveaway
This post may contain affiliate links. Please read my disclosure policy.
I love bookish gifts — the kind that make you smile as you imagine someone brainstorming the idea. Today's literary giveaway offers two such products, and they tap in to two different senses: seeing and smelling.
Thanks to PADDYWAX and DesignDifferent one of you can win a bundle of bookish gifts that's as good for the nose as it is for the eyes.
What is Included in the Giveaway?
One lucky winner will receive:
1 Marcus Cicero BOOKS print [13″ x 17″] from DesignDifferent
5 pre-selected individual cards from DesignDifferent
1 Library Collection set: Candle, Diffuser & Travel Tin from PADDYWAX
How to Enter the Literary Sights & Smells Giveaway:
Note: The giveaway will be going on through November 4th.
The Print & The Cards
If you appreciate the beauty of words and the beauty of creative design, you'll love this set of minimalist quotation art from DesignDifferent.
"Books" Print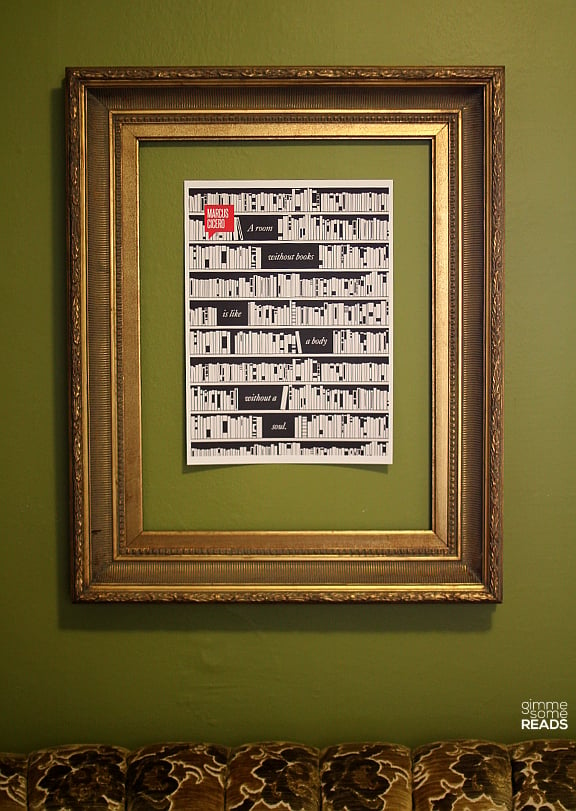 The perfect art addition to every book lover's library, the "Books" print measures 13″ x 17″ (printed on archival matte paper) and features a quote by Marcus Cicero, "A room without books is like a body without a soul," woven through shelves of books. The entire print is black on white, with a pop of red noting the quote's author (a trademark of DesignDifferent's work).
» Be sure to check out all the other prints, as well. Here are a few more:
Set of 5 Pre-Selected Cards
And for those who like their art to be more functional, many of the print designs are also available as greeting cards (each card measures 4.25″ x 6″ and comes with its own envelope). This giveaway includes a set of five cards, one each of:
» Be sure to check out all the other card designs, too. Here are a few more:
Learn More About DesignDifferent
Based in Toronto, DesignDifferent is the brainchild of graphic artist Ryan McArthur. His aim as an artist is not simply to make good art, but to create connections. Ryan appreciates that everyone is unique and he enjoys coming up with fresh ideas that offer  glimpses into how he sees the world, hoping to inspire others to share their own views, in their own ways, as well. He recently started a new line of World Leaders prints, for which he gets to use his hand-lettering skills. You can learn more about his process on the DesignDifferent blog.
I was immediately drawn to the simplicity of his designs — the "just right" quality — and how the images enhance the words, without replacing them. Plus, he has an eye for a good quote. Definitely an artist you'll keep coming back to when you're searching for good literary gifts or wanting to restock your personal batch of creative greeting cards.
» DesignDifferent: Website and Etsy shop
» Connect with DesignDifferent on social media: Facebook and Twitter
The Candles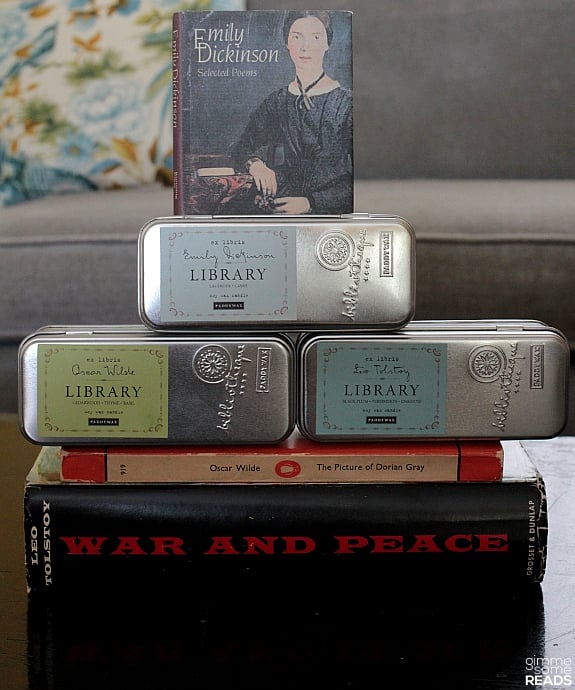 Have you ever wondered what your favourite author smelled like? I hadn't until I came across a PADDYWAX travel tin candle from the Library Collection. I work part-time for an estate sale company, and a few months ago saw a Jane Austen PADDYWAX travel tin. Never having heard of PADDYWAX before, and because it was on a table with stamps and other craft items, I presumed it was sealing wax. So, I left it alone. But when at the next sale I worked, there was an Oscar Wilde travel tin — my curiosity overcame me and I discovered it was in fact, a candle.
The Oscar Wilde scent seemed well chosen; and now, I wanted to smell them all.
Giveaway includes one complete Library set (candle, diffuser, and travel tin) in one scent of the winner's choice.
Soy candle: 6.5-oz glass jar in a reusable box
Fragrance diffuser: 4-oz glass jar, oil, and reeds in a reusable box
Travel tin: 3.5-oz two-wick transportable soy candle
The 6.5-oz glass jar and the diffuser glass jar both have a simple label featuring a quote from the author, making the container a long-lasting gift even after the candle or oil is gone.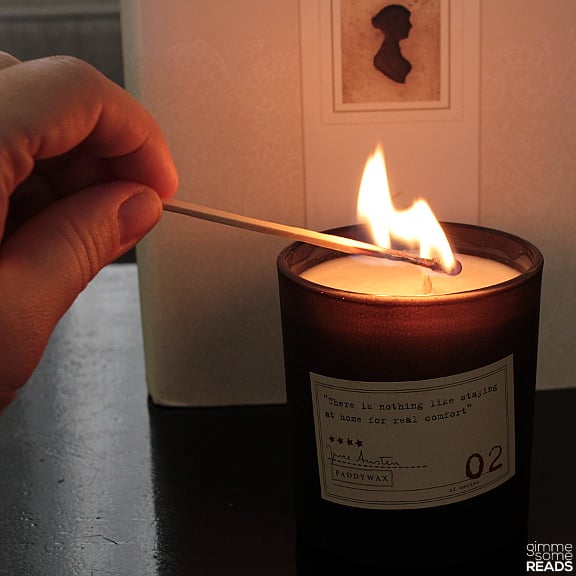 Author scents currently include: Jane Austen, Charles Dickens, Emily Dickinson, Edgar Allen Poe, Leo Tolstoy, Mark Twain, and Oscar Wilde.
I've now smelled all but the Poe and Twain, and my favourites are the Austen and Wilde scents — just depends on whether I'm feeling more like curling up with a book [Austen] or sparking my imagination [Wilde].
Note on the Diffuser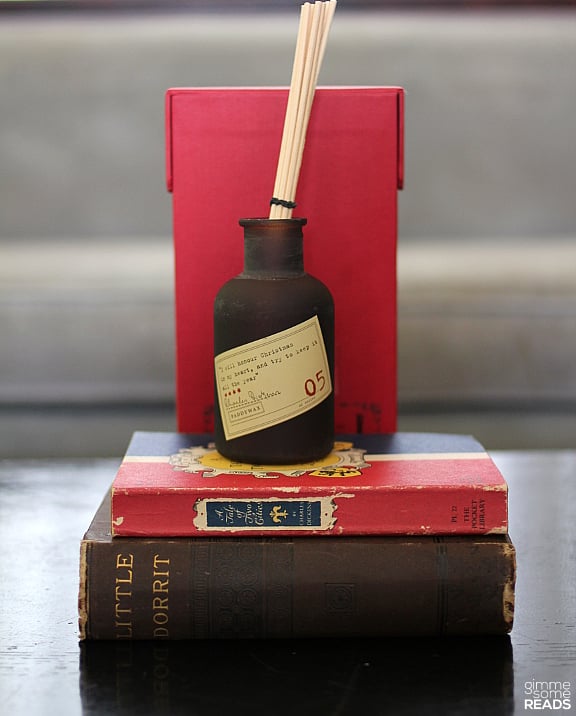 I was a little skeptical (and confused) about the diffuser. But it really is as easy as described (on the back of the box) — and it's a great idea for places you can't use open flame (houses with little kids, offices, etc). You simply dip the reeds in the bottle of fragrance (a little is plenty), and then, set that end of the reeds in the glass bottle. Soon, the smell will fill the room — fragrance without the flame. Perfect.
Learn More About PADDYWAX
PADDYWAX calls Nashville home and lets their southern hospitality shines through their creative hand-poured soy candles. And, with seventeen fragrance collections to choose from, there's plenty of scents for everyone. PADDYWAX doesn't just make great products, they also package them well. The 6.5-oz candle and the diffuser both come in simple, sturdy boxes that you could reuse for something else. Or, at the least, can act as their own gift-wrapping.
When I asked what inspired the scents for the Library Collection, I was told the fragrances were paired with each specific author's style: "For instance, Poe, is mysterious and dark so we paired him with a scent that gave us that same feeling: absynthe, sandalwood & cardamom. And, doesn't Twain make you think of old cigars (tobacco flower & vanilla)?"
This kind of thinking gets me a little too giddy. Someone sitting around coming up with scents to pair with authors? And then picking a quote that brings it all together? Brilliant.
Here's hoping they keep adding to their Library Collection! I wonder what a Tolkien, C.S. Lewis, Rilke, T.S. Eliot, or ee cummings candle would smell like… You?
» PADDYWAX: website
» Connect with PADDYWAX on social media: Facebook, Twitter, and Pinterest
Disclaimer: This post contains affiliate links. This giveaway is sponsored by DesignDifferent and PADDYWAX. They provided me with complimentary products, but neither company otherwise compensated me to host this giveaway. All opinions are 100% my own as always.