Three Snow(ish) Books
This post may contain affiliate links. Please read my disclosure policy.
Because there's been so much snow in Kansas City the past few days, I thought I'd play a wintry word association game with you.
SNOW. What are the first three books that flutter into your mind?
(Don't peek at my list until you've thought of your own three.)
.
.
.
my snow-inspired three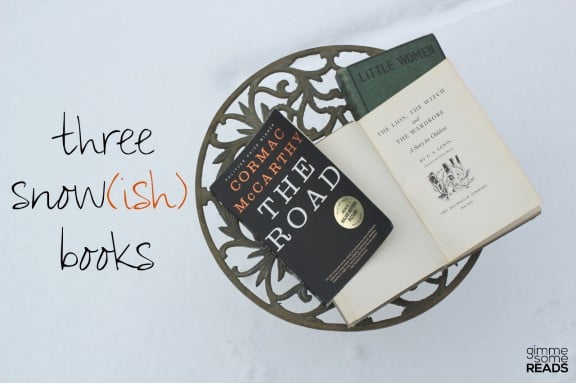 1. The Lion, the Witch, and the Wardrobe by C.S. Lewis
It's no wonder this book would immediately pop into my head, as the introduction to Narnia is Lucy stepping through the wardrobe into a winter wonderland.
Something cold and soft was falling on her. A moment later she found that she was standing in the middle of a wood at night-time with snow under her feet and snowflakes falling through the air.
Lucy felt a little frightened, but she felt very inquisitive and excited as well… She began to walk forward, crunch-crunch, over the snow and through the wood towards the other light.
2. The Road by Cormac McCarthy
This harsh, lonely journey is indelibly linked with snow in my mind. I actually find snow an apt visual for this book — so soft and delicate, lovely in its intricacies, and yet also stark and cold and biting.
It took two days to cross that ashen scabland. The road beyond ran along the crest of a ridge where the barren woodland fell away on every side. It's snowing, the boy said. He looked at the sky. A single gray flake sifting down. He caught it in his hand and watched it expire there like the last host of christendom.
3. Little Women by Louisa May Alcott
I didn't realize until after it came to mind how much snow is in this book, or perhaps I keep remembering the same section of the story. There's the ice-skating incident with Amy, for sure, but beyond that I just have a general vision of the March sisters traipsing about in snow singing "Here we come a-wassailing." Interestingly enough, just a few pages into the book, Alcott stops to describe them and mentions snow!
As young readers like to know 'how people look', we will take this moment to give them a little sketch of the four sisters, who sat knitting away in the twilight, while the December snow fell quietly without, and the fire crackled cheerfully within. It was a comfortable room, though the carpet was faded and the furniture very plain, for a good picture or two hung on the walls, books filled the recesses, chrysanthemums and Christmas roses bloomed in the windows, and a pleasant atmosphere of home peace pervaded it.
After considering why each of these books came to mind, I noticed the different aspects of snow to which I linked them: #1 magical, #2 stark, and #3 nostalgic. Intriguing that they were varied just so.
what were your three books? comment below with just the titles,
or expand on why they came to mind.
→Kindle-editions available here: The Lion, the Witch, and the Wardrobe; The Road; and Little Women.←
» Check out another brief book list: Three Thoughtful Quick Reads.
This post contains affiliate links.