Red Velvet Cupcakes with Cream Cheese Frosting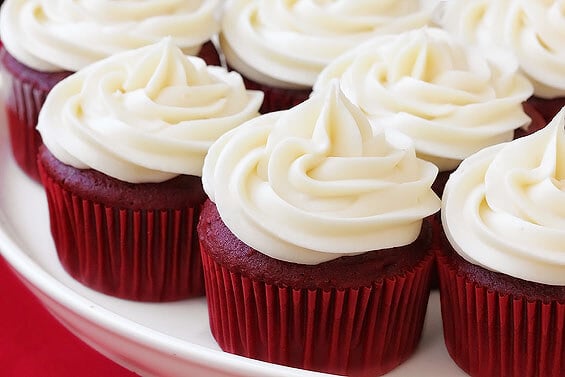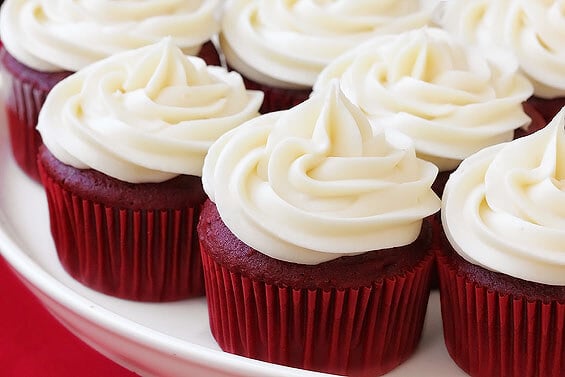 Who can resist red velvet?!?
Ha – apparently, my friends and I cannot.  :)  I ended up making two batches of red velvet cupcakes to take to a handful of events with friends this weekend, and they were a definite hit!  People's eyes always seem to light up whenever the hear the words "red velvet".  And then for those like me, hearing anything having to do with "cream cheese frosting" just seals the deal.  So irresistible!
Part of the fun of the weekend was that I ended up using two of my favorite recipes for these — partly because I wanted to compare taste, and partly because I was short on time and out of food coloring halfway through the weekend!  So you may have guessed — one recipe was made completely from scratch (including two little bottles of red food coloring), and one was based from a box mix (kicked up a notch!).
While I'd love to tell you that I thought the homemade cupcakes were far and above better, I could actually hardly taste a difference.  Both were wonderfully moist, full of that rich chocolate-y flavor, and of course, that gorgeous color of red.  And both paired perfectly with that luscious cream cheese frosting.  Although let's be honest — what wouldn't?!  :)
So for those of you who like to go 100% homemade, or those who want to save a few minutes of prep (and rounding up red food coloring and cake flour), I've included both recipes below!  Just scroll down to the bottom of the post for the cake mix recipe.  So in honor of Valentine's Day this week, I love them both!!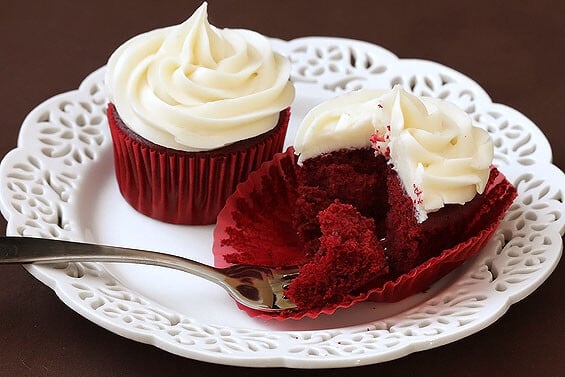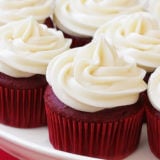 Red Velvet Cupcakes with Cream Cheese Frosting
Two great Red Velvet Cupcakes with Cream Cheese Frosting recipes — 100% homemade, or a box mix recipe kicked up a notch. Both irresistible!
Ingredients:
Cupcake Ingredients:
2 1/2 cups sifted cake flour (not all-purpose flour)
1 teaspoon baking powder
1 teaspoon salt
2 tablespoons unsweetened cocoa powder
2 oz. red food coloring (two bottles)
1/2 cup unsalted butter, softened
1 1/2 cups sugar
2 eggs, at room temperature
1 teaspoon vanilla extract
1 cup buttermilk, at room temperature
1 teaspoon white vinegar
1 teaspoon baking soda
Cream Cheese Frosting Ingredients:
1 lb (2 blocks) cream cheese (not softened)
1 stick (1/2 cup) butter, at room temperature
1 Tbsp. vanilla extract
4 cups powdered sugar, sifted
Directions:
To Make Cupcakes:

Preheat oven to 350 degrees. Line 24 muffin tins with cupcake papers.

Sift together the cake flour, baking powder, and salt into a medium bowl; set aside. In a small bowl, mix food coloring and cocoa powder to form a thin paste without lumps; set aside.

In a large bowl, using a hand mixer or stand mixer, beat butter and sugar together until light and fluffy, about three minutes. Beat in eggs, one at a time, then beat in vanilla and the red cocoa paste, scraping down the bowl with a spatula as you go. Add one third of the flour mixture to the butter mixture, beat well, then beat in half of the buttermilk. Beat in another third of flour mixture, then second half of buttermilk. End with the last third of the flour mixture, beat until well combined, making sure to scrape down the bowl with a spatula.

In a small bowl, mix vinegar and baking soda. (Yes, it will fizz!) Add vinegar mixture to the cake batter and stir well to combine. Fill cupcake cups with cake batter until they are about 3/4 full. (I like to use an ice-cream scoop for this!) Bake for approximately 20-22 minutes, rotating pans halfway through. Cupcakes are done when a toothpick inserted in the center comes out clean. Check early and don't overbake!

Cool the cupcakes in their tins on a wire rack for 10 minutes then remove and allow to cool completely before frosting.

To Make Frosting:
To make the frosting, in the bowl of a stand mixer fitted with the paddle attachment beat the cream cheese and butter on medium-high speed until well combined and smooth, about 2-3 minutes. Mix in the vanilla extract. Gradually beat in the powdered sugar until totally incorporated, increase the speed and then beat until smooth. Frost cooled cupcakes as desired.

If you make this recipe, be sure to snap a photo and hashtag it #gimmesomeoven. I'd love to see what you cook!
Ali's Tip:
Here is the alternate recipe using a red-velvet cake mix!
Ingredients:
1 (18.25 oz.) box red velvet cake mix
1 cup buttermilk
1/2 cup vegetable or canola oil
4 eggs
Method:
Preheat the oven to 350 degrees. Line 24 baking cups with paper liners.
Add the first three ingredients in a large mixing bowl. Beat with an electric mixer on low to medium speed until moistened, about 30 seconds.  Add eggs one at a time, until the batter is well-mixed. Increase speed to high and beat until thick, 2 minutes longer.
Pour or scoop the batter into the paper liners until they are 3/4 full. Bake for 15-20 minutes, or until a toothpick inserted in the middle comes out clean. Remove from oven and let cupcakes cool on a wire rack.