Reuben Breakfast Sandwich On Pumpernickel English Muffins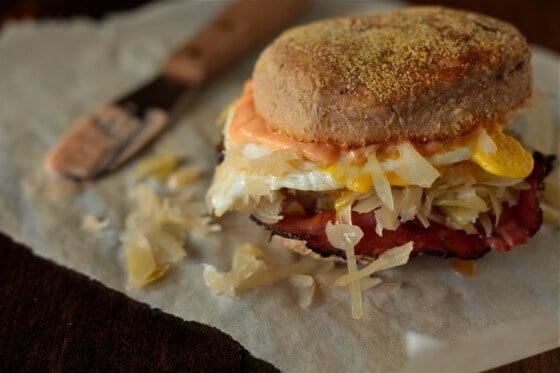 Our guest posting this week continues with the lovely Megan from Country Cleaver!  I had the pleasure of finally meeting Megan recently at a blogging conference, where we did Dirty Dancing impersonations and created a fondant cake that Duff Goldman actually complimented!!  I completely adore her and regularly find myself booking lots and lots of her recipes, so I know that you'll enjoy this one!
Hi everyone, it's so nice to join you all today! For those who probably don't know me, I'm Megan of Country Cleaver, a wheat-field-ophile, country loving, city dwelling chick with a June Cleaver complex.  Since Ali is galavanting all over Europe and having a smashingly good time, according to her intstagrams, I'm here today to fill your eyes and hopefully tummy with my favorite recipe of 2012 – The Reuben Breakfast Sandwich on Pumpernickel English Muffins.
Reubens are my all time favorite sandwich, with the sauce, the kraut, the pastrami and the caraway seeds, It's a magical combination that is sadly often relegated to the lunch table rather than the breakfast one. On a fateful Saturday morning that all changed! Weekend breakfasts usually involve an at-home muffin sandwich with egg, a little cheese and a slice (or two) of bacon if we're feeling rebellious, which is always. Somehow this started to seem so mundane and rut-like that I felt compelled to take that boring old breakfast muffin up a notch. Or ten.
Was my patience ever rewarded. Making english muffins at home is so much fun, and really quite easy. When you can make a dozen english muffins at home, feel like a rockstar AND save yourself some money – it's a win all around. And when a warm homemade English muffin straight from the oven envelopes fried pastrami, warm kraut and is dripping with horseradish Russian sauce, prepare to see your life changed.
If this is your first time making bread – don't be afraid, the force is there within you. Channel it and you will be so surprised by the results. I promise.
Lovely meeting you all here today and I hope to see you around the blogosphere soon. Happy holidays and all the best to you in the new year!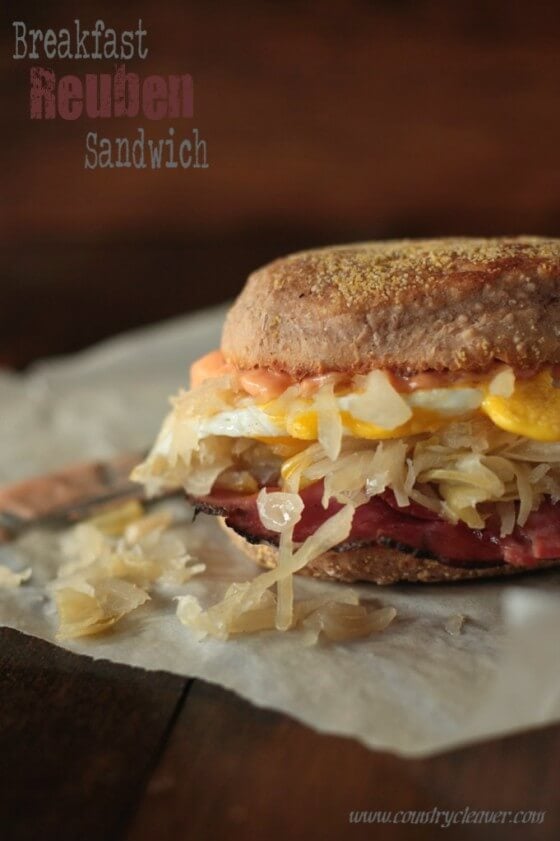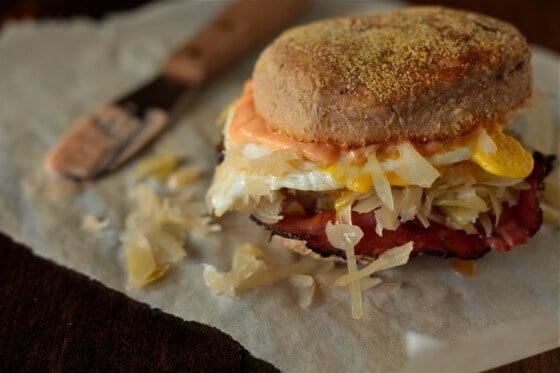 Reuben Breakfast Sandwich on Pumpernickel English Muffins
Delicious reuben breakfast sandwiches you can enjoy for breakfast, made with super-simple and delish homemade pumpernickel English muffins too!
Ingredients:
Reuben Breakfast Sandwich:
2 Whole Eggs
1 Tbsp Butter
4 large slices Pastrami
½ cup Sauerkraut
¼ cup Mayo
2 Tbsp Ketchup
¼ tsp Horseradish puree
2 Pumpernickel English Muffins (recipe below)
English Muffins:
2 Tablespoons Vegetable Oil, For Greasing Bowl
4 ounces, fluid Water, Between 100-105 Degrees
7 ounces, fluid Milk, Between 100-105 Degrees
? ounces, weight Instant Dry Yeast
2 Tablespoons Butter, Divided
1/2 pound Flour, All Purpose
½ pound Rye Flour
2 Tbsp Molasses
1 Tsp Cocoa Powder
½ tsp Caraway Seeds
1 teaspoon Salt
½ cups Cornmeal For Working Dough
Directions:
To Make The Reuben Sandwiches:
Mix together mayo, ketchup and horseradish. Slice english muffins and toast.
In large skillet, sauté pastrami until heated through and browned slightly. Heat sauerkraut until hot. Remove pastrami and kraut and set aside.
Add butter to the pan and fry two eggs until just set. Slater mayo/ketchup/horseradish mixture onto english muffins, top with pastrami, kraut and fried egg. Promptly devour.
To Make The English Muffins:
Grease a large mixing bowl with vegetable oil. Set aside. Line a large rimmed baking sheet with parchment paper or a silicone liner. Set aside.
In the bowl of a stand mixer, whisk together water, milk, yeast, 1 tablespoon of butter (melted and cooled to between 100-105ºF) and 5 ounces of flour. Cover with plastic wrap and let sit for 30 minutes to form a "sponge" or "starter" for muffins.
Once the sponge has doubled in size, attach dough hook to the stand mixer along with the bowl. Turn on low and add in remaining flours, cocoa powder and molasses to the sponge that was formed. Add in salt and caraway seeds. Allow to mix on medium and knead until satin and smooth, approximately 5 minutes. When kneading is complete, scrape dough from mixer bowl and transfer to greased bowl that had been set aside. Cover with plastic wrap and allow to rise 45 minutes to 1 hour.
Preheat your oven to 375ºF. Dust a clean and sanitized countertop or work surface with cornmeal. Turn out dough from greased bowl and stretch evenly until it is about 3/4? thick. Handle dough lightly so it does not become tough.
With a 4? round biscuit cutter, cut out as many rounds as possible. Place them on parchment or silicone lined baking sheet. Re-roll dough to obtain more muffin rounds. But do not re-roll more than once.
In a large skillet, heat remaining 1 tablespoon of butter to coat the pan on about medium heat. Lightly brown each side of each muffin, about 1 minute per side. Place each muffin back onto lined baking sheet until all have been browned.
Place in heated oven for 15-20 minute until cooked through. Immediately cool on a wire rack when completely cooked. Serve warm with jam of your choice and devour.
The muffins can be frozen to preserve or eaten within 4 days.
All images and text ©
If you make this recipe, be sure to snap a photo and hashtag it #gimmesomeoven. I'd love to see what you cook!