Roasted Butternut, Sausage & Fennel Stuffing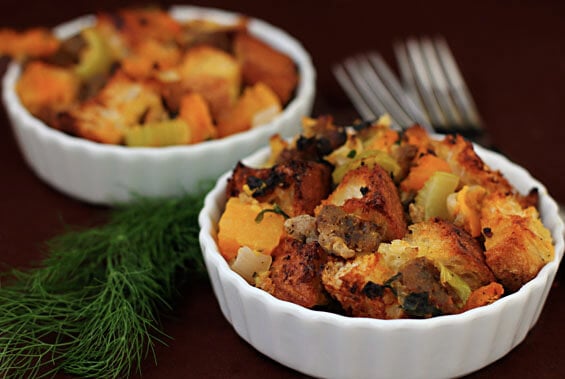 (Before I begin, would love to invite you to head over to the Holiday Recipe Exchange to vote for my vanilla chai cupcakes!  It only takes about 5 seconds to vote — just scroll down, and I'm #9.  Would love to win the vanilla gift basket and have more yummy vanilla recipes to share with you!  Thank you so much!!)
Allow me to introduce to you…the best stuffing recipe ever!!!  Well, at least it's the best stuffing recipe I've had in all my 27 years of life.  :)
I was first introduced to this recipe two years ago when my sister and brother-in-law made it for Thanksgiving.  Being the Bon Appetit fans that they are, we all knew this wouldn't be a year for the normal traditional stuffing.  But I don't think any of us were prepared for how ridiculously delicious this dish would be!!!  I'm generally not even one to get too excited about stuffing, but I remember getting seconds along with everyone else that year!  (And then ironically, this year 3 of my different family members are all making the dish again — it's that good!!!)
In addition to the amazing flavors of the roasted butternut squash, sausage and fennel (whose flavor becomes wonderfully fragrant but mild to the taste when cooked), this stuffing also features a number of wonderful herbs and (my addition) a yummy dash of white wine.  Finally, when made with freshly toasted ciabatta bread….mmmmm, you can't go wrong.
I will mention that this recipe takes around 2 hours to prepare from start to finish.  But nearly all of the prep can be done a day or two beforehand, so that on the day you're ready to enjoy this, all you need to do is toast the bread and pop the stuffing in the oven.  Perfect for a delicious and relaxing Thanksgiving.  Enjoy!!
(Come join the fun this week with more stuffing recipes at the My Baking Addiction and GoodLife Eats Holiday Recipe Swap sponsored by Swanson Broth!)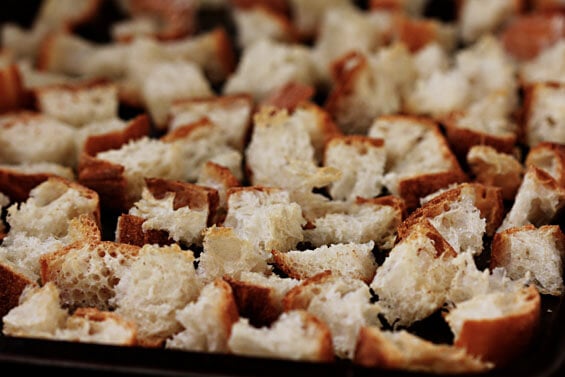 Roasted Butternut, Sausage & Fennel Stuffing
You will absolutely love this delightfully savory Roasted Butternut, Sausage, & Fennel Stuffing Recipe! Surprise your family for Thanksgiving!
Ingredients:
4 cups 1/2- to 3/4-inch cubes peeled seeded butternut squash (from one 1 3/4-pound squash)
6 Tbsp. unsalted butter
3 cups chopped onions (about 1 pound)
2 cups chopped celery (4 to 5 stalks)
1 1/2 cups coarsely chopped fresh fennel bulb (just the white part)
1 (1-pound) pork sausage log
1/4 cup chopped fresh Italian parsley
2 Tbsp. chopped fresh sage
2 Tbsp. chopped fresh marjoram
12 cups (generous) 1-inch cubes day-old pain rustique or ciabatta bread with crust (about 1 1/4 pounds)
2 large eggs
1 1/2 tsp. fine sea salt
1 tsp. coarsely ground black pepper
1 cup (or more) low-sodium Swanson chicken broth (I used 1/2 cup chicken broth, 1/2 cup white wine)
Directions:
Preheat oven to 350°F. Spray rimmed baking sheet with nonstick spray. Scatter butternut squash on sheet in single layer; sprinkle lightly with salt and pepper. Roast squash until tender, stirring occasionally, about 55 minutes. Transfer to large bowl; cool.

Meanwhile, melt butter in heavy large skillet over medium heat. Add onions, celery, and fennel. Sauté 8 minutes. Add sausage. Sauté until vegetables are tender and sausage is cooked through, breaking up sausage with fork, about 10 minutes. Add all herbs; sauté 1 minute longer. Add to bowl with squash. (DO AHEAD: Can be made 1 day ahead. Cool, cover, and chill.)

Preheat oven to 350°F. Divide bread between 2 rimmed baking sheets. Bake until bread is crusty but not hard, reversing sheets after 5 minutes, 10 to 12 minutes total. Transfer to very large bowl and cool.

Butter 13x9x2-inch baking dish. Then in your very large bowl, gently toss the vegetable mixture in with the bread. Whisk eggs, salt, and pepper in small bowl to blend, then whisk in the broth (or half broth, half wine if you'd like) until combined. Add egg mixture stuffing, tossing to combine evenly and adding more broth by 1/4 cupfuls if dry. Transfer stuffing to prepared dish.

Bake stuffing uncovered until cooked through and brown and crusty on top, 60 minutes. Let stand 10 minutes.

If you make this recipe, be sure to snap a photo and hashtag it #gimmesomeoven. I'd love to see what you cook!
Ali's Tip:
You can either make this in a 9″ x 13″ pan, as pictured below.  Or feel free to divide it up between 8-12 large ramekins.  The ramekins will just require less cooking time.
Leave a Comment:
Comments
Trackbacks/Pingbacks
Pingback: 6 Thanksgiving Stuffing Recipes to Try