Roasted Corn Pudding In Acorn Squash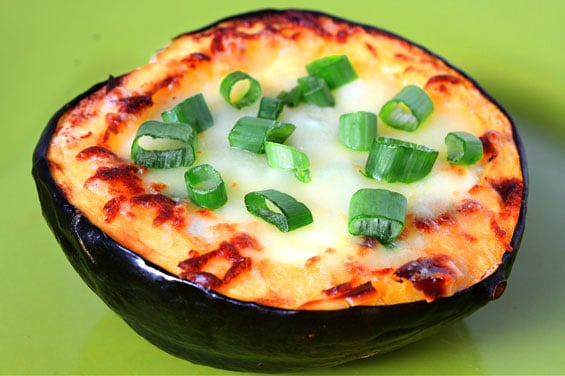 Once again, I am making a serious endeavor this week to sort through some of the favorite food-blogging recipes I've bookmarked over the last year.  (Which, thanks to Tastespotting and FoodGawker, now seem positively endless!)
And at the top of my list for winter meals was this fantastic creation by Heidi at 101 Cookbooks (also posted by one of my favorites, ZOE).  Absolutely loved the idea of roasting the corn pudding along with the acorn squash.  And loved how healthy (and vegetarian!) it looked.  And of course…loved the cute presentation!
So tried it out this weekend and (no surprise)…I loved it.  ;)
Went ahead and stayed pretty true to the original recipe (although added in some diced jalapeno for a small kick).  But am excited to try this again soon with other seasonal veggies, and possibly some different flavor combos (one idea listed below).
Would definitely recommend giving it a try!!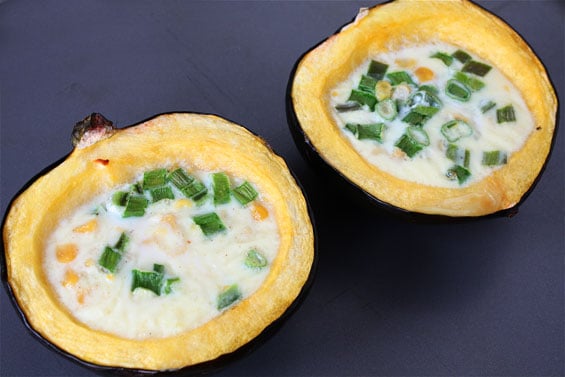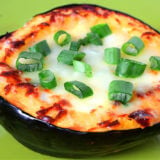 Roasted Corn Pudding in Acorn Squash
Everyone will love this seasonally creative presentation a favorite traditional dish! Quick and easy instructions lead to a delicious result. Enjoy!
Ingredients:
1 small acorn squash, cut in half lengthwise and seeded
1 tablespoon olive oil
1 cup milk
1 egg plus 2 egg whites
1/2 cup fresh corn
1/2 cup chopped scallions
half of a jalapeno, seeded and finely diced (optional)
pinch of nutmeg
1/4 teaspoon salt
1/3 cup shredded white cheddar (or other favorite cheese)
Directions:
Preheat oven at 375 degrees.
Rub the orange flesh of the squash with the olive oil. Place cut side up on a baking sheet. You will want it to sit flat (and not tip), if you are having trouble just level out the bottom using a knife. If the squash is tilting on the pan, the filling will run out – bad news. Cover the squash with foil and bake for 40 minutes or until the squash starts to get tender.
In a bowl combine milk, corn, jalapeno, eggs, nutmeg, salt and half of scallions.
Fill the squash 3/4 of the way with the corn mixture and carefully place back into the oven, uncovered. Continue baking for 30 minutes or until squash is tender and pudding is set.
Once baked, sprinkle inner cavity with cheddar and switch the oven to broil. Watch it carefully so the cheese only melts and does not burn.
Serve with remaining scallions.
**Depending on the size of the squash, you will likely have extra corn mixture. Feel free to pop it in a ramekin and bake alongside the squash if you'd like!
If you make this recipe, be sure to snap a photo and hashtag it #gimmesomeoven. I'd love to see what you cook!
Ali's Tip:
For a Mexican spin on this, feel free to sub in Monterrey Jack cheese, and add a half teaspoon of cumin and chili powder (or chipotle powder) to the corn mixture.