Rosemary Lemon Bars
This post may contain affiliate links. Please read my disclosure policy.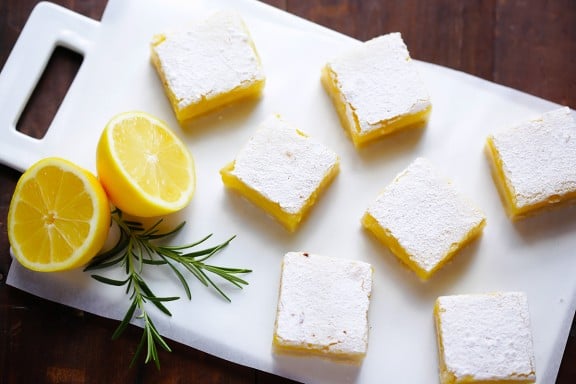 Random story time.
Yesterday, I was having complete-total-utter-throw-your-hands-up-in-the-air writer's block when trying to create the post for these Rosemary Lemon Bars. I actually made and photographed this recipe about a month ago, and remember that the bars tasted crazy good. But for the life of me, I could not remember who I shared them with, or anything else about them! And after staring at my computer blankly for an hour, the only thing I could come up with to say was that these rosemary lemon bars were, in fact, "crazy good".
So I decided to abandon ship, shut down my computer, and head downtown to The Majestic where I knew my friend Sarah was going to be singing at a jazz open mic night. Sure enough, there was a crew of good friends there, and I arrived in time to hear Sarah sing two lovely songs. (A guest trumpet player was also featured, and was awesome, but I'm not sure I recommend sitting four feet directly in front of a trumpeter — my ears are still ringing!)  It was definitely a needed break from my computer, but by the time 9pm rolled around, I felt like I should be responsible and get home to finish up my post.
As I was leaving the restaurant, I was randomly sidetracked by a big, juicy, gorgeous steak that was being served. Let me tell you, it smelled heavenly. And I suddenly desperately wanted one.
I should probably mention that it's rare (get it — rare?!) that I eat beef. Like, maybe once or twice a month, if that. But at that moment, I literally got in my car and debated for a minute if it would be totally ridiculous to go back into the restaurant for another hour to order a sirloin, or drive to the grocery store to pick one up. I decided that both ideas, in fact, were completely ridiculous and that it was late and I needed to get home to write about lemon bars!!
So I reluctantly added steak to my grocery list, and drove back to my loft. As I pulled in, I noticed that a handful of friends were sitting outside on the picnic table by our brand new grill that arrived this weekend. (Yes, the resident food blogger in the building petitioned management for a grill, and we actually got one. Success!)  So I walked over to say hello, just for a minute. Lo and behold, as I was walking up my friend Cate motioned for me to come sit down and immediately asked if I want her — wait for it — steak. A huge, perfectly-tender, simply seasoned, fabulous steak.
Ok, ok, you may think this is the lamest story ever. But to me at that moment, it was serendipity at its best. :)
All plans for productivity and writers-block-conquering of course went out the window. And instead, I ended up happily spending another hour outside enjoying time outside with my neighbors and enjoying every last bite of this fabulous sirloin. I even met a new photographer neighbor and swapped stories about our recent culinary adventures in San Antonio. Small little world. And a good one.
But after awhile, I finally decided to head in and told everyone I was leaving in order to finish up a post on rosemary lemon bars. At the mention of the bars, Liz and Cate perked up, and suddenly comments were flying.
"I LOVED those lemon bars!!!" "Oooh, are you going to blog about our girls night?" "SUCH a great night." "What, you don't remember Ali — you brought them over to my loft and we all had a very serious conversation about the amount of rosemary in the crust." "Oh, I remember that!" "Perfect amount of rosemary – subtle, not too strong." "You have to talk about girls night in your blog…."
And thus, it all came flooding back.
These rosemary lemon bars were, in fact, crazy good and the hit of a random girls night with my neighbors. They (and I) completely recommend you check out the recipe on Imperial Sugar's site here.
But the next time I make these bars, I'm pretty sure the story I will remember was the one that came with remembering the story. For the first time in my life, I've gotta give props to writer's block. It somehow turned this Sunday night into a memorable one.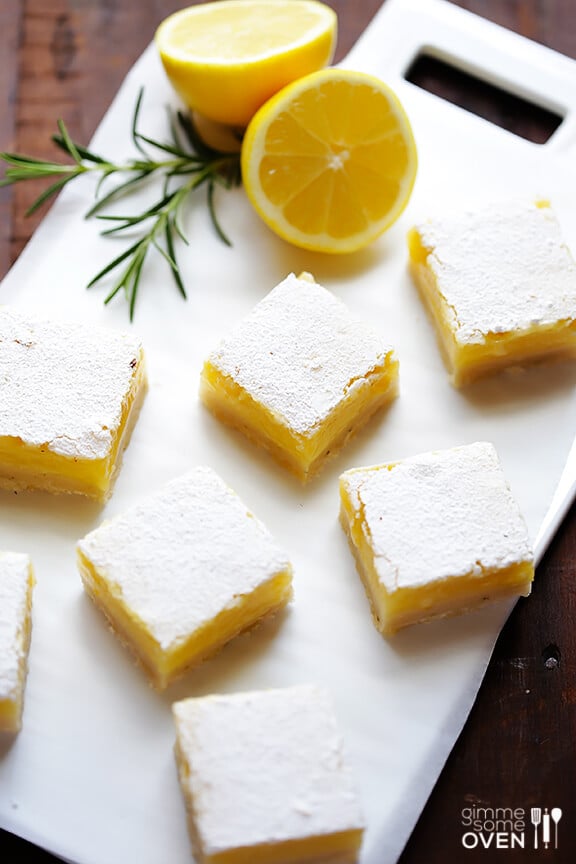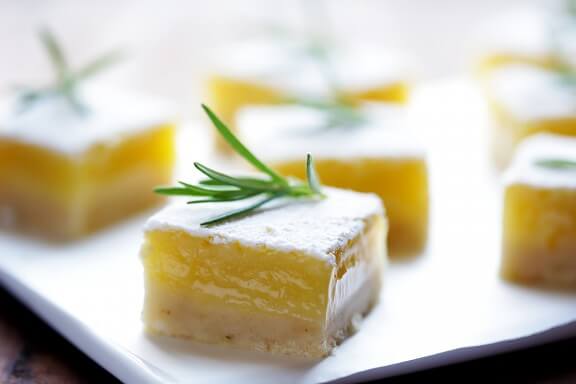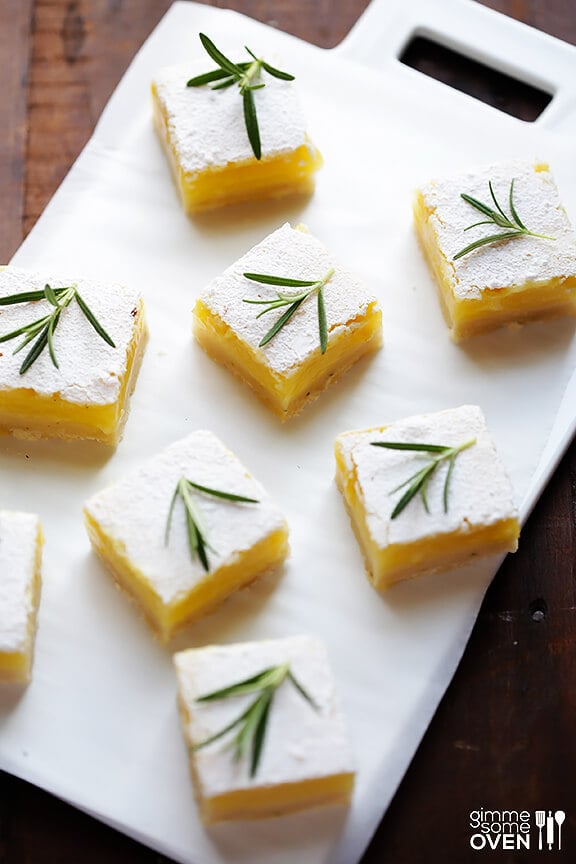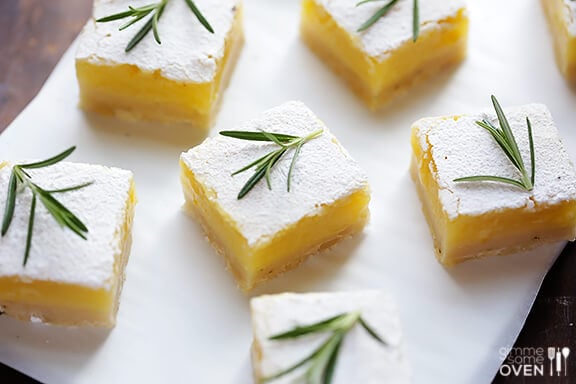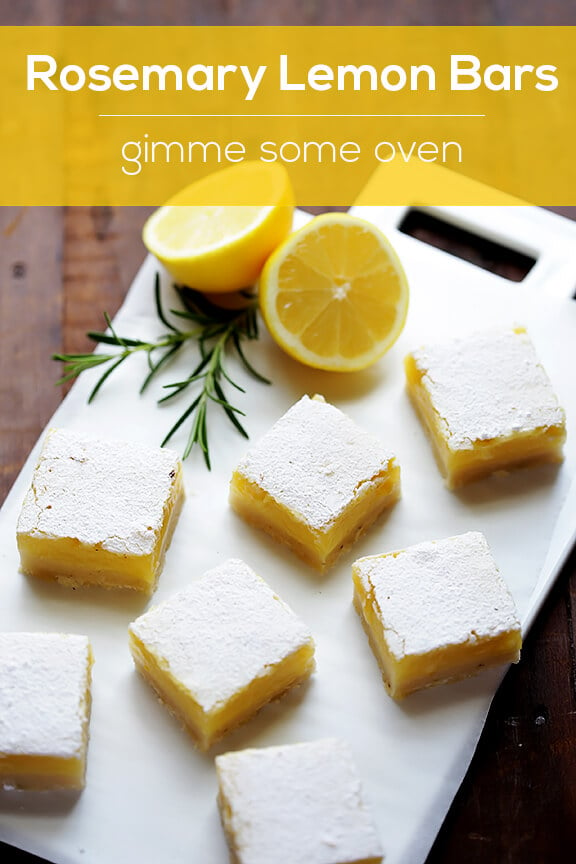 Disclaimer: This post was sponsored by Imperial Sugar. All opinions are 100% my own.