Salt Dough Magnets
This post may contain affiliate links. Please read my disclosure policy.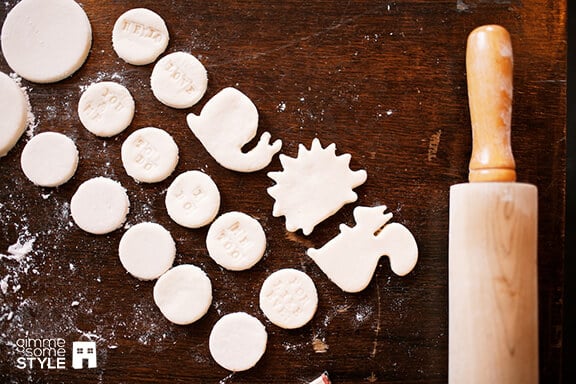 Just in case you have never clicked on that pink STYLE button up above, I wanted to make sure you saw this cute "recipe" from Gimme Some Style — Salt Dough Magnets! Aren't they adorable??
Liz, who recently moved lofts and is now my upstairs neighbor, has been in the midst of an enormous kitchen remodel. But even in the midst of all the craziness as they were pulling late nights installing new cabinets, all that Liz could talk about was how much fun she was having making these salt dough magnets. Ha! Love this girl and her heart for all things crafty.
Sure enough, the magnets turned out to be adorable, and super fun for different rooms of the house. So be sure to click over to her post for the easy how-to and all of her cute ideas for how to style them.
And of course, I'd also encourage you to bookmark the Gimme Some Style page, as well as Liz's Pinterest boards, so that you can be sure to keep up with all of the great posts! She regularly shares all sorts of crafty DIY projects, as well as great style tips for fashion and home decor. And you might even catch a cameo of my dog with Liz's dog, Veda. They are total BFFs, share a love for snowstorms, treats and attention, and literally paw at the door to see one another any chance they get. Crazy, but always cute. :)
Back soon with the next recipe in Guinness Week!