Salted Dark Chocolate Cupcakes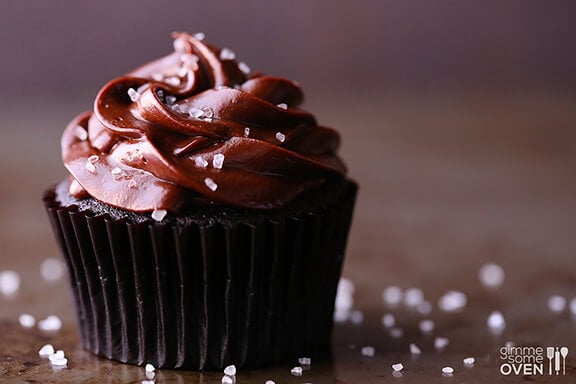 I'm not usually a recipe dedicator, but I wanted to give a big shout out with this recipe to my friends Monica and Eric who just tied the knot this weekend.  Their wedding gift from me was a super-cool cupcake carrier, and I'm pretty sure these would be the perfect cupcakes to fill it.  ;)
But instead of talking about these yummy cupcakes today, I would really love to share with you about my friend.  Can I tell you a story?
I met Monica in the music department in college, where we were both classic vocal performance majors.  (Yes, little known fact about me — I majored in opera!)  But I really got to know her when she joined our worship band, where we loaded up our 15-passenger vans and hit the road nearly every weekend to go lead worship in churches all across the region.  You know how they say that you really get to know someone well when you travel together?  Um, try two years on the road together.  Done!
When we weren't rocking out to loud "contemporary" music, Monica was also one of my crossover classical music friends.  I think we would both say that one of our favorite memories was doing our senior recitals together.  We were in the same class, but I graduated early so we lucked out and got to do two senior recitals together.  She sang at mine, and I came back after graduation to sing at hers.  We duet-ed everything from Puccini, to Wicked, to Mozart, but our trademark song was this Italian operatic cat-fight where the only word we were allowed to sing was miau ("meow").  I know, total music nerd stuff, but it was really fun!
After graduation, we both took music ministry jobs in churches a few hours apart and stayed in touch, keeping up on life, church work, music, and more.
But about two years ago, my heart caught in my chest when I received the devastating phone call that both Monica's mom and dad had been killed in a car wreck.  All of our friends were stunned and couldn't begin to wrap our minds around the news.  But when we arrived at the double funeral and played Monica's favorite hymns as she and her younger brothers — all in their twenties — walked down the aisle together, it was one of those moments when life gets real.  But even through their deep deep grief, she and her brothers spoke again and again about their fierce belief in hope.  And their belief that somehow, someway, they trusted that God would be faithful to help pull them through.  It has not been an easy road, but through the months and years after, and through all of the ups and downs of grief, they have taught me a lot about what it looks like to persevere and cling to that hope.
The cool news is that, a few years later, all of those people gathered together again this weekend for a very different occasion — Monica's wedding!!!  My sweet 30-year-old friend (who I should note had never really dated) is now the wife of one of the kindest, gentlest men I could have imagined for her.  I was supposed to be playing piano but was a total (happy) wreck when I saw her walking down the aisle, escorted on both arms by her two younger brothers, smiling ear to ear ready to marry this man for whom she had also held out faithful hope for so long.  It was definitely a happy ending to these past few years, and of course, the beginning of a great new adventure for them to come.  I'm so happy for her!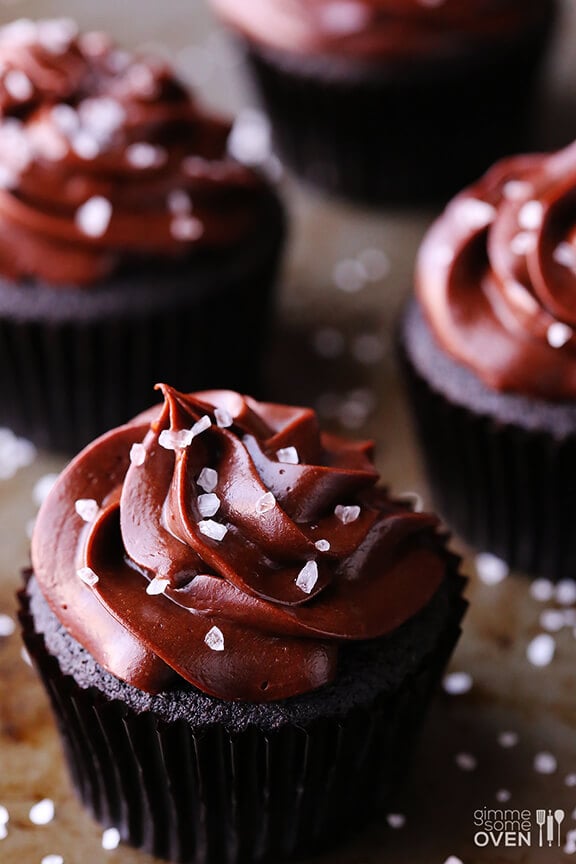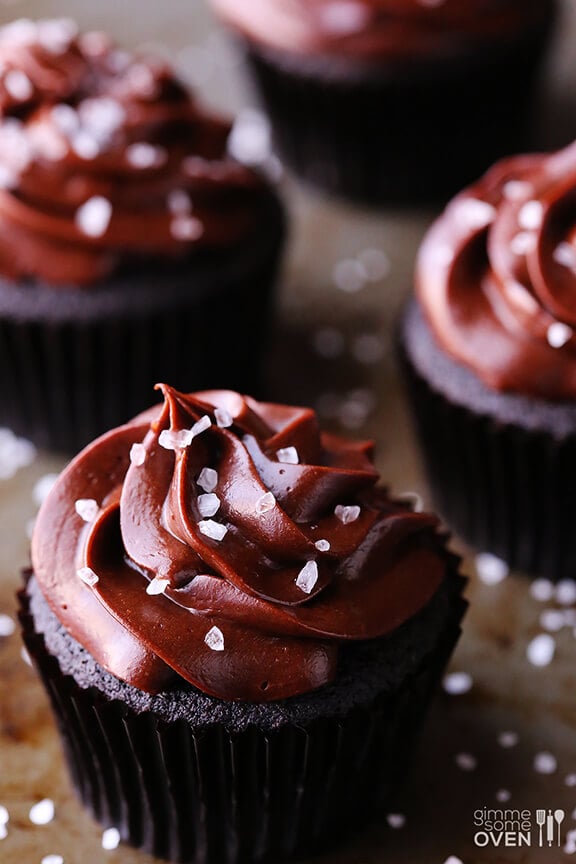 But as was discussed in the bridesmaid's toast, while Monica is an incredible singer, she's still a little new to the cooking game.  :-)
So for her or any of you who might be wanting a foolproof delicious chocolate cupcake recipe to try, I'm excited to introduce these salted dark chocolate cupcakes.  These are kind of the ultimate in chocolate cupcakes.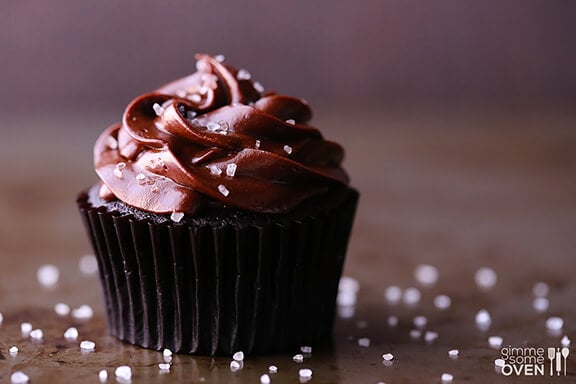 The dark chocolate cupcakes themselves are made with my favorite dark chocolate cocoa powder (or you can use regular unsweetened cocoa powder).  And they are really easy to make, nice and moist, and full of rich chocolate flavor.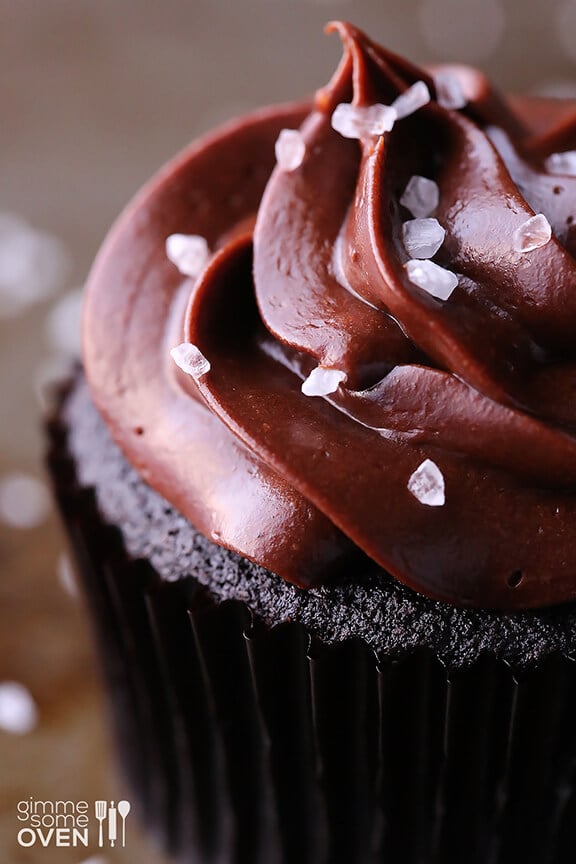 And then since it's kind of a special occasion with the wedding, I went ahead and indulged and made a dark chocolate ganache as the frosting.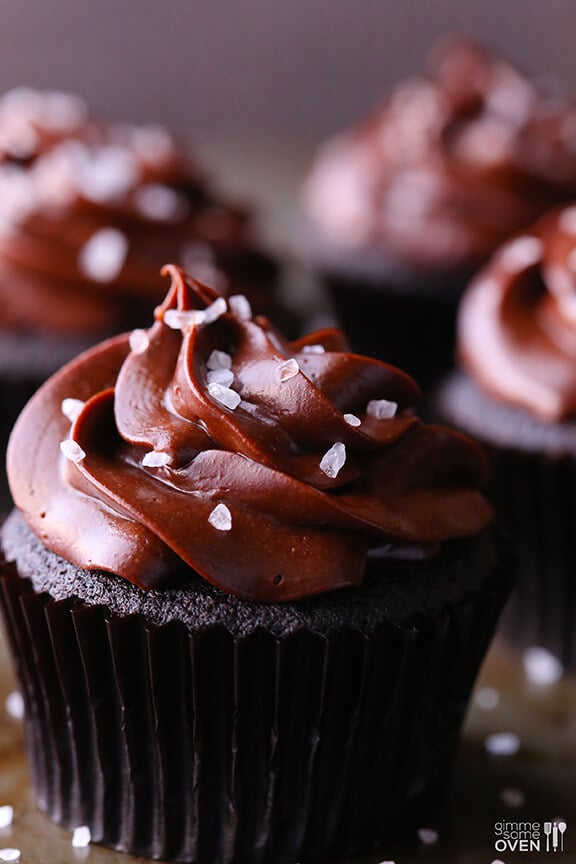 And then sprinkled the tops with sea salt.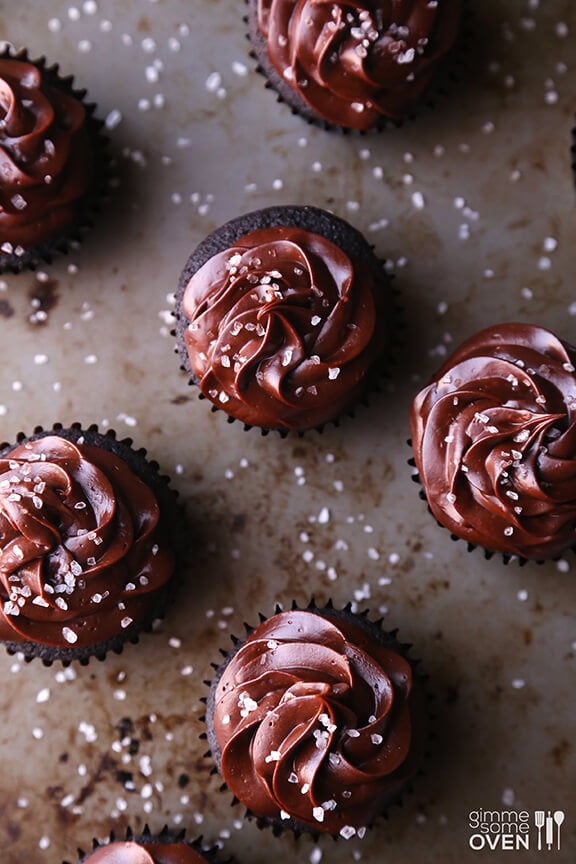 Now you know me — I'm one of the biggest believers in all things in moderation with sweets.  But when you want to indulge, trust me that every bite of these cupcakes will be worth it.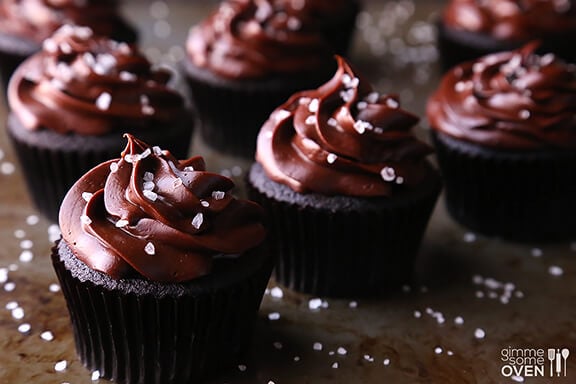 So today I offer a big cheers to Monica and Eric and love and HOPE.  And of course, cheers to salted dark chocolate cupcakes.  :)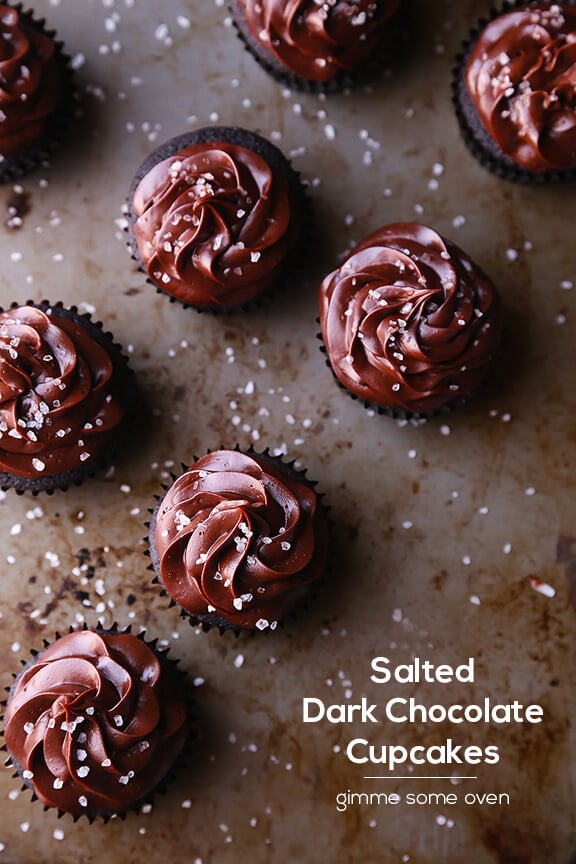 Salted Dark Chocolate Cupcakes
These salted dark chocolate cupcakes are rich, moist, and crazy good.
Ingredients:
Cupcake Ingredients:
1/2 cup (1 stick) butter, softened
1 1/2 cups granulated sugar
2 eggs
2 tsp. vanilla extract
1 1/2 cups all-purpose flour
1/2 cup dark chocolate cocoa powder (or any unsweetened cocoa powder)
1 tsp. baking soda
1/4 tsp. salt
1/2 cup buttermilk
1/2 cup coffee, lukewarm (you can use decaf coffee if desired!)
chocolate ganache frosting
coarse sea salt, for sprinkling
Chocolate Ganache Frosting Ingredients:
18 ounces dark chocolate, chopped
1 1/2 cups heavy cream
Directions:
To Make The Cupcakes:
In the bowl of stand mixer, cream butter and sugar until light and fluffy. Add eggs, one at a time, beating well after each addition. Add in vanilla.
In a separate bowl, whisk together the flour, cocoa, baking soda and salt until combined. Then in an additional separate bowl, stir together buttermilk and coffee. Add dry ingredients to creamed butter mixture alternately with buttermilk and coffee, beating well after each addition.
Fill paper-lined baking cups two-thirds full. Bake at 375° for 15-20 minutes or until a toothpick inserted near the center comes out clean. Cool for 10 minutes before removing from pans to wire racks to cool completely.
Top with chocolate ganache frosting, then sprinkle with sea salt.
To Make The Ganache Frosting:
Place the chopped chocolate in a small heat-proof bowl.
Heat the cream in a small saucepan until it just reaches a boil. Remove from heat and immediately pour over the chocolate. Stir slowly until the chocolate is completely melted and the mixture is smooth. Let it cool until it reaches room temperature, about 1-2 hours. It will continue to thicken the longer it sets.
Spoon or pipe the ganache onto the cupcakes. If the ganache is too thin for piping, you can transfer it to the bowl of a stand mixer and beat it on medium-high for 3-5 minutes until it reaches a better consistency for piping.
If you make this recipe, be sure to snap a photo and hashtag it #gimmesomeoven. I'd love to see what you cook!