Seaside Florida Vacation Giveaway
This post may contain affiliate links. Please read my disclosure policy.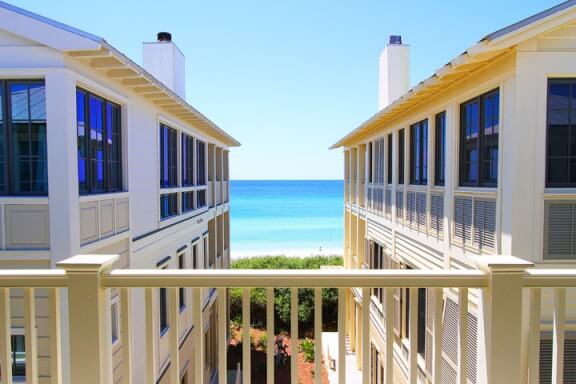 Oh man, do I have a stellar giveaway to share with you today!
If you follow me on Instagram, you will have noticed a few weeks ago from the gorgeous beach pics that I definitely "wasn't in Kansas anymore". Nope, this Midwesterner was thrilled to fly to the coast to soak up some major sunshine and seafood and beach time in beautiful Seaside, Florida!
My blogging friend, Amanda, had invited a group of bloggers down for a little girls getaway weekend. And it was everything I'd hoped for, and deliciously more. We laid out on the beach, we painted pottery, we shopped, we met the most wonderful people, and oh my goodness — we definitely ate the most wonderful food. Usually with a gorgeous sunset and lapping waves in the background, no less.
I had a bunch of readers and friends ask for recommendations and my thoughts on the area, so read below for my top ten things I loved about Seaside. And you absolutely must also scroll to the bottom of the post because us bloggers are teaming up with Cottage Rental Agency to offer a Seaside beach vacation GIVEAWAY to one of you lucky readers!
(Can you please promise to pack me in your suitcase so that I can go back with you??)  ;)

Well before I dive into my top 10, let me tell you just a few things about Seaside.
For those of you who aren't up on your Florida geography (ahem, like a certain Kansas City food blogger here), Seaside is located on the Florida panhandle in Walton County, between Panama City and Destin. It was founded in the early 80s, and is notable for being one of the very first "planned communities" in the United States and was designed according to the principles of New Urbanism.
Even if you have never heard of Seaside specifically, I bet you've seen it. Remember that idyllic little beach community in the Jim Carrey movie The Truman Show?? Yep, Seaside all the way. And the best part is that it is naturally just as warm and friendly and charming in real life.
I have many friends who vacation there each year and absolutely adore it, so I was excited to see it for myself. Here were some of my favs!
10 Things I Loved About Seaside, Florida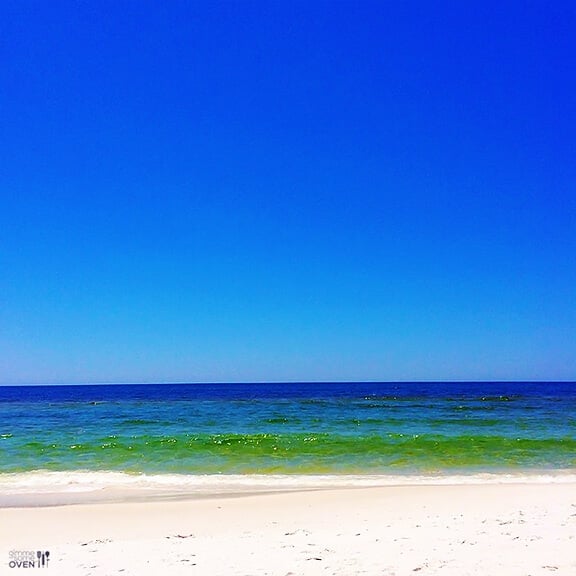 1. The Beach
Well of course, I have to admit that the thing I was most looking forward to was the beach.
When Amanda contacted me about the trip in the dead of our freezing Midwestern winter, I could not wait to get there and feel the sun on my face and the sand in my toes. And let me tell you, the Seaside beach did not disappoint.
It wasn't quite warm enough while we were there to go swimming. But we laid out for long afternoons in the deck chairs with umbrellas and sunshine overhead, we went for long beach walks, and we enjoyed overlooking it and feeling the ocean breeze during many a meal. And it was absolutely breathtaking…
…and soooo not crowded!
We were amazed at how quiet and peaceful the beach really was! There were plenty of people around by the shore, but it was calm and spacious and definitely not overrun with people. So beautiful.
2. The House
Speaking of beautiful, I could write an essay about the amazing beach house from Cottage Rental Agency that was our home for the trip. It was called the See Ya Cottage. (Oh, also charming? The fact that every house in Seaside has a name.)  And it was a 3-level, 5 bedroom, 5.5 bath, gorgeous home with an ocean view literally just steps away from the water. You can see our not-too-shabby view in the photo at the top of the post.
Each sunlit floor had its own living room and a small kitchenette. And the main floor had the gorgeous kitchen that you see pictured above. (Basically, a food blogger's absolute dream.)  The bedrooms were also completely comfortable and inviting and would be great for hosting a crowd.
But without a doubt, my favorite part of this amazing house was the porches. Oh, the porches. There were three of them, one on each level, and they all overlooked the ocean. So literally any chance we had, I would take a cup of coffee or iced tea or wine out to the porches and soak up the beach views and curl up in their cozy chairs and enjoy time with friends or on my own. I love a good porch, and this house did not disappoint.
Anyway, bottom line, the house was incredible. And if you ever visit Seaside, I highly recommend contacting Cottage Rental Agency to help find the perfect house for you. They went above and beyond to make us feel welcomed and at home, and I know would do the same for you.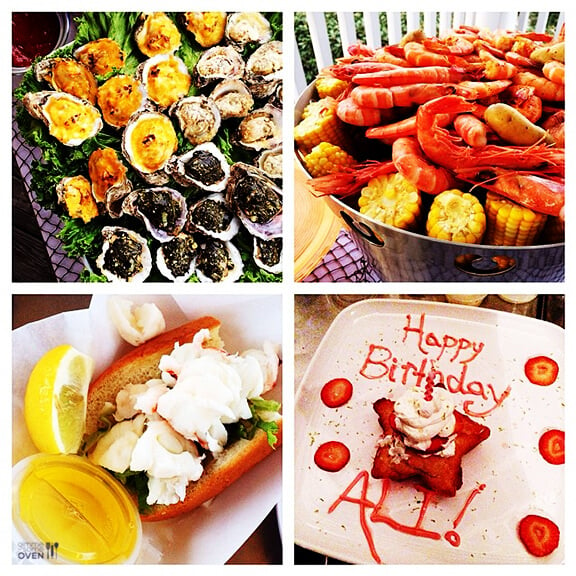 3. The Southern Hospitality
Speaking of feeling welcomed, I want to talk for a moment about southern hospitality.
Blame me for being a Midwesterner, but I often tend to feel like most beach towns on whatever coast are all similar. Well, I had forgotten one of the things that makes northern Florida stand out from the rest — southern hospitality.
From the moment we arrived and were warmly greeted by our new friend, Lori, to the smiles and friendly waves and hellos on the streets, to the outstanding baristas and waitresses and chefs at all of the restaurants we visited — Seaside was everything I think about Southern Hospitality and more.
Case in point.
Probably my favorite person we met on the trip was a remarkable woman named Heavenly Dawson. The moment you meet her, you will agree that the name fits her perfectly. She has this radiant smile that will light up a room, she is quick to learn all about you and make you feel special, and she is very proud of her dear town of Seaside. Anyway, she and her husband, Bill, own a handful of restaurants in town including The Shrimp Shack, where we were scheduled to eat for dinner on my birthday. And the moment we arrived, she popped a fresh pina colada in my hand (which I had mentioned to someone earlier in the day was my guilty pleasure beach drink of choice, who relayed word to her). Then she served us my absolute favorite seafood meal of the trip (see details below). And then she literally had gone to my blog that day and saw how much I adored strawberries and brought out a strawberry shortcake dessert with a candle on top for my birthday.
SO thoughtful, right?
Anyway, she was amazing, as were countless other friends we met in Seaside. Big thanks to them all for being so welcoming and making us all feel right at home.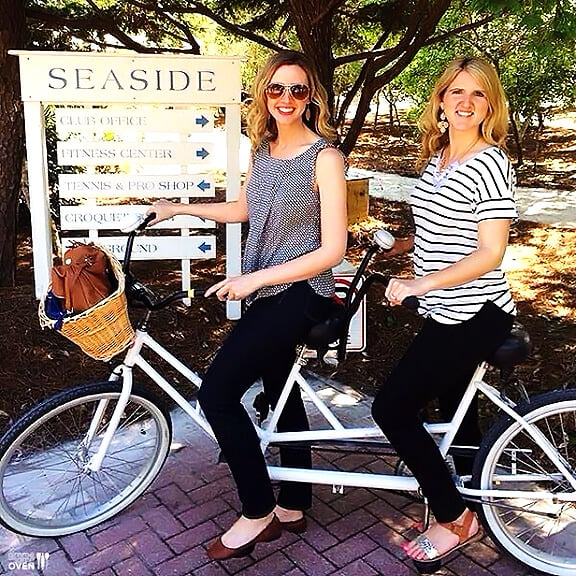 4. The Bicycling
Tee hee! Ok, this one was included because I'm pretty sure it should be a "must" on your list if you visit Seaside. Everyone in town rides cruisers everywhere, so we took one afternoon and went for a little bicycle tour of the town ourself with our friend.
Although my friend Amanda and I decided someone needed to be brave and try out the tandem bike. Which promptly placed the song "A Bicycle Built For Two" squarely in the middle of my brain on repeat. ;)
Super cute, right?! Ahem, also NOT EASY. Oh my goodness, it was a miracle we didn't get a scraped knee as a little souvenir on that bike ride. I had no idea how hard tandem bikes are to steer and balance!
But the tour itself was a really fun way to see and experience the town. And we even got to drive by the famous house in town…
5. "The Truman Show" Pride
…the house that was Jim Carrey's home in The Truman Show!
Yes, everyone in town loves to talk about the movie that was filmed there in 1998. You remember that one? When Jim Carrey wishes everyone a "good morning…and in case I don't see you, good afternoon and goodnight!" But then he sadly learns that his perfect little life in this perfect little town was actual a movie set? It was the reality show before reality shows.
In reality, though, the town of Seaside played a large part in inspiring the movie and then provided all sorts of amazing support for the movie when it was filmed. If you watch it, you will see scenes at Modica Market in Central Square, and also in front of this cute cottage which served as Truman's home in the movie. The movie contributed to a boom with new visitors wanting to visit Seaside. But the location fees paid by Paramount also helped provide some cool lasting legacies, such as funding the Seaside School.
Anyway, if you're interested when you visit Seaside, be sure to stroll by some of the filming locations. And then rent film for a movie night while you're there for fun.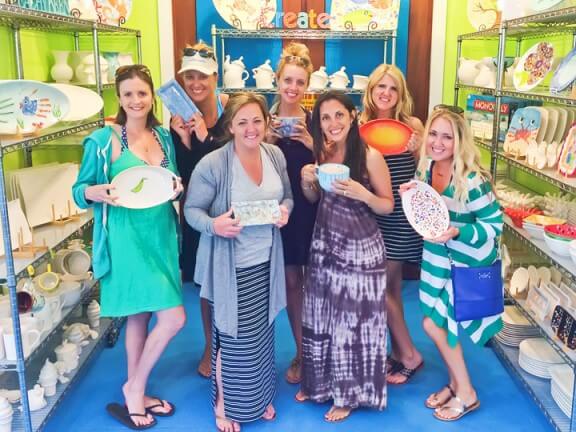 6. The Things To Do
I mean, I would totally understand if you just wanted to lay out on that beautiful beach all day long. :)
But if you're looking for things to do in Seaside, there are all sorts of great events and places to visit!
One of our favorites was the morning we spent at a paint-your-own pottery store called Fired Up, where we each created our own ceramic masterpieces. (Here was mine!)  The folks there as well could not have been nicer.
We also loved browsing around all of the various specialty shops and boutiques. (The Art of Simple and Central Square Records were two of my favs.)  You should also definitely consult the Seaside events calendar when you visit, as they have all sorts of great events (like Jazz On The Lawn) and a weekly farmers market to visit.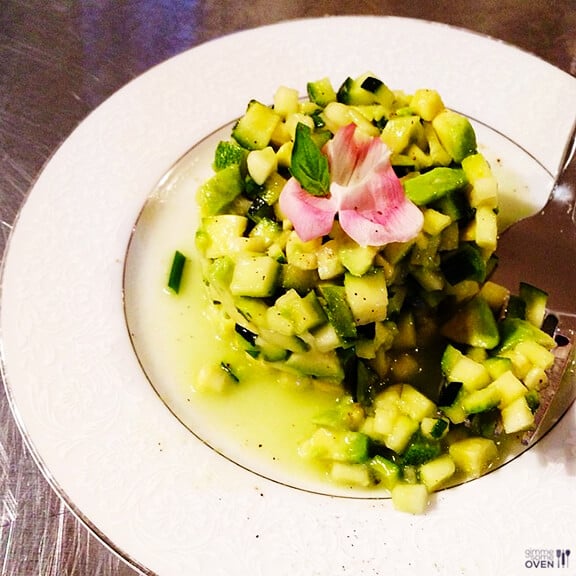 7. The Food (The Restaurants)…
But of course, I could not do this trip justice without talking about the food. Oh the food.
If you are a fresh seafood lover, this place will be paradise. And if you're not, there will still be an abundance of delicious and fresh Southern food you can enjoy.
Again, check out my Instagram feed to see some of the running commentary of meals we tried. But as for restaurants, these are my recommendations: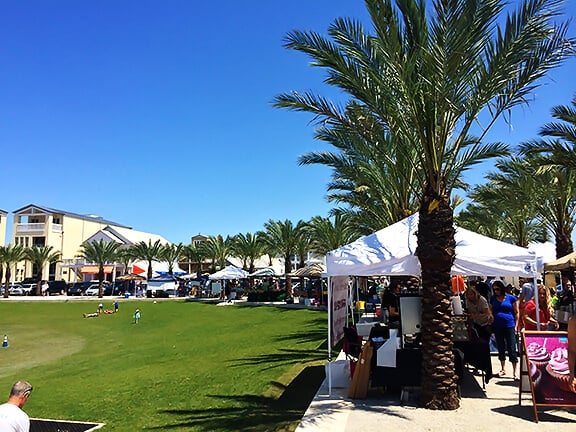 8. The Food (The Farmers Market)…
If you happen to be in Seaside over the weekend, you also must swing by the local farmers market!
The entire Central Square is lined with vendors sharing local everything with the town, from delicious foods to raw juices to beauty products to dog treats to local produce and so much more.
Some of the market vendors graciously set up a little sample table for us where we could taste some of the specialties, which were amazing. One of our group favorites though was from Crust Bakery — get ready for it — cronuts. Yes, they're a thing now.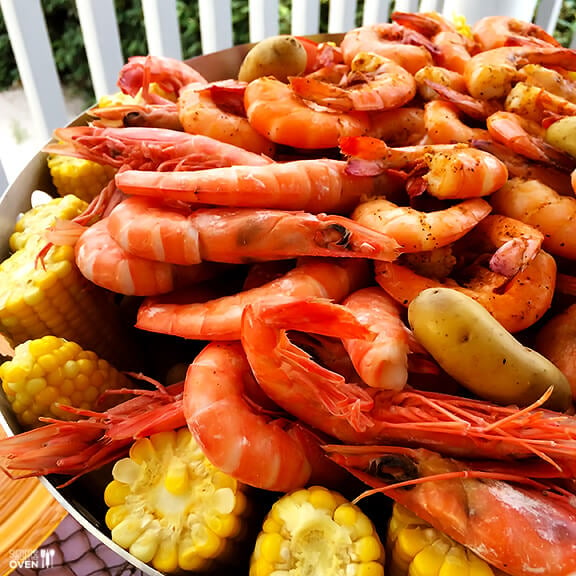 9. …And The Food!
Oh my goodness. Seriously, the food probably should have been half of this list, because clearly all we did was eat all day! But if I were to highlight my absolute favorite thing I ate in all of Seaside, it is this delicious shrimp boil up here featuring one of my new favorite kinds of seafood:
Deep Water Royal Red Shrimp.
These little guys apparently never make it to the Midwest, because I had never heard of nor tried them before. But as a shrimp lover, my ears perked up at The Shrimp Shack when Heavenly brought these out and told us we all must give them a try. It's hard to see, but they are the shrimp in this photo that are served with their heads still on and are twice the size of normal shrimp. (Don't worry, break that head off and it's over in half a second!)  And then once you peel and dip them in some butter, your tastes buds will do a double-take because they seriously taste like lobster!  GOOD lobster. And oh man, when served in a shrimp boil with other shrimp and corn and potatoes, and fresh oysters on the side, and pina coladas and all….well….let's just say this place is a non-negotiable on your list if you visit.
Heavenly, I'm coming straight there the next time I visit Seaside! :)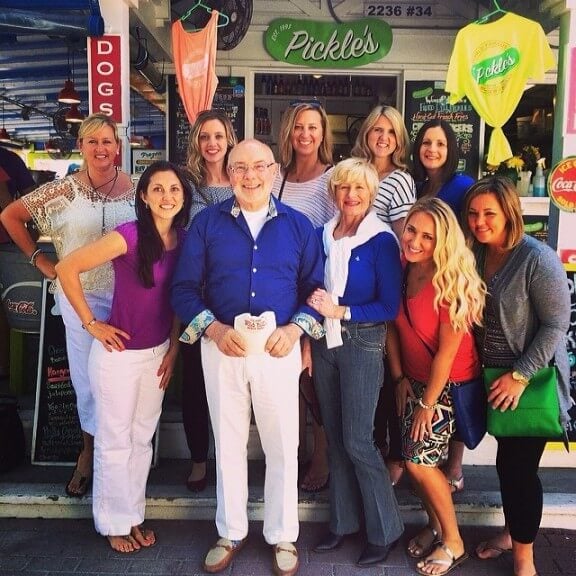 10. The Friends
Finally, I have to say that this place was made all the more wonderful and beautiful by getting to share it with a group of wonderful and beautiful friends. Pictured above, they include Gina (Skinny Taste), Heidi (Foodie Crush), Amanda (Kevin & Amanda), Jenny (Picky Palate), Maria (Two Peas & Their Pod) and Shelley (Cookies & Cups).
These girls are my virtual "coworkers", and it's not often enough that I get to actually see and spend time with them. So it was a complete treat to get to spend the weekend together for this "getaway", and catch up, and stay up late talking, and take early morning beach walks, and shop, and lay out, and solve the world's blogging problems together. :)
They really are one of the best parts about blogging, and I'm so thankful to have been able to share this trip and make so many great memories with them.
And to all of the wonderful new friends we met in Seaside (that's Bill and Heavenly up above!), big thanks to you as well for being so amazing. You make your town all the more beautiful, and it was an honor to get to meet you and be welcomed into this place you call home. I will definitely be back soon. :)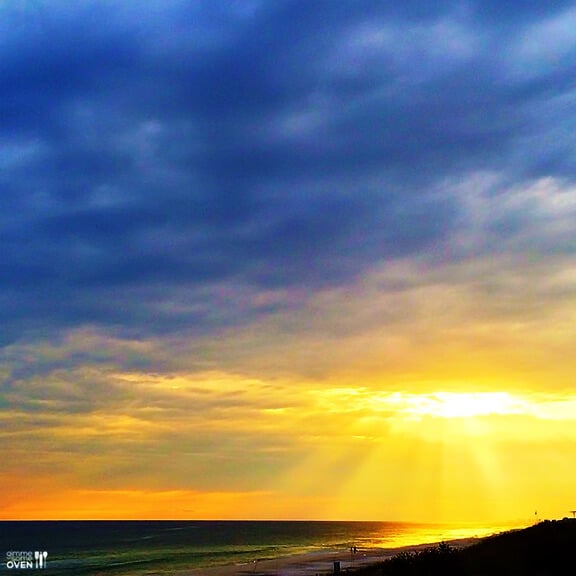 Until we meet again, Seaside!
Seaside Vacation GIVEAWAY!
So what do you think? Do you want to come to Seaside??
I thought so. ;)  So I'm thrilled that today we are partnering with Seaside and Cottage Rental Agency to send one of YOU lucky readers and your friends on your own 3 day, 2 night getaway to Seaside!! Here are the details:
The Giveaway Prize
One lucky winner will receive a 3-day, 2-night stay in a 3-bedroom Cottage (sleeps up to 5) from Cottage Rental Agency in Seaside, Florida.
How to Enter
Use the PromoSimple Widget below to enter.
Contest ends June 1, 2014 at 11:59 pm CST. Winner will be contacted via email.
*Lodging certificate valid 8/17/14 – 12/20/14. Subject to availability; not available during major holiday or major event weekends; additional restrictions may apply.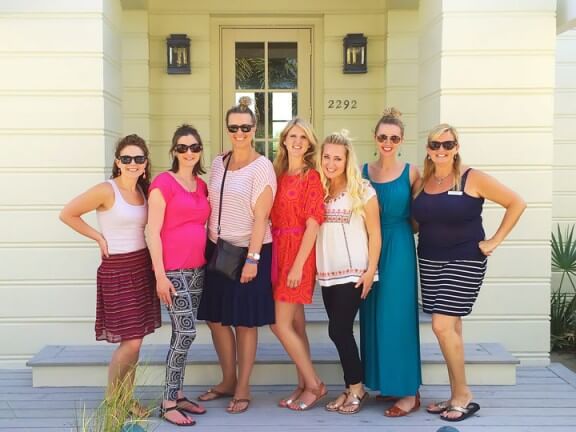 Good luck! And thanks for reading along!
Be sure to check out my friends' post roundups for more details as well: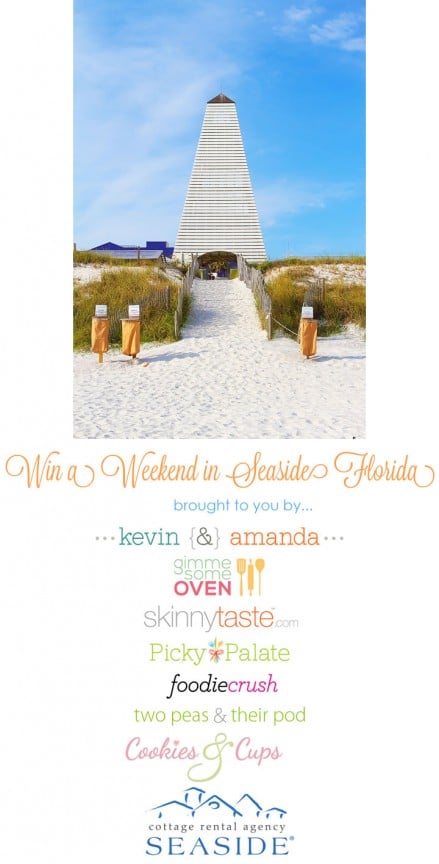 Disclaimer: This trip and giveaway were sponsored by Seaside and Cottage Rental Agency. All opinions are 100% my own as always. Many thanks as well to Amanda for use of some of her photos!