Shrimp, Avocado and Roasted Corn Salad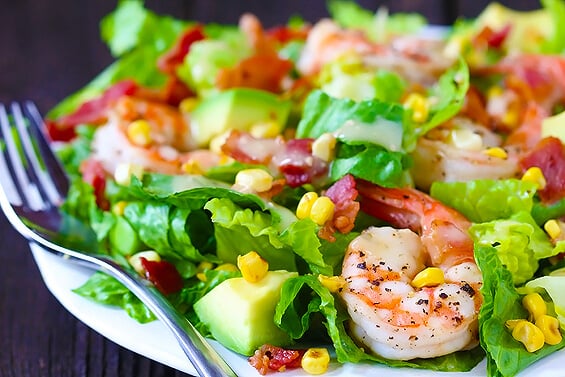 Any of you Instagram followers will know that I had the pleasure of spending last week in Iowa with a bunch of stellar farmers and bloggers learning all about…CORN!  Lots and lots and lots of corn!  It was a fabulous experience (which I will be telling you about soon in another post!).  But ever since then, I have been craving this salad I adore from one of my favorite local KC restaurants, Urban Table, that it sprinkled with the most delicious roasted corn.  They call it the "Shrimp Buena Terra Salad".  I call it…one of my favorite salads EVER.
Seriously.  I know that food bloggers are supposed to be all adventurous and everything, but this salad was the first dish I ever ordered there and I love it so much that I may have ordered it every time since.  SO GOOD.  So after a year, I finally decided I should try making it at home.  And I must say, my little homemade rendition seemed to be pretty spot on!
I did add use an avocado, and swapped the sun-dried tomato pesto they used in their dressing for some classic basil pesto I had at home.  (You can use whatever pesto you'd like!)  But otherwise, the ingredients were the same simple combo I've come to know and love.  The only bummer was that I totally forgot the cheese for the photographs and my meal, although the salad actually seemed to hold its own without it.  At Urban Table, they also grill the shrimp to give them a little extra char.  But since I live in a loft where grilling would be, um, "frowned upon", I just cooked the shrimp in a skillet in some of the leftover bacon grease.  Always a plus.  :)
So for any of you KC-ers who also love this salad, or for those of you around the world wide webospherenet who need to be introduced, I give you my version — a delicious "Shrimp, Roasted Corn & Avocado Salad" that I hope you will love as much as I do.  Thanks for the inspiration, Urban Table!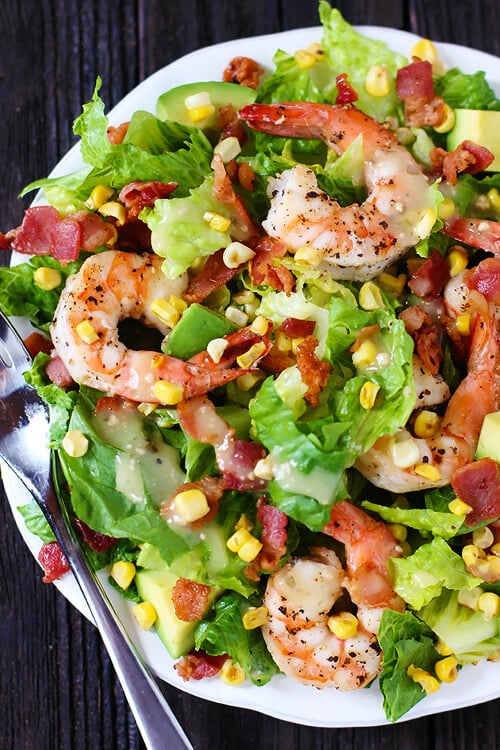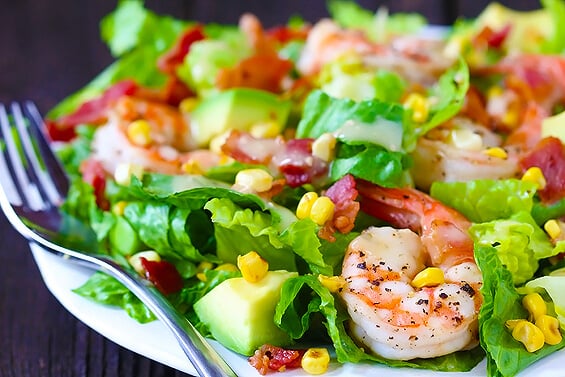 Shrimp, Avocado & Roasted Corn Salad
A favorite restaurant salad made at home!
Ingredients:
Salad Ingredients:
2 ears of sweet corn, shaved off the cob
3 strips of bacon, diced
1/2 lb. large shrimp, peeled with tails on or off
4 cups chopped Romaine lettuce
1 avocado, peeled, pitted and diced
1/3 cup grated Fontina cheese (optional)
buttermilk pesto dressing (see below)
Buttermilk Pesto Dressing Ingredients:
1/2 cup buttermilk
1/2 cup mayo or Greek yogurt
1/4 cup pesto, homemade or storebought
1 small shallot, minced
1 Tbsp. lemon juice
pinch of salt and pepper, to taste
Directions:
To Make The Salad:
Heat a skillet over high heat. Add the corn kernels and let them dry-roast for about 6-8 minutes, stirring occasionally, until their edges begin to brown and caramelize. Transfer the corn to a plate to set aside.
Reduce heat to medium-high. In the same skillet, add the bacon. Fry for about 6 minutes, stirring ocassionally, until crispy. Remove the bacon with a slotted spoon, leaving the grease in the skillet.
Add the shrimp and saute until cooked and pink, about 2 minutes per side (depending on the size of your shrimp). Remove shrimp and set aside. (You're now done with your multi-tasking skillet!)
Assemble your salads by tossing together the Romaine, corn, bacon, shrimp and avocado. Drizzle with dressing and serve.
To Make The Dressing:
Whisk together all ingredients until blended. Season with salt and pepper.
All images and text ©
If you make this recipe, be sure to snap a photo and hashtag it #gimmesomeoven. I'd love to see what you cook!