Skinny Slow Cooker Taco Soup
There seems to be a theme when I talk with friends (especially bloggers) about new year's resolutions this year: time management.
I know — what's new, right?
But this year, I'm one of 'em.  I wrote about it a little bit in my post about choosing a "word" for the year instead of a resolution.  But in a nutshell, my hope for these next few months is to figure out a plan for how to do less (meaning an actual 40 hour work week) in order to spend more time with the people in my life who I love.  And also to sleep.  I was guilty last year of getting way too little sleep, and frankly, it was ridiculous and I'm over it.  And I happen to be quite fond of my pillow.  And waking up after 7-8 hours of solid zzz's.
One of the tools I've been working with the last month of so that has really helped with daily planning is this cool productivity schedule from Storyline.  I especially love how it has you write out a "rest/reward" for the the biggest tasks you need to accomplish that day.  After trying it out for a few weeks, I've noticed that (for better or worse) I am apparently a little more food-motivated than I thought.  The prospect of a cup of my favorite hot tea or a trip to the coffee shop, a piece of chocolate after lunch, or even just a handful of blueberries are enough to get me plowing through a big project more quickly than usual.  (Yes yes yes, I know that if food's going to be the motivator, it needs to be at least mostly healthy.)
But I've also found that the prospect of having dinner ready to go after a workday is extra motivating, and really satisfying.  So since I've been trying out the productivity schedule, I've also been trying out new slow cooker recipes as a bit of a motivator to finish the workday (and then stop working).  And I'm loving it!!!  I mean, who doesn't love having your slow cooker prepare dinner for you?  But especially while I'm in the zone of trying to plan ahead and be more intentional with the hours in my day, having a pot of something delicious cooking all day is pretty much just the best.
So as we're continuing our healthy eating month on the blog, today I'm sharing another "skinny" recipe with you — my "Skinny" Slow Cooker Taco Soup.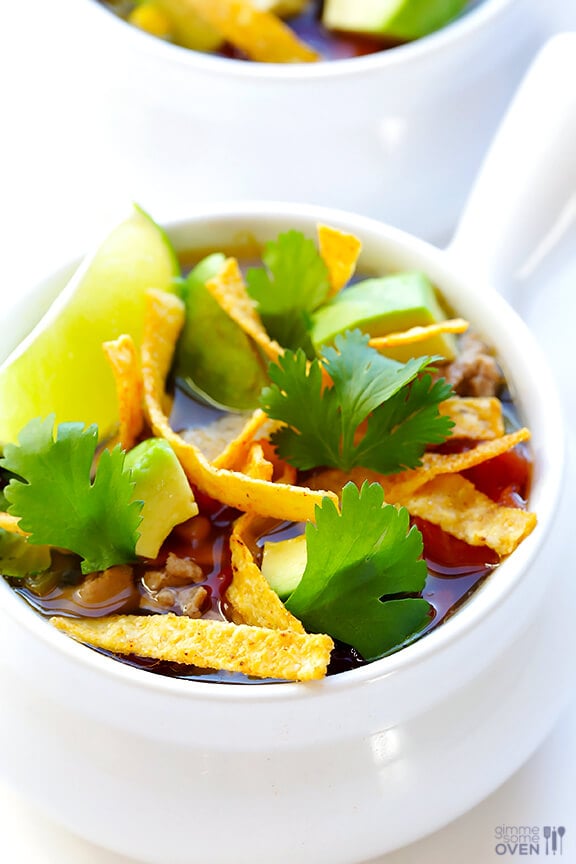 Ok, I don't know what lighting miracle happened, because I took these photos on the cloudiest, dreary day — which this soup was perfect for.  But hey, go camera go.  This taco soup was beautiful and delicious!!!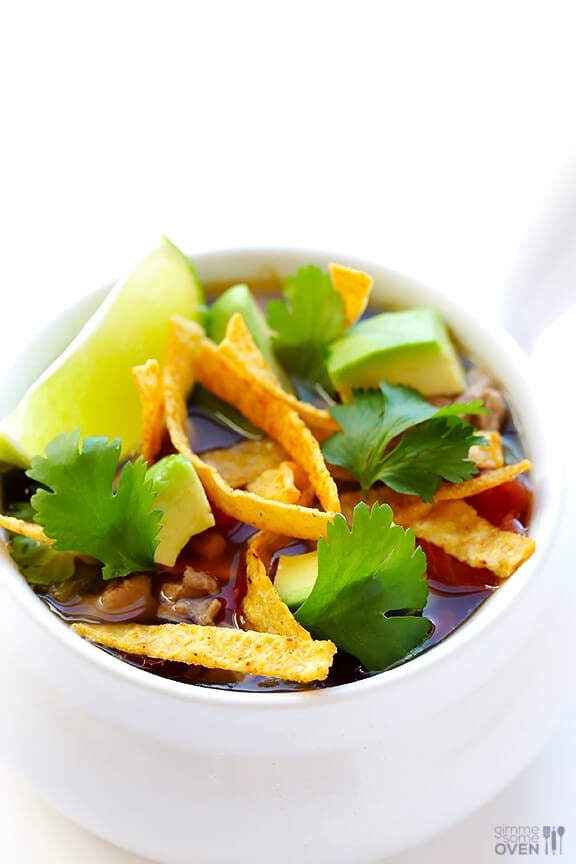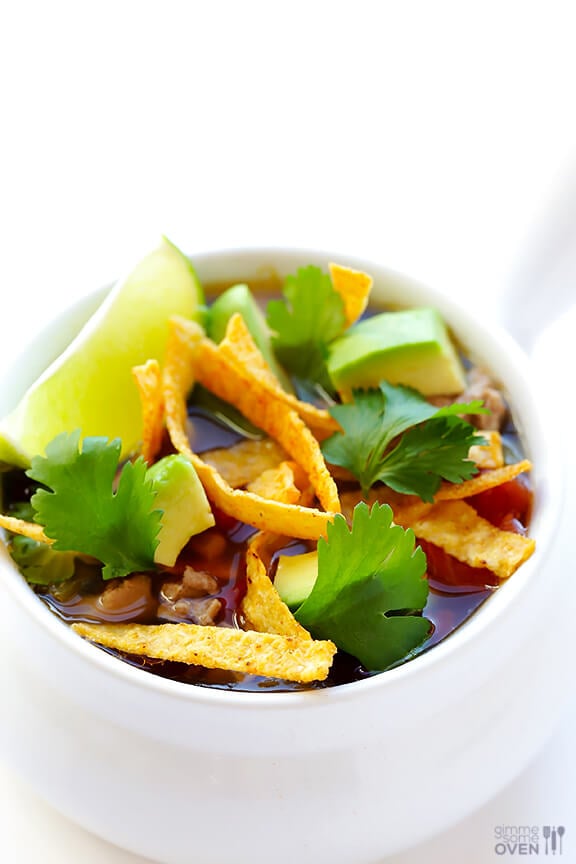 And it's also super quick and easy to prepare.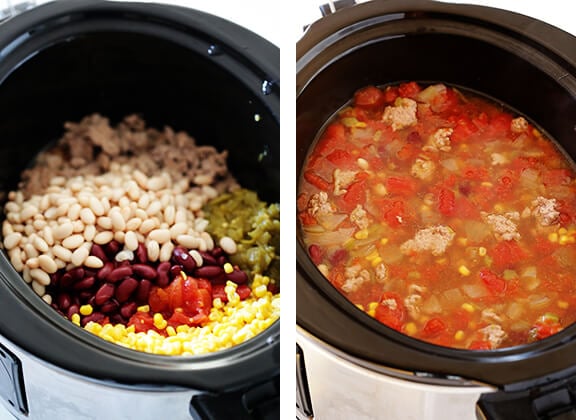 All that you have to do to prep this soup is saute up a pound of ground turkey or chicken (or you can add in some shredded chicken instead, or omit the meat completely if you want to go vegetarian/vegan).  Then dump in a bunch of cans of veggies and beans and seasonings.  Then let the slow cooker do all of the work until it's cooked and ready to serve.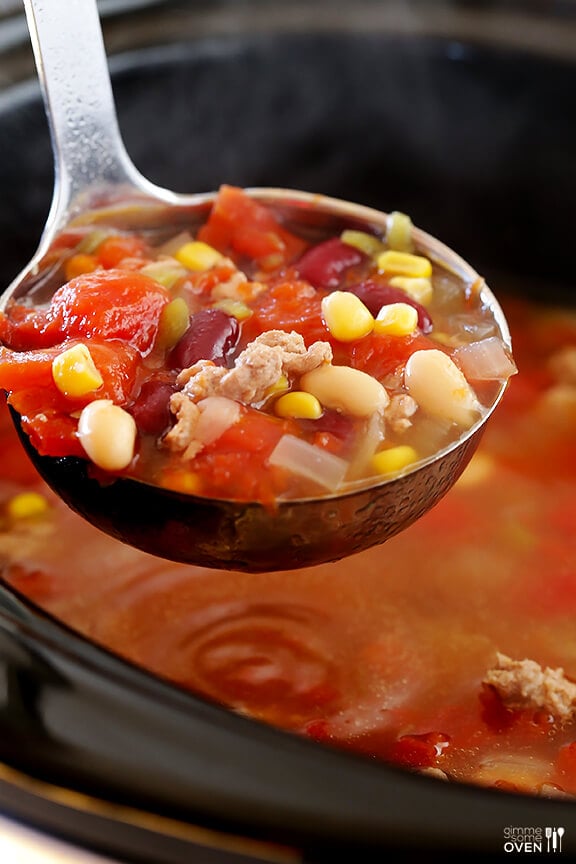 Just look at that deliciousness!
Add on your favorite toppings (in moderation please, since this is "skinny"!).  Then serve it and enjoy it, especially knowing that the quick preparation left you time to do more of the things you love.  You've gotta love that.  :)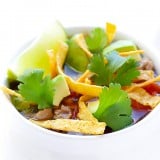 Skinny Slow Cooker Taco Soup
This "skinny" slow cooker taco soup is incredibly quick and easy to make, and the result is a delicious and healthier soup!
Ingredients:
1 Tbsp. olive oil
1 lb. ground turkey or chicken
4 cups chicken or vegetable stock
1 small white onion, diced
1 (14.5 oz) can diced tomatoes
1 (14.5 oz) can crushed tomatoes
1 (14.5 oz) can Great Northern beans, rinsed and drained
1 (14.5 oz) can red kidney beans, rinsed and drained
1 (11 oz) can whole kernel corn
1 (4 oz) can diced green chiles
1 (2.25 oz) can sliced black olives, drained (optional)
2 Tbsp. taco seasoning (**see below for substitution**)
toppings: tortilla chips (strips or crushed), diced avocado, light sour cream, fresh cilantro, lime wedges
Directions:
Heat oil in a saute pan over medium high heat until shimmering. Add ground turkey (or chicken) and saute until browned, breaking up chunks and stirring with a long spoon frequently, about 4-6 minutes. Drain, then add the meat to the bottom of a slow cooker.
Add remaining ingredients (except the toppings) to the slow cooker, and stir to combine. Cover and cook on high heat for 4 hours or until the onions are soft and translucent. Season with salt and pepper if needed. Serve warm with desired toppings.
*I do not recommend using taco seasonings with extra preservatives and unknown ingredients. If you do not have a trusted taco seasoning, you can substitute the following:
-1 Tbsp. chili powder
-1 tsp. garlic powder
-1 tsp. black pepper
-1 tsp. cumin
-1 tsp. salt
-1/2 tsp. paprika
-1/4 tsp. onion powder
All images and text ©
If you make this recipe, be sure to snap a photo and hashtag it #gimmesomeoven. I'd love to see what you cook!