Slow Cooker Chex Mix
Learn how to make awesome Chex Mix in the slow cooker with this easy recipe!  It's super easy, and always a crowd fave.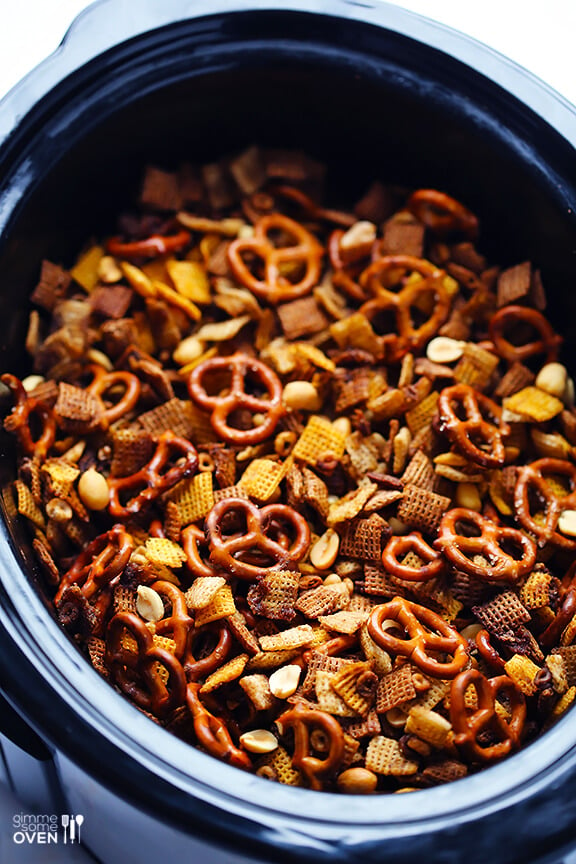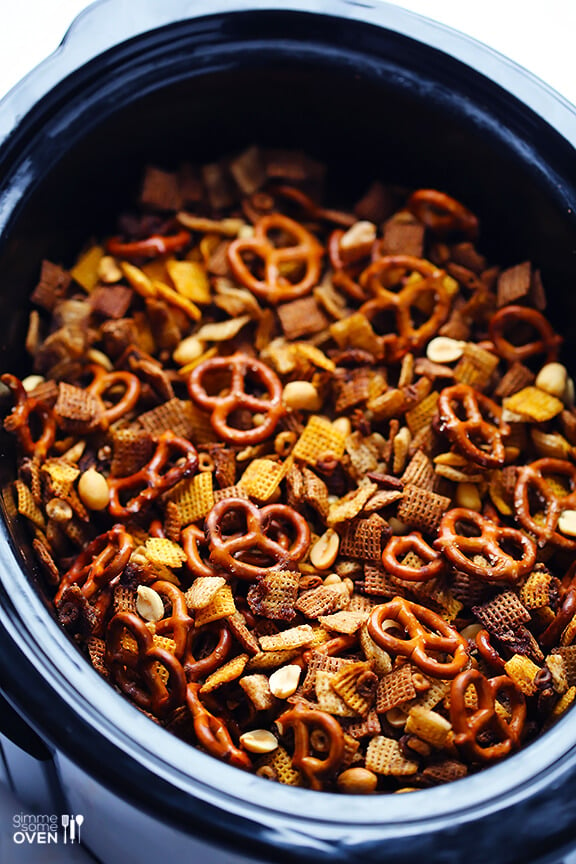 Have you ever heard of the Baader-Meinhof Phenomenon?
Well if you're like me, you have probably known exactly what it is, but never knew it had an official name.  Basically, it's what happens when That New Thing you just found out about suddenly seems to start showing up everywhere.  Like when I started researching buying a Prius, and I suddenly noticed every single Prius on the road.  Or when a friend recommended a new author to read, and suddenly I started hearing her quoted everywhere.  Or when I randomly picked up a pennywhistle at work and taught myself how to play it, and then realized it's hidden in way more popular songs than just the theme song to Titanic.  ;)
You know.
Well, call it Baaeder-Meinhof (or call it by its shorter name, "frequency illusion") or call it a simple coincidence, the same thing has been happening over the past month with slow cooker Chex mix.  It began when I saw a recipe for crock pot Chex mix out of the corner of my eye on Pinterest, and was immediately intrigued.  Then a week later, a friend brought a batch of sweet Chex mix to a party and announced that she made it in the slow cooker.  Then another completely different friend brought a batch to our neighbor night.  And then…well, then I was just craving Chex mix.
I've long been a fan of making my favorite Extra-Bold Chex Mix recipe in the microwave.  But this crock-pot method seemed too tempting not to try.  So I pulled out my slow cooker and decided to make a test batch.
And I've gotta say — speaking of phenomenons, it was quite phenomenal.  ;)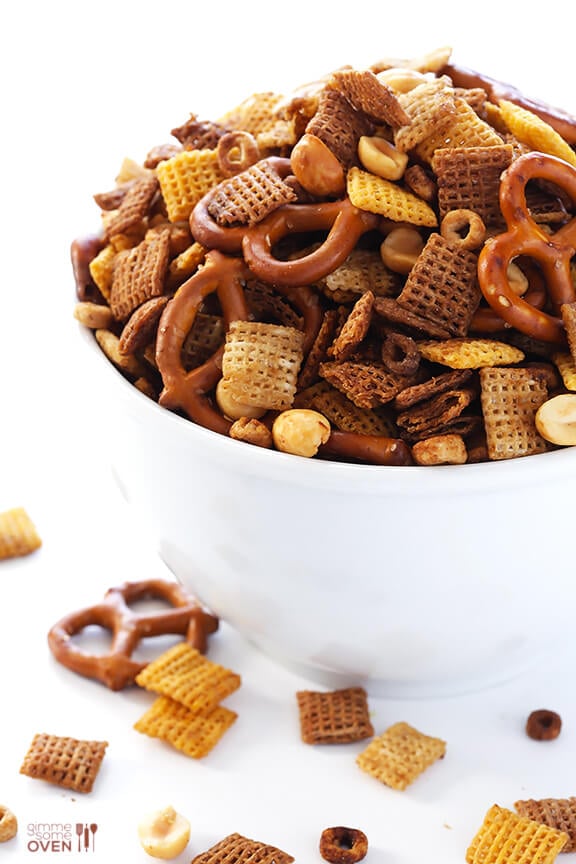 Actually, Chex mix has been a regular occurrence in my kitchen since before I even had my own kitchen.  I had the great luck of growing up with a mom who whipped up batches of the stuff for just about any occasion, and all of the cravings in between.  Our family loves Chex mix.
Although while I love the traditional recipe, I have to admit that I usually double or triple the seasonings.  I love my salt.  :)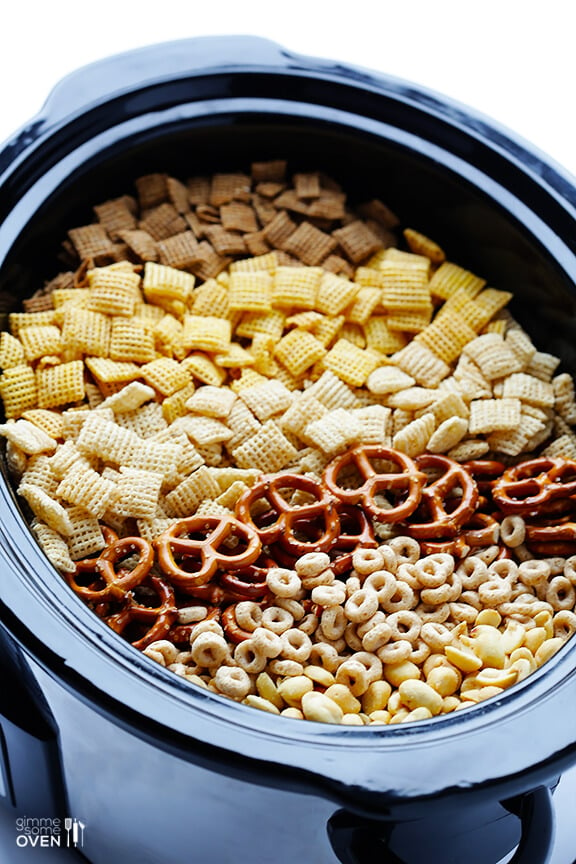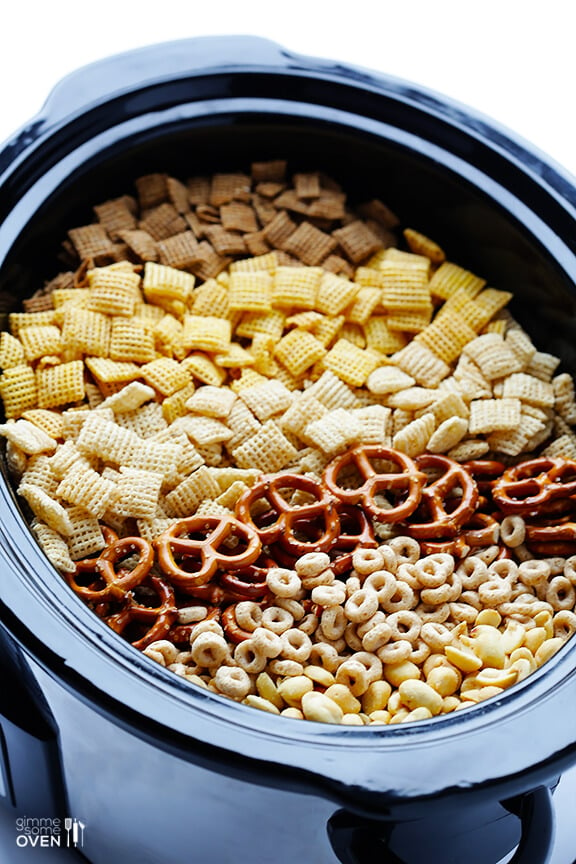 Still, while I have made Chex mix at least one or two hundred times in my life (no exaggeration), this past month was the first time I have ever made it in the slow cooker!
For my inaugural batch, I decided to go with the classic recipe using 3 kinds of Chex cereal (rice, corn and wheat), pretzels, Cheerios and peanuts.  I lined them all up just to show you, but obviously (and please), just dump 'em all in.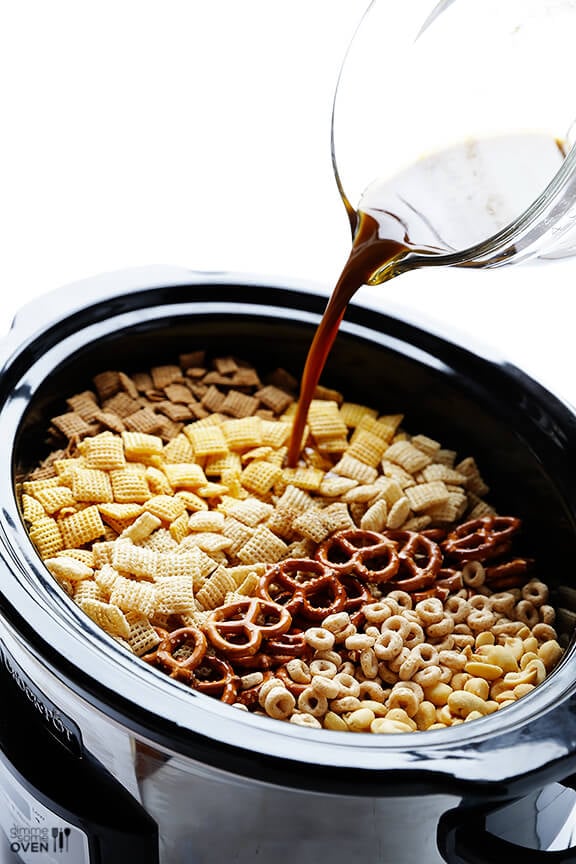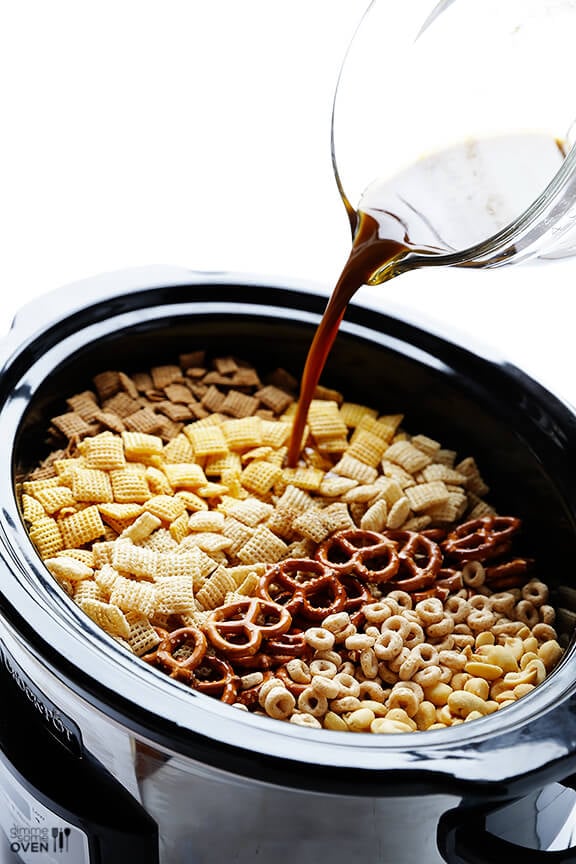 And then pour your seasoning evenly all over the top.  (I used the traditional mixture of melted butter, worcestershire, seasoned salt and garlic powder.)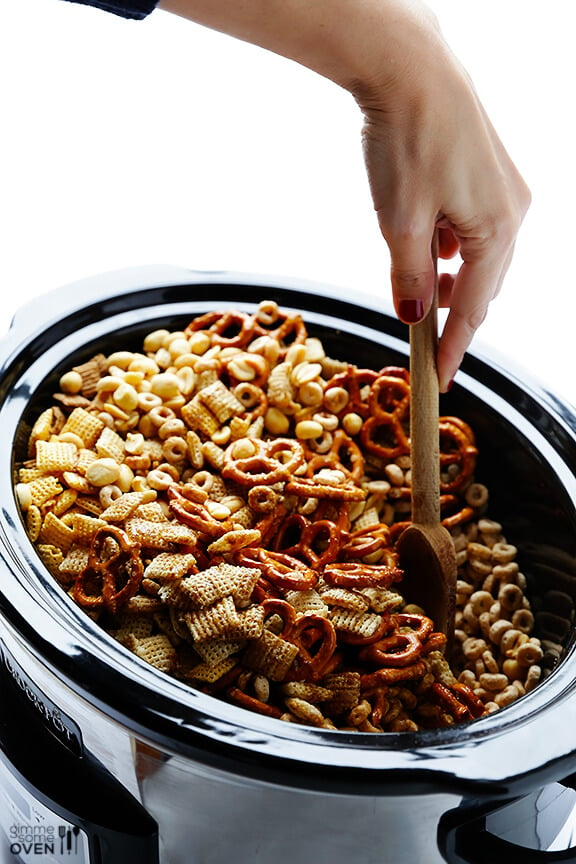 Then give it a good, gentle stir to toss everything together.  (I recommend using a rubber spatula in order to try and avoid breaking the cereal pieces.)  Then cover and let it cook on low for about 3 hours.  In order to prevent burning, you have to give it a stir at least once an hour, and probably twice in the final hour.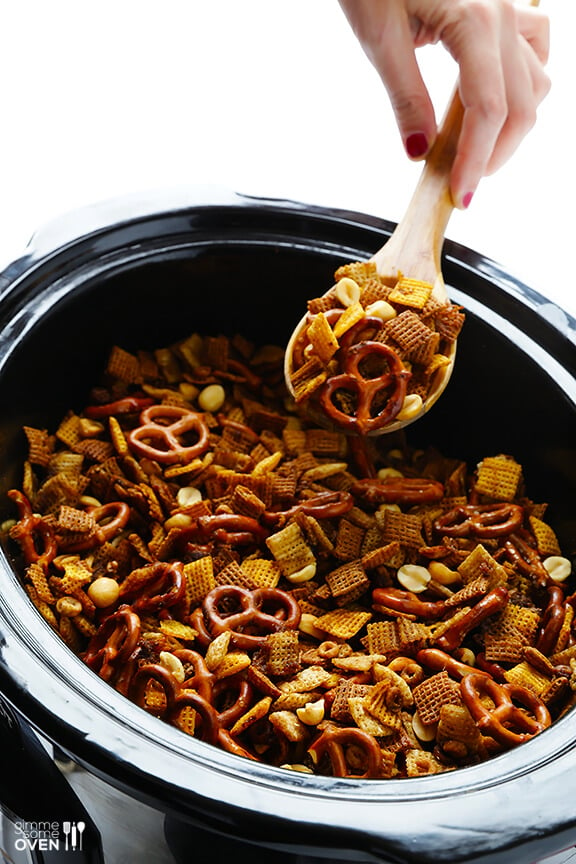 Then, sure enough, 3 hours later the Chex mix is cooked and ready to go!
You still have to spread it out on some baking pans (or my mom always just spread out parchment paper all over the countertops and spread out the mix there) to let it cool to room temperature.  But otherwise, the slow cooker (that's an affiliate link to the one I used) does all of the work for you.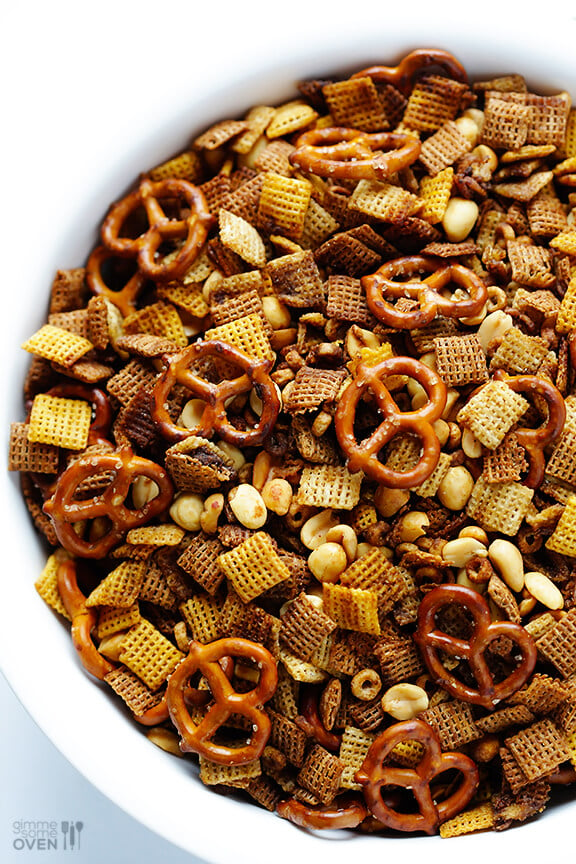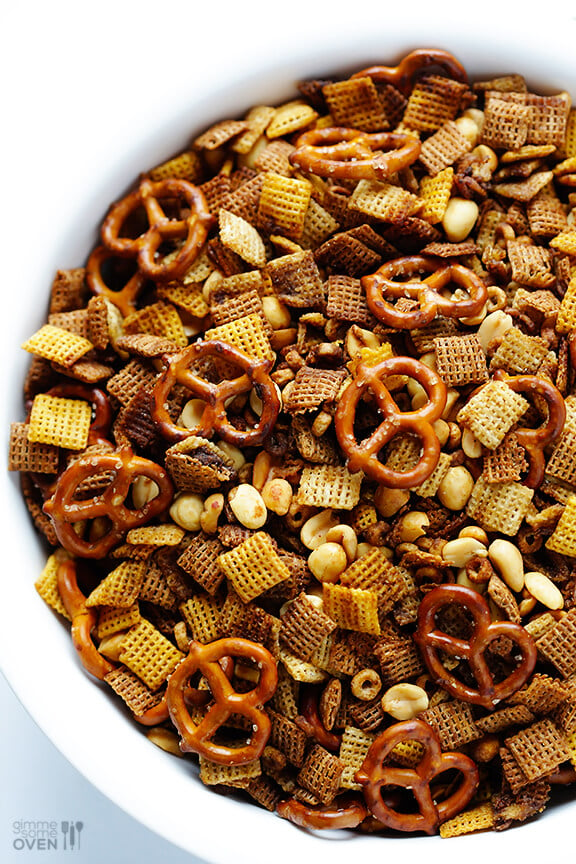 And oh man, this stuff is as irresistible as ever.  It's salty, crunchy, savory, and perfect for snacking.  (And snacking…and snacking some more.)
My mom and I usually sub in whatever random ingredients we have on hand — various cereals, cookies, crackers, or candies.  But the original recipe is a classic for a reason, and you can't go wrong with all of those Chex.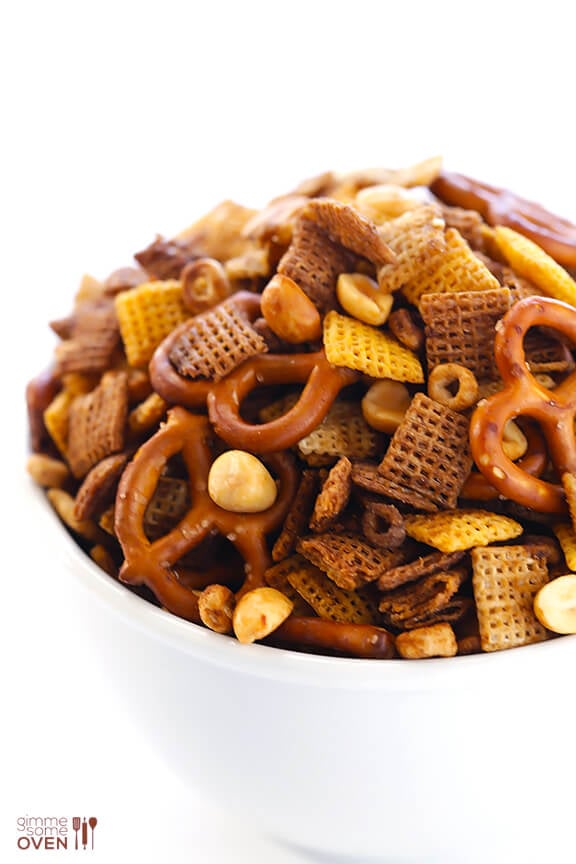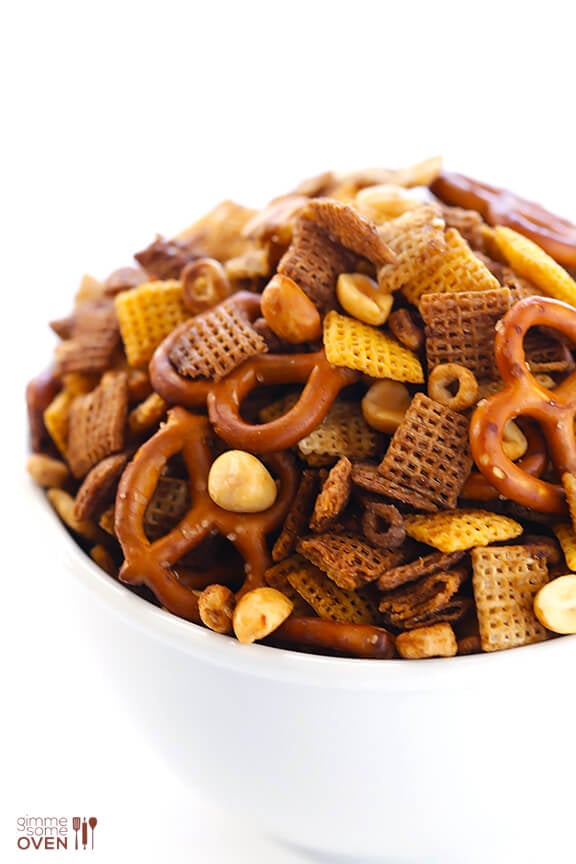 I will say, my biggest question was whether or not making Chex mix in the slow cooker would actually be any easier than the microwave or oven versions.  And to be honest, I don't think it's any easier.  Any of those versions require you to keep an eye on the cooking process and give the mix a stir every so often.  And the slow cooker version certainly takes the longest of the three methods.
But it does do a remarkable job of making your home smell like yummy Chex mix.  And if you happen to be hanging near the kitchen for a few hours — say, when you're cooking another meal, or having people over for a party or to watch the big game, it would be fun to try it in the slow cooker.  Or, you know, if you are just looking for an excuse to make another batch, it's definitely something that ever Chex-mix-lover should try.  ;)
So here's how I made it.  Enjoy!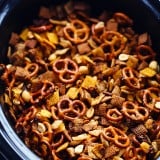 Slow Cooker Chex Mix
Did you know that your favorite homemade Chex Mix recipe can be made in the slow cooker? Give it a try!
Ingredients:
9 cups Chex cereal (I used equal parts corn, rice, and wheat Chex)
2 cups pretzels
1 cup Cheerios
1 cup peanuts
1/3 cup (6 Tablespoons) butter, melted and hot
1 Tablespoon seasoned salt
1/4 cup Worcestershire sauce
1 teaspoon garlic powder (optional)
Directions:
Add cereal, pretzels, cheerios and peanuts to the bowl of a slow cooker.
In a separate bowl, whisk together butter and seasoned salt until the salt is dissolved.  Stir in the Worcestershire sauce until combined.
Drizzle the sauce evenly over the top of the cereal mixture.  Toss for about 1 minute, or until the mixture is evenly combined.
Cover and slow cook on low for 3 hours,  stirring at the 1 hour, 2 hour and 2.5 hour marks so that the mixture does not burn.  Then spread the mixture out onto a few baking sheets or parchment paper in an even layer until it cools to room temperature.  Serve, or store in a sealed container for up to 3 weeks.
*If your slow cooker does not have a tiny hole in it to let air escape, it may collect too much condensation which could make the Chex Mix get too soggy.  If that is the case, another great method is to place a towel (or a few layers of paper towels) just under the lid of the slow cooker, to collect the condensation.*
*Legally, I have to mention that you do so at your own risk, as technically that could be a fire hazard.  But I've used that method for years with crispy slow cooker recipes, and have never had a problem.
All images and text ©
If you make this recipe, be sure to snap a photo and hashtag it #gimmesomeoven. I'd love to see what you cook!
This post contains affiliate links.