Slow Cooker Chicken Tortilla Soup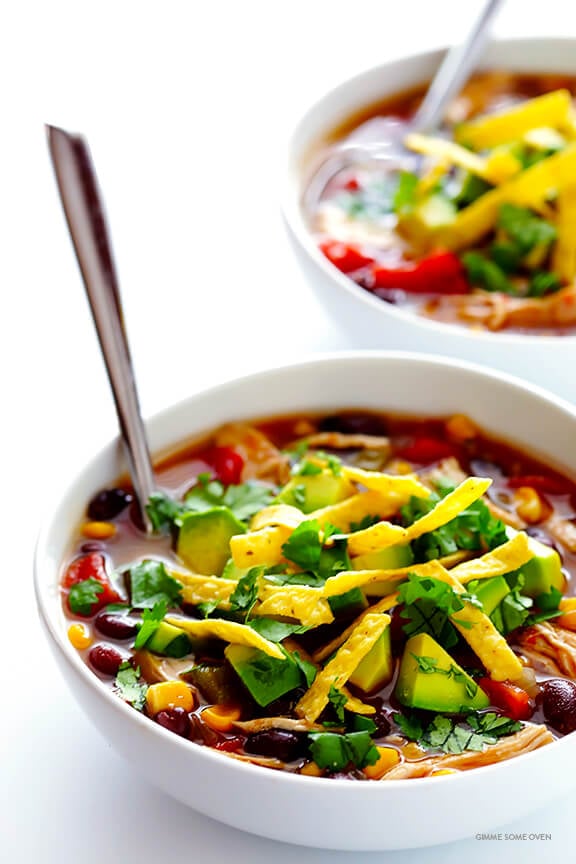 Oh my goodness…home.
After a month of back-to-back trips, it felt so amazing to finally arrive back home in Kansas City late Saturday night.  Well, make that Sunday morning.  Thanks to sleeping through our alarm and then getting stuck in epic traffic jams while driving through Smoky Mountain National Park (along with the rest of the world who apparently showed up that day to see the leaves changing), our 13-hour drive home turned into a 16-hour drive home.  But once we finally pulled into my parking lot at 3am, it didn't matter.  It just felt soooooo wonderful to be back home!
Of course, once I arrived home, I started to feel the weight of the to-do list of the 5 million things I needed to catch up on after a month away.  But I decided to stay in vacation mode for at least one more day and spend my Sunday doing all of the home-y things I had been missing.  You know…took a nice steamy shower in my own bathroom, enjoyed a mug of homemade coffee, took a lovely walk to church, finally got to hug a bunch of friends I had been missing at church, came home and took a mini-siesta with Henry in the afternoon, and then met up with Barclay and my parents who were in town for a cozy dinner at a neighborhood ramen shop that just opened, and then ended the day by catching up on the latest episode of The Good Wife on the couch with my favorite hot tea.
Mmmm, there's no place like home home.
Of course, after being out on the road without much time for cooking, I also couldn't resist spending at least a little time in the kitchen yesterday.  The fridge was looking a little empty for the busy week ahead.  So I decided to put my crock pot to use an make a big batch of soup that I could freeze and have on hand.  I had made a slow cooker version of my favorite Rick Bayless-inspired tortilla soup a few weeks ago that turned out well.  So since I still had some pasilla peppers on hand (the rockstar ingredient of this recipe!), I decided to slow cook another batch for the week ahead.
As soon as those savory smells started filling my loft, it really felt like home.  :)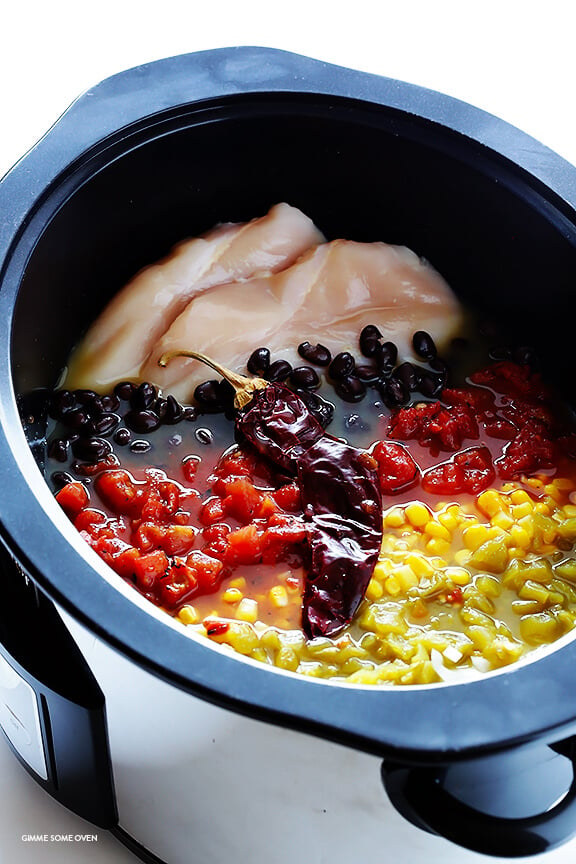 I mean, let's be real, I always feel at home when Mexican food is around.
But there's something about a big pot of soup simmering in the kitchen for hours and hours, and filling the house with the most delicious smells, that is just the best.
And when it comes to tortilla soup recipes, this easy recipe is one I consider to be the best I've found.
It's incredibly easy to make, with just about 10 minutes of prep time required (mostly just chopping veggies and tossing all of the ingredients in a crock pot).  It is always incredibly popular when I serve it to a crowd, especially considering that it's also naturally gluten-free.  But more than anything, I just find it incredibly delicious.
For sure, everyone has their own opinions when it comes to what makes a perfect tortilla soup.  But years ago, I learned a little tortilla soup secret from Rick Bayless that was a game-changer for me — dried pasilla chile peppers.  Also known as "negro" or black chiles, these tasty little guys are absolute gold in tortilla soup.  They bring the most rich, deep, earthy, delicious flavor to the soup.  And since they're naturally pretty mild, you don't need to worry about the soup being too spicy.  (Although if you love some heat, I'd recommend also adding in a jalapeno or a serrano or two, which pair well with the pasilla chiles.)
I like to just lay a pasilla pepper or two on top of the other ingredients to let it flavor the soup while it cooks, and then pull it out and discard it afterwards.  But you can also remove the stem and dice it and cook it right into the soup.  Or in Mexico, it's also traditional to mince up the dried pasilla peppers and sprinkle the flakes on top of the soup when serving.  Whatever sounds best to you.
Pasilla chile peppers should be available in the dried Mexican peppers sections of most grocery stores.  But if you can't find them, don't worry.  You can also sub in a dried ancho chile pepper (which will be a little more sweet) or a dried Mulato chile (which will be a little more earthy).  If your grocery store doesn't carry either of those, you can also just substitute in a few teaspoons of good-quality chile powder, but the dried chiles are by far my favorites to use in this recipe.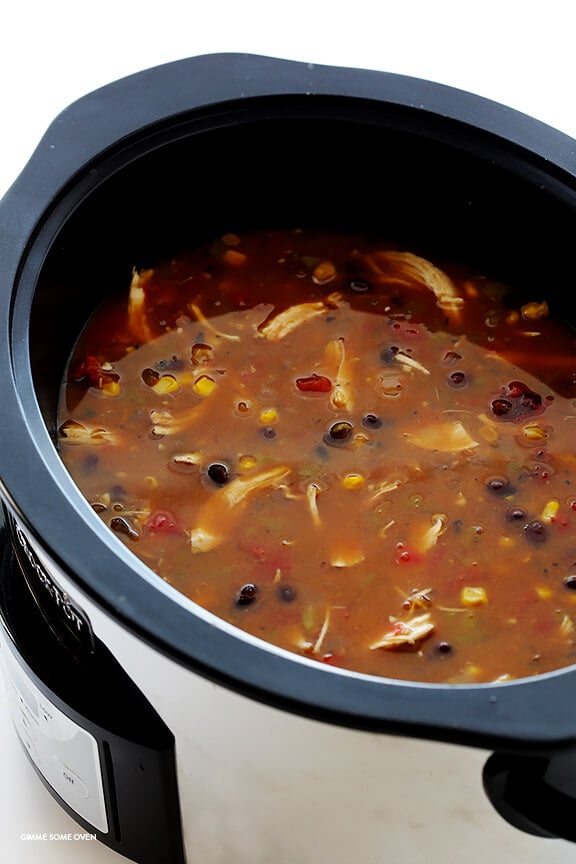 Then once the soup has cooked and is ready to go…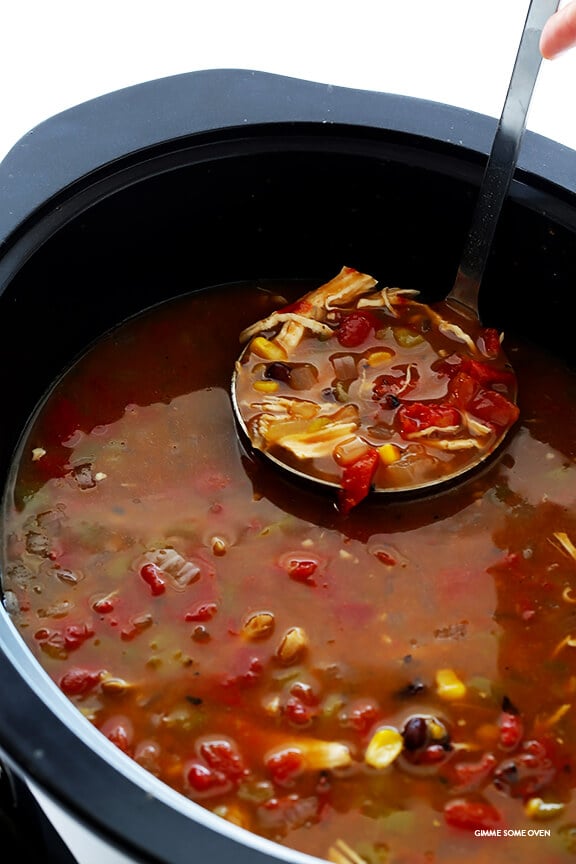 …just ladle it up…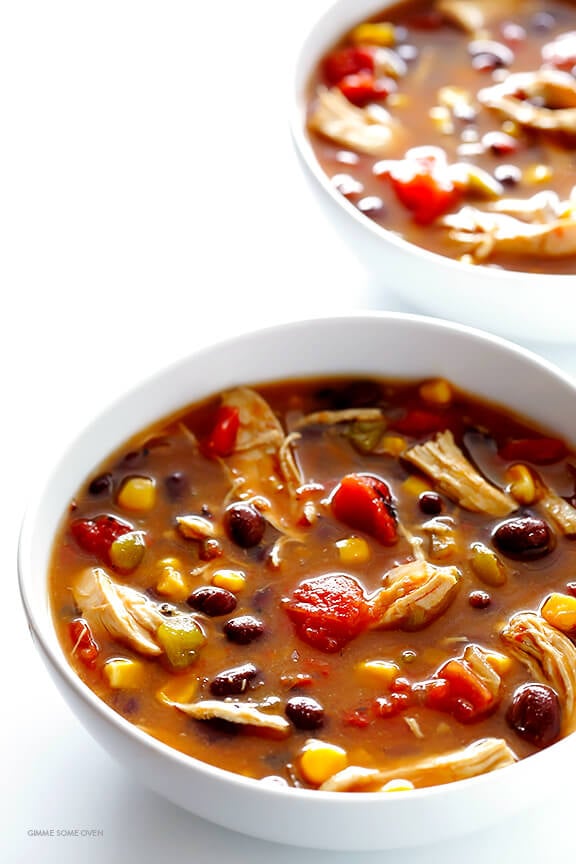 …and either serve it as is…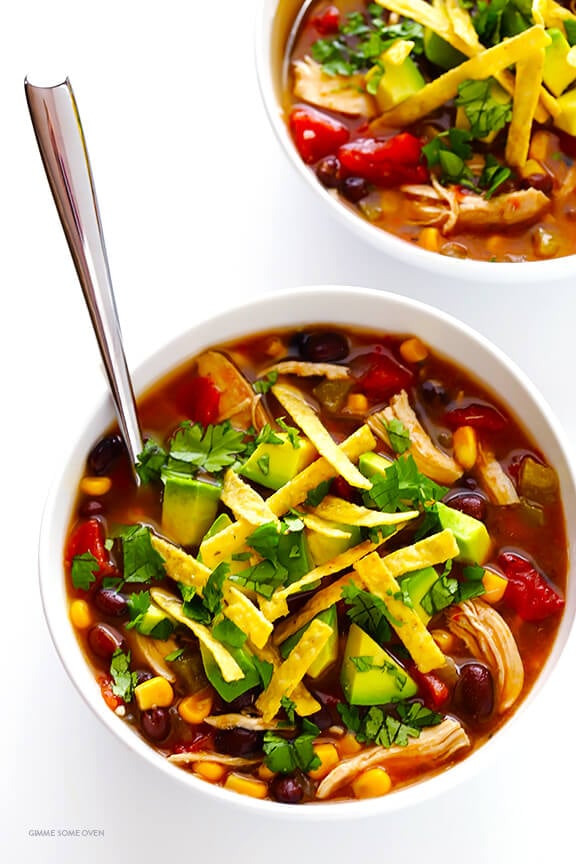 …or top it with any of your favorite toppings.  Just be sure to add in some sort of tortilla chips or strips to honor its namesake.  ;)
Enjoy!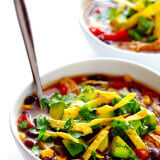 Slow Cooker Chicken Tortilla Soup
This Slow Cooker Chicken Tortilla Soup recipe is simple to make, naturally gluten-free, and SO flavorful and delicious!
Ingredients:
2 boneless skinless chicken breasts (about 1 pound)
4 cups good-quality chicken stock
2 (14-ounce) cans black beans, rinsed and drained
1 (14-ounce) can fire-roasted diced tomatoes, with juice
1 (15-ounce) can whole-kernel corn, drained
1 (4-ounce) can diced green chiles
4 cloves garlic, minced
1-2 dried pasilla (negro) chile peppers*
1 white onion, peeled and diced
2 teaspoons ground cumin
1 teaspoon salt, or more/less to taste
fresh lime wedges
optional garnishes: chopped fresh cilantro, diced avocado, diced red onion, shredded cheese, sour cream, tortilla strips/chips
Directions:
Add all ingredients to a slow cooker, and stir to combine. Cook for 3-4 hours on high heat or 6-8 hours on low heat, until the chicken is cooked through and shreds easily. Use two forks to shred the chicken.  Remove the pasilla chile(s), and discard.
Serve warm with a squeeze of fresh lime juice, and topped with optional garnishes if desired.
You can also refrigerate this soup in a sealed container for up to 4 days. Or freeze it for up to 3 months.
*If you can't find pasilla/negro chiles at the store, you can substitute in 1 ancho chile instead (which is a bit sweeter) or 1 Mulatto chile (which is a little earthier) or 2 teaspoons chile powder (feel free to add more/less to taste).
The type of chili you use will be one of the main ingredients to flavor the broth, so feel free to use whatever sounds (and smells) best to you.
All images and text ©
If you make this recipe, be sure to snap a photo and hashtag it #gimmesomeoven. I'd love to see what you cook!