Slow Cooker Curried Lentil Soup
This Slow Cooker Curried Lentil Soup recipe is quick and easy to prep, made with feel-good ingredients, and full of the best curried flavors!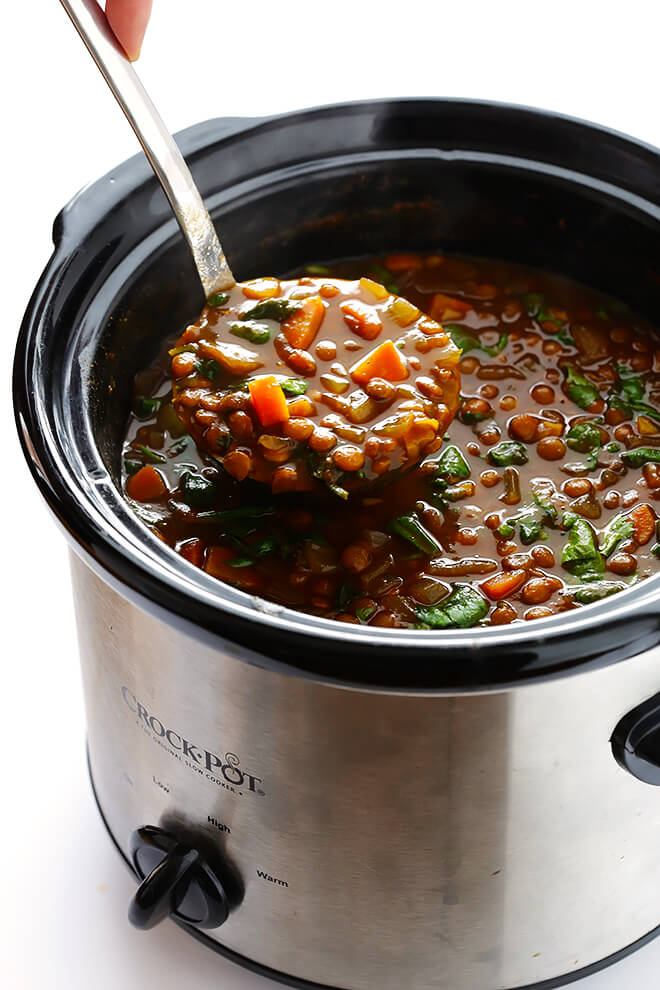 Last Monday was a lentil soup kind of Monday.
It was rainy and gray and chilly here in Kansas City, I was bustling around all day running 2.5 million errands trying to get ready to leave the country the next day (yep, I'm still adventuring around Korea and Japan, you can follow along here!), and I was in major Let's-Clean-Out-The-Fridge-Before-Being-Gone-For-Three-Weeks mode.  Oh, and I really wanted to bring some food over to a friend who was in the throes of wedding week, figuring that her life was even crazier that day than mine.  She happens to be a vegetarian, and I happen to have been tinkering with various lentil soup recipes this fall.  So it seemed like this soup was downright meant to be.  ♥
Since I was out and about most of the day, I decided to just toss everything in the crock-pot instead of hovering near the stove stirring for an hour.  And sure enough, once I returned from my rain-soaked errands all over the city, the most heavenly smelling pot of soup was waiting for me all ready to go.  I just stirred in some chopped spinach and lemon juice to brighten things up, sprinkled a ton of fresh cilantro on top, and voila — dinner was served.
Oh, and then I took a second batch over to my friend, Kara's, so that dinner could be served for her (well, sometime that week) too.
Totally hit the spot all around.  Lentil soup FTW!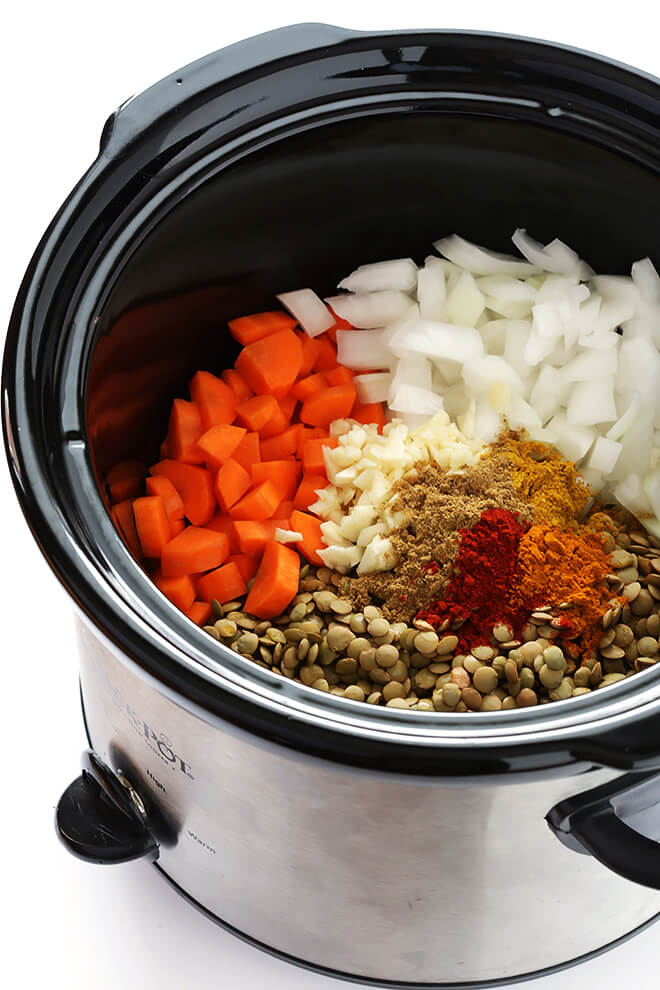 Now if you aren't into slow cooking, you're totally welcome to transition this recipe to the stovetop.  But the crock-pot version literally could not be easier, so I totally recommend it if you happen to have one.  Simply dump all of your ingredients (minus the last four) in the crock-pot, and give them a good stir.  Then let the crock-pot work its magic for 4-5 hours on high, or 6-8 hours on low.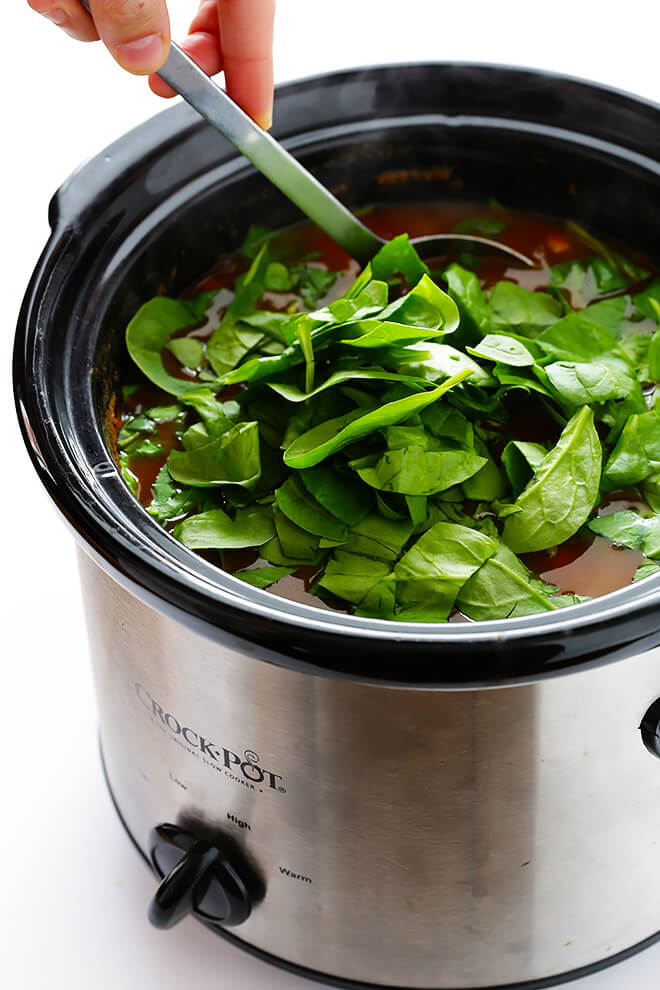 Then once those lentils are nice and tender, stir in a bunch of chopped leafy greens.  (Spinach, kale, or collards would all work well here.)  Sprinkle in lots of fresh lemon juice, to give it a zippy kick.  Season everything generously with salt and pepper to taste, also adding extra spices if you'd like.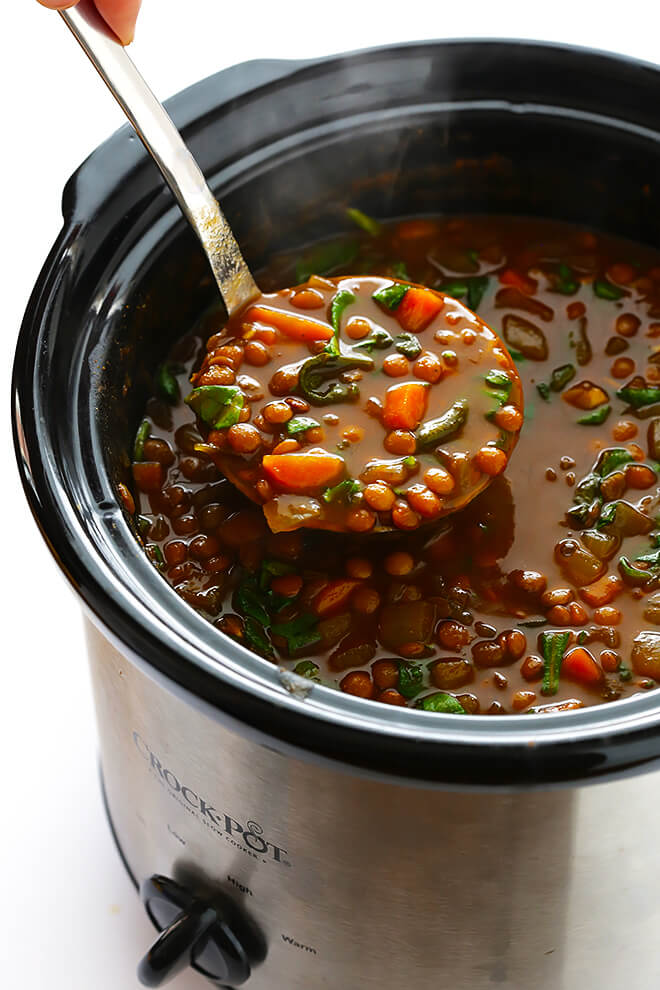 Then dish it up!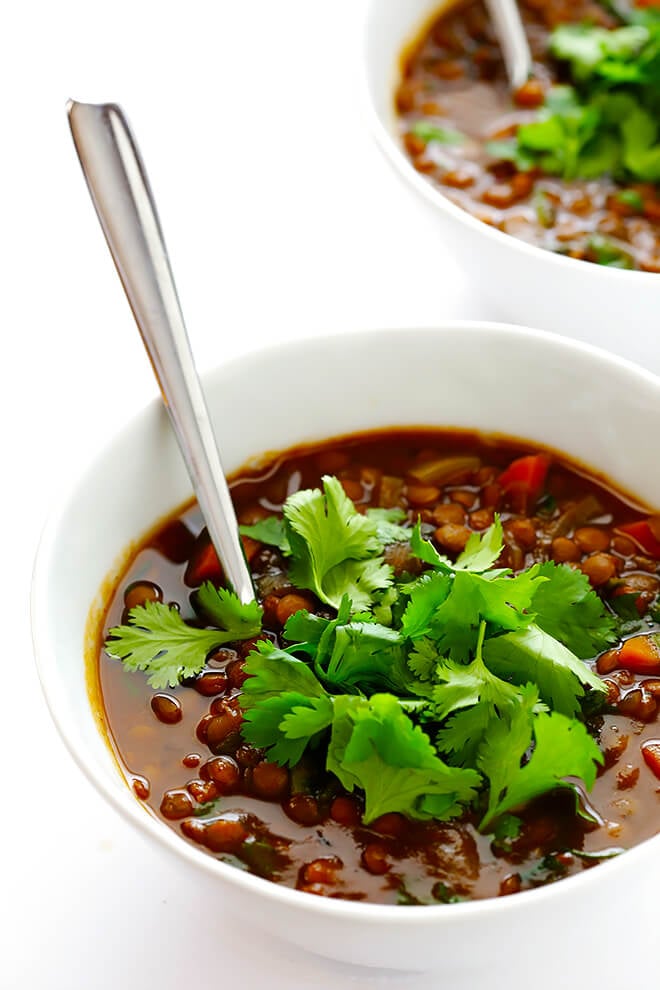 I like mine served with a generous handful of chopped fresh cilantro on top.  But a dollop of plain yogurt or sour cream would also be yummy, as would some extra lemon juice sprinkled on top.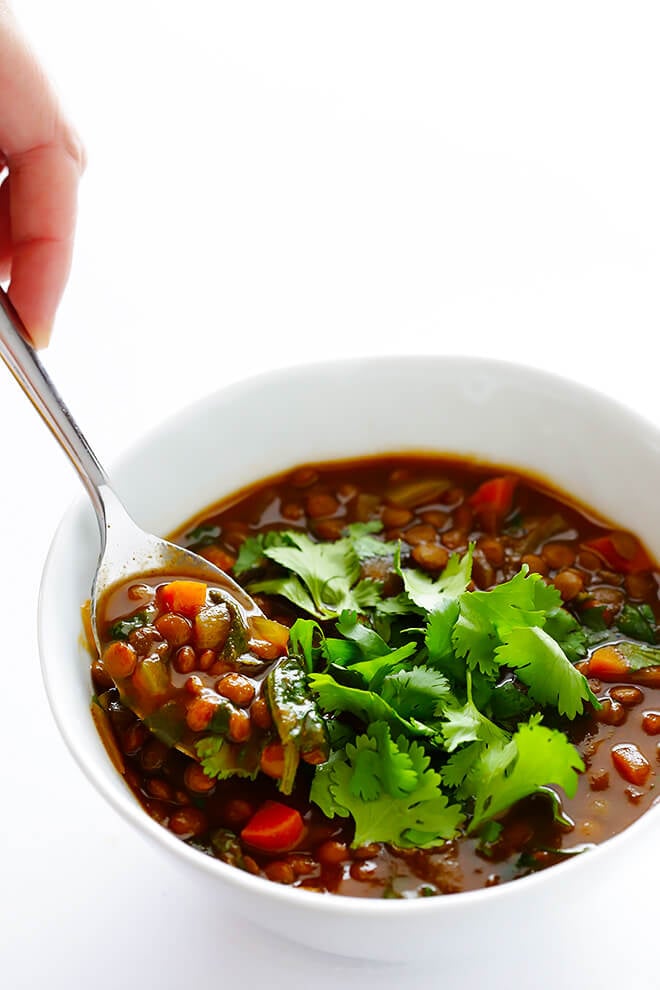 Seriously, SO GOOD, and thanks to the slow cooker, also SO EASY.
So if you happen to love good curried lentil soup, be sure to bookmark this one to have your own lentil soup kind of day.  :)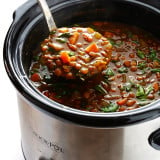 Slow Cooker Curried Lentil Soup
This Slow Cooker Curried Lentil Soup only takes about 10 minutes to prep, then let the crock-pot do the rest of the work to make this delicious, healthier vegetarian comfort food.
Ingredients:
4 cloves garlic, peeled and minced
2 large carrots, peeled and diced
1 medium white onion, peeled and diced
6 cups chicken or vegetable stock*
1 1/2 cups uncooked green or brown lentils, rinsed and picked over
1 tablespoon Madras curry powder**
1 teaspoon garam masala
1 teaspoon ground cumin
2 bay leaves
2 cups roughly-chopped baby spinach
3 tablespoons lemon juice, plus extra lemon slices for serving
salt and pepper
chopped fresh cilantro leaves, for topping
Directions:
Add the garlic, carrots, onion, stock, lentils, curry powder, cumin, and bay leaves to the bowl of a 4-quart or 6-quart slow cooker, and stir to combine.
Cook on high for 4-5 hours or on low for 6-8 hours, until the lentils are tender.
Stir in the baby spinach and lemon juice until combined.
Taste, and season with salt and pepper to taste.  (I used about 1 teaspoon salt and 1/2 teaspoon pepper, but the saltiness of the soup will vary based on your type of stock.)
Serve warm, garnished with lots of chopped cilantro and extra lemon slices, if desired.
*If you're making this soup vegetarian or vegan, go with vegetable stock.  ;)  Also, if you want to make this gluten-free, double-check and be sure that all of the labels on your ingredients are certified gluten-free.
**I highly recommend using Madras-style curry powder for this recipe.  It adds a little extra heat, which I love.  (I used this brand, which I recommend.)  Also, if you're new to making curried dishes and aren't familiar with these spices, feel free to wait and add them in at the very end, and just add a teaspoon or so at a time until it tastes good to you.
All images and text ©
If you make this recipe, be sure to snap a photo and hashtag it #gimmesomeoven. I'd love to see what you cook!