Slow Cooker Mashed Potatoes
Learn how to make delicious and creamy mashed potatoes in the crock pot with this delicious Slow Cooker Mashed Potatoes recipe.  It only takes a few minutes to prep, and it's always a crowd favorite. :)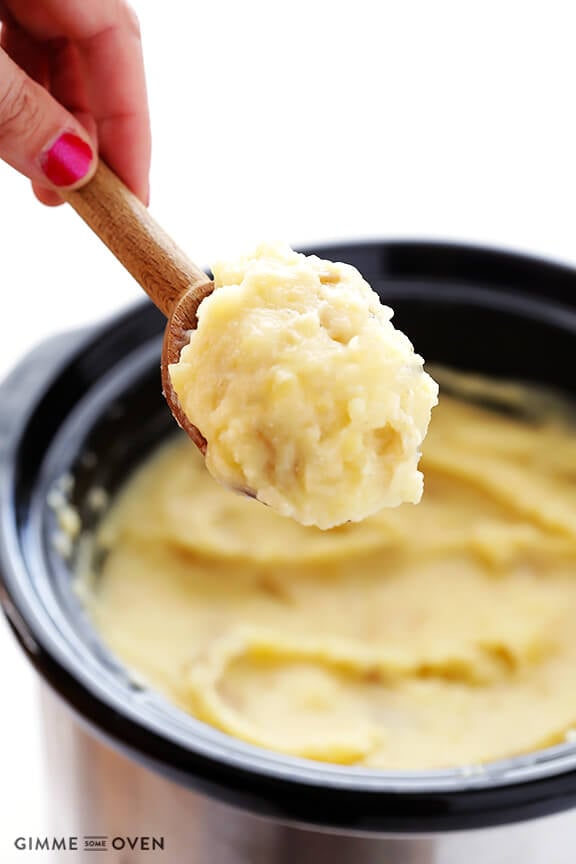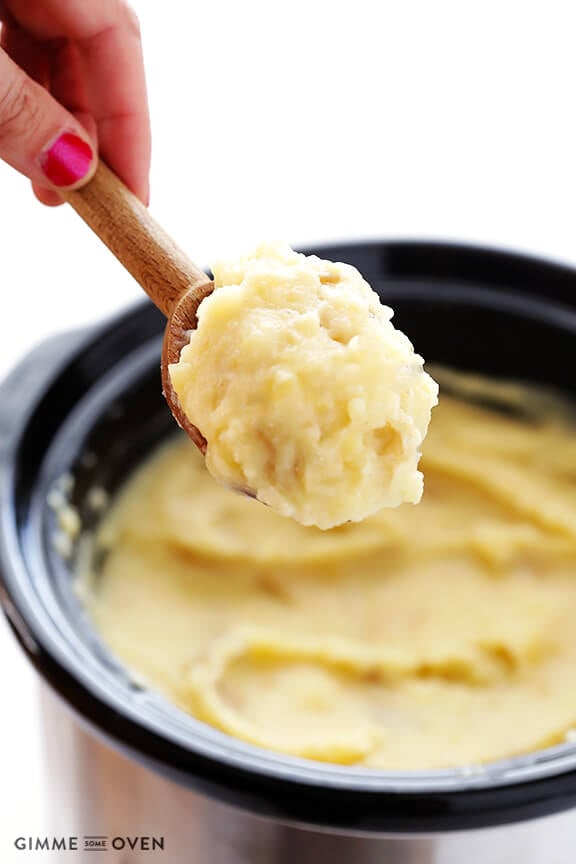 Sometimes I wonder if I love my slow cooker a little too much.
Well, actually I have three of them, since I seem to have developed a love of slow cooker entertaining with all three going at once.  And I love all of them equally very very much, just as you do with children, ahem, slow cookers.
Seriously, though, I am totally that sentimental cook who often has a little "moment" with my slow cooker.  Especially when I come home to a house that smells so yummy after being gone all day, and then I peer through the glass lid past the condensation, and see that my food has somehow already been prepared for me?!  I know the technology is nothing new, but I have to say, it feels just a tiny bit like magic.  And if I think about all of the past generations — or more importantly, the millions of people around the world today — who don't have access to this little modern miracle?  Well, it actually very genuinely makes me thankful for the gift of slow cooked food.  And it makes me want to slow down and make the most of those extra moments I don't have to stand in front of a stove cooking my food (like, you know, that big holiday that's just around the corner).
And when delicious, creamy, couldn't-be-easier-to-make slow cooker mashed potatoes like these ones are involved, it makes me want to dive IN.
Slow Cooker Mashed Potatoes Recipe | 1-Minute Video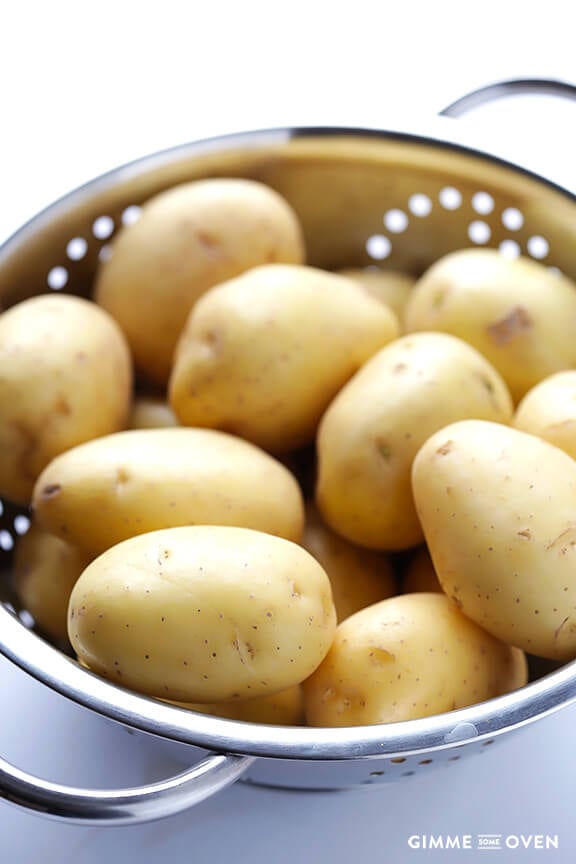 Oh man, slow cooker mashed potatoes seem to be "the thing" this year.  Just in the past few weeks since I photographed these, I have seen no less than five more recipes for them pop up on Pinterest!  There's a good reason for the buzz, though.  These slow cooker mashed potatoes are perfection!!!
You can customize them just about however you'd like.  But leave the basics to your slow cooker, and I promise it won't let you down.  Here's how to make 'em:
Begin by chopping up your potatoes and tossing them in the slow cooker.  I'm a big fan of using Yukon gold potatoes for the ultimate in buttery, creamy, mashed potato deliciousness.  Add some chicken or vegetable broth, about 4 tablespoons of butter (cut into small pieces), and a few cloves of minced garlic on top.  Then cover it and let your slow cooker work its magic for about 4 hours on high heat.
Then mash it all up.  You can either do this by hand with a potato mixer, or use a handheld electric mixer.  I prefer mine to be slightly chunky, so I do it by hand.  (Also, heads up, if you use the electric mixer be very careful not to over-beat the potatoes.)
Stir in some Greek yogurt (or sour cream), salt and pepper.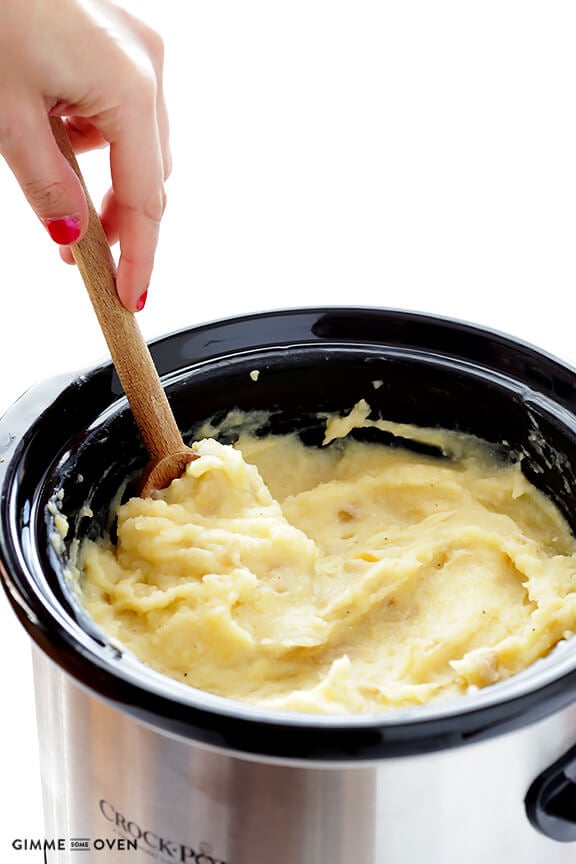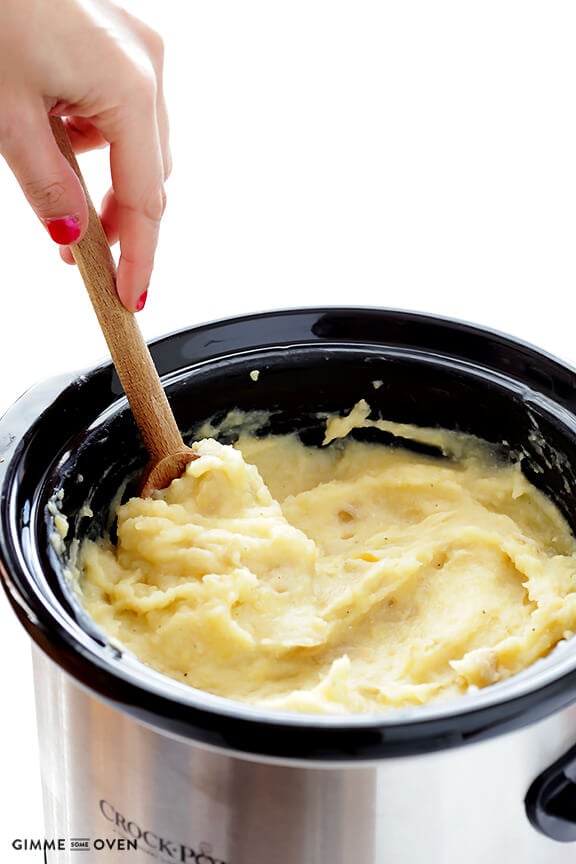 And voila!  Your perfect mashed potatoes are ready to go!
Feel free to stir in or top them with any of your other favorite mix-ins.  For example, you could go the classic shredded sharp cheddar cheese and bacon route.  Or go simple with chopped chives or green onions.  Or one of my favs — oodles of gorgonzola cheese.
Actually, though, I have to admit that I actually love these best just plain.  But however you make them, I guarantee you will love the creamy, buttery, slow cooked, deliciousness.
Happy mashing!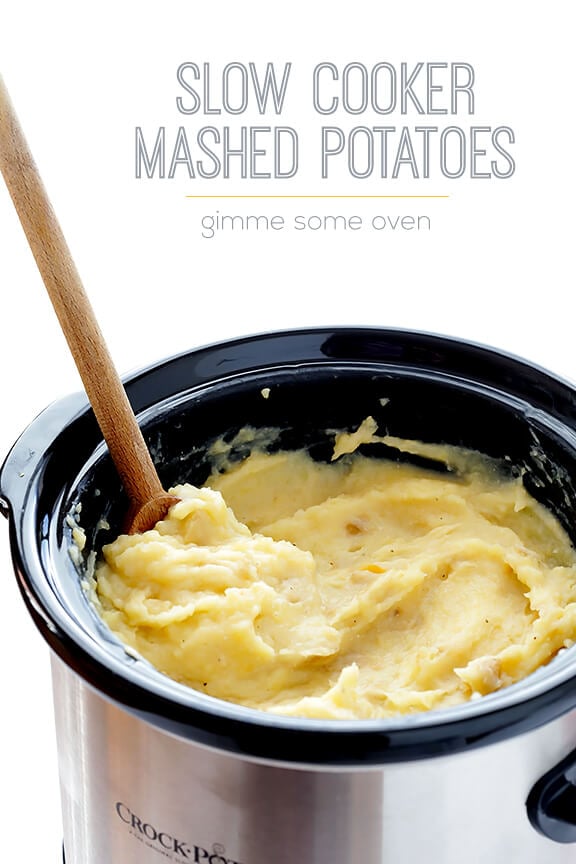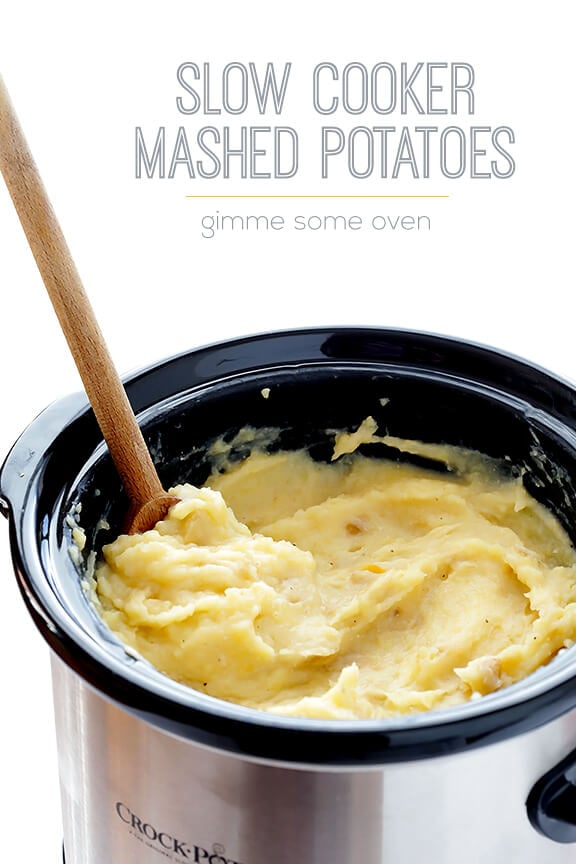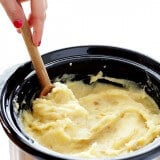 Slow Cooker Mashed Potatoes
This slow cooker mashed potatoes recipe is unbelievably easy to make, and it's perfectly creamy and delicious!
Ingredients:
3 pounds Yukon Gold or Red potatoes, roughly chopped into 1-inch pieces and peeled if desired (*edited: Russett potatoes tend to oxidize more quickly and turn a bit gray while cooking, so I don't recommend them)
1 cup chicken or vegetable stock
1/4 cup butter, cut into small cubes
3 cloves garlic, minced
1/2 cup plain Greek yogurt or sour cream
1/2 teaspoon salt
1/4 teaspoon black pepper
1/3 – 1/2 cup milk, warmed
(optional add-ins: crumbled bacon bits, shredded cheddar cheese, crumbled blue cheese, chopped green onions or chives, etc.)
Directions:
Add potatoes and stock to the bowl of a slow cooker, and place butter cubes and minced garlic on top.  Cover and cook on high for 3-4 hours, or until the potatoes are cooked and soft.
Use a potato masher or an electric mixer to mash the potatoes to your desired consistency.  Stir in the Greek yogurt (or sour cream), salt, and black pepper.  And add your desired amount of warm milk, until the potatoes reach your desired level of creamy-ness.  Stir in any other add-ins if desired.
Serve warm.
*You're also welcome to cook these in the slow cooker for 6-8 hours on low, however sometimes potatoes will get a little brown if they cook that long depending on the heat of your slow cooker.  I recommend cooking for 3-4 hours on high.
All images and text ©
If you make this recipe, be sure to snap a photo and hashtag it #gimmesomeoven. I'd love to see what you cook!