Ginger Peach Crumble
Let me start out by saying that this is an absolutely beautiful recipe that I love.  And I think you will adore it too.
But something about baking it up this time caught my emotions a little off guard.
Because, quite simply, this is one of those desserts that's meant to be shared.
And on the day that I had the idea for this crumble, and went to the market to eagerly gather some peaches, and layered them up with a delicious ginger and almond topping to create this crumble, and pulled the hot pan out of the oven, I realized that there was no one waiting to share it with.  No 4-yr-old peeking in the oven to see if it was "done yet".  No baby on my hip babbling away and hoping for a little spoonful of ice cream.  No husband getting bowls and spoons ready so that we could eat the crumble out on the back deck together after dinner.

If you would have asked me 10 years ago what I thought serving up a summer dessert would look like, it would have been just that.  Me + husband + kids running everywhere + a small little home with a big back deck + sweet crumble topped with generous scoops of ice cream + warm summer nights + an imperfectly happy little life.
But on the day that this delicious crumble came out of the oven, it was just me + myself + I.  And it was just one of those moments when I felt it.  And it made me a little sad.  Because there's something about making a fresh-out-of-the-oven bubbling peach crumble — or really, any good moment in life — that makes you just want to turn around and share it with people.  And see their faces light up when they taste that first bite.  And enjoy that small delicious moment together.
I'll admit, on that day in that moment, that was all I wanted.  But once the moment passed and I looked down in my hands at this pan full of summer's best, I was reminded again at what life has given me.  I don't have the picket fence and husband and 2.5 kids.  But I have a life I love made all the better by an extraordinary community filled with thoughtful awesome friends, who are especially good at coming over in a heartbeat if one of "those" moments hit…or when peach crumble is mentioned.  And once again, they proved to be exactly what I needed that day, and helped make history of this peach crumble.  :)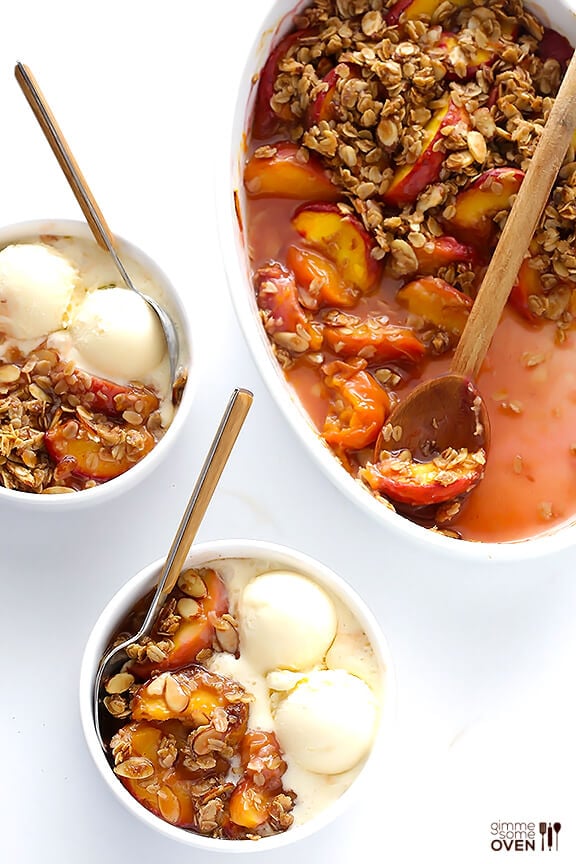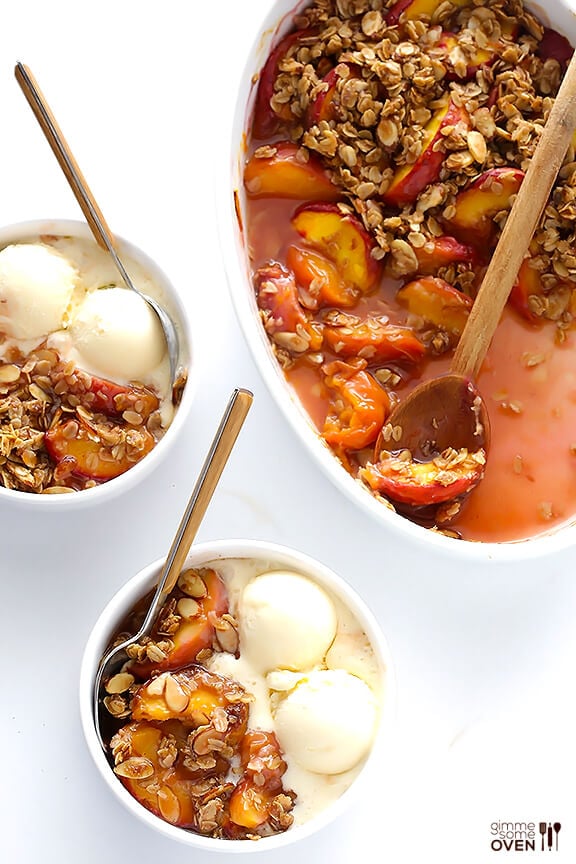 I think part of the reason I was so excited about this recipe is because peaches always feel like such a fleeting gift of the summer.  Our local peach season seems to come and go as quickly as a summer thunderstorm.  So when they peaches are ripe, you'd better believe that our community is ready.
One of my favorite flavor combinations of all time is fresh peaches mixed with fresh ginger.  I love it in pie, smoothies, yogurt, muffins, you name it.  But strangely, I had never thought about adding fresh ginger to my crumble.  Until now, of course.
Here's how I made it:
I began with fresh peaches.  Lots and lots of fresh peaches.  I left the skin on for extra color and nutrients, but you can also peel the peaches if you'd like.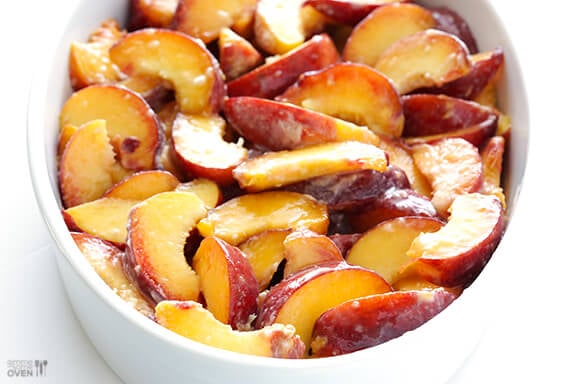 Toss them with a gingery, buttery mixture to help thicken the filling.
And then add an oatmeal-y, almond-y crumble on top.  Bake it up to crispy, bubbly perfection…
And then serve it up hot.
I like mine served fresh out of the oven with a few scoops of vanilla ice cream.  But if you let the crumble sit for a bit, it will thicken even more as it cools.  And if you really want to get decadent, drizzle some caramel sauce (and even some coarse sea salt) for an extra-special touch.
I promise it's perfect for summer.  And a wonderful treat to enjoy on your own, or share with a sweet family, or especially a good group of friends.
Thanks as always for letting me share it with you today.  :)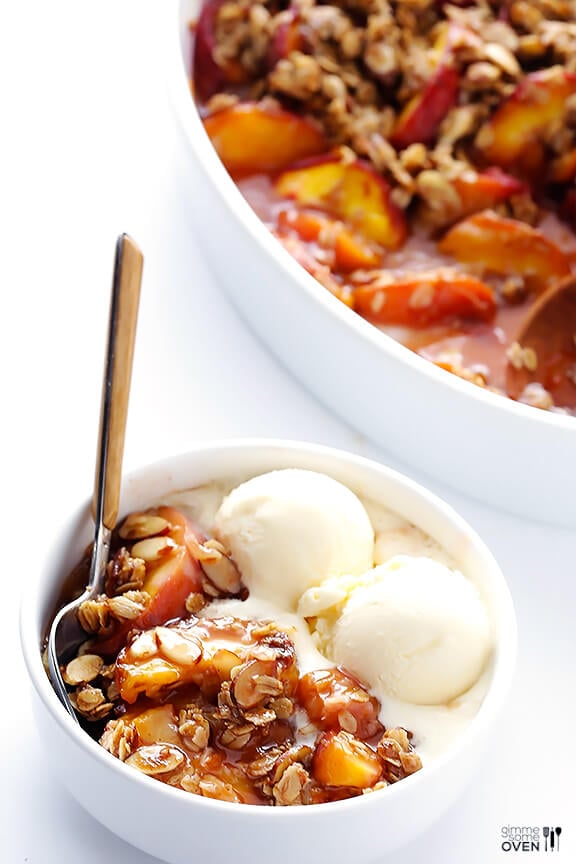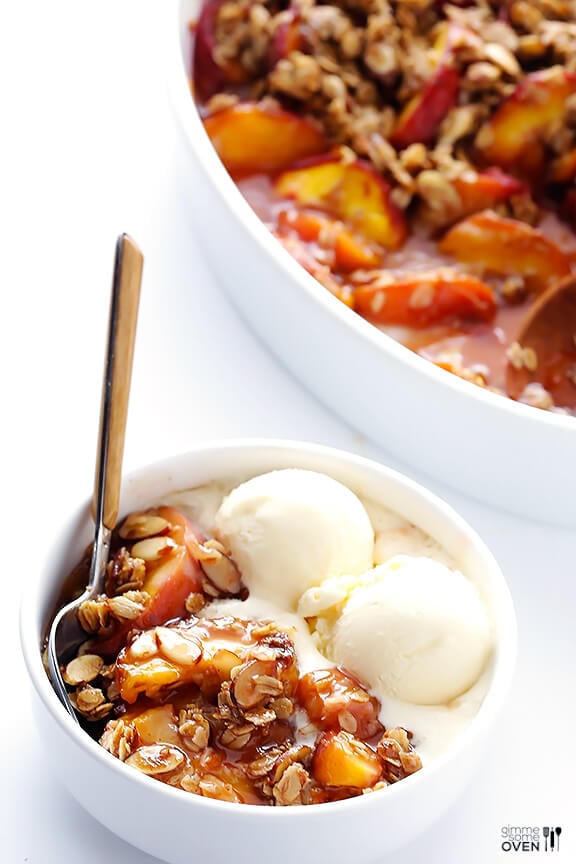 Ginger Peach Crumble
This Ginger Peach Crumble is filled with a fresh and sweet filling and topped with the perfect crisp "crumble".
Ingredients:
Filling Ingredients:
3 pounds fresh peaches, pitted and cut into 1/2-inch wedges
3 Tablespoons flour
2 Tablespoons fresh lemon juice
1 Tablespoon freshly grated ginger
1/4 cup brown sugar
1/4 cup granulated sugar
1/2 teaspoon ground cinnamon
1/2 teaspoon vanilla extract, store-bought or homemade
Topping Ingredients:
1/2 cup quick oats (or old-fashioned oats)
1/2 cup sliced almonds
1/4 cup butter, room temperature
1/8 teaspoon salt
Directions:
Preheat oven to 350 degrees F. Grease a 3-quart baking pan with butter or cooking spray, and set aside.
In a large mixing bowl, gently toss together all of your filling ingredients until combined and evenly coated. Pour them evenly into the prepared baking pan.
In a separate mixing bowl, stir together your topping ingredients until small clumps are formed. (I find it easiest to mix the ingredients with my hands.) Add the topping mixture evenly on top of the peaches.
Bake for 35-45 minutes, or until the topping is crisp and starts to brown, and the filling is bubbly. Serve immediately topped with ice cream and/or caramel sauce if desired. Or wait and serve it at room temperature. OR, you can cover and refrigerate the crumble for up to 4 days.
If you make this recipe, be sure to snap a photo and hashtag it #gimmesomeoven. I'd love to see what you cook!