Slow Cooker "Rotisserie" Chicken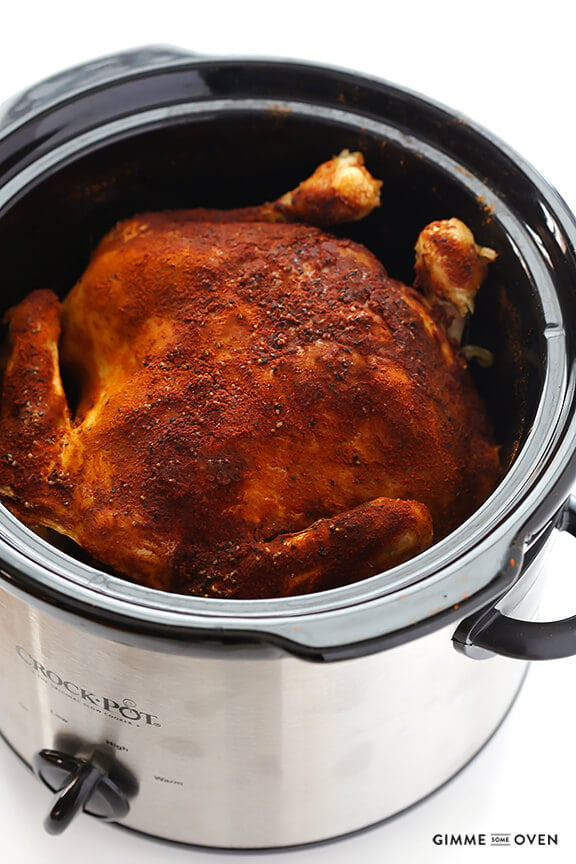 There's a bird in my slow cooker!
Yes, make that an entire roasting chicken tucked right in there, seasoned perfectly to taste like it's fresh off the rotisserie.  I have to admit that the idea to cook a whole chicken in the slow cooker had never occurred to me before.  But while I was standing in the poultry section at Trader Joe's this week, trying to decide which of my (many) shredded chicken recipes sounded good to toss in the slow cooker, the lightbulb finally went off.  Why just buy a handful of chicken breasts to cook and shred in the slow cooker when — for actually less cost– I could cook an entire chicken?!?
I'll admit my biggest question right off the bat was whether or not a whole chicken would even fit in a slow cooker.
But I'm here to report that it definitely does.  (Even this smaller 3-quart slow cooker.)
And you should totally try it.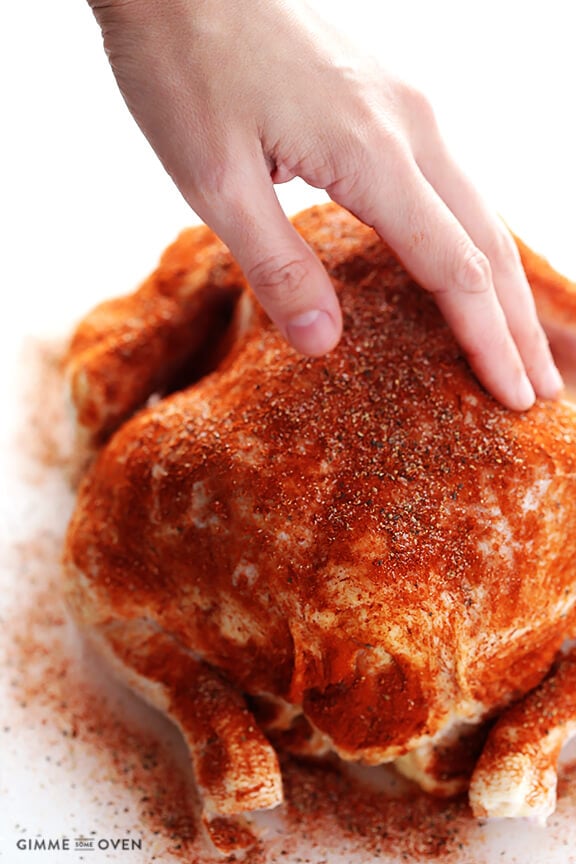 Without a doubt, my favorite method for making a whole chicken at home will always be roasting it, especially if you want that traditional crispy-skinned chicken fresh out of the oven.
But if you ever have a day when you don't have time to babysit the chicken in the oven, or just want to come home to the most delicious smelling dinner after a long day's work, or even if you just want to have a nice mix of light and dark chicken meat to make shredded chicken (vs. the usual breast-only recipes), then this slow cooker method is a fantastic alternative.
Plus, it only takes about 5 minutes to prep.  You can season it however you'd like (notably, knowing exactly what goes into it).  You can use organic chicken if you'd like (knowing that most store-bought rotisserie chickens are not).  And, well, it's just pretty darn tasty.
To make this chicken, begin by removing any of the insides and the neck, if they are included.  And then give the chicken a thorough rinse, and pat it dry with paper towels.  Then whisk together your dry rub seasoning mix, and rub it evenly all over the chicken.  (Optional: If you'd like, you are welcome to add some onions or veggies inside the cavity for extra flavoring.)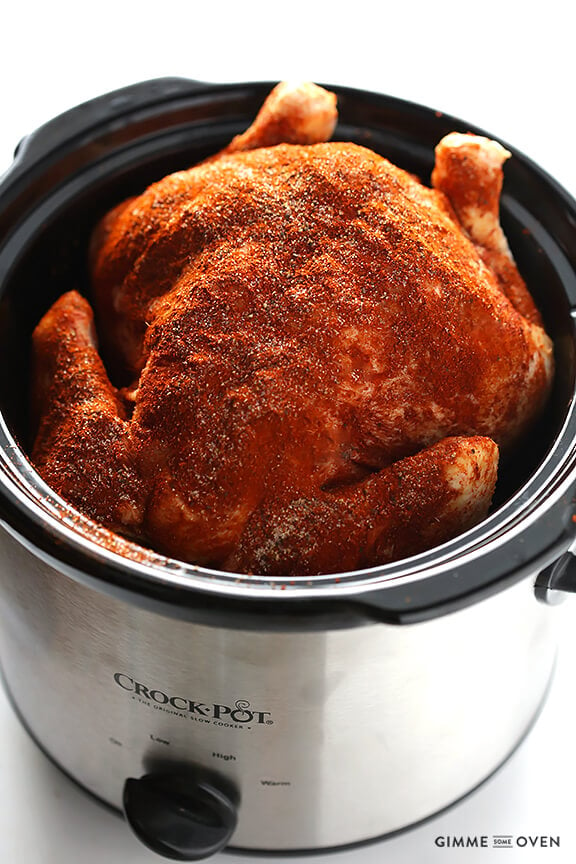 Then pop the bird in the slow cooker!
If you don't want the bottom of the chicken to sit and cook in its juices all day, you can place a layer of aluminum foil packs or balls on the bottom of the slow cooker, to serve as a "rack" to elevate the chicken an inch or so.  Or you can also cook the chicken on a bed of onions or vegetables (like carrots and celery, etc.) — your choice.  I went with the aluminum foil route, and it definitely kept the chicken elevated above the juices that accumulated below (which make an excellent base for chicken broth, by the way!).
Cover and cook the chicken on high or low until the meat is completely cooked through, noting that the cooking time will vary slightly depending on the size of the bird.  Then once it's done, carefully transfer the chicken to a serving plate, and reserve the juices for future use if desired.
By contrast to a traditional rotisserie chicken, the slow cooker method will definitely result in a chicken that is fall-off-the-bone tender and juicy, so much so that the chicken may actually fall apart a bit when you try to remove it from the slow cooker.  (In a very delicious way, but not always the prettiest for serving.)  It also will have a soft and seasoned skin, versus crispy.  If you really want your chicken to be crispy, simply transfer the chicken to a baking dish and pop it under the broiler for 3-5 minutes (on the "high" setting) until the chicken reaches your desired level of crispness.  But otherwise, just serve and enjoy it as is.  Or shred the meat off of the bones and freeze it for future use, as I obviously love to do with slow cooker shredded chicken.  ;)
However you make it, hope that you enjoy!!
Slow Cooker "Rotisserie" Chicken
This Slow Cooker "Rotisserie" Chicken recipe only takes a few minutes to prep, and then your slow cooker will do all of the work!
Ingredients:
1 whole chicken (about 4-5 lbs.), insides removed
1 tablespoon smoked paprika
2 teaspoons salt
1 teaspoon freshly-ground black pepper
1/2 teaspoon garlic powder
1/4 teaspoon onion powder
(aluminum foil, or thickly-sliced onions or vegetables)
Directions:
Rinse the chicken thoroughly and pat it dry with paper towels.
In a small bowl, whisk together the paprika, salt, pepper, garlic powder and onion powder until combined.  Rub the seasoning mix all over chicken — on the outside skin, the inside cavity, and (if you're feeling brave) on the chicken breasts underneath the skin.
Roll up a few small balls of aluminum foil (or thickly slice some onions, and/or veggies) place them on the bottom of your slow cooker bowl to serve as a "rack" for the chicken, so that it doesn't have to cook in the juices that will accumulate in the bottom of the slow cooker.  Place the chicken on top of the aluminum foil (or veggies), pressing it down a bit if need be for the lid to fit.  Cover and cook on low for 6-8 hours, or on high for 4-5 hours until the chicken is cooked through and reaches an internal temperature of 160 degrees F.
Carefully remove the chicken from the slow cooker (it may be so tender that it falls apart on you), discard the bones, and serve the chicken as desired.
*I used this small 3-quart slow cooker, and the chicken just barely fit.  (It also shrunk down a bit while cooking.)
All images and text ©
If you make this recipe, be sure to snap a photo and hashtag it #gimmesomeoven. I'd love to see what you cook!
(This post contains affiliate links.)