S'mores Bars
This past weekend, my friends and I went sort-of-camping.
So I decided the occasion called for some sort-of-s'mores.
And thus, these S'mores Bars were born.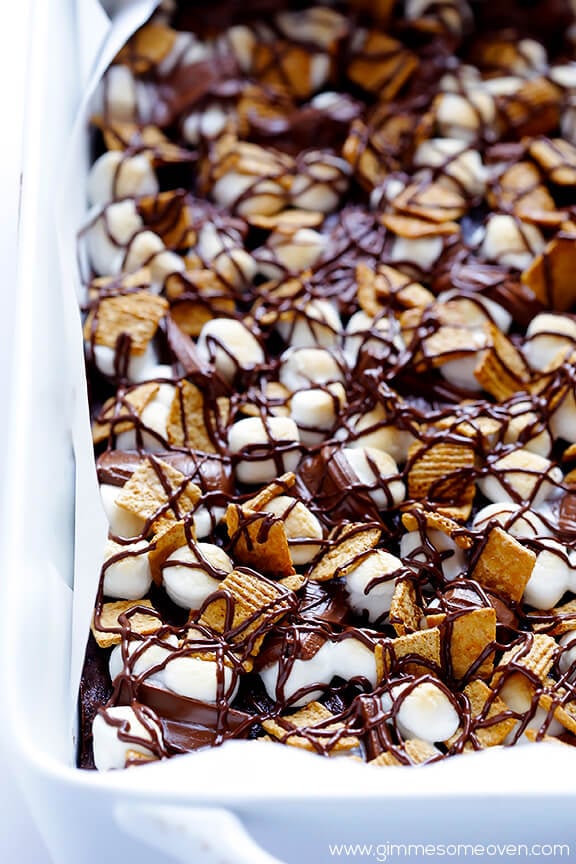 What is sort-of-camping, you ask?
Well, it's basically reaping the benefits of camping, minus actually having to pitch a tent and spend the night.  With the bugs.  (Did I mention the bugs?)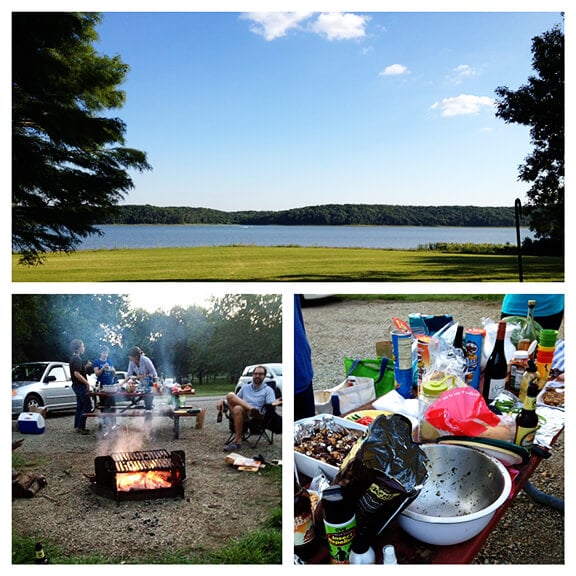 Basically, some friends who were actually going to be camping at Clinton Lake invited a bunch of others to come hang for the evening at the campsite.  We made a fantastic gourmet dinner around the campfire, talked for hours and hours as we watched the sun set over the lake, and then once we started to get tired, we hopped in our car and headed home to sleep in our soft (bug-free) beds.
I have to admit…it was pretty wonderful.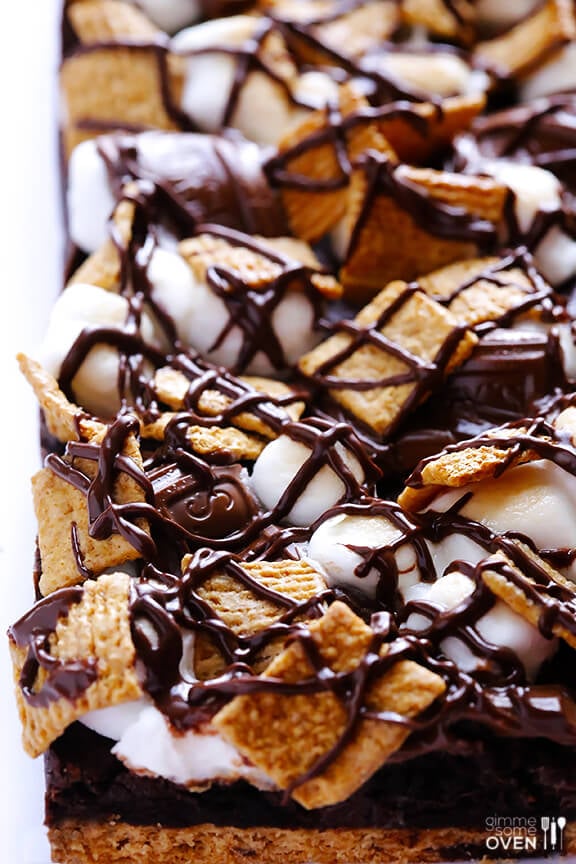 Still, any sort of camping (or sort-of-camping) trip requires some s'mores.  So for something different, I decided to experiment and create these S'mores Bars!!!
Actually, these would more accurately be called S'mores Brownie Bars, since I used one of my favorite homemade brownie recipes for the fudgy chocolate filling.  But whatever you call them, these S'mores Bars were a hit.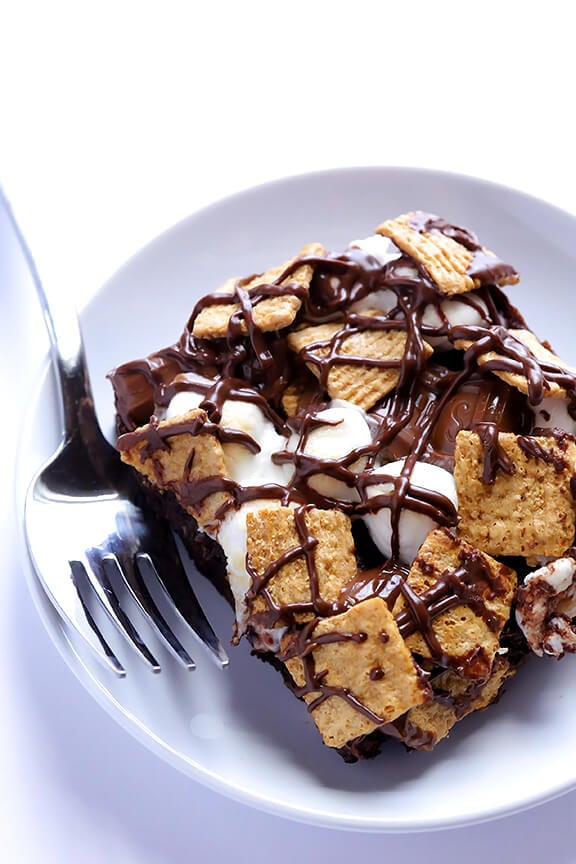 Basically, I laid down a layer of graham crackers in a baking dish to make the crust.  Then I layered on some brownie batter and cooked it up until it was almost done.  But the magic was all in the topping — mini marshmallows, Hershey's bars and Golden Grahams galore!!!
Yep.  I initially was going to try and break up some graham crackers to layer on top.  But I'm a sucker for pretty food, and those crumbly graham crackers just weren't cutting it.  So for the first time in about a decade, I bought one of my favorite cereals from childhood — Golden Grahams!  These little guys worked perfectly for the topping, and stayed nice and crispy  late into the night.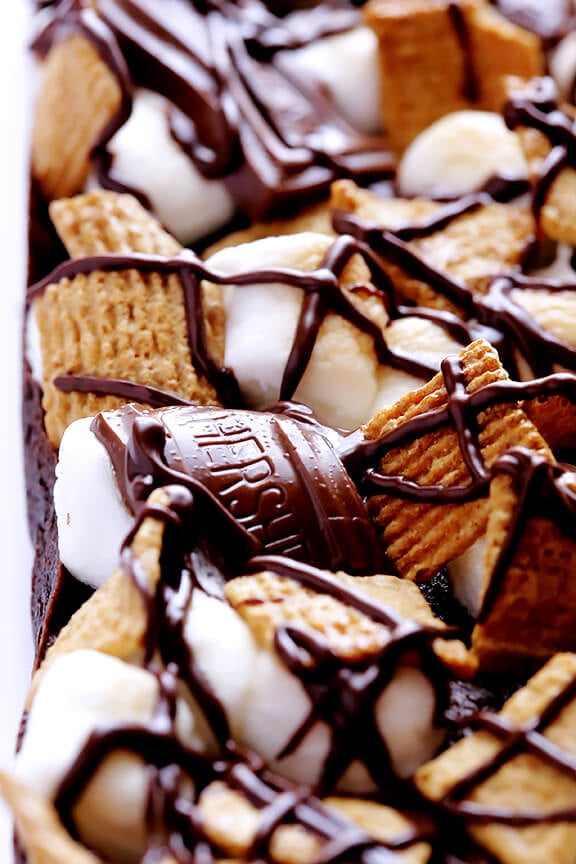 And then, just in case all of those melted Hershey's bars weren't enough, I melted down an additional Hershey's bar and drizzled it all over the top.
And then drizzled some more.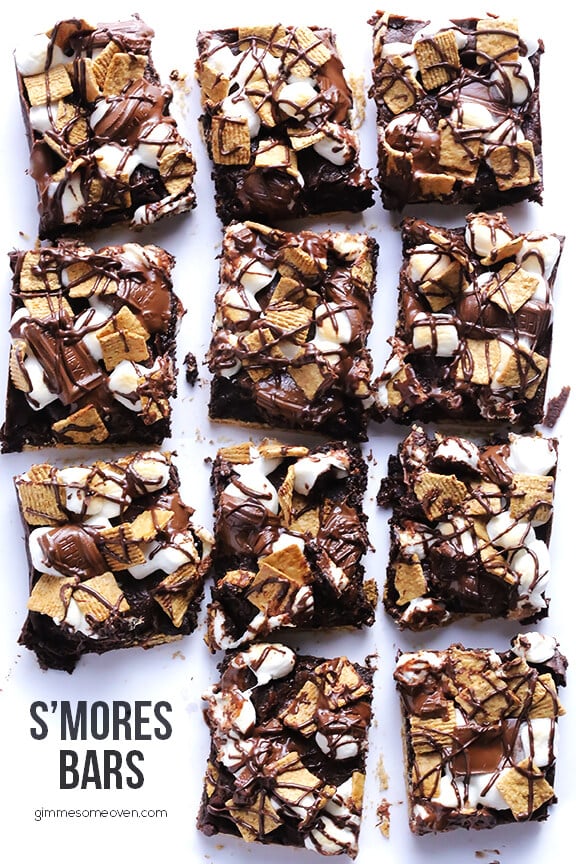 Needless to say, I don't think anyone missed toasting marshmallows around the hot campfire when we could just grab "s'more" of these bars to enjoy.  My friends all gave the recipe a big thumbs up!!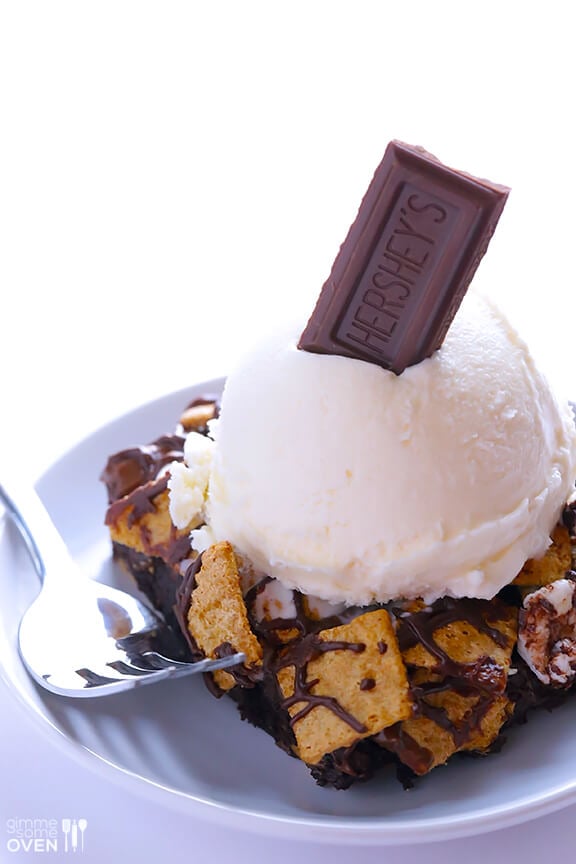 And — shhhh, don't tell — I might have saved one bar for later and made it into a little s'mores sundae which I also highly recommend.  ;)
So cheers to sort-of-camping and sort-of-s'mores.  I hope to have both experiences in my life again…um…immediately.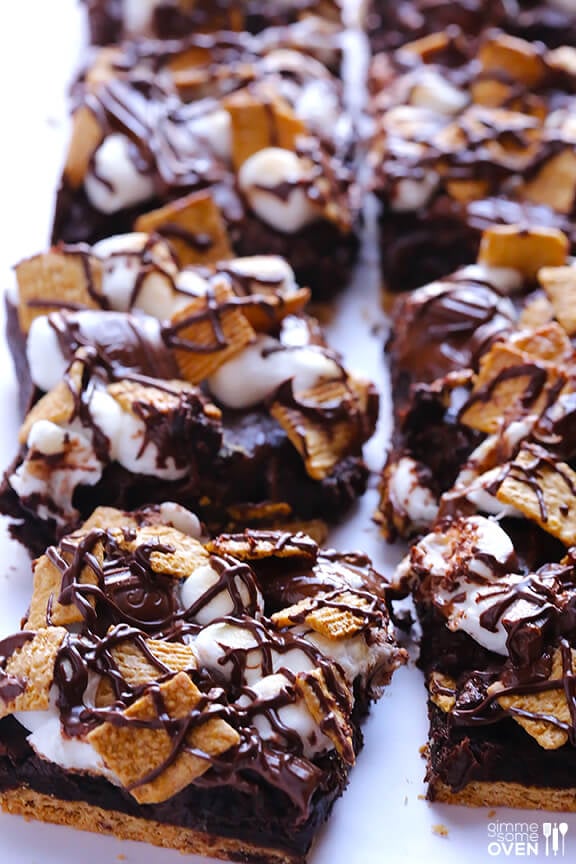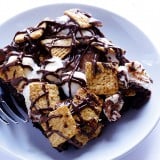 S'mores Bars
These S'mores Bars (a.k.a. S'mores Brownies) feature all of the classic ingredients in a simple and delicious bar!
Ingredients:
Brownie Ingredients:
8-10 whole graham crackers (enough to cover the bottom of a 9×13-inch pan)
10 tablespoons butter
1 1/4 cups granulated sugar
3/4 cup plus 2 tablespoons unsweetened cocoa powder (natural or Dutch-process)
1/2 tsp. salt
1 tsp. vanilla extract
2 large eggs
1/2 cup all-purpose flour
S'mores Topping Ingredients:
Hershey's bars (broken into small pieces)
Golden Grahams
mini marshmallows
(optional) melted chocolate for drizzling (**see instructions below**)
Directions:
To Make The Brownies:
Position a rack in the lower third of the oven and preheat the oven to 325°F. Line the bottom and sides of a 9×13-inch baking pan with parchment paper. Lightly grease with cooking spray. Then line the bottom of the pan with tightly-packed graham crackers in a single layer. Set aside.
Combine the butter, sugar, cocoa, and salt in a medium microwave-safe bowl. Microwave for one minute intervals, stirring in between, until the butter is melted and the mixture is smooth. Set the mixture aside until it cools to room temperature. (You can pop it in the fridge to speed up this process.)
Stir in the vanilla. Add the eggs one at a time, stirring vigorously after each one. When the batter looks thick, shiny, and well blended, add the flour and stir until you cannot see it any longer, then beat vigorously for 40 strokes with the wooden spoon or a rubber spatula. Spread evenly in the baking pan on top of the graham crackers. (Since this is a thick batter, I found that it worked well to drop the dough in large tablespoons all over the graham crackers, and then smooth those out with a spoon to form an even layer of brownie batter.)
Bake until a toothpick inserted into the center emerges slightly moist with batter, 20 to 25 minutes. Remove pan and sprinkle generously with mini marshmallows.
Turn oven to broil, then return the pan to the oven and cook for about 3-5 minutes, or until the marshmallows poof up and JUST barely begin to turn golden. Please watch very carefully at this point, or else the marshmallows can burn or even catch fire.
Remove pan from oven and sprinkle with Hershey's bar pieces and Golden Graham's. Then drizzle with additional melted chocolate if desired. Let cool, then cut and serve.
**To make the melted chocolate, add a crumbled Hershey's bar or some chocolate chips to a microwave-proof bowl.  Heat in 30-second intervals, stirring between each interval, until melted.  If the chocolate is too thick, add in a few teaspoons of shortening to thin it out.  Drizzle with a fork over the s'mores bars.
All images and text ©
If you make this recipe, be sure to snap a photo and hashtag it #gimmesomeoven. I'd love to see what you cook!