Spaghetti Carbonara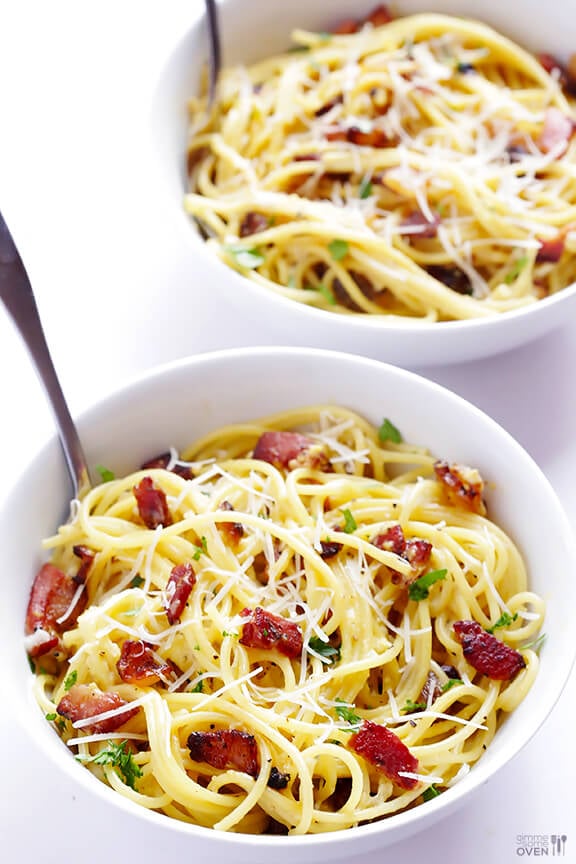 This delicious spaghetti carbonara recipe is one of my all-time favorite of favorite of favorites.  It was actually one of the very first recipes I ever shared on Gimme Some Oven.  But I'm pretty sure that none of you ever saw it because the pictures were terrible.  Like, horribly-over-lit, sitting-on-a-neon-blue-backdrop, smothered-in-way-too-much-Parmesan-cheese, not-appetizing-AT-ALL ter-ri-ble.
I've learned that this is a common dilemma amongst food bloggers.  When we launch our blogs, we start by sharing tons of our best recipes right off the bat.  But that tends to be when our photography skills are (ahem) not the finest.  Years later, the recipes may still be in our rotation of favorites, but the photos?!  Yeeeesh.
So I've decided to start "making over" a few of my favorite old blog recipes, starting with this classic and crazy-good Spaghetti Carbonara.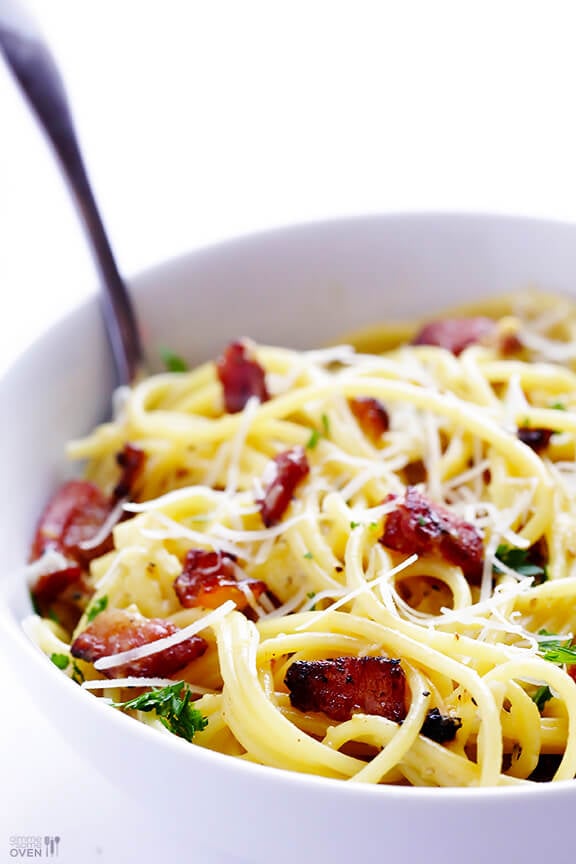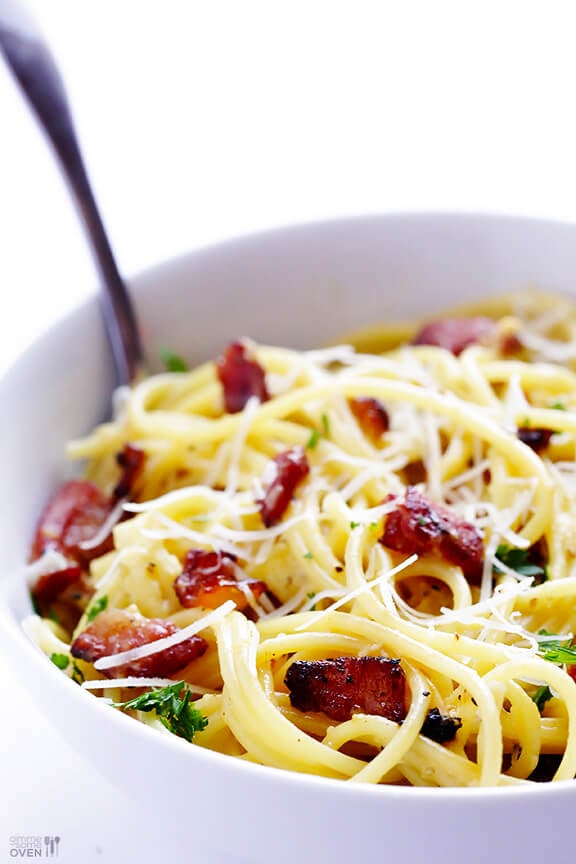 For any of you unfamiliar with Pasta Carbonara, my friends all fondly call it the "eggs and bacon pasta".  You basically just stir a few whisked eggs into the pasta as soon as it is cooked and drained, and the heat of the pasta will cook the eggs until they make a creamy sauce coating the pasta.  There's also a little onion in there, a little milk, lots of Parmesan, and LOTS of bacon.  And it is crazy good.
I actually have been making the dish since I first began cooking in college.  A group of us had been invited to a dinner where my professor's wife served up steaming bowls of this mysteriously-named pasta, and I instantly fell in love and begged for the recipe and have been making it ever since.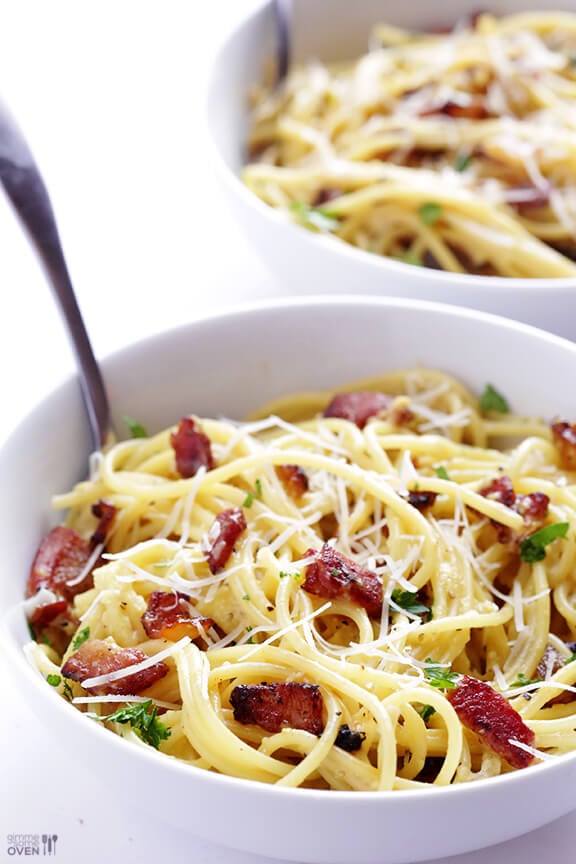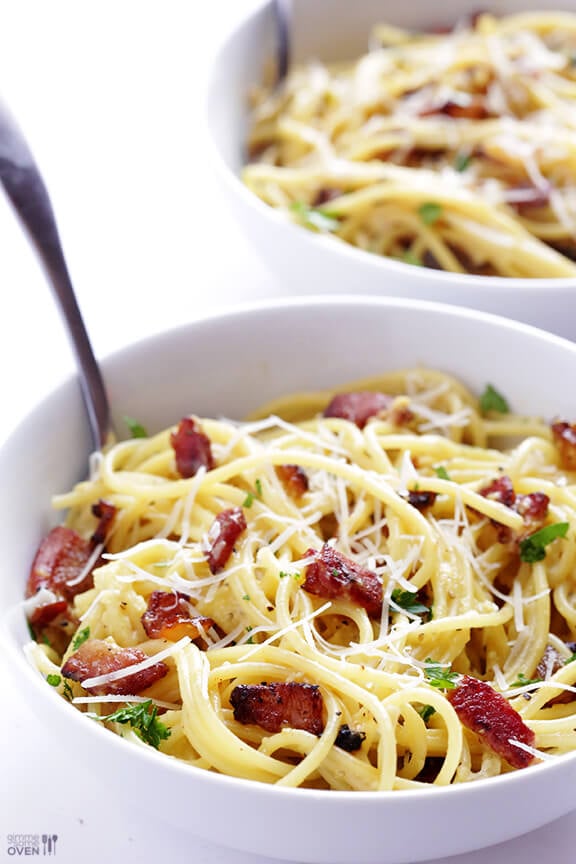 For many years, I made the pasta a little healthier with turkey bacon, which I still love to use.  But when I'm going for pure comfort food, real bacon is definitely the way to go.  Either way, this dish is absolutely full of great flavor, and can literally be on the table from start to finish in less than 30 minutes.  Perfect.
Cheers to recipe makeovers!
Spaghetti Carbonara
One of my all-time favorite recipes – Spaghetti Carbonara! Everyone loves the classic eggs and bacon pasta, ready to go in less than 30 minutes!
Ingredients:
1 lb. spaghetti
1/2 large onion, diced (about 1 cup)
1/2 lb. bacon (regular or turkey bacon), diced
5 eggs
1/4 cup milk
1/4 cup parmesan (or more)
1 tsp. freshly ground black pepper
olive oil
Directions:
Bring a big pot of generously-salted water to a boil on the stove. (Use about 2 Tbsp. salt – this is the secret to flavorful Italian pasta!)
While waiting for the water to boil, heat 1 Tbsp. of oil in a large skillet over medium-heat. Add the turkey bacon and cook until it is nearly crispy, stirring every few minutes. (If using real bacon, you will not need to add oil initially, and you may actually need to drain some grease before the next step.) Then add the diced onion to the skillet, and continue cooking until the bacon is crispy and the onion is translucent.
In a separate small bowl, whisk together eggs, milk, parmesan and black pepper until well-blended. Set aside.
Once the pasta water is ready, add the spaghetti and cook according to package instructions until it is al dente. (Usually about 9-11 minutes.)
When the pasta is ready, carefully and quickly drain out the pasta water, and return the pasta to the hot pot immediately. Then while stirring the pasta with one hand, use the other to pour the egg mixture into the pasta and continue to toss until the egg mixture is cooked into the pasta. (You may see a few tiny clumps, but in general, the eggs will just coat the individual pieces almost like a sauce.) Then add in the bacon and onion mixture and toss until mixed.
Feel free to garnish with extra parmesan and/or chopped fresh parsley. Serve immediately.
Recipe from my friend, Joni.
All images and text ©
If you make this recipe, be sure to snap a photo and hashtag it #gimmesomeoven. I'd love to see what you cook!