Sparkling Margaritas (Champagne Margaritas)
Happy almost-New Year's, everyone!
Goodness, I can hardly believe that it's already time to toast to 2013.  But looking back, I'm so thankful for the crazy adventure that 2013 turned out to be.  It was definitely a happy "new" year in my world — new career (first year full-time blogging), new loft (dream come true), new kitchen (double dream come true), new blog series that went viral (30 and Single), new travels (so many trips!), new friends met on said travels, and all sorts of other new memories made with family and friends amongst it all.  So much newness!
But I'm happy to say it ended up being a wild and wonderful ride.  So you'd better believe I'm celebrating, and giving lots and lots of thanks.
Because I've lived long enough now to know that with the ups in life certainly come the downs.  And after a profoundly difficult 2012, especially while watching a job I had loved and invested in for 7+ years take a disheartening turn, I remember acutely what it felt like to wake up in the mornings quite simply not looking forward to the days ahead.  Those seasons in life are exhausting, and discouraging, and always seem far too long.  And if that's where life seems to find you this New Year's, my heart goes out to you.
But if we were having coffee, I would also give you a hug and urge you to keep hope.  Because as one of my old pastors used to say, "the worst thing is never the last thing."  I've always hoped and believed that to be true.  But over the past year, in big ways and in small, I've had the gift of actually seeing that prove true in my life once again.  Professionally and personally, things in life have somehow taken a 180 degree turn and have left me blown away and grateful.
So to now find myself back in a season of feeling completely excited to wake up in the morning in a place that feels like home, a job that I love, and surrounded by amazing people??  I know the ups and downs of life are sure to come again, so there's no way I'm going to take this season for granted.  Nor let it pass by without some celebrating.  :)
So since you all know that I love a good margarita, I decided to take a "sparkling" spin on a New Year's drink this year with these easy Sparkling Margaritas!  They are basically champagne margaritas — which you can make with any flavor of champagne — and they are the perfect bubbly treat to toast any of life's great celebrations!  Read on for the easy how to…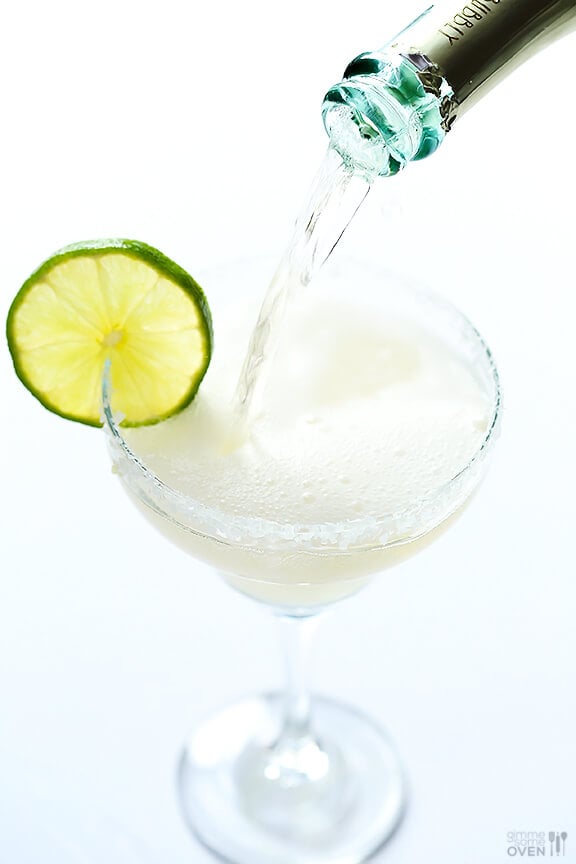 All you need to make a batch of your own are four simple ingredients:
fresh lime juice (key word fresh — so much better!)
silver tequila blanco (I preferred the lighter color, but really any tequila would do)
Triple Sec or Cointreau
champagne (any flavor will do, I went with sparkling pinot grigio)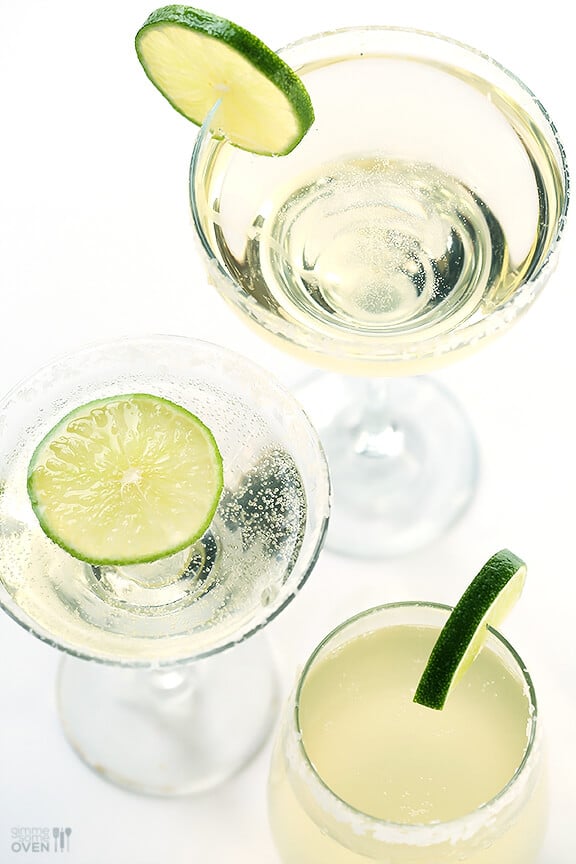 Simply stir the first three ingredients together for your margarita base.  Then add about 1/3 cup of the mixture to a champagne glass, and fill the rest up with a flourish of champagne.  Then toast, and enjoy!
And cheers to you for continuing to be such a wonderful, supportive, rockstar reader of this blog.  There's no way that I could be doing what I'm doing now without you, and I count it a total blessing to have you tuning into the site day after day to check out these recipes.  If you have any recipe requests for 2013, holler and let me know.
Otherwise, thanks again, and cheers to another delicious year ahead!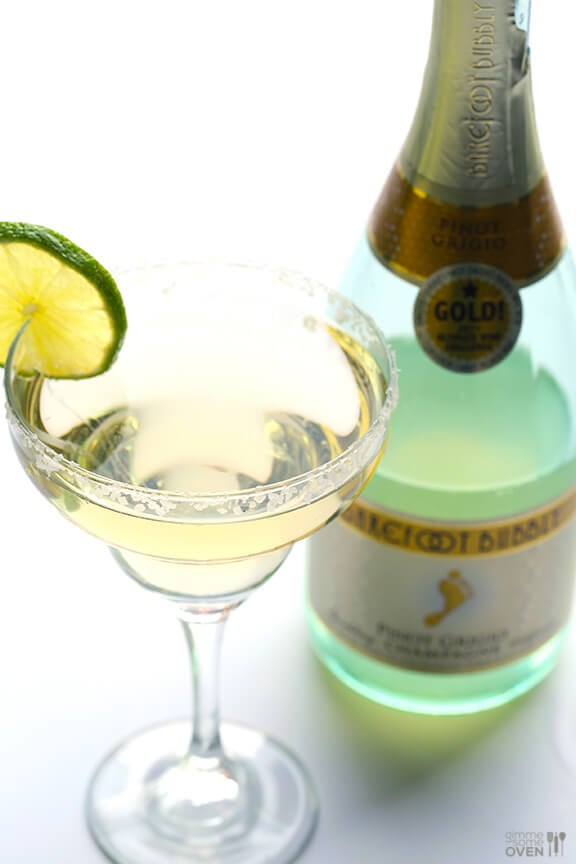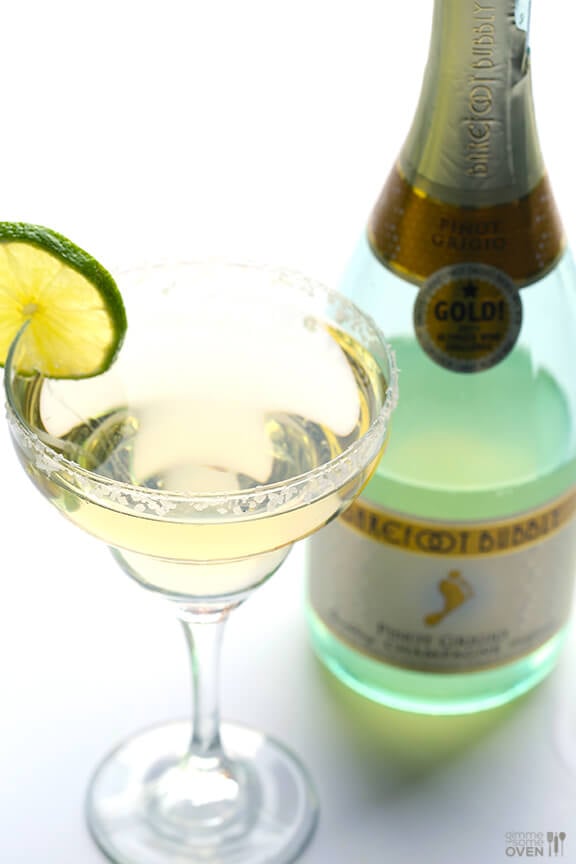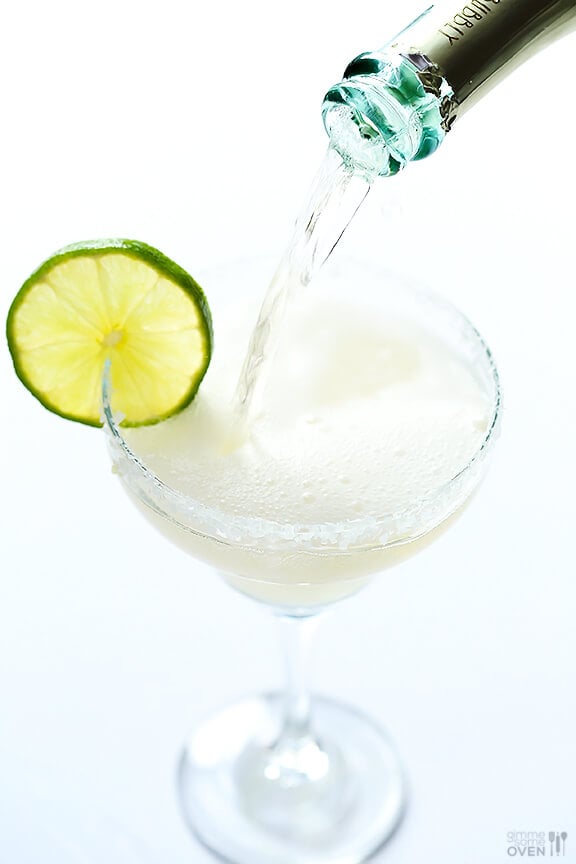 Sparkling Margaritas (Champagne Margaritas)
These sparkling margaritas (champagne margaritas) are the perfect quick and easy drink to celebrate!
Ingredients:
1 1/2 cups fresh lime juice
1 cup agave silver tequila
1 cup Triple Sec or Cointreau
1 bottle (750 mL) champagne (about 3 cups)
lime wedges and coarse salt or sugar to rim the glasses
(optional: additional sweetener such as sugar, honey, agave, etc.)
Directions:
Stir the lime juice, tequila and Triple Sec together to make your margarita base.
Prepare your glasses by running a lime wedge around the rim of the serving glasses, and then dipping the glasses in coarse salt or sugar.
Pour about 1/3 cup of margarita mixture into a champagne glass, and fill the rest of the glass up with champagne. Or if using a different glass, you need a ratio of about 1/3 cup margarita mixture to 1/2 cup champagne.
If desired, stir in a teaspoon or two of sweetener to sweeten each glass. Enjoy!
All images and text ©
If you make this recipe, be sure to snap a photo and hashtag it #gimmesomeoven. I'd love to see what you cook!