Spiced Banana & Brown Sugar Ice Cream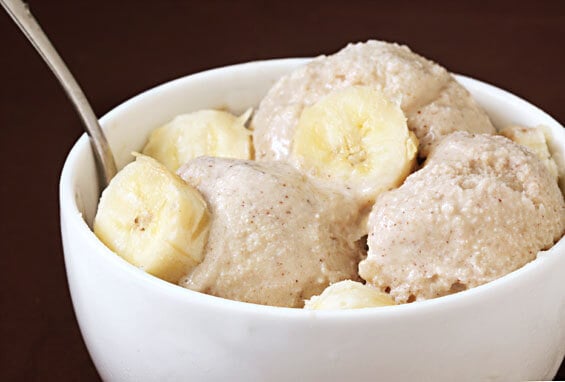 Allow me to introduce you to a recipe celebrating all of the goodness of freshly-baked, perfectly-spiced, rich, flavorful, banana bread…
…in an ice cream!!!
I'm so not kidding.  This recipe will have you swooning.  :)
I made it for the first time a few weeks ago, after stumbling upon it in a recent issue of ReadyMade.  And once I realized I actually had ripe bananas and the rest of the ingredients on hand, I actually decided to whip up a quick batch for a party that very night.  Needless to say…after one bite, it was all I could do to force myself to let it leave my kitchen.  But everyone at the party went nuts for it!  We all agreed it tasted just like the most heavenly banana bread…except with the cool, creamy, richness of summer ice cream.  Hea-ven-ly.
You must, must, must give this one a try!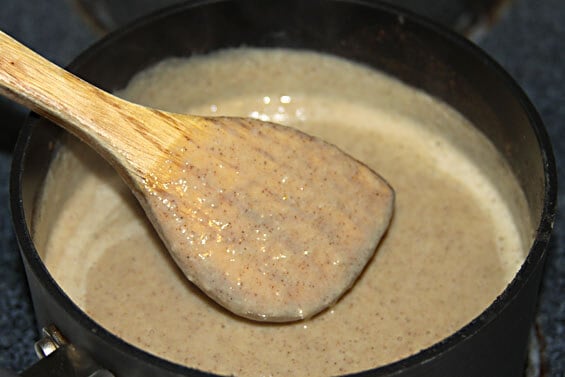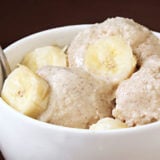 Spiced Banana & Brown Sugar Ice Cream
All of the deliciousness of freshly-baked, perfectly-spiced banana bread…with this Spiced Banana & Brown Sugar Ice Cream recipe.
Ingredients:
2 medium ripe bananas
2 cups whole milk, divided (I used 2%)1 cup firmly packed brown sugar, divided
1 tsp. ground cinnamon
1 tsp. ground cardamom
1 tsp. ground nutmeg
1/4 tsp. salt
4 large egg yolks
2 cups whipping cream
1 tsp. vanilla
Directions:
Puree one banana and 1/4 cup milk in a food processor until smooth.

Combine the banana puree, the remaining 1 3/4 cup milk, 1/2 cup brown sugar, the cinnamon, cardamom, nutmeg and salt in a medium-size heavy saucepan. Scald the milk mixture (heat nearly to a boil) over medium-high heat, stirring often, for 5 minutes.

While the milk is scalding, whisk together the egg yolks in a medium mixing bowl. Add the remaining 1/2 cup brown sugar and whisk until the eggs are light and fluffy. Whisking constantly, add a small amount of the hot milk to the egg mixture (to temper the eggs). Gradually whisk in the remaining hot milk.

Return the custard mixture to the pan and cook over medium-lw heat, stirring often, until the custard is thick enough to coat the back of a spoon, about 5 minutes. Remove pan from heat and place in a bowl of ice water to quickly cool the custard. Let the custard cool, stirring often, for 5 minutes.

Meanwhile, combine cream and vanilla in a medium bowl. Stir in the custard mixture. Cover with plastic wrap and press wrap directly onto the surface of the custard. Refrigerate until completely chilled, at least 4 hours or overnight. (The custard may be stored in the refrigerator for up to 3 days.)

Freeze the chilled custard mixture in an ice cream maker according to the manufacturer's instructions. Transfer ice cream to an airtight container and place in the freezer for 2-4 hours before serving.

If you make this recipe, be sure to snap a photo and hashtag it #gimmesomeoven. I'd love to see what you cook!
Ali's Tip:
Feel free to throw in some chopped nuts to this too!  Walnuts or pecans might be especially nice.  :)