Spicy Chicken Fried Rice
A few months ago, I discovered that I have a fried-rice-obsessed kindred spirit in my neighbor, John.
This guy may be the first person I've met who loves fried rice as I do, and also loves judging sampling it at local restaurants as much as I do.  I still hold that my homemade fried rice recipe is my favorite.  But it turns out that John and I agree on the fact that a local Chinese restaurant in our neighborhood makes the best fried rice that you can order on a menu.
BUT.
John blew my mind at one of our neighbor nights a few weeks ago when he showed up with spicy chicken fried rice from said restaurant.
Hold the Chinese-takeout phone.
I had no idea that there was any other option at this place between pork, chicken, beef, shrimp, or combination fried rice.  But he proceeded to matter-of-factly inform me that you can totally just ask them to "make it spicy".  Who knew??  Clearly not this fried-rice-lover who has been ordering their fried rice for nearly a decade.
So of course, I call in to order a batch of fried rice the next day and asked if they could make it spicy.  And, like it was no big deal (because clearly this was only a big deal to me), they said "sure".  And 15 minutes later, I was enjoying the spicy kick that I knew would change my fried rice days forever.  And today, I'm sharing my homemade take on the recipe with you.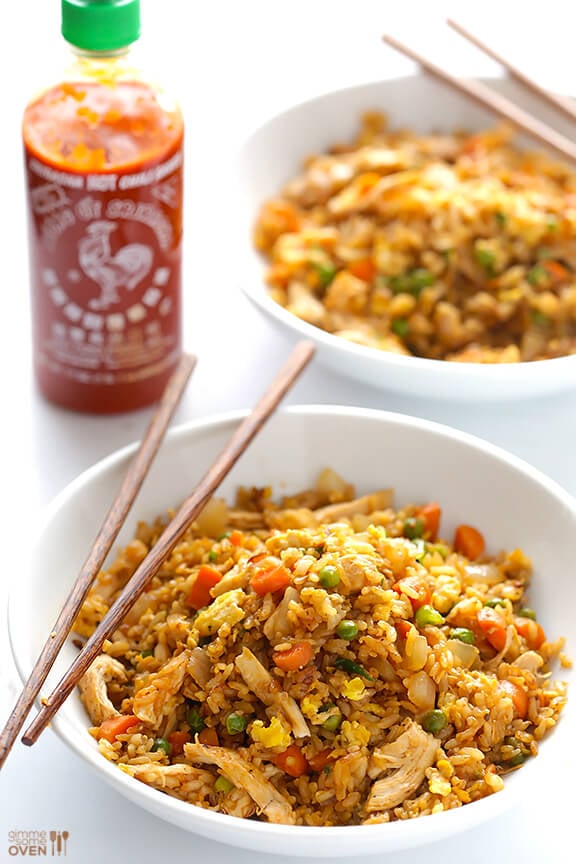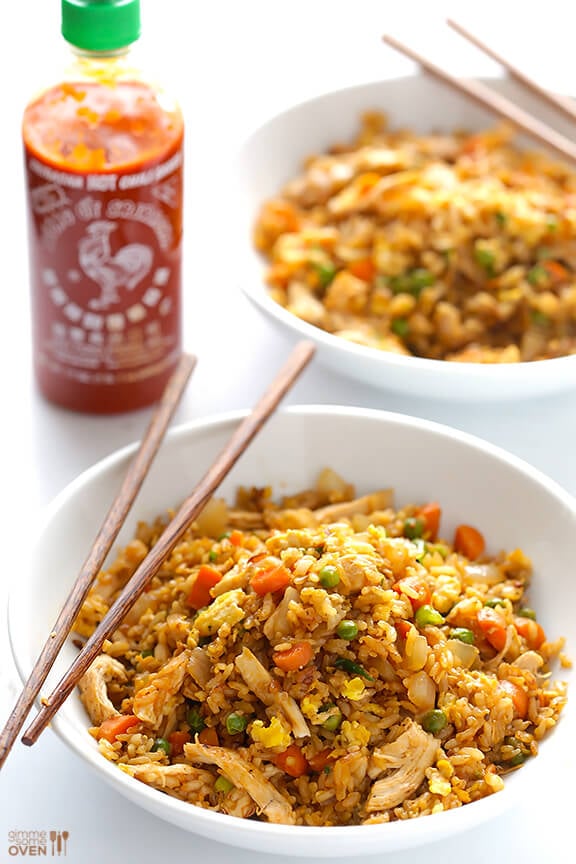 The secret to the spice is none other than my beloved Sriracha.  I know that tons of people probably already add it to their fried rice, but this recipe starts with sriracha already added in.  And if you happen to have any hot chili oil on hand, I recommend adding a few dashes of that too.  But if not, Sriracha will do the job.
I also added in chicken this time, just because that's what John had ordered the night he introduced me to the spicyness.  But you can of course substitute in whatever protein you'd like, or just make it a spicy vegetarian (plain) fried rice.
Bottom line, even if you only get 5% as excited as I do about new fried rice discoveries, I think you're going to love it.  :)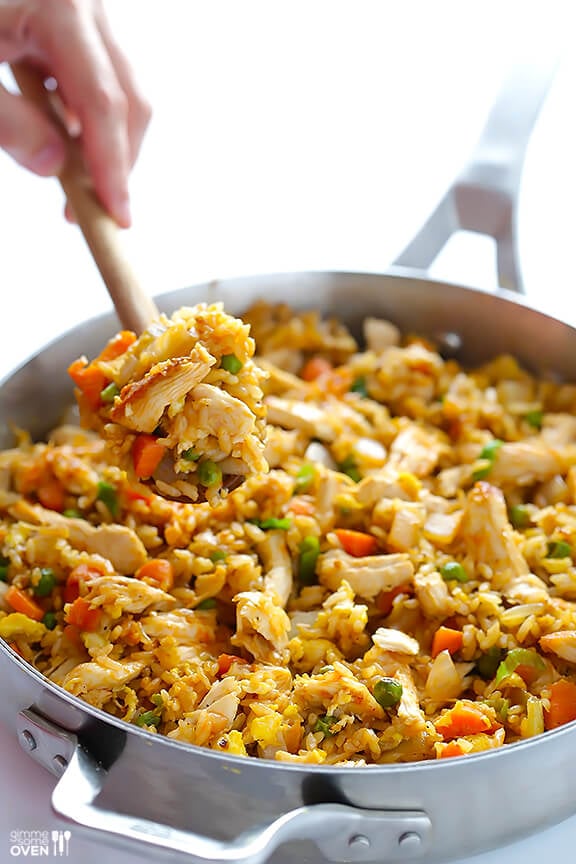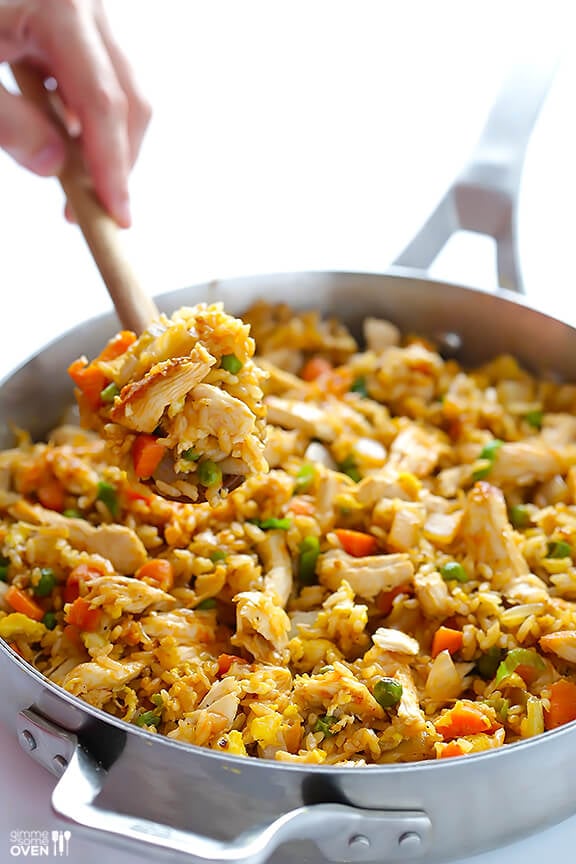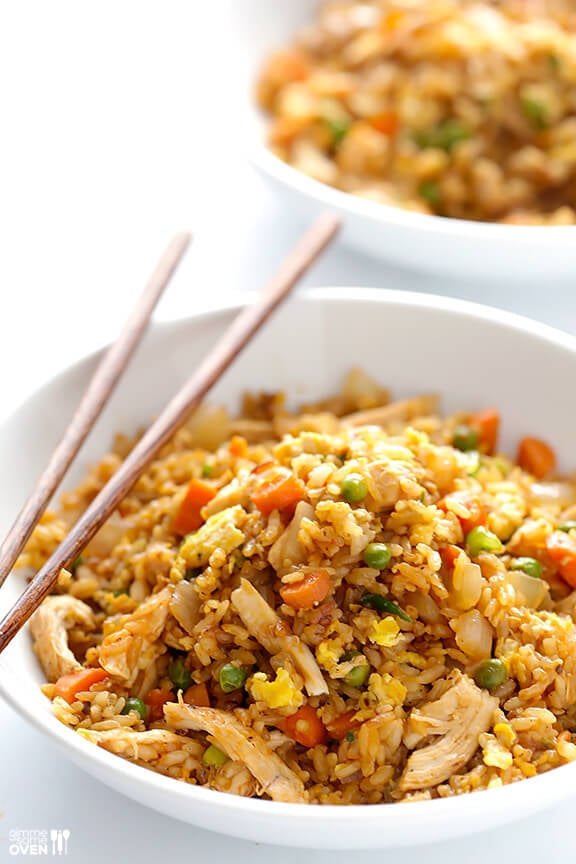 Spicy Chicken Fried Rice
Delicious chicken fried rice gets a spicy kick with the addition of sriracha!
Ingredients:
3 Tbsp. butter, divided
2 eggs, whisked
2 medium carrots, peeled and diced
1 small white onion, diced
1/2 cup frozen peas
3 cloves garlic, minced
salt and pepper
4 cups cooked and chilled rice (I prefer short-grain white rice)
3 green onions, thinly sliced
3-4 Tablespoons soy sauce, or more to taste
2 tsp. oyster sauce (optional)
2 cups shredded cooked chicken
2 Tablespoons sriracha, or more/less to taste
1/2 tsp. toasted sesame oil, or more to taste
Directions:
Heat 1/2 tablespoon of butter in a large skillet over medium-high heat until melted. Add egg, and cook until scrambled, stirring occasionally. Remove egg, and transfer to a separate plate. Scrape down and rinse the pan, if needed.
Return pan to heat. Add an additional 1 tablespoon butter to the pan and heat until melted. Add carrots, onion, peas and garlic, and season with a generous pinch of salt and pepper. Saute for about 5 minutes or until the onion and carrots are soft. Increase heat to high, add in the remaining 1 1/2 tablespoons of butter, and stir until melted. Immediately add the rice, green onions, soy sauce and oyster sauce (if using), and stir until combined. Continue stirring for an additional 3 minutes to fry the rice. Then add in the chicken and eggs, and stir to combine. Add the sesame oil and sriracha, and stir to combine. Remove from heat.
Serve warm.
All images and text ©
If you make this recipe, be sure to snap a photo and hashtag it #gimmesomeoven. I'd love to see what you cook!