Rainbow Peanut Noodles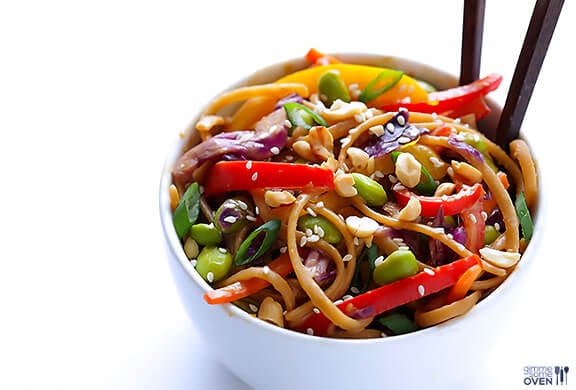 You know that feeling when you discover that a friend loves a random passion as much as you do?
Like when I found out that my longtime friend, Sara, not only also loves ballet but knows every word/song/routine from the (uber-cheesy) movie, Center Stage?  Or when I discovered that my healthy-eating friend Maureen also allows herself to eat as much Ro*Tel dip as she wants one time a year for the SuperBowl?  Or when my friend Liz also confessed to be a diehard egg drop soup fanatic?
Well, I have to say that I'm feeling those warm fuzzies with all of you readers lately, because apparently you too are big fans of one of my favorite culinary delights: rainbow recipes!  I mean, it probably should come as no surprise that others also like pretty colorful food, but I was slightly afraid that you might think they were a little over-the-top or better geared towards kids.  But it seems that big kids and little kids alike love to "taste the rainbow" as much as I do.  And this makes me kind of ridiculously happy.
So after posting this colorful Skinny Taco Salad and Rainbow Flatbread Pizza recipes last month, I'm back today with a rainbow recipe that I absolutely love — Rainbow Peanut Noodles!  It's chocked full of healthy veggies and a tasty homemade peanut sauce.  But what's also notable about this recipe is that it's made healthier with a brand of whole-wheat pasta that's actually good.  (Yes, you read correctly, I just used whole wheat pasta and good in the same sentence, which is a first for me.)  Trust me, you're gonna love it.
As a pasta lover and frequent pasta cook, I have to admit that I've mostly been cooking with regular ol' semolina pasta for the past decade.  It's not for a lack of trying all of the various whole-wheat pastas on the market, because I have.  In fact, I've really really hoped to fall in love with one, especially since I make pasta so often.  But in my opinion (take it or leave it), none of the whole wheat pastas I've tried have come close to being a good substitute for the real deal.   Especially when it comes to the thin noodles, like spaghetti or fettuccine or linguine.  I could maybe make an exception for ziti or penne, if I covered them up with tons of sauce, but every bite of the noodles seemed to be a not-so-pleasant reminder that I was eating wheat.
But this past year, I had some friends introduce me to DeLallo pasta, which is now being sold in more and more stores in Kansas City.  I was skeptical, but they raved about it so I decided to give it a try for myself.
Holy smokes, friends.  It is actually factually good.  Even the spaghetti!  It's so good, in fact, that it has made me a whole wheat pasta believer and it's now all I stock in my pasta cabinet.  Sure, it still tastes slightly different than traditional semolina pasta, but the flavor and texture are both great.  And it's authentically made in Italy with only two ingredients — hard duram wheat and spring water — and zero preservatives or additives.  I genuinely love and completely recommend it.

So that said, I'm really honored and stoked to be partnering with DeLallo this year as a sponsor on this site.  In addition to whole wheat pasta, they have an entire line of authentic Italian foods that range from other delicious pastas (from traditional semolina to gluten-free pastas), to olives, antipasti, sauces, olives and vinegars and more.  You all know how much I love good Italian food, so this is going to be so fun!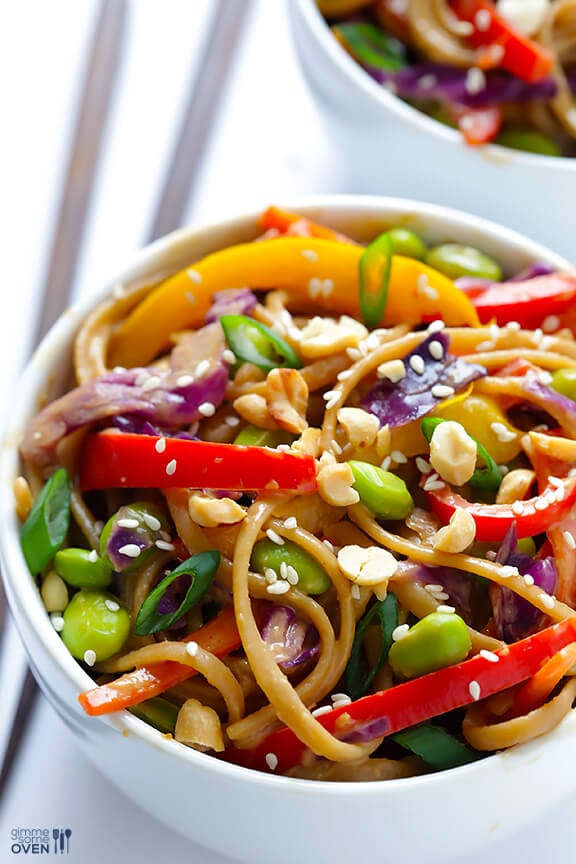 But to begin, I'm taking the Italian whole wheat pasta and giving them a bit of an Asian twist with these Rainbow Peanut Noodles!
Oh my goodness — I know you all are kindred spirits when it comes to rainbow recipes.  But I'm hoping there are also some of you out there who feel the same way I do about peanut sauce, in that, I could pretty much drink the stuff.  So. Flippin'. Good.
I actually posted a Thai Peanut Sauce recipe on the blog a few years ago.  But for this one, I decided to sweeten it with honey instead of sugar, to make it just slightly healthier.  And I also made it optional to add in some heat, so you can either have it just peanuty or spicy-peanuty.
However you make it, this recipe is simple, chocked full of beautiful fresh veg, made with DeLallo's healthier whole wheat pasta, and sure to satisfy any peanut sauce cravings.  Here's the how-to!
Begin by chopping up your "rainbow".  For this one, I decided to just julienne (thinly slice) some red and yellow bell peppers and carrots, an then pair them with edamame, green onions and red cabbage.  Feel free to substitute in any other veggies you'd like, but keep in mind that if they are thicker, you may need to adjust the cooking time.
Begin by making your peanut sauce.  All you have to do is combine a handful of ingredients (including the rockstar ingredient — peanut butter).  I find it easiest to do so in a blender or food processor, since that PB is so sticky.  But you can also just whisk them together in a bowl by hand.
Then comes the work on the stove.  In one pot, bring some water to a boil and add your pasta to begin cooking.
In a separate large saute pan, add some oil and all of your veggies and give them a good saute.  I actually like my veggies to still have a tiny bit of "crisp" in this recipe, but you can cook them for as long as you'd like.  Feel free to also sub in or add any other colorful ingredients you have on hand.
Then once the pasta is cooked, add it to your pan of veggies along with the peanut sauce, and toss them all until combined.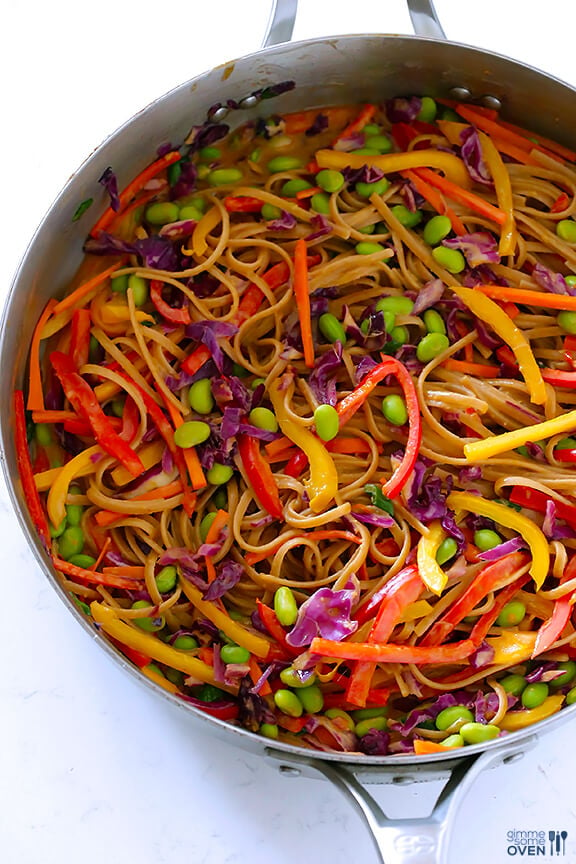 I mean, just look at how pretty that is!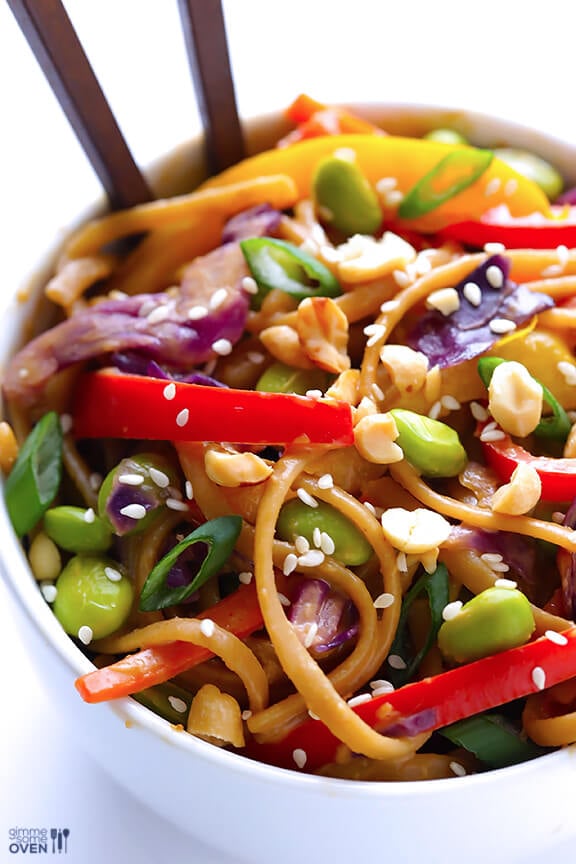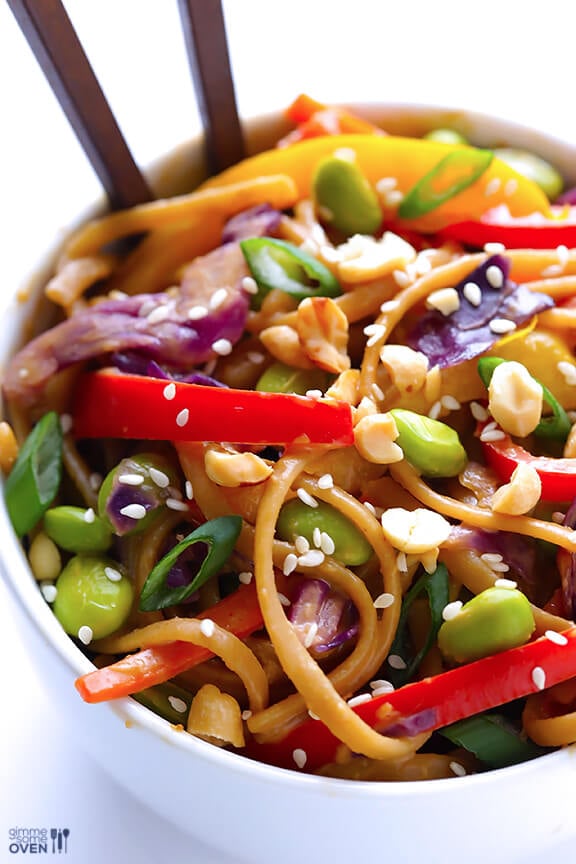 While the pasta is still hot, transfer it to your serving bowls or plates, and sprinkle it with some toasted sesame seeds, additional chopped scallions and crushed peanuts.  Then dive in and enjoy every last bite.
If we have anything in common, I'm pretty sure you're going to love it.  Enjoy, friends!  :)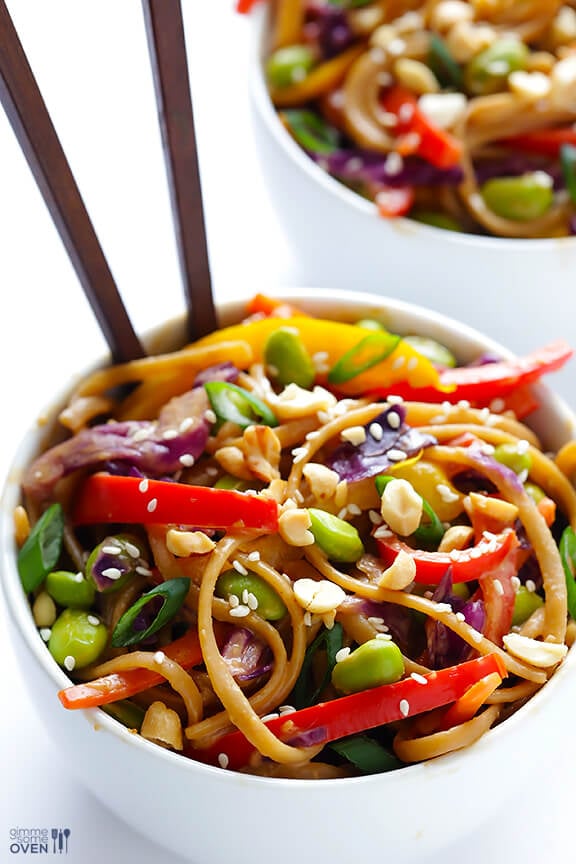 Rainbow Peanut Noodles
This Rainbow Peanut Noodles recipe is made with whole wheat pasta, tons of colorful fresh veggies, and a peanut sauce that will knock your socks off.
Ingredients:
Rainbow Pasta Ingredients:
12 ounces whole-wheat pasta (I used DeLallo whole-wheat linguine)
1 Tbsp. peanut oil (or olive oil)
1 red bell pepper, cored and julienned (thinly sliced)
1 yellow bell pepper, cored and julienned
1 large carrot, peeled and julienned
1 cup shredded red cabbage
1 cup shelled edamame
topping: thinly-sliced scallions (green onions), toasted sesame seeds and chopped peanuts
Peanut Sauce Ingredients:
1/2 cup creamy peanut butter
1/4 cup soy sauce
3 Tbsp. water
2 Tbsp. honey
2 Tbsp. rice vinegar
1 Tbsp. grated fresh ginger
2 tsp. sesame oil
1 clove garlic, peeled
(optional) 1 tsp. sriracha hot chili sauce, or more to taste
Directions:
How To Make The Rainbow Pasta:
Cook pasta al dente in generously-salted pasta water according to package instructions.
Meanwhile, heat oil in a large saute pan over medium-high heat. Add bell peppers, carrots, cabbage, and edamame, and saute for 5 minutes, stirring occasionally.
Once the pasta is cooked, drain it, but reserve 1/4 cup pasta water on the side. Add the pasta and peanut sauce to the saute pan of veggies and toss to combine. If the sauce is too thick, add a tablespoon or two of the pasta water until the sauce reaches your desired consistency.
Serve immediately, topped with scallions, sesame seeds and peanuts if desired.
How To Make The Peanut Sauce:
Whisk all ingredients together in a bowl by hand. (Alternately: add them to a food processor or blender and pulse to combine.)
All images and text ©
If you make this recipe, be sure to snap a photo and hashtag it #gimmesomeoven. I'd love to see what you cook!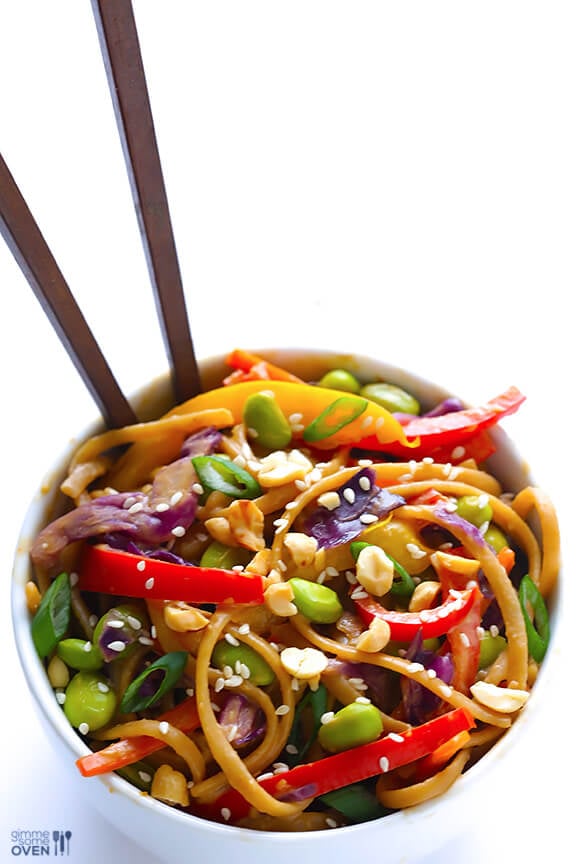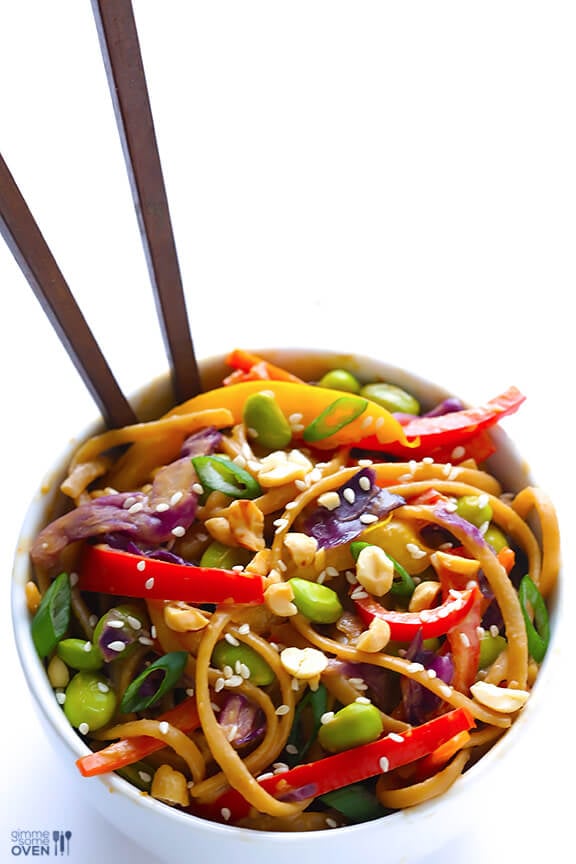 Disclaimer: This is a sponsored post from DeLallo.  I am honored to be working with them this year and sharing about their products, but all opinions are 100% my own as always.  Thank you for supporting the brands I believe in that also help make this site possible.