Steak Soup
Behold – one of my absolute favorite meals as a kid.
Vegetable. Beef. Soup.
And no, I'm not referring to the icky stuff from the can.  I'm talking about Mom's homemade, warm, savory, absolutely delicious vegetable beef soup.  YUM.  Now that I'm living in Kansas City, I've discovered that this retro soup is fondly referred to around here as "steak soup".  But whatever you call it — it's still a favorite!
So while we're still in the middle of this ridiculous blizzard here, and to console myself after having had my car stuck/pushed out of the snow not once, or twice, but THREE times this week (add to that a flat tire this morning on the ice – yikes!)….decided it was definitely some time for some good ol' comfort food.  So I offer you a favorite.  Kids like it.  Grown-ups like it.  Even guys who are anti-soup will light up when they hear about the main ingredient.  :)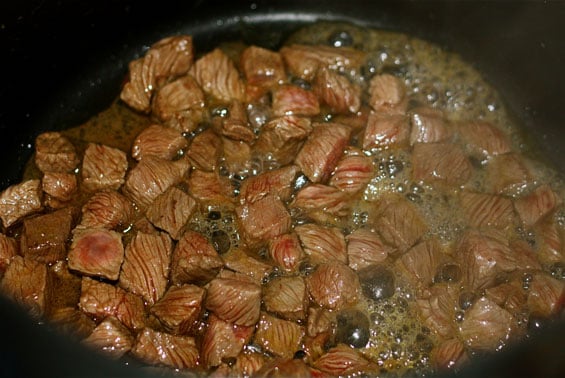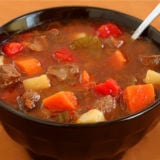 Steak Soup (Vegetable Beef Soup)
You'll love this easy Steak Soup (Vegetable Beef Soup) recipe! Quick and easy meal to make, and delicious!
Ingredients:
3 Tbsp. olive oil
1 lb. sirloin steak, or beef stew meat (or whatever lean steaks are on sale!), cut into about 1″ cubes
1 large onion, chopped
1 cup carrots, diced
1 cup celery, diced
1 lb. potatoes (choose your favorite – Russett, Yukon, red, etc.), diced and peeled (optional)
8 cups low-sodium beef stock (or more if you like lots of broth)
2 bay leaves
1 (28 oz.) can diced tomatoes, with juice
1 Tbsp. worcestershire sauce
1 Tbsp. Italian seasonings
1 tsp. garlic powder
1 tsp. seasoned salt (yep!!)
lots of freshly-ground black pepper
salt to taste
Directions:
In a large pot, heat 1 tablespoon of the oil over medium-high heat. Add half the steak and cook, stirring frequently, until well browned, about 2 minutes. Remove the steak with a slotted spoon. Repeat with another tablespoon of oil and the remaining steak, and remove the steak similarly once it is cooked.
Reduce the heat to medium-low and add the remaining tablespoon of oil to the pot. Add the onion and cook, stirring occasionally for about 5 minutes. Add the carrots, celery and potatoes, and continue sauteing for another 3 minutes.
Add the next seven ingredients (beef stock through seasoned salt) and the cooked steak to the pot, and stir to combine. Bring to a boil, scraping the bottom of the pot with a spoon to dislodge any brown bits from cooking the steak. Reduce the heat, cover pot, and simmer for 1-2 hours (the more the merrier – especially for tenderizing the meat and seasoning the broth). Just before serving, season with salt and lots of freshly-ground black pepper. Then serve.
Ali's Tip:
Other fun additions to this soup would be:
a flour+butter roux if you'd like to thicken it up
other favorite veggies (corn, green beans, okra, beans, etc.)
1/2 cup of red wine
chopped fresh parsley for a garnish
All images and text ©
If you make this recipe, be sure to snap a photo and hashtag it #gimmesomeoven. I'd love to see what you cook!