Strawberry Margarita Cheesecake
What does one bring to a rockin' Cinco de Awesome fiesta thrown by a bunch of foodie friends?
But of course, a super-awesome strawberry cheesecake…
…kicked up a notch.
Si, amigos.  This strawberry margarita cheesecake is filled with all of the fresh strawberry and lime goodness of your favorite drinks, a salty pretzel crust, plus the tequila and Grand Marnier to make it a par-tay.  And then I had a little too much fun playing with my food to make it extra pretty.  (Which was actually super-easy — you should try it!)
Most importantly, I think the cheesecake lived up to the party name, as person after person gave it the "awesome" seal of approval.  Would definitely recommend giving it a try next Cinco de Mayo.  Or Diez de Julio.  Or Treinta de Febrero.  Or….whenever in the world margarita cheesecake craving strikes.
As my Costa Rican host family's parrot would say (of course, in between his renditions of Madonna songs and hurling expletives at the family beagle), this one is definitely "muy rrrrrrrrico".  Agreed.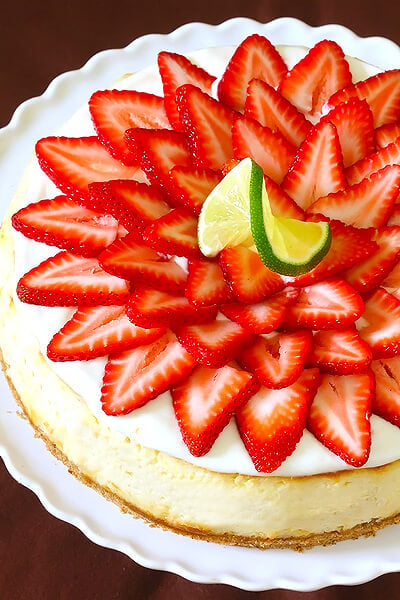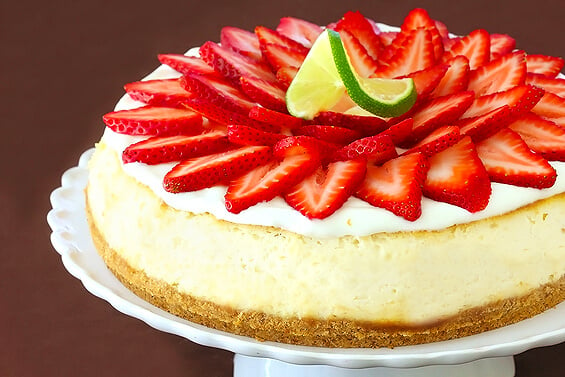 Strawberry Margarita Cheesecake
You'll love this decadent Strawberry Margarita Cheesecake recipe. It's bright, colorful, delicious and can be easily prepared in about an hour.
Ingredients:
Crust Ingredients:
1 1/4 cup ground pretzels or graham cracker crumbs
1/4 cup sugar
1/4 cup butter, melted
Cheesecake Ingredients:
3 (8-ounce) bricks cream cheese, room temperature
1 1/4 cups sour cream
3/4 cup plus 2 Tbsp. sugar
3 1/2 Tbsp. Grand Marnier
3 1/2 Tbsp. tequila
3 Tbsp. fresh lime juice
3 large eggs
Lime Topping Ingredients:
1 cup sour cream
2 Tbsp. fresh lime juice
2 Tbsp. sugar
2 tsp. grated lime zest
Garnish:
thinly sliced strawberries
one lime slice
Directions:
To Make Crust:
Position rack in center of oven and preheat to 350°F. Spray 9-inch springform pan with 2 3/4-inch-high sides with cooking spray. Whisk together pretzel (or graham cracker) crumbs, sugar and butter in a medium bowl until blended. Press crumbs evenly into the bottom of prepared springform pan. Bake for 6 minutes, then remove.
To Make Cheesecake:
Meanwhile, in the bowl of an electric mixer, beat the cream cheese on medium-high speed until smooth. Gradually mix in the sour cream until smooth. Add in the sugar, and beat until well combined. Add in the eggs one at a time, beating well after each addition. Beat in the lime juice, tequila and Grand Marnier until just combined. Pour the filling over the cooked crust.
To minimize cracking, place a shallow pan (I used an oven-proof 9×13-inch pan) half full of hot water on the bottom rack of the oven during baking. Bake for 50-55 minutes or until the center is set. Turn the oven off and prop the door open about 4 inches. Let the cheesecake stand 30 minutes. Remove from the oven and transfer to a wire rack. Let cool 10 minutes. Carefully remove the sides of the pan and let cool to room temperature on the rack. Cover and refrigerate for at least 8 hours before slicing and serving.
To Make Topping:
Whisk sour cream, lime juice, lime peel and sugar in small bowl to blend. Spread evenly over the cooled cheesecake. Arrange sliced strawberries and a slice of lime on the topping for garnish.
Ali's Tip:
Blueberries, blackberries, cherries or mangoes would also be great in place of (or in addition to) strawberries with this.  Or the cheesecake also stands well berry-free on its own!
Source:
Cheesecake recipe adapted from Liv Life.
All images and text ©
If you make this recipe, be sure to snap a photo and hashtag it #gimmesomeoven. I'd love to see what you cook!