Strawberry Sangria
This post may contain affiliate links. Please read my disclosure policy.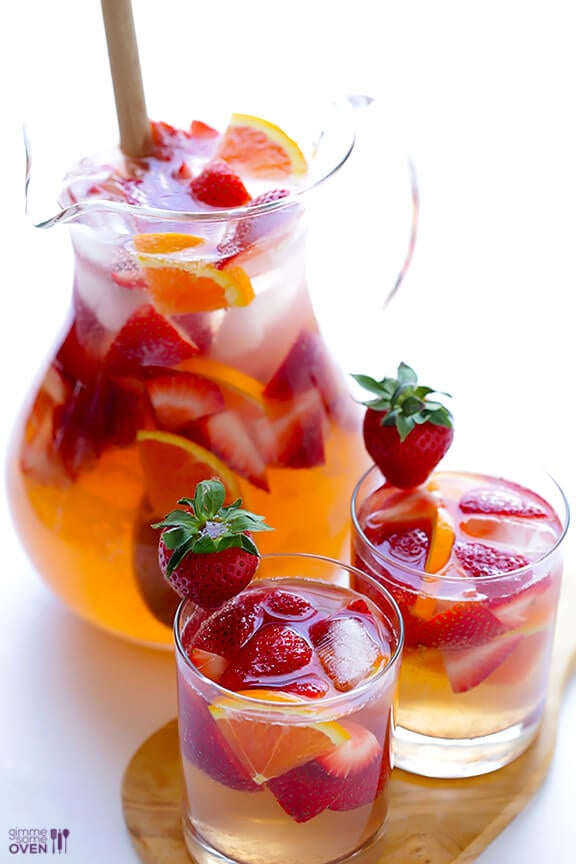 A few weeks ago, upon the recommendation of my bloggy friends Dana and John, I watched the documentary Somm.
Have you seen it? (If not, you can stream it on Netflix.)
Basically, it's a documentary following four master sommelier candidates as they study for their exam. Only 10% of candidates pass this crazy difficult exam, and it's only offered once a year. And these guys' skills are unreal. With literally one sniff and taste, they can know exactly the vintage, region and vineyard of a specific wine. And of course, they say things like:  "Wine 1 is a white wine, clear star bright…. Aromas coming out are like this lime candy, lime zest, crushed apples, underripe green mango, underripe melon, melon skin, green pineapple. And the palate: Wine is bone dry, really this, like, crushed slate, and crushed chalky note, like crushed hillside. There's white florals almost like a fresh-cut flower, white flowers, white lilies, no evidence of oak. There's a kind of a fresh—like a freshly opened can of tennis balls, and a fresh new rubber hose." (-Ian Cauble)
No kidding. Freshly opened can of tennis balls.
Of course, Yours Truly was sitting on the couch watching these guys while drinking a glass of 2-buck chuck. Keepin' it classy. (And beginning to wonder if it smelled like freshly opened can of…?)
Actually, I have nothing against 2-buck chuck. But that particular glass was leftover from making a batch of the drink that is the main reason I always keep cheap wine in the house: sangria.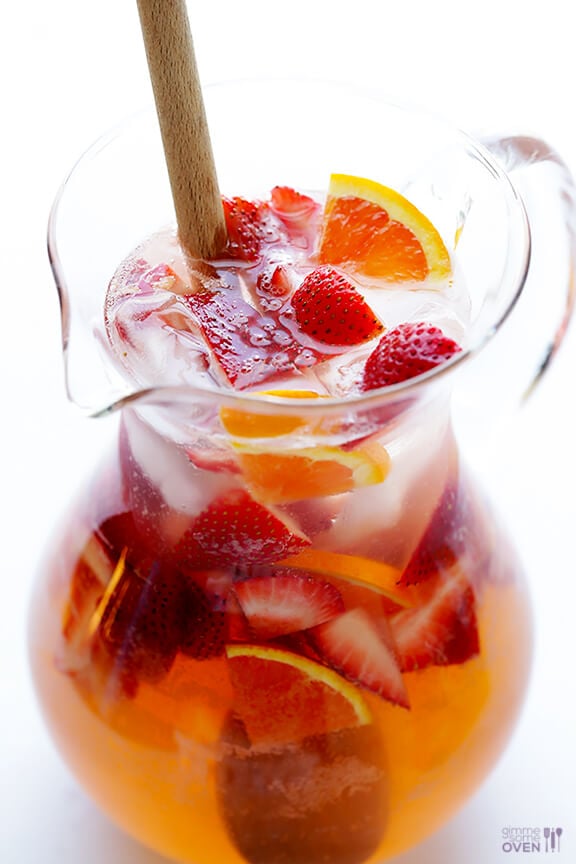 Oh, sangria. It will always be one of my favorite summer drinks. I love the colors (clearly, if you saw my rainbow sangria recipe). I love all of that fresh fruit (the more, the merrier when I serve it). I love how crisp and chilled and refreshing it is on a hot summer day.
And I love how ridiculously easy it is to make.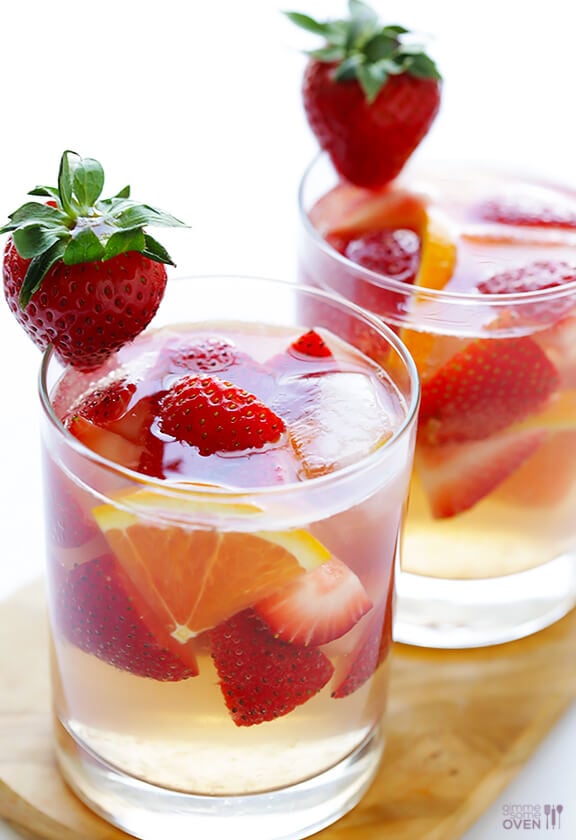 This strawberry sangria — that I am guest-posting about on Better Homes & Garden's Delish Dish blog today — is no exception.
The recipe is basically their classic strawberry sangria (made with a hint of orange) made a little bit simpler and naturally sweetened with honey. So instead of taking the extra step to make simple syrup and cook your strawberries, you just stir all of the ingredients together and let the flavors all meld together for hours until it is ready to enjoy.
Literally, it takes about 10 minutes to make. And it is soooo yummy and refreshing.
And the best part about sangria? You can use cheap wines to make it, which I'm sure the Somm guys wouldn't come anywhere near. But I happen to consider myself an amateur sangia sommelier, and I say they taste just as good once all of those flavors are blended together.
So hop on over to Better Homes & Gardens' site for the recipe, and stir up a batch for yourself today!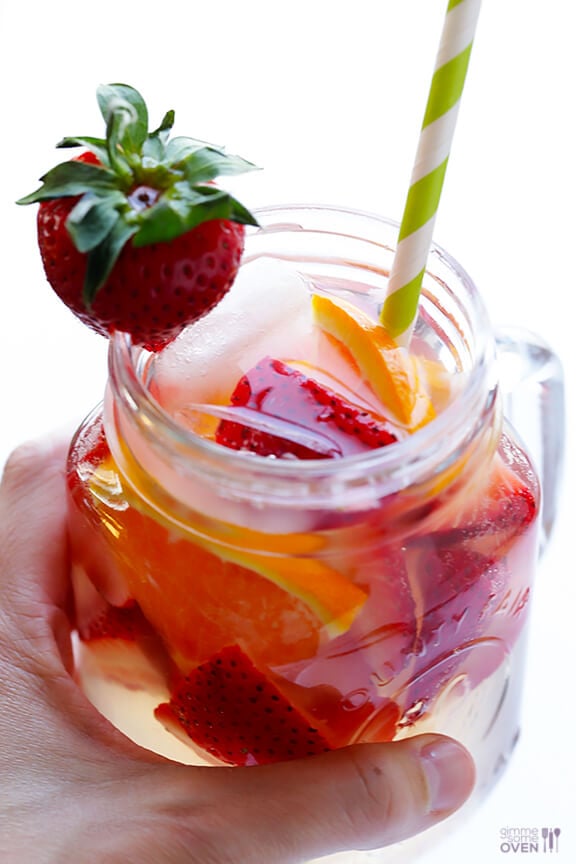 Disclaimer: This is a sponsored post in partnership with Better Homes and Gardens. I am guest-posting a Month of Drinks series on their site, and wanted to share them here with you as well. But all opinions are 100% my own as always.
Print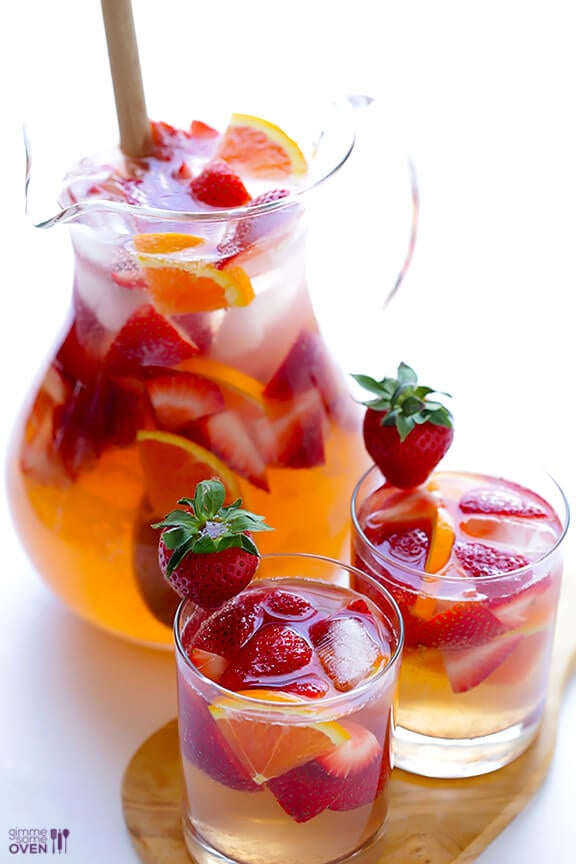 Strawberry Sangria